Acer Chromebook Spin 311

Acer Chromebook Spin 311

For casual users and kids

Acer's Chromebook Spin 311 is an affordable, compact, and versatile convertible laptop that should appeal to casual and younger users. It's not as powerful and doesn't have as many high-end features as the ThinkPad C14, but you can't beat the price.

Lenovo ThinkPad C14 Chromebook

For Business Users

Lenovo's ThinkPad C14 Chromebook costs significantly more than the Spin 311, at least when it's not on sale. The business-oriented laptop is superior in many ways, though its clamshell design means you can't use it as a tablet. Professionals who need extra performance and high-end features will love this Chromebook.
Acer's Chromebook Spin 311 and Lenovo's ThinkPad C14 Chromebook are considered some of the best Chromebooks around, but they're each made for a different type of user. The Spin 311 is an affordable Chromebook that's great for casual users and kids, while the ThinkPad C14 Chromebook offers a heavy business spin for professionals.
A significant price difference is also in effect here, but those who need the ThinkPad C14's relatively high-end features will likely be able to justify the price. On the other hand, we consider the Spin 311 one of the best values around. Let's take a deep dive into the pros and cons of these Chromebooks to see which one is right for you.
Acer Chromebook Spin 311 vs. Lenovo ThinkPad C14 Chromebook: Price, availability, and specs
Acer's convertible Chromebook Spin 311 — we're focusing on the CP311-3H model for this comparison — has a MediaTek MT8183 processor, 4GB of LPDDR4x RAM, 32GB of eMMC storage, and an 11.6-inch HD display. This model starts at about $185 if you're shopping at Amazon, though we've seen other listings at the same retailer hit closer to about $250. Nevertheless, this sits firmly in the budget range and is one of our top picks when it comes to the best cheap Chromebooks.
The best place to shop for the ThinkPad C14 Chromebook is Lenovo's official website. You'll find plenty of configuration options and frequent sales events that significantly lower the price. For example, the introductory model has been hovering around the $350 mark for a while; that's a big discount from the usual $534 asking price. The deal extends to more powerful configurations, of which there are plenty.
Lenovo offers four different 12th Gen Intel Core processor (CPU) options, up to 16GB of LPDDR4x RAM, and up to a 256GB M.2 PCie NVMe SSD. Slower eMMC storage is also available if you're looking to cut costs. There are two 14-inch 1080p displays to choose from, one with touch and one without. The extra functionality costs about $74. Finally, 4G LTE connectivity is available for about $147. Going all-in pushes the price above $1,000 even with a big discount, which is why we don't recommend it for casual users.
Here's a look at the specs available in each Chromebook:
| | Acer Chromebook Spin 311 | Lenovo ThinkPad C14 Chromebook |
| --- | --- | --- |
| CPU | MediaTek MT8183 | 12th Gen Intel Core i3-1215U Core i5-1235U Core i5-1245U Core i7-1265U |
| Memory | 4GB LPDDR4x | 4GB, 8GB, 16GB LPDDR4x |
| Storage | 32GB eMMC | 64GB, 128GB eMMC 256GB M.2 PCIe NVMe SSD |
| Display | 11.6 inches, touch, IPS, glossy 1366×768 (HD), 16:9 aspect ratio | 14 inches, IPS, anti-glare 1920×1080 (FHD), non-touch, 250 nits 1920×1080 (FHD), touch, 300 nits |
| Ports | USB-C 3.1 (Gen 1), USB-A 2.0, 3.5mm audio | Two Thunderbolt 4, two USB-A 3.2 (Gen 2), HDMI, 3.5mm audio, microSD card reader, Nano-SIM slot (optional) |
| Camera | 720p (HD), HDR support | Front-facing 1080p (FHD), privacy shutter |
| Audio | Dual stereo speakers Microphone | Dual 2W speakers Waves MaxxAudio Dual-microphone array |
| Wireless | Wi-Fi 5 Bluetooth 4.2 | Wi-Fi 6E Bluetooth 5.1 4G LTE (optional) |
| Battery | 4670mAh | 57Wh |
| Form | Convertible Plastic | Clamshell Plastic |
| Dimensions | 11.42 x 8.11 x 0.74 inches (290mm x 206mm x 18.8mm) | 12.81 x 8.54 x 0.78 inches (325.4mm x 217mm x 19.83mm) |
| Weight | 2.64 pounds (1.2kg) | From 3.44 pounds (1.56kg) |
| AUE | June 2028 | June 2030 |
| USI Compatibility | No | No |
Acer Chromebook Spin 311 vs. Lenovo ThinkPad C14 Chromebook: Design and features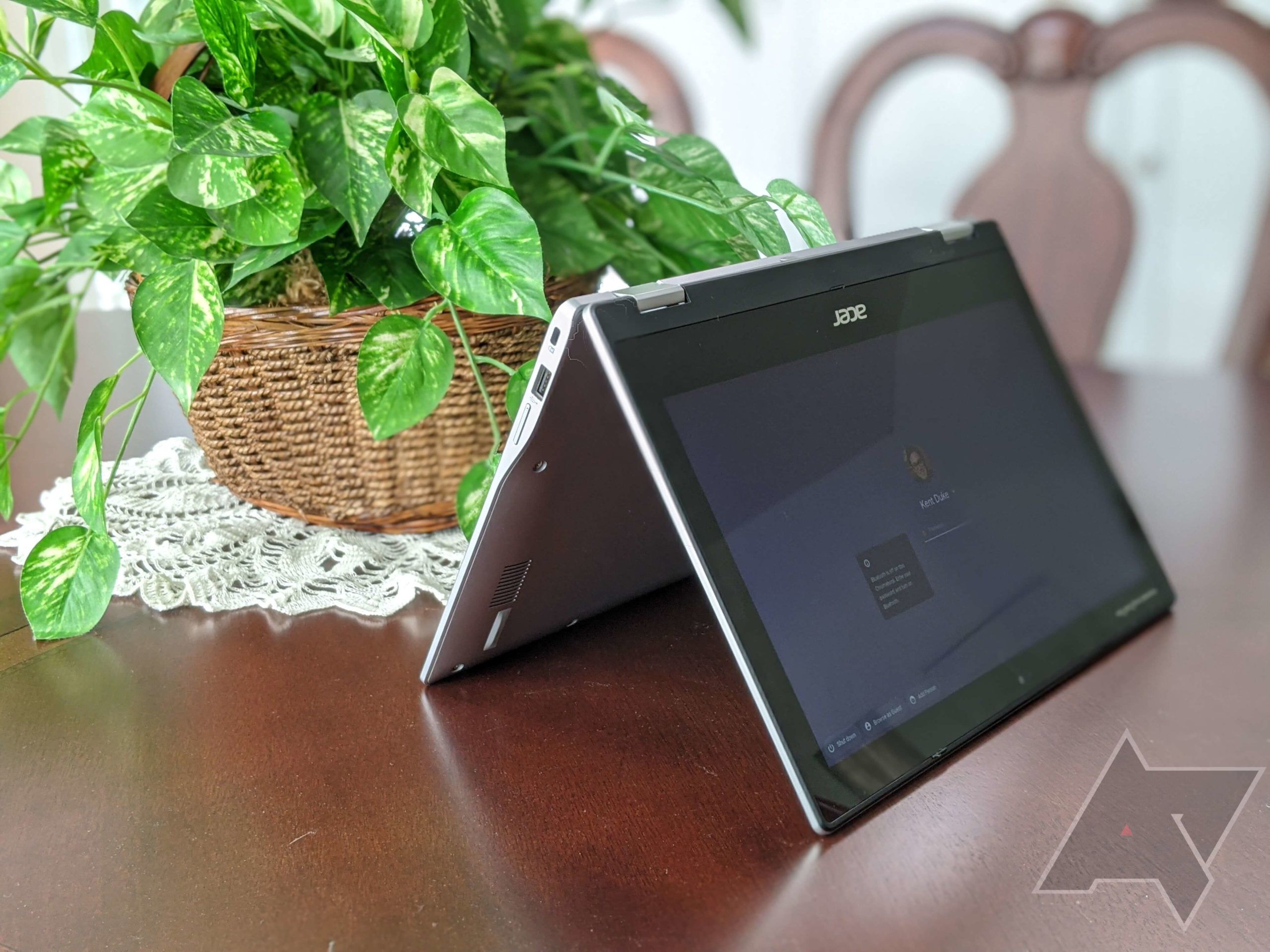 Acer Chromebook Spin 311
Acer's Chromebook Spin 311 is a convertible laptop with 360-degree hinges that allow the screen to rotate around for tent, stand, and tablet modes when you don't want to use it as a notebook. This design, combined with the touch display, makes it great for sitting back and relaxing while streaming shows or browsing the web. In addition, the plastic chassis has a smaller footprint than the ThinkPad C14 and weighs less. If you're looking for an affordable travel companion, the Spin 311 should be the way to go.
The ThinkPad C14 Chromebook also has a plastic chassis, but its business leaning means it has passed MIL-STD 810H durability testing. It's larger in every way compared to the Spin 311 — the extra space allows for more ports, more performance, and even some extra security measures. The front-facing camera has a boosted 1080p resolution and a privacy shutter, making it better for pros who often drop into video meetings. It also has an optional fingerprint reader and a Kensington lock slot, further upping protection for your data. Dual 2W speakers live between the keyboard and display, giving you unmuffled audio even if the ThinkPad C14 is in your lap.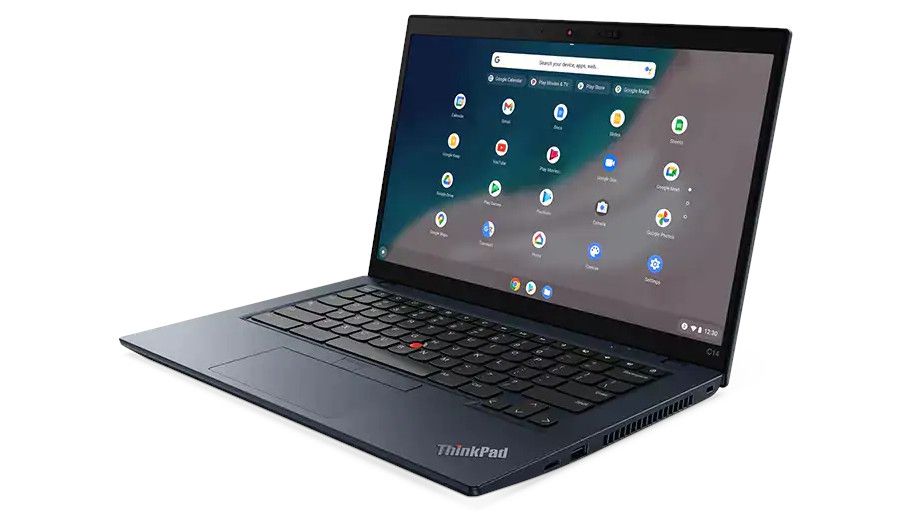 To compare, the Spin 311 has a lower-res 720p webcam, though it does have HDR support. Its speakers are located on the bottom of the laptop, and it lacks the security add-ons that make the Lenovo Chromebook so good for professionals. Port selection is also quite lopsided. The Chromebook Spin 311 has one USB-C 3.1 (Gen 1), one USB-A, and a 3.5mm audio jack. The ThinkPad C14 has two Thunderbolt 4, two USB-A 3.2 (Gen 2), HDMI, 3.5mm audio, a microSD card reader, and an optional Nano-SIM slot if you decide to check out with an LTE-enabled model.
Yes, you can add a Fibocom M.2 card to the ThinkPad C14 to access 4G LTE for times when you're outside of Wi-Fi range. Otherwise, you're using modern Wi-Fi 6E and Bluetooth 5.1. The Acer Spin 311 is still on Wi-Fi 5 and Bluetooth 4.2 with no option for 4G LTE. This setup isn't as up-to-date or versatile, but it will still handle anything you throw its way.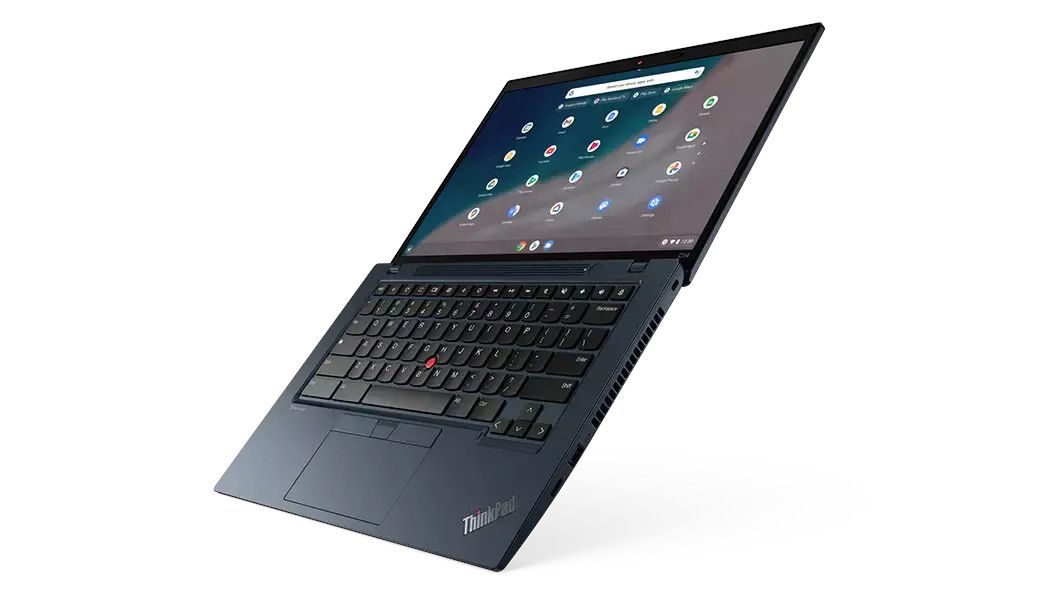 As for typing and pointing, Lenovo's fabled ThinkPad keyboard is included. Cupped keys, deep travel, and uniform spacing make typing a breeze. There's even the TrackPoint system, which adds a red pointing nub and physical mouse buttons. The Spin 311's smaller size means you might feel a bit more cramped, but it's still a solid keyboard. If you type all day at work, you might want to consider the ThinkPad, but otherwise, the Spin 311 will get the occasional job done.
The ThinkPad C14 has some impressive specs and plenty of configuration options, but prices climb quickly once you start adding features. With the Chromebook Spin 311 regularly sitting at less than $200, anyone who wants a convertible and compact build without all the extra business goodies will be able to save a lot of money.
Acer Chromebook Spin 311 vs. Lenovo ThinkPad C14 Chromebook: Display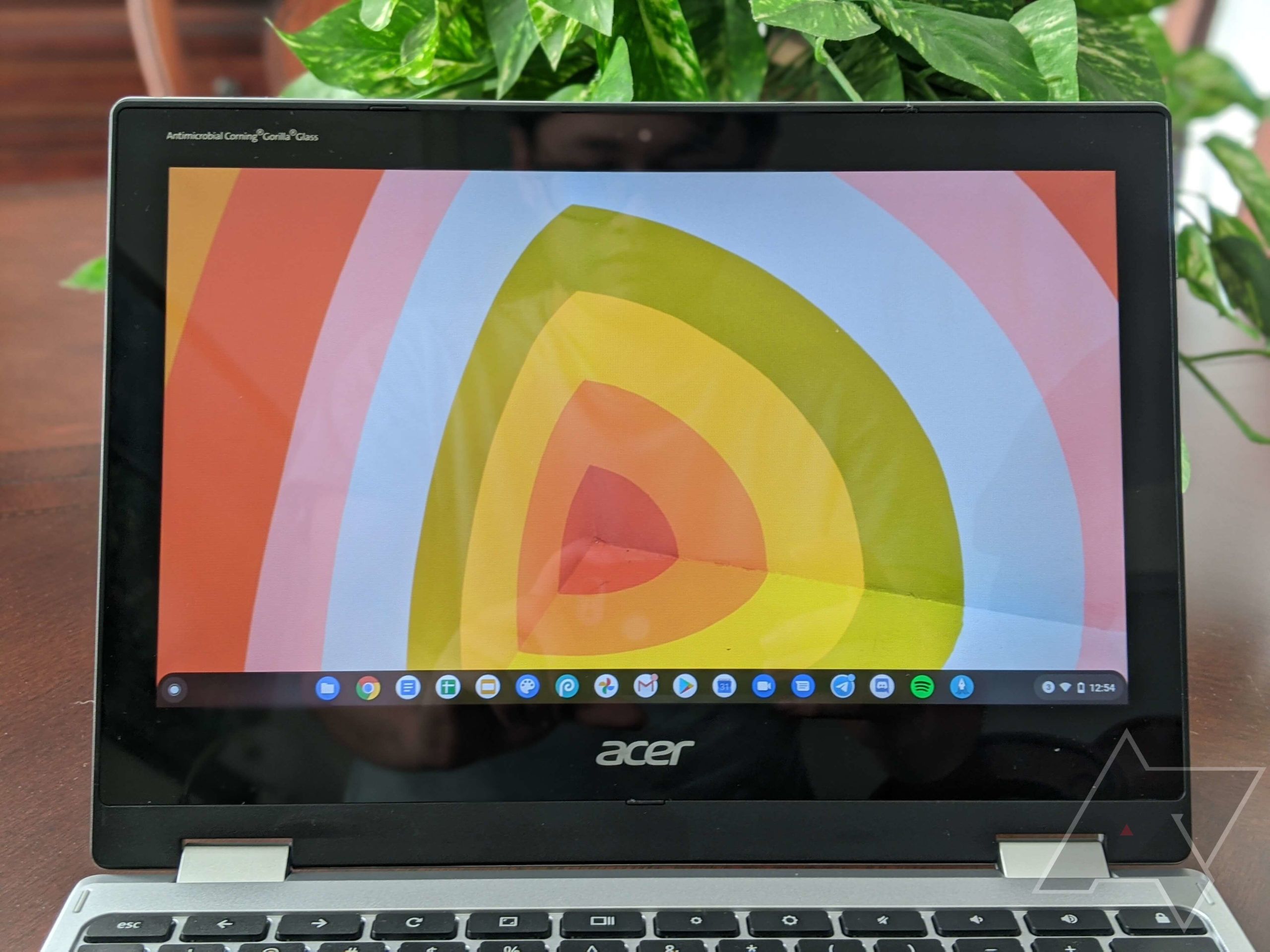 Acer Chromebook Spin 311
The convertible build of the Acer Chromebook Spin 311 means the display has touch functionality enabled. This plays very well with ChromeOS and apps designed for touch instead of a keyboard and touchpad. The screen is 11.6 inches and has a 1366×768 (HD) resolution. You're getting more pixels per inch at this size, but it still won't match the clarity of the 1080p displays available with the ThinkPad C14.
The Spin 311's size is great for children and for those who don't plan on heavy multitasking. It's also easier to tote around and doesn't take up as much on a desk. You can always connect to an external monitor with the USB-C port or add a great docking station for further connectivity.
Lenovo's ThinkPad C14 Chromebook comes at you with a larger 14-inch display with 1080p (FHD) resolution. It's available in touch or non-touch, but keep in mind this is a clamshell that can't rotate around for tablet mode. Going with non-touch can save you some money. However, you also lose out on a bit of brightness if you go non-touch.
Both of the ThinkPad screens have an anti-glare coating to help reduce the effects of harsh overhead lighting, which means the ThinkPad C14 will deliver a much better viewing experience, but the added cost won't be worth it for everyone.
Neither laptop has a display with USI compatibility, though you can still use some of the best stylus pens with universal compatibility for more accurate pointing.
Acer Chromebook Spin 311 vs. Lenovo ThinkPad C14 Chromebook: Performance and battery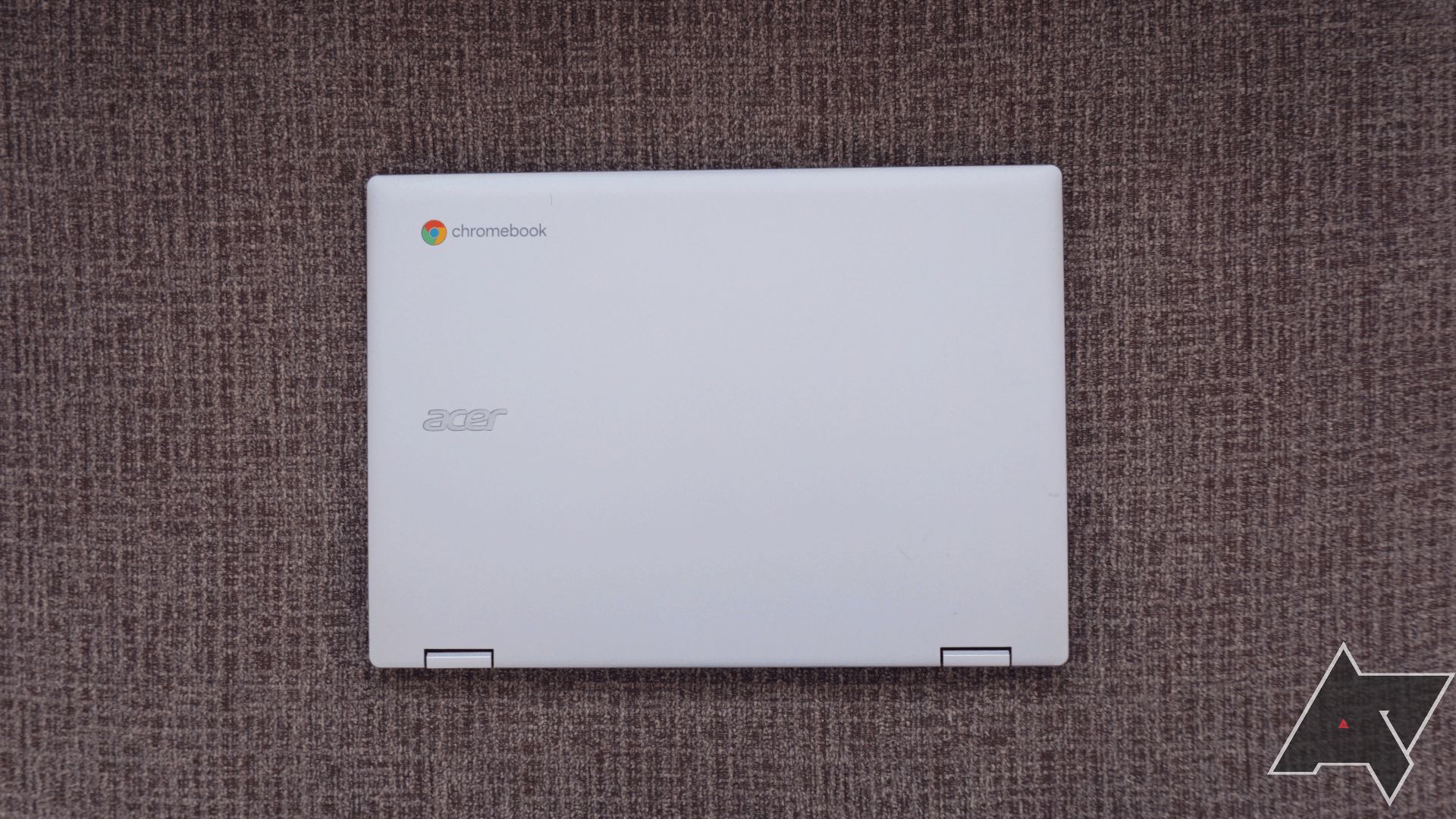 Acer Chromebook Spin 311
The MediaTek MT8183 processor in the Acer Chromebook Spin 311 is a zippy little chip that can handle light work without issue. It's combined with 4GB of LPDDR4x RAM and 32GB of eMMC storage; you might be able to find a 64GB version if you need a bit more onboard storage. Unfortunately, the lack of a microSD card reader means you won't be able to expand with a physical card.
The relatively lightweight performance hardware plays nicely with the battery. In our Acer Chromebook Spin 311 review, it managed to hit 15 hours of mid to heavy use, perfect for those on the move.
While the Spin 311 is better cut out for lighter duties like video streaming, web browsing, and word processing, the ThinkPad C14 Chromebook's 12th Gen Intel Core processors and supporting hardware are suited for a heavier workload. You can get up to a Core i7-1265U CPU, 16GB of LPDDR4x RAM, and a 256GB M.2 PCIe NVMe SSD for maximum performance, but even the introductory Core i3-1215U will be faster than the MediaTek chip. Intel's integrated graphics will also handle games a lot better when you need to unwind after a hectic workday.
The extra performance (and screen resolution) does come at a cost to battery life. Lenovo quotes up to about 11 hours of life from a charge, but that number will come down in real-world use. However, it should still make it through most of the workday, and you can always add a great Chromebook charger or power bank to prolong the charge.
Picking the right Chromebook for you
Before getting into the best Chromebook accessories and handy ChromeOS tips and tricks, you need to pick a Chromebook. Choosing the right one can be daunting, but proper research and comparison will help. The Acer Chromebook Spin 311 is one of our favorites thanks to its affordable price, compact build, and capable performance. It's the right choice for more casual users who don't need anything particularly feature-laden or high-res, and it's especially good for children thanks to its size and price. You'll save a lot of money with the Spin 311, and it will serve you well. If you love Acer but don't think the Spin 311 has what it takes, there are other Acer Chromebook options.
Professionals looking to invest in a Chromebook that covers the security, connectivity, typing, camera, audio, display, and performance categories should consider Lenovo's ThinkPad C14 Chromebook. It's quite a bit more expensive, but its feature set is geared toward a business life. You get the usual ThinkPad durability and features with nimble ChromeOS on board, plus a lot more power to tackle larger projects. We recommend waiting for a sale to get the best value possible.
Acer Chromebook Spin 311
Need an affordable and versatile 11.6-inch convertible Chromebook? Acer's Spin 311 is a great pick for those who aren't looking for something with extra business features. Its battery is awesome, the hardware can handle standard productivity tasks, and you really can't beat the price.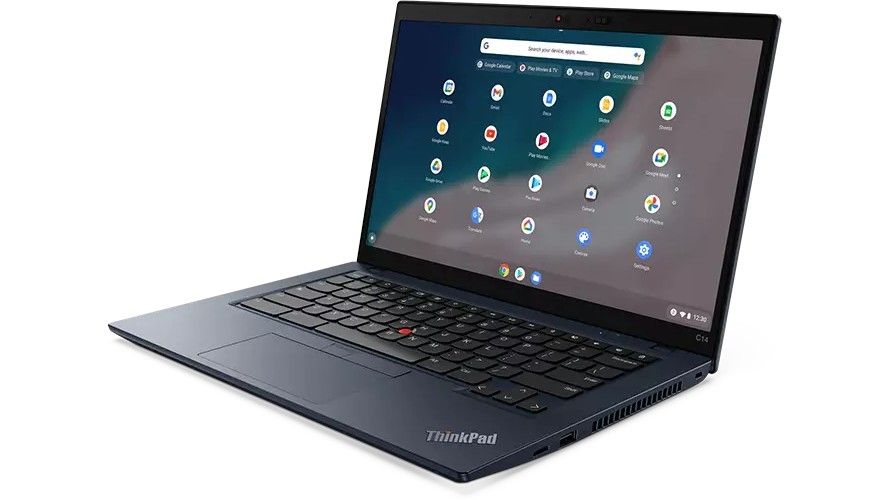 Lenovo ThinkPad C14 Chromebook
Those who need a Chromebook for business will love the ThinkPad C14. That's despite the elevated price, which often enjoys a deep sale at Lenovo's official website. It's better in just about every way compared to the Spin 311, but it lacks a convertible build. If you have the budget, this is the way to go.