The best RPGs have traditionally been found on PC and consoles in the past, but today the easiest place to find them is your Android phone. We've gathered the greatest RPGs on the Play Store, from the indie farming sim Stardew Valley to the retro RPG Titan Quest. There's a fantastic RPG here for every kind of player, and many of these titles also appear in our roundup of the best games on Android, so you know they're good.
More than a few of these games are compatible with one of the best Android controllers, so we recommend picking up a controller. But if you don't have one, don't worry. They're all perfectly enjoyable with a touchscreen.
To the Moon
To the Moon is an emotional, story-driven RPG that still stands as one of the best examples of its genre, despite being over a decade old. You'll follow the story of Dr. Rosalene and Dr. Watts. They let dying patients relive their life in their heads, helping them to fulfill their dreams. In To the Moon, you'll focus on one patient, Johnny, who wishes to go to the moon.
To the Moon's strength lies in its exceptional storytelling. There's no combat, no filler content, and no side-quests. It's a short experience that can be completed in a few hours, but these few hours are more compelling than most big-studio RPGs.
Papers, Please
Like To the Moon, Papers, Please is an indie title that caused waves due to its innovative blending of gameplay and story. Playing as an immigration inspector for the fictional state of Arstotzka, you'll decide who gets turned away or not. You have limited tools at your disposal but make too many mistakes, and you'll be fired from your post, leaving your family to starve. For another layer of pressure, you're paid per decision, so go too slowly, and your family may have to live without necessities until you pick up your pace.
Papers, Please might be old, but it's still a must-play. Few games manage to integrate their mechanics as seamlessly as this, and the steady gameplay soon evolves into a heart-pounding race against bureaucracy.
Monster Hunter Stories
Monster Hunter Stories is a 3DS game ported to Android in 2018. It's a kid-friendly version of the Monster Hunter franchise that, despite diverting heavily from the franchise's mechanics, is still a thoroughly enjoyable RPG for anyone of any age. Expect turn-based battles, monster collecting, and online multiplayer battles, closer in line to a Pokémon game.
This mobile version offers a few improvements over the original 3DS version, including HD graphics, autosave, and a redesigned UI. So whether you're looking for a kid-friendly game or just want to experience this quirky take on the Monster Hunter franchise, give Monster Hunter Stories a shot. It comes as a free demo, so you can test it out before paying the full price ($19.99).
Doom and Destiny: Advanced
Doom and Destiny Advanced is a humorous turn-based RPG perfect for any D&D fan. It's perfect for anyone who wants something lighthearted in tone but has enough content to absorb them for days. While it's based on a traditional JRPG party system, it's got enough unique features that we recommend this game to anyone, regardless of how many RPGs you've played.
If you haven't played the original Doom and Destiny, don't worry. Doom and Destiny Advanced is a standalone adventure, but it's got enough callbacks to the original that veteran players will be satisfied. Overall, it's a great choice for anyone looking for something a little different than the array of gritty RPGs that populate the Play Store.
Star Wars: Knights of the Old Republic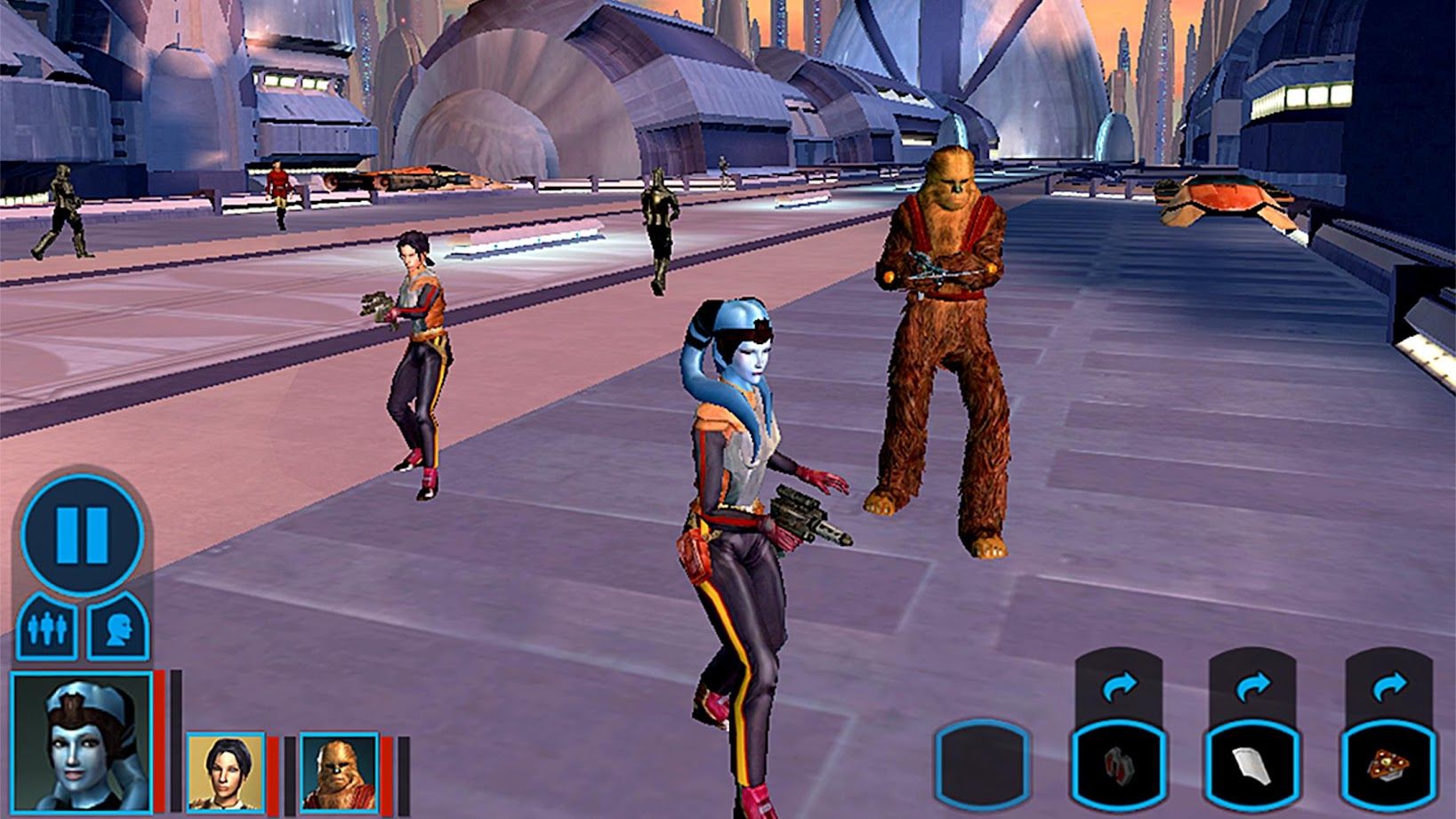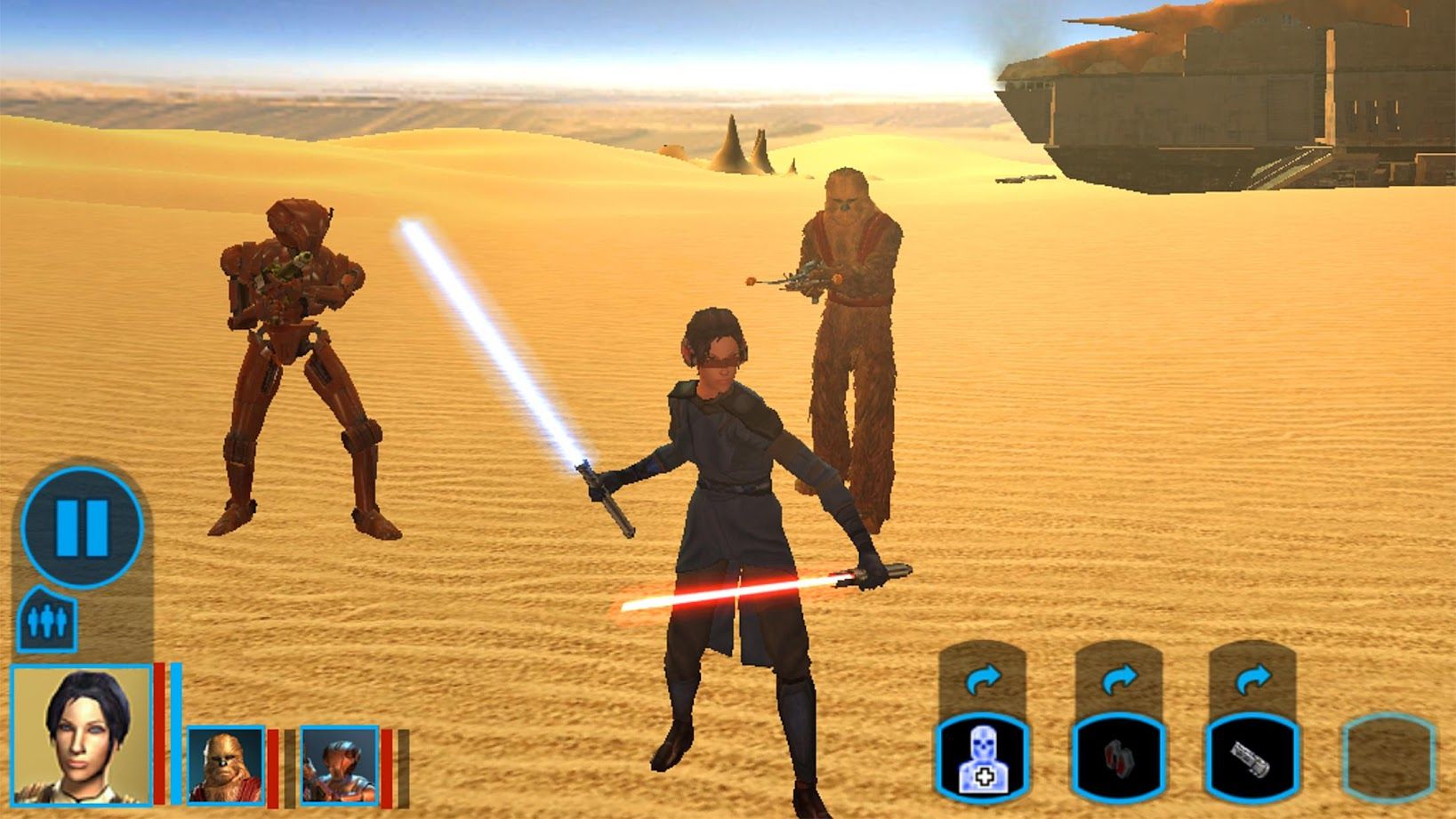 Star Wars: KOTOR will take you through an adventure set 4000 years before the events of "Star Wars: A New Hope." While we won't spoil the story, it's guaranteed to satisfy any Star Wars fan who's serious about their lore. New players will find the graphics dated, but this soon becomes irrelevant.
There's a massive amount of customization here, allowing you to build your own Star Wars character from scratch. You'll explore classic locations, use brand-new weapons, and encounter many interesting characters throughout your quest. And when you're done with the main game, try installing some mods to see what was cut out of the original game.
Stardew Valley
Stardew Valley is a farming RPG for people who like to build something meaningful Heavily inspired by Harvest Moon, you'll farm parsnips, defeat skeletons, and sail to distant islands to restore your grandfather's farm. It's relaxed, cheerful, and bound to bring a smile to your face.
While it is geared towards the casual gamer, there are plenty of opportunities for the competitive-minded player. A special end-game dungeon will push your combat skills to their limits, and reaching 100% completion requires a savvy knowledge of the game's mechanics. Overall, it's a fantastic game that every kind of gamer will find appealing.
Vampire: The Masquerade – Night Road
RPGs are, at their core, about the story. There's no point in having flashy graphics or perfect animations if the story is lackluster and dull. Vampire: The Masquerade originated as a tabletop RPG in 1991, and Night Road is the modern retelling of that story. It's a game for people who like their RPGs to be chock-full of information and lore.
Vampire: The Masquerade – Night Road is entirely text-based, with over 650,000 words of story and dialogue (For comparison, the Lord of the Rings trilogy has just over 576,000). It's a gripping, immersive RPG that perfectly demonstrates how to absorb the player into a story.
Siege of Dragonspear
Fans of Baldur's Gate have to give Siege of Dragonspear a try. Set between the events of Baldur's Gate and Baldur's Gate II, Siege of Dragonspear brings characters from those games together into a brand-new story. You'll lead your party of heroes in a 30-hour adventure, battling monsters, delving into dungeons, and exploring a world shrouded in mystery.
Unfortunately, accessibility is not one of Siege of Dragonspear's watchwords. Newcomers to the series will find themselves struggling against the byzantine game mechanics, but it's worth pushing through the initial struggles to the meat of the game. Just note that while it is playable on any device, Siege of Dragonspear is optimized for Android tablets so we recommend picking up one of the best android tablets for the smoothest experience.
Eternium
Eternium is ideal for those looking for an original fantasy RPG experience that doesn't stray too far from the classics. But unlike those classic RPGs, it's far more accessible. This is a modern game, with modern features. Its tap-to-move controls are surprisingly intuitive, so you'll be blasting skeletons and looting dungeons like a pro in no time.
Eternium is a fully fleshed-out RPG that can stand up to any big PC or console exclusive. It's free, but there are no pay-to-win mechanics like other F2P games. It's a must-play for fans of classic RPGs who have already played Baldur's Gate a hundred times.
Portal Knights
Portal Knights is an RPG for the creative gamer. Drawing inspiration from Minecraft, Portal Knights combines sandbox mechanics with classic RPG tropes. This combination of genres offers players a purpose to the sandbox experience beyond building elaborate structures.
Portal Knights doesn't sacrifice sandbox building for an RPG experience; it strikes a careful balance between the two genres. Players can defeat bosses, recruit NPCs, unlock new skills, and experience exciting events while having the freedom to explore and build at their own pace.
Chrono Trigger
Chrono Trigger was originally released on SNES in 1995. The Android version is a direct port of the DS version from 2010 that came with extra content and cutscenes. Our original review for Chrono Trigger called it "one of the best games of all time in a convenient form." While we heartily recommend this for anyone who played the original release, it's a splendid RPG for players of all ages.
Graphics in the 90s were a mixed bag, but Chrono Trigger's are utterly timeless; you'll never find yourself wincing at janky animations or muddled visuals. Beyond this, Chrono Trigger combines a charming story, a memorable soundtrack, and an impressive amount of replayability to create an RPG you'll never want to put down.
AnimA ARPG
AnimA is inspired by retro RPGs, emphasizing deep customization and fast-paced combat. It can sometimes feel frustrating and repetitive, especially if you're used to RPGs like Chrono Trigger. However, you can overcome everything in this game with strategy and patience, and it rewards you well after finding that elusive item or defeating a tricky boss.
AnimA is ideal for those who find modern RPGs too easy and prefer to solve challenges without assistance. But this doesn't mean casual gamers can't enjoy it, too. This title has a wealth of customization options, extensive replayability, intuitive controls, and beautiful graphics that make it a must-play.
Battle Chasers: Nightwar
Battle Chasers: Nightwar might have a ridiculous name, but there's nothing silly about how it plays. A throwback to the JRPGs of old, Battle Chasers: Nightwar offers players an original experience that keeps gameplay fresh and cut down on the grind. Dungeons are randomized each time you re-enter them, avoiding the repetitive slog that afflicts many JRPGs.
Battle Chasers: Nightwar is an excellent choice for players who like a decent amount of complexity in their RPGs. Combat can seem overwhelming at first, but once you've mastered the available options, you'll be amazed at how rewarding it can be.
Titan Quest: Legendary Edition
Titan Quest is another classic RPG ported to Android. It's a hack-and-slash game centered around slaying classic mythological beasts (as well as a few original ones). Players interact with various recognizable monsters throughout the game, explore ancient civilizations, and master multiple combat skills.
It's advertised as offering over 60 hours of content, so you'll have plenty of time to lose yourself in its frenetic combat system and open world. The Legendary Edition contains all the DLCs, so we recommend picking this over the base game.
Sky: Children of the Light
RPGs don't have to be about endless inventory management and stressful combat. Sky: Children of the Light is an atmospheric RPG bound to put your mind at ease. It's online, so you'll interact with other players but don't mistake this for a traditional MMORPG. While there are other players around, it progresses at a much more relaxed pace. Team up to adventure into dungeons, or relax and play your instruments. Don't worry about microtransactions either; while they do exist, they are purely cosmetic.
Exiled Kingdoms
Exiled Kingdom is for people who are nostalgic for 90's RPGs but have played all of the classics multiple times. The developers carefully designed Exiled Kingdom to emulate that era of games, including isometric camera and movement, flat green and red health bars, and deliberately unhelpful NPCs. Unlike games like Eternium, Exiled Kingdoms doesn't attempt to modernize itself.
The best thing about Exiled Kingdom is that it evokes the feeling of classic RPGs without feeling like an amateur fan game. Even if you aren't familiar with titles like Baldur's Gate, Exiled Kingdom is still a fantastic RPG. While it's free to download, the entire game requires a one-time purchase of $4.99.
The Banner Saga
Part RPG, part turn-based action, The Banner Saga is a fantastic strategy game in its own right. However, it's the RPG elements that make it shine. Mixed with a unique fantasy realm, beautiful 2D animations, and a branching story, you've got one of the finest RPGs on Android.
The biggest flaw with The Banner Saga is that the third and final segment is not available on Android. You'll have to switch to a different platform to conclude the fantastic story. That being said, the first two segments are a must-play.
Lose yourself in another world
RPGs are games best enjoyed while nestled in a comfortable armchair. Grab a cup of tea and your phone, and settle down for the evening. But sometimes RPGs can be too much to take in, so try one of the best casual games on Android if you require a relaxing evening.