Avoid breaking your fancy flagship with one of these cool cases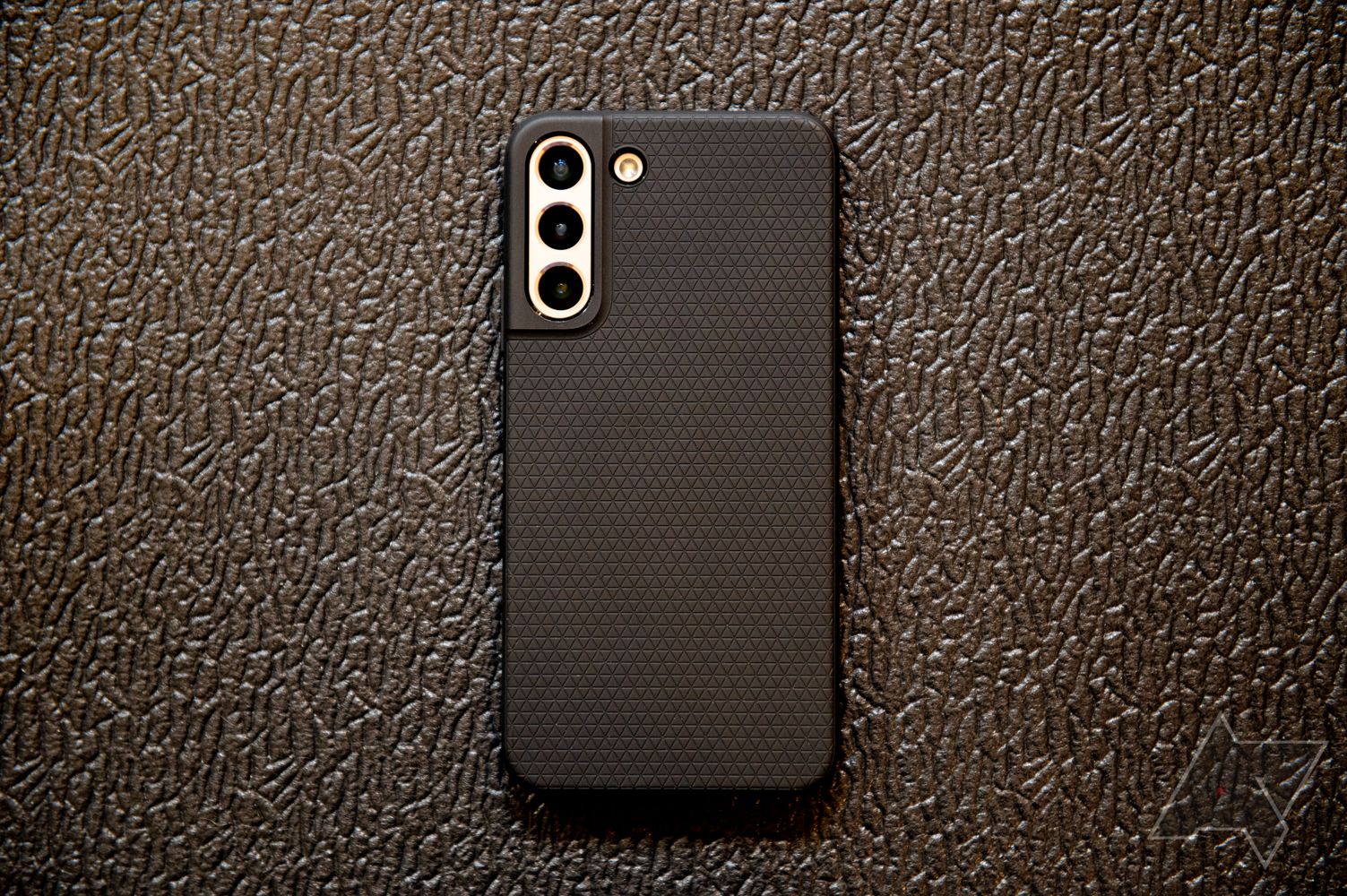 While the Samsung Galaxy S22 Ultra threw out the design of its predecessor in favor of something more Note-inspired, the Galaxy S22+ has a more iterative design. That's not a bad thing, with the symmetrical bezels and wrap-around camera bump serving to differentiate the phone from the competition and arguably making the phone better looking than the Ultra.
A phone this good-looking deserves to stay looking brand-new for as long as possible, and the best way to do that is by wrapping it up in a high-quality case and one of the best S22+ screen protectors. We've gathered the best cases on the market, with plenty of options to meet your tastes.
If you don't really care about having bulk, and just want something that looks and feels tough, then the Poetic Neon case is a great option at a good price. According to the manufacturer, it's MIL-STD drop tested, meaning that glass back and front should be pretty safe in there. It's not thin at all, and those reinforced corners might actually make the phone a little unwieldy, but all for the sake of absolute protection. It also has a grippy back, and it's available in 8 different colors, just in case that boring black isn't really for you. For $17, it's a pretty good deal.

The Spigen Liquid Air is wonderfully slim, with the phone's shape and contours being honored while adding a textured back, ensuring that the slippery hunk of glass and metal stays firm in your hand. That friction is extended to the phone's sides as well, and despite the fact that it's flexible and thin, it can withstand a beating and absorb potential impacts. The side bumpers of the case feature diagonal texturing for extra grip, and both the button covers and USB-C port are impeccably tailored to the Galaxy S22+. Spigen finally broke its all-black streak to give us a deep Abyss Green version, too!

While this case may look super slim, Tech21 still packs 8-foot drop protection into its small form. While the beefier Evo Check series can withstand drops twice that high, it's more translucent than crystal clear, and that doesn't let you properly enjoy your Galaxy S22+'s color. Instead, the Evo Lite Clear adds all the grip we need while avoiding any bulk, which many will agree is the proper priority for a phone that's already as large as the 6.6-inch Galaxy S22+. Wearing the Evo Lite Clear helps you almost forget you're wearing a case at all, save for the grippy dot-grid pattern across the bumper sides.

Third-party case makers try to offer leather cases, but none feel as polished or pristine as Samsung's own unless you're willing to go to a thicker leather folio. This year's Leather Cover lacks a brown option this time, instead, we get Black, a dark Forest Green, and a Light Gray that's somewhere between pewter gray and dolphin gray. As with most Samsung first-party cases, the camera cutouts are exact, meaning that even if you choose a varying color from your Sky Blue special, this case will keep any hint of original color from shining through.

Wallet cases are usually either big, bulky folios or practically useless card slots that maybe hold two cards. Austin-based Smartish aims a bit higher with the Wallet Slayer, which holds up to three cards plus cash, has no moving parts to break, and comes in nearly infinite styles. You can pick from 15 styles on Amazon — including this "Freshly Baked" design that is just begging to go on a hike — or you can customize your case dozens of different ways on the brand's website. I've rocked the Wallet Slayer, and it holds up phenomenally; the wallet grips don't wear out, and it sits flat and stable on a tabletop, something else most wallet cases struggle with.

Most Galaxy S22+ cases tend to cover up and obfuscate the camera module, but the Caseology Nano Pop instead gives us an entirely new one. Bold, bright colors really draw the eye to the cameras while the rest of the case is a clean, minimal design. This case holds up remarkably well over time: I've used it on several phones over the last 18 months — since it came to the S21 last year after being iPhone-only — and even after a whole year of heavy use the case hasn't discolored or warped. I wish we got Light Violet, but the Avo(cado) Green is almost as eye-catching as the Blueberry Navy.

Supcase makes excellent cases, and the Unicorn Beetle Pro (I know, that's a mouthful) is proof of that. It's yet another option to have in mind if you need a rugged case that can survive the steepest of drops. It has full-body protection, with a dual-layer TPU/polycarbonate back and a front cover (not a screen protector) to protect your display, with the company claiming it's been drop-tested at 20 feet to ensure its durability. It also has a kickstand for hands-free media consumption and comes with a belt-clip holster if that's a thing you need. At $27, it's priced a little higher than other options in this list, but given its feature set, it might very well be worth it.

Cyrill is an expert at making stylish cases, but if you want something that looks a little bit plainer than other options we've shown in this list, this Cyrill Color Brick is an excellent choice. There's not a lot to it, actually — the back is a smooth matte TPU material, and the case is available in both gray and blue colorways. The sides provide excellent friction despite the fact it has no ridges, but the stylish camera accent adds some subtle flair to your phone. For $18, it's a great option to consider for those who want a soft-touch case that still protects.

The Galaxy S22 and S22+ both come in a lot of fun colorways, especially if you buy your phone straight from Samsung. You have Violet, Cream, Sky Blue, Graphite, as well as Pink Gold and Green. If you want to show off your phone's stunning looks, but you don't want it to break from a drop, then the Spigen Liquid Crystal case is the perfect option for you. It's slim and form-fitting, so it won't add much bulk to your phone, it's easy to put on and take off, and most importantly, it costs just $14. It's a perfect addition to your future purchase. There's also a Glitter variant that better hides smudges and oily buildup, as well as obscures any small cracks that may have happened before you got this case.

Most major brands have started using more recycled materials in their cases when possible, but brands like UAG are finally starting to follow in Pela's footsteps and bring biodegradable cases to the masses. 100% biodegradable and compostable, the UAG Outback Series still takes drops and dings like a champ, thanks to UAG's honeycomb air cushioning. Holding this well-grained case, you'd never think it was anything but normal TPU with an adorably speckled finish. UAG offers this case in Olive Green, but the Black with its white speckles looks like the night sky pressed into a lightweight cradle for your Galaxy S22+.
Protecting your Samsung Galaxy S22+
The Supcase UB Pro will undoubtedly be incredibly popular due to its famed hardiness. The Poetic Neon won our recommendation because it can minimize the bulk while offering similar protection. The superior color options didn't hurt either; the blue and purple versions are gorgeous, and the green plays well with the green S22+. Unfortunately, it lacks a port cover, but that could be a bonus if you use wired Android Auto and chargers over wireless options.
The UB Pro might be more functional with the front frame and lovely kickstand, but it's also a large case for a large phone, so it's good to have options for the small pockets.
If you're mainly concerned with scratch protection and resistance to small bumps, then Spigen, Tech21, and UAG all have cases that do just that, adding plenty of grip and some drop protection without making your S22+ an S22 Ultra-sized brick. The Caseology Nano Pop gets our pick thanks to the contrasting color options. If you got your S22+ in one of the snazzy Samsung exclusive colors, you might want to show it off with a clear case, which Tech21 and Spigen both offer. Spigen's Liquid Crystal even has a glitter edition, which adds sparkle to your phone.
Speaking of style, you can use any photo you'd like on the Smartish Wallet Slayer to produce a cool, custom, card-carrying case that will take a beating and still feel excellent in hand — but you'll sacrifice wireless charging for it.
No matter your case tastes, you'll need to also grab a Galaxy S22+ screen protector to have full 360-degree coverage for your fancy flagship. Tempered glass options are more prevalent for the Plus due to its flat screen, giving the front of your phone more impact protection.