Smart lighting is one of the most popular considerations for new smart home setups since it's extremely useful and a great smart device for beginners. So instead of wading through countless off-brands, take a look at these excellent smart lighting manufacturers, with offers ranging from high-end lamps and permanent fixtures to straightforward smart bulbs. And you won't have to worry about smart ecosystem compatibility, either, as most of the best options support Google Assistant and Amazon Alexa, with a select few already certified to work with the Matter standard.
The best smart lighting ecosystem for your home in 2023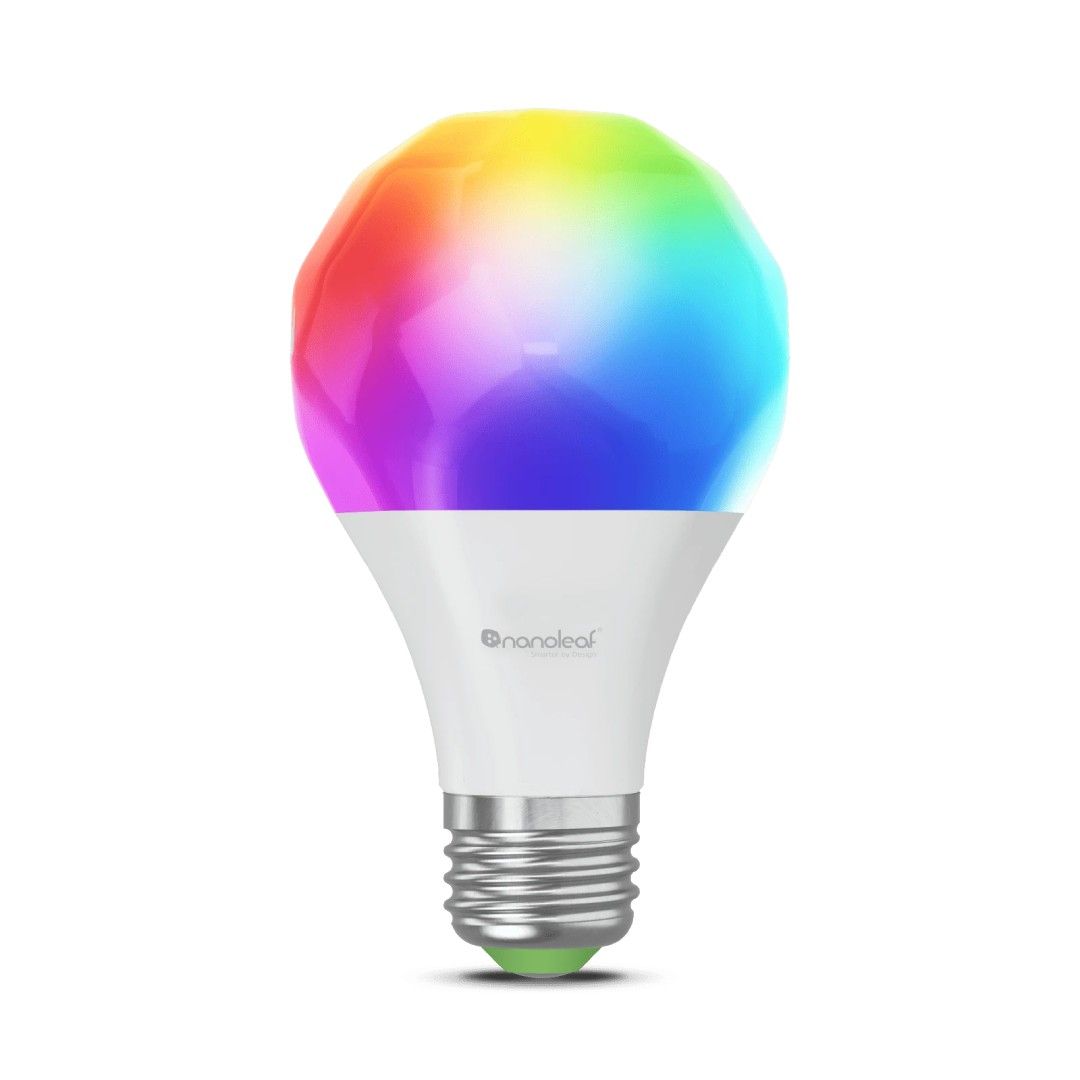 Best overall
Don't miss the futuristic Shapes lineup
A mere up-and-comer just a short while ago, Nanoleaf now offers a wide range of intricate smart lighting not just for lamps, but also for entertainment centers and gaming setups. They're also equipped with some of the most advanced and versatile software and hardware compatibility on the market.
Pros
Excellent responsiveness
Wide range of futuristic light fixtures
Great TV and flood lighting
Nanoleaf's most noteworthy products are the ones making up its Shapes family. They're geometric, modular installations you can use to add the perfect flair to a bedroom, home theater, or gaming room. But there's more to Nanoleaf than just the flashy stuff. In addition to drop-in ceiling downlight retrofitting and novel ceiling floodlighting developments, it also makes a few smart bulbs, and they offer the most refined experience of almost any brand.
In particular, the recently updated Matter A19 bulb does a great job of showcasing why we love Nanoleaf. It turns on and responds to commands in milliseconds, which is an underrated part of smart lighting performance. It's also the first smart bulb to support the up-and-coming Matter ecosystem. While you might not need Matter compatibility just yet, it's the kind of forward-thinking premium feature that reassures you how well-designed Nanoleaf products are.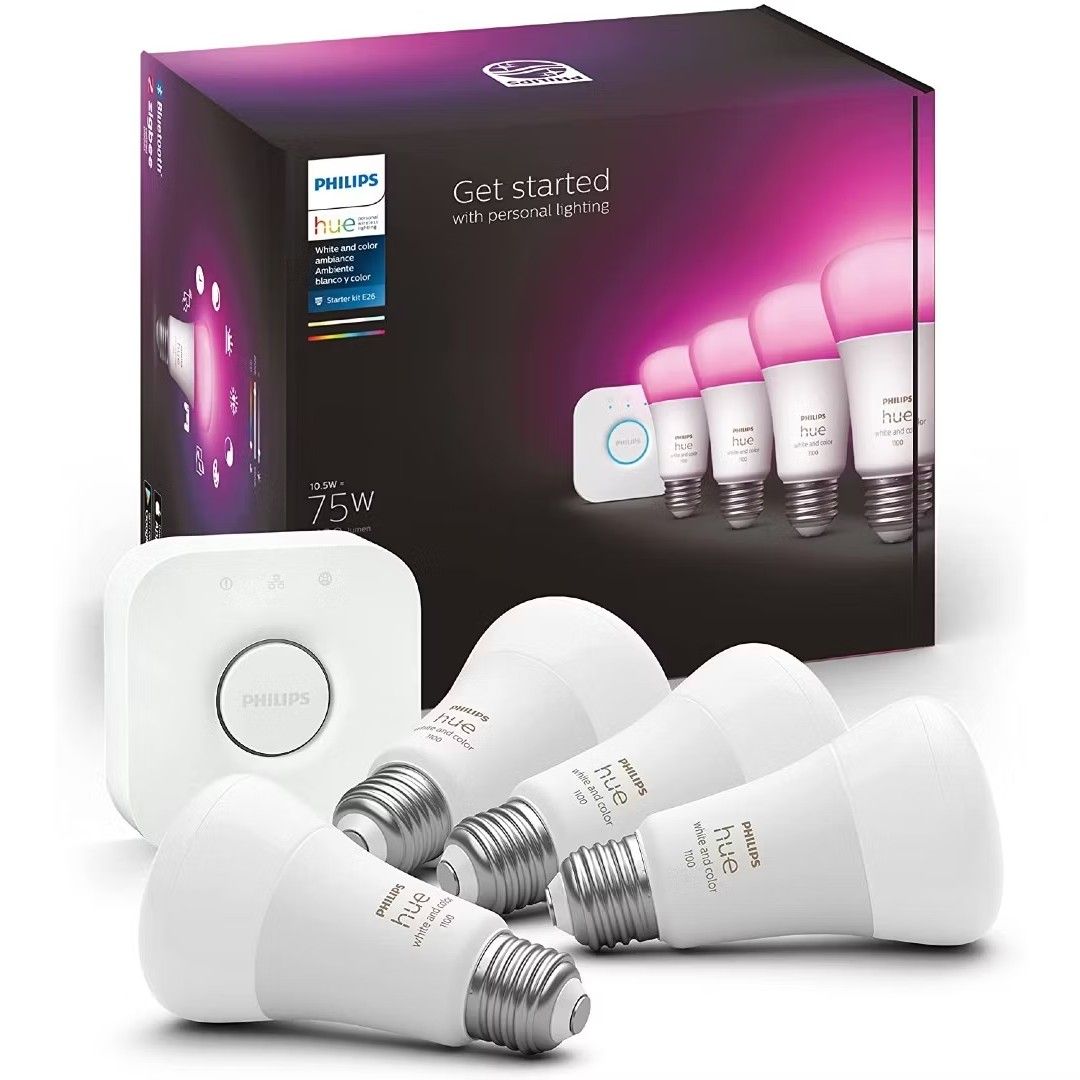 Philips Hue 75W Starter Kit

Premium pick
Pricey, but widely hailed as the best
$170 $200 Save
$30
Universally considered the top high-end brand, Philips Hue is perfect for outfitting your home with a variety of premium freestanding lamps and highly effective smart bulbs of all formats. While pricey, it offers the most features and performs as well as or better than anything else.
Pros
Impressive smart home integration
Wide variety of bulbs and lamps
Great for crowded smart homes
Cons
Remarkably expensive
Needs the Hue Bridge to unlock the best features
Few things in the tech industry are as widely accepted as Philips Hue offering the best smart lighting on the market. It's as streamlined to configure and use on a day-to-day basis as anybody could ask for. It's responsive, highly customizable, and as reliable as they get. There's also an impressively wide selection of Hue lights, including super-classy Gradient floor lamps and wall sconces, and Philips was one of the first to release a 1,000-lumen bulb.
So what's the catch? It's simple: Hue lights are really expensive. If you're just starting out and aren't sure how much you'll really get out of smart lighting, you'll understandably balk at the upfront cost. But if you decide to take the plunge, we're confident you'll be happy with it, because Hue lights are fantastic.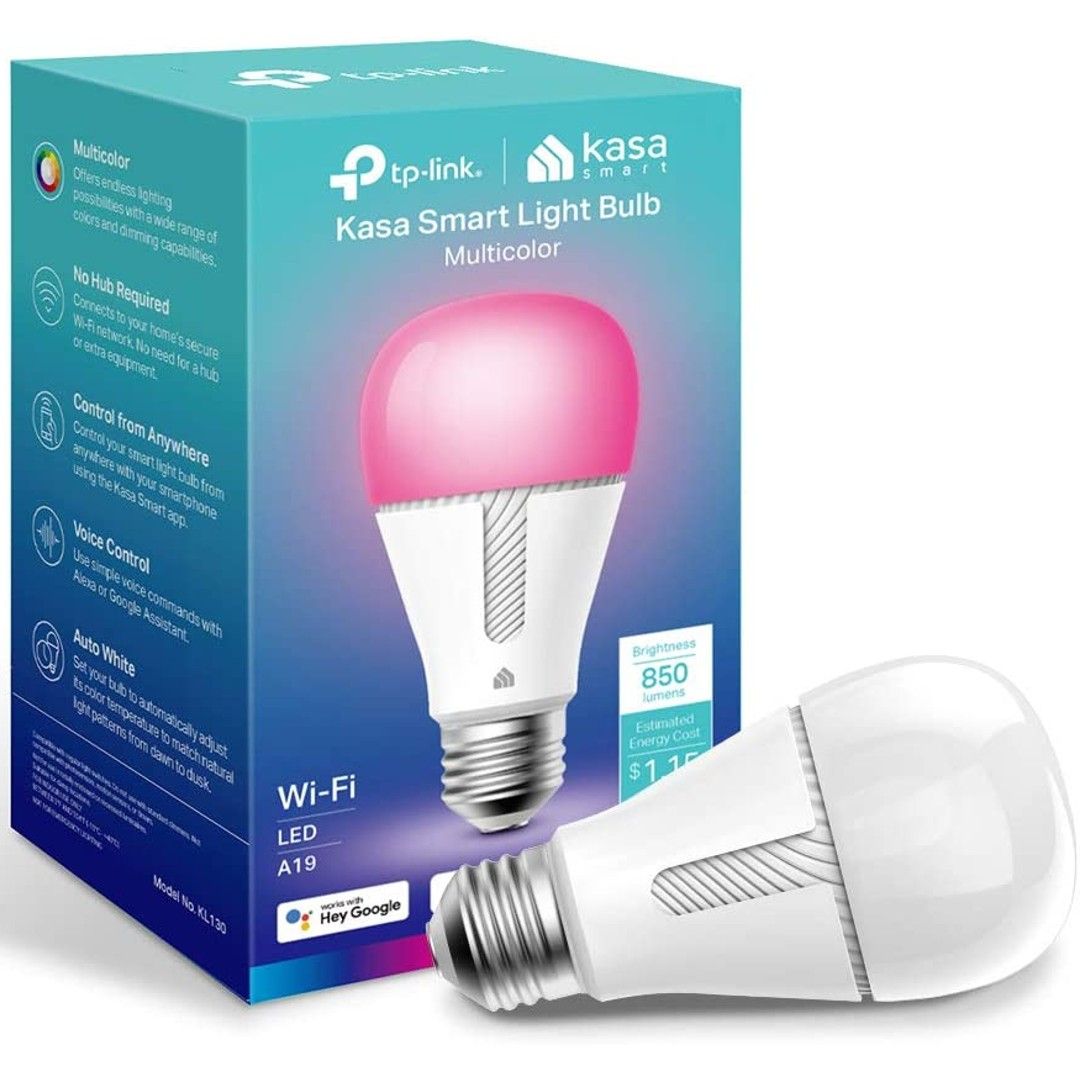 TP-Link Kasa Smart Lighting

Best value
Straightforward and user-friendly
$23 $30 Save
$7
TP-Link makes a variety of simple, reasonably priced, effective smart devices, and its recently updated smart bulb lineup is one of its best. Unlike most of the competition, it can get as bright as 1,000 lumens, but still doesn't cost as much as high-end brands.
Pros
Relatively well-priced
User-friendly app control
Gets brighter than most
You'd normally see TP-Link Kasa heading up our roundup of best smart plugs, but its lighting is great, too. Similar to its smart plugs, switches, and power strips, Kasa's smart bulbs aren't exactly mind-blowing in terms of features and complexity. Instead, they're honest, dependable, easily customizable bulbs that are shaped almost identically to incandescents, so they'll drop into any of your existing lamps or fixtures.
It's also worth noting that we've given Kasa smart bulbs a positive review here in the past, and a recent update makes them an even better prospect. This time around, their peak brightness got bumped up from 800 to 1,000 lumens, and they're now engineered to save even more electricity when in standby mode.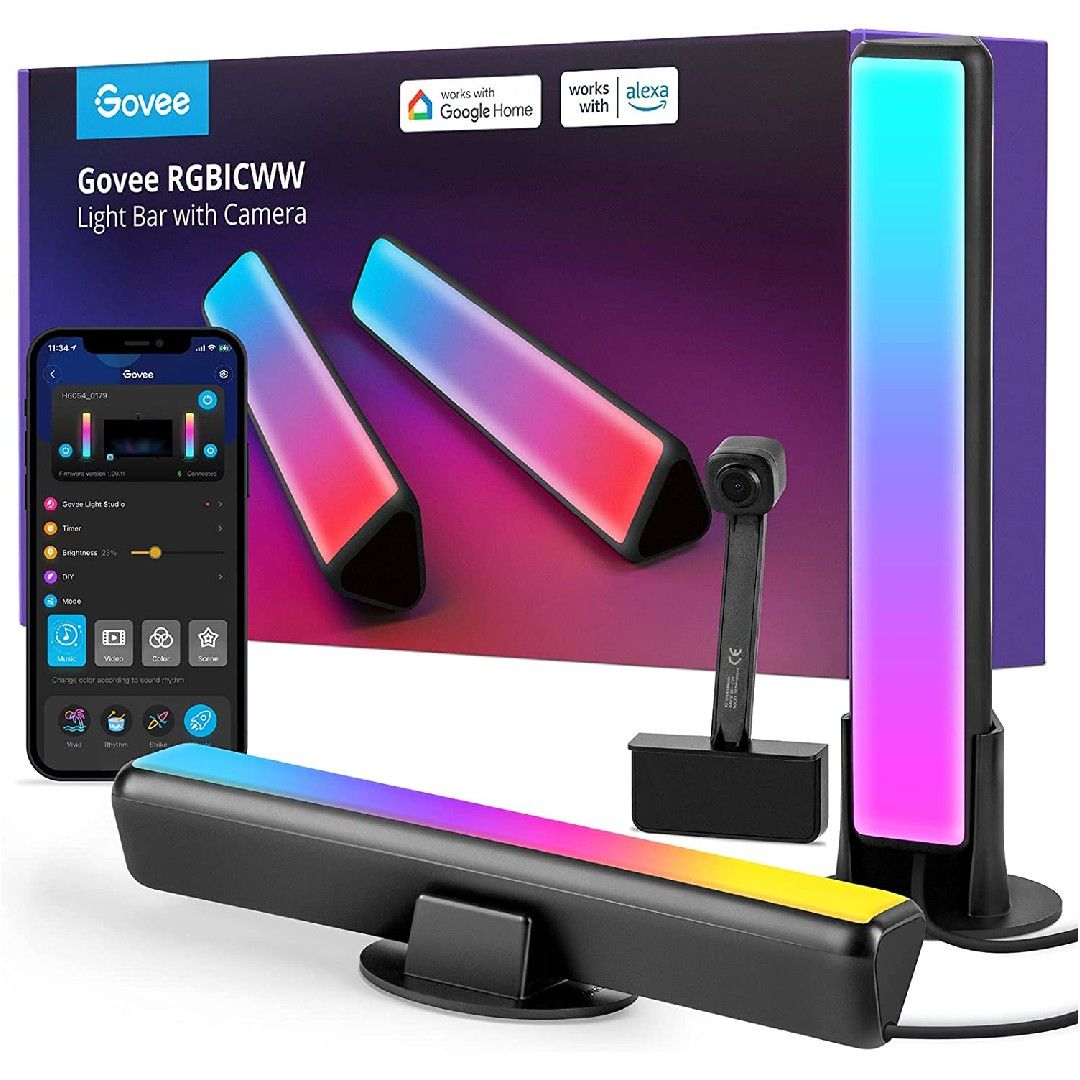 Govee Smart Lighting

High entertainment value
Movie night and game rooms will never be the same
Govee makes common smart bulbs (and they're pretty bright), but its most interesting products are the light bars, light strips, cameras, microphones — and HDMI sync boxes that allow you to pair them seamlessly to music and onscreen action.
Pros
The best dynamic reactive lighting systems
Perfect for streamers and heavy gamers
A19 bulbs reach as high as 1,000 lumens
Cons
Installation can be tricky
Govee is quite unlike the other smart lighting companies. Rather than just floor lamps and simple light bulbs, it focuses heavily on entertainment-friendly accent lighting. To give you an idea of what we're talking about, we've highlighted the Flow Pro light bar set. It includes a camera and microphone for operating the lights dynamically, changing colors to fit the beat of the music or the onscreen action of a movie or game.
They offer a handful of bundles for specific uses, such as light strips that go on the back of a 55- to 65-inch television to increase apparent contrast. There are even a couple of Sync Boxes, one of which operates the dynamic reactive lighting with such low latency that it takes fast-paced gaming to the next level.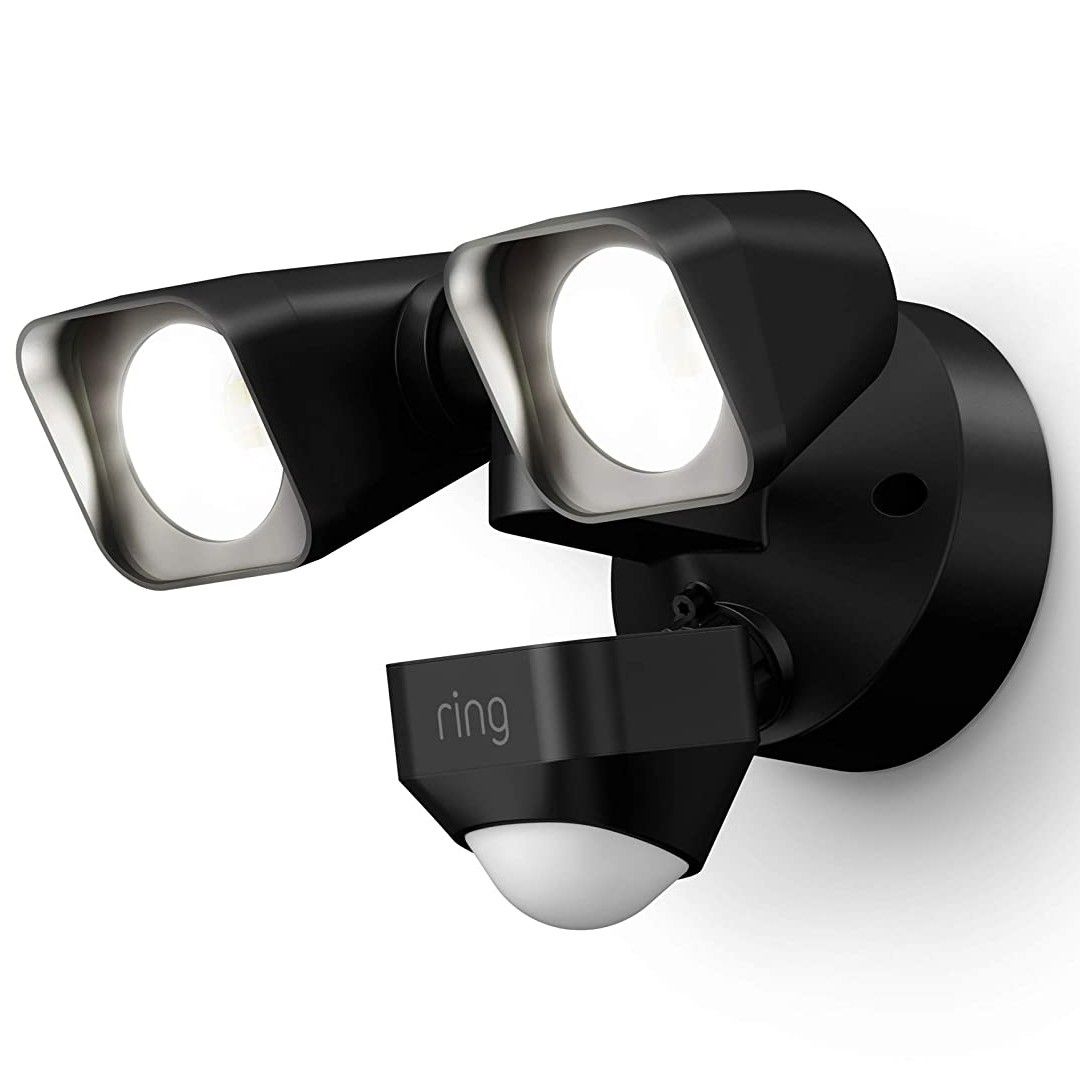 Ring Smart Lighting

Best security lighting
Brighten up the night and help your security cams
Ring smart lights aren't very valuable on their own, but they excel when paired with the Ring Bridge and a Ring video doorbell system. We've highlighted the wired floodlight because it's the brightest, but the smaller security lights and path lights are great, too.
Pros
Perfect for home security
A good selection of outdoor-safe fixtures
Both wired and battery-powered options
Ring's another one that's a far cry away from a simple light bulb manufacturer. As you might expect, Ring smart lighting should be paired with a Ring Video Doorbell and compatible security products. With that in mind, Ring lighting is very much for home security, not for design or ambiance.
The first clue might have been the large, outdoor-focused floodlight we've drawn your attention to here. But there are more to choose from, and each enhances the value of your Ring security setup. Take note, however, that none of them are any more useful than a non-smart motion-detecting light unless you pick up a Ring Bridge, 4th-gen Amazon Echo, or 3rd-gen Echo Show.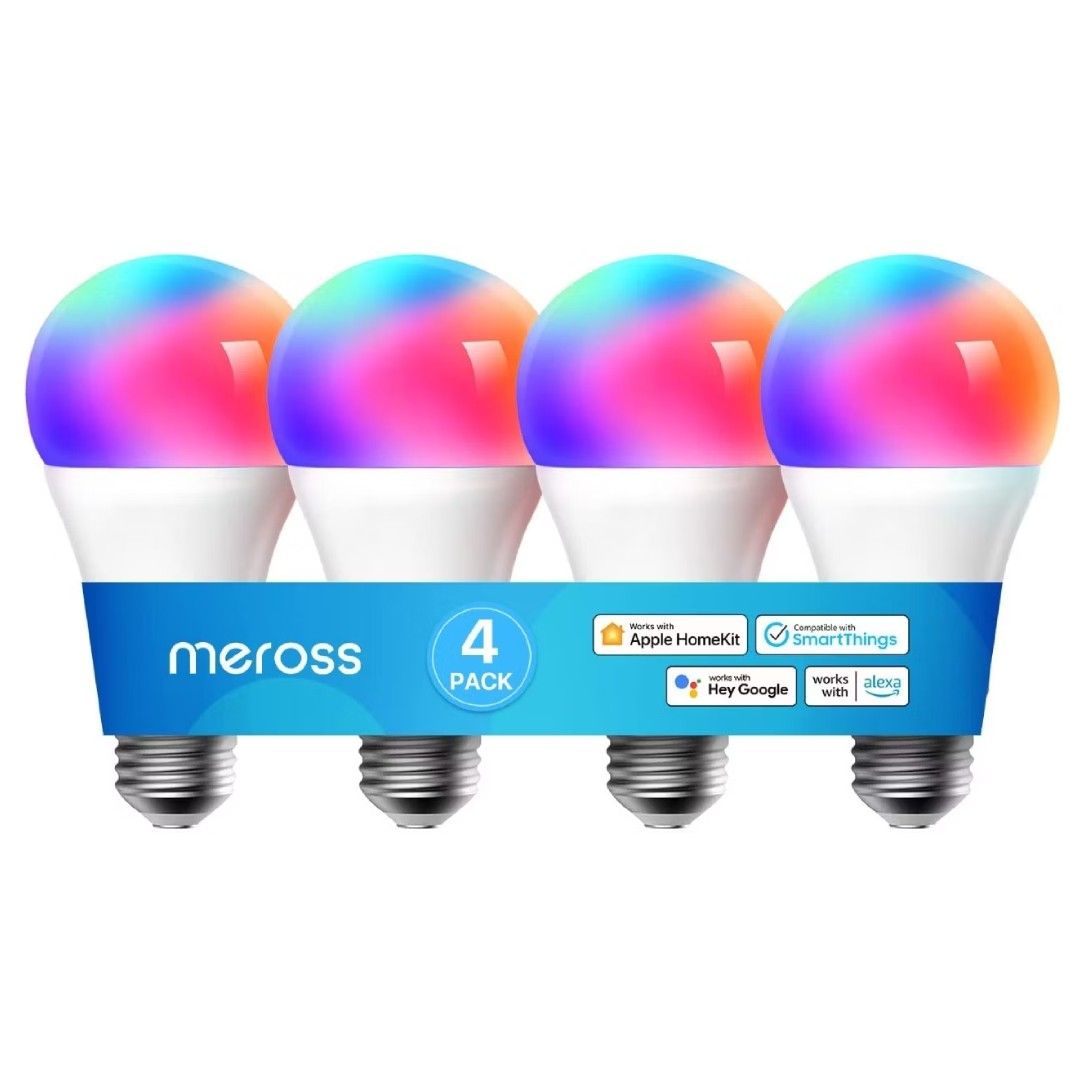 Meross Smart Lighting

The HomeKit Winner
Simple, easy to use, and perfect for Apple users
Meross makes simple and technologically sound smart devices, mostly focusing on indoor and outdoor smart plugs and power strips. Its smart lighting is noteworthy because it promises wide-ranging compatibility, making it a great choice for Apple HomeKit users.
Pros
Above-average brightness
Supports most major smart ecosystems
One of the frustrating things about smart home technology is that devices don't always play nice together, especially if you pick and choose from a wide range of brands. Meross takes away some of that hassle with explicit support for not just Alexa and Google Home control but also Apple HomeKit and Samsung Smartthings. The company has also expressed a commitment to developing Matter-compatible smart plugs, and then likely more Matter stuff, once the new protocol starts to take off a little more.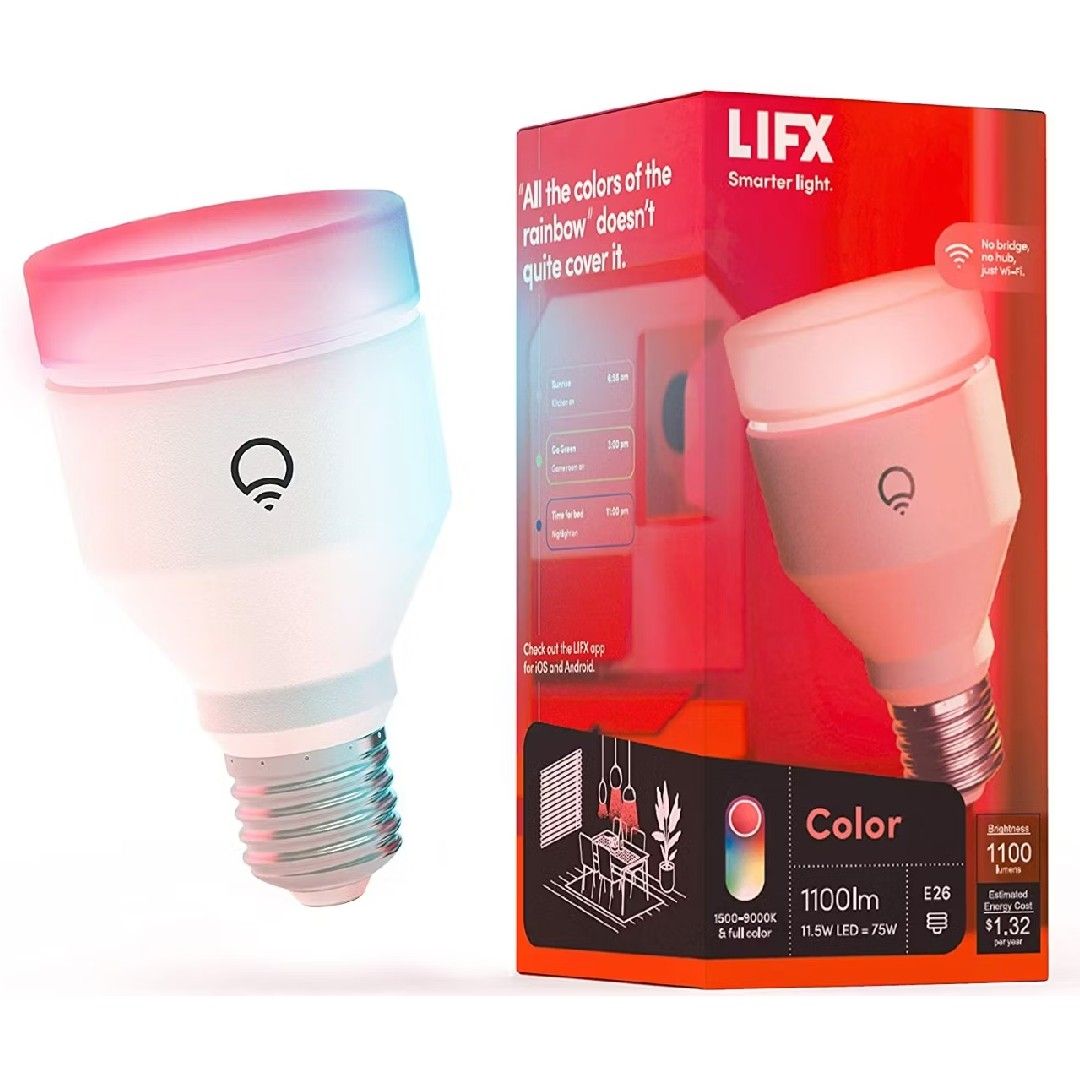 LIFX Smart Lighting

Bold and bright
The perfect range of the most commonly needed bulbs
$35 $40 Save
$5
Indoors, outdoors, and for entertainment or security, LIFX almost certainly makes a smart bulb that will meet your needs. We're shouting out the oddly shaped but incredibly bright standard A19 bulb, but the smaller candle bulb and much larger Beam light bar are also pretty interesting.
Pros
Brighter than any other
Expandable light strips
A simple in-ceiling retrofit option
Cons
Standard A19 bulb is really costly
No wall fixtures or lamps
For evidence of why LIFX lighting is great, check out the concise but well-balanced lineup of great LIFX bulbs. It was one of the first companies with a 1,100-lumen A19 bulb, and it's since developed a good selection of form factors useful for a variety of different applications. We especially like the E12 Candle Color bulb, which turns the smallest bedside lamps into smart lights. We also love the relatively recent Beam light bar, which adds dynamic, programmable light to any wall.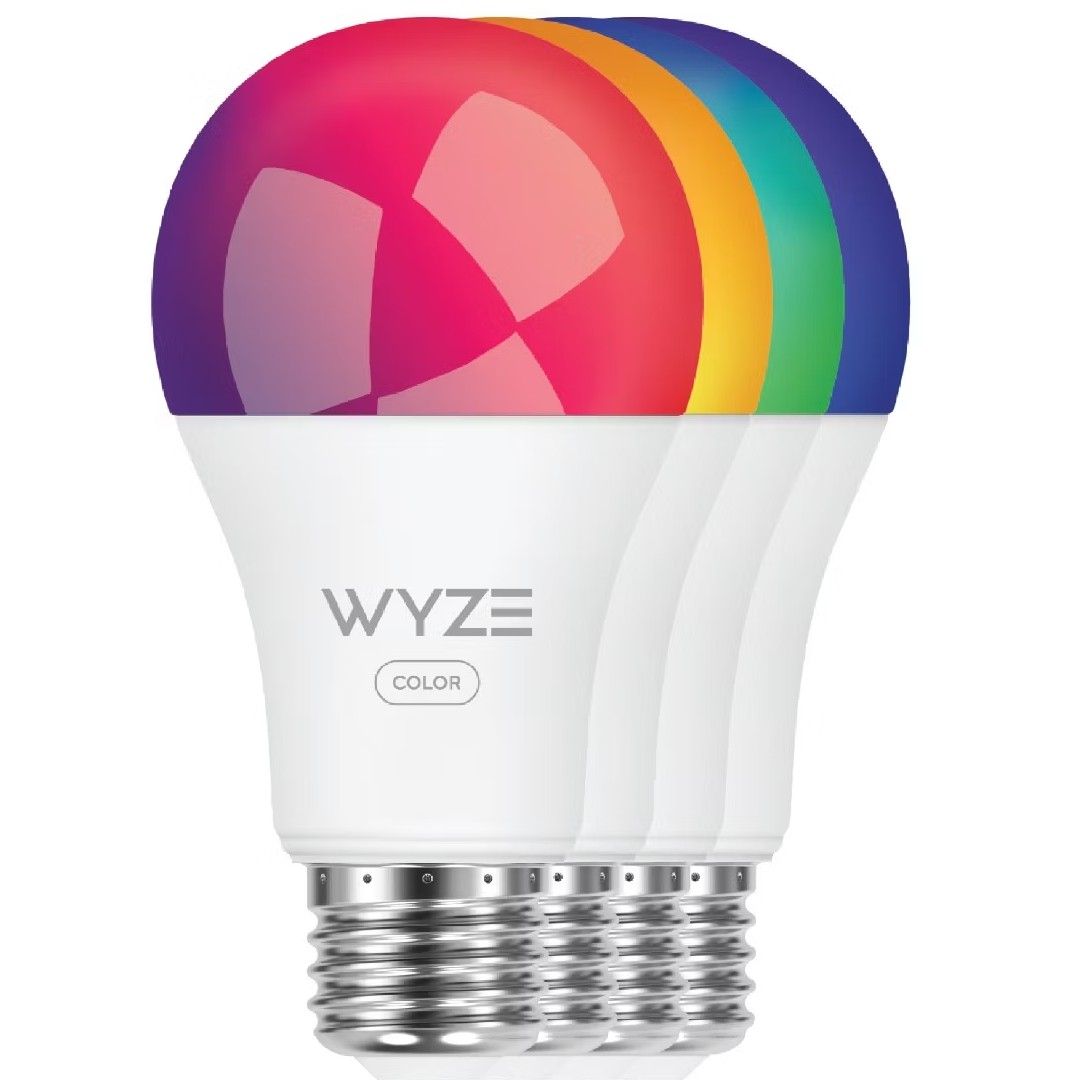 Wyze Smart Bulbs

Another great value
For households without a ton of smart devices
$23 $27 Save
$4
Wyze smart lighting is extremely simple. There's basically only one style to choose from, and it comes in white, 800-lumen color, and 1,100-lumen color. There are no other models to confuse you while searching, and the app and voice control both work well.
Pros
Comparable to a 75W incandescent bulb
Highly affordable
Cons
Nothing but common bulbs offered
There's not much to Wyze smart lighting. Like the rest of its smart products, it's meant to be straightforward, dependable, and easily used by anybody. It fills those roles well. It comes in two main versions: a newer, 1,100-lumen color bulb that's pretty affordable, and an older, 800-lumen version that's especially affordable. And despite their simplicity and low cost, they're great at responding to schedules, geofencing, and custom scenes.
Picking the right smart lighting for your needs

Nanoleaf made its name with fancy, wall-mounted geometric arrangements marketed largely to gamers. Since then, it's expanded its Shapes lineup significantly while developing the first Matter-friendly bulbs available. While there aren't a ton of bulbs to choose from, what's there performs more quickly and smoothly than anything else. However, if you're trying to save money above all else, you'll also be happy with our budget pick from TP-Link Kasa.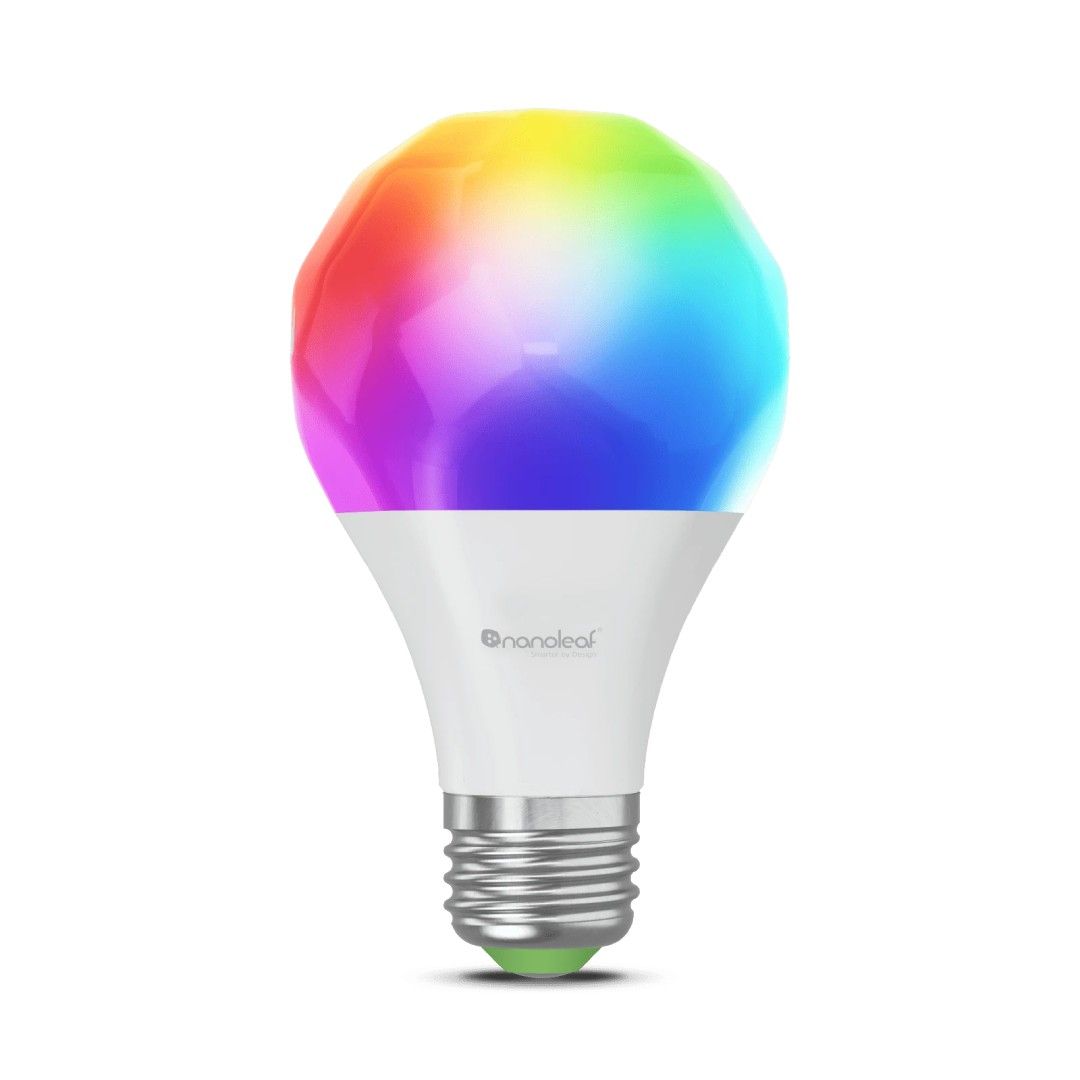 Best overall
The latest tech and most useful lights
Nanoleaf makes some of the best-engineered, brightest, most widely compatible smart lighting on the market. Whether you want to equip a game room or TV or just replace some old non-smart bulbs, you can't do better than one of these high-end options.