I've been wearing hearing aids since kindergarten, and it's incredible how much this technology has changed over the last quarter-century. My first hearing aids were clunky and big, and I had to rely on an external FM microphone to better hear my teachers at the front of the classroom. Contrast that to my current set of Phonak Audéo M70, which are almost invisible and offer native Bluetooth audio and phone call streaming, no specialized hardware needed. However, the Phonak Audéo I have are at the higher end of the price spectrum, and people who are just starting their journey to better hearing may be reluctant to get devices this specialized and expensive. Enter the Jabra Enhance Plus.
You may know Jabra for its excellent earbuds like the Elite 5, but you may not be aware that the company is part of a much bigger audio empire, the GN Group. Within this conglomerate, there is also hearing aid specialist GN Hearing, which is the company behind ReSound hearing aids. The GN Group uses its resources across its different brands, and as such, the Jabra Enhance Plus benefits from extensive R&D in the hearing aid department, all while looking like good old regular earbuds, with nothing about them resembling the all-too-often stigmatized hearing aid look (which is an issue that people love to blow way out of proportion in any case).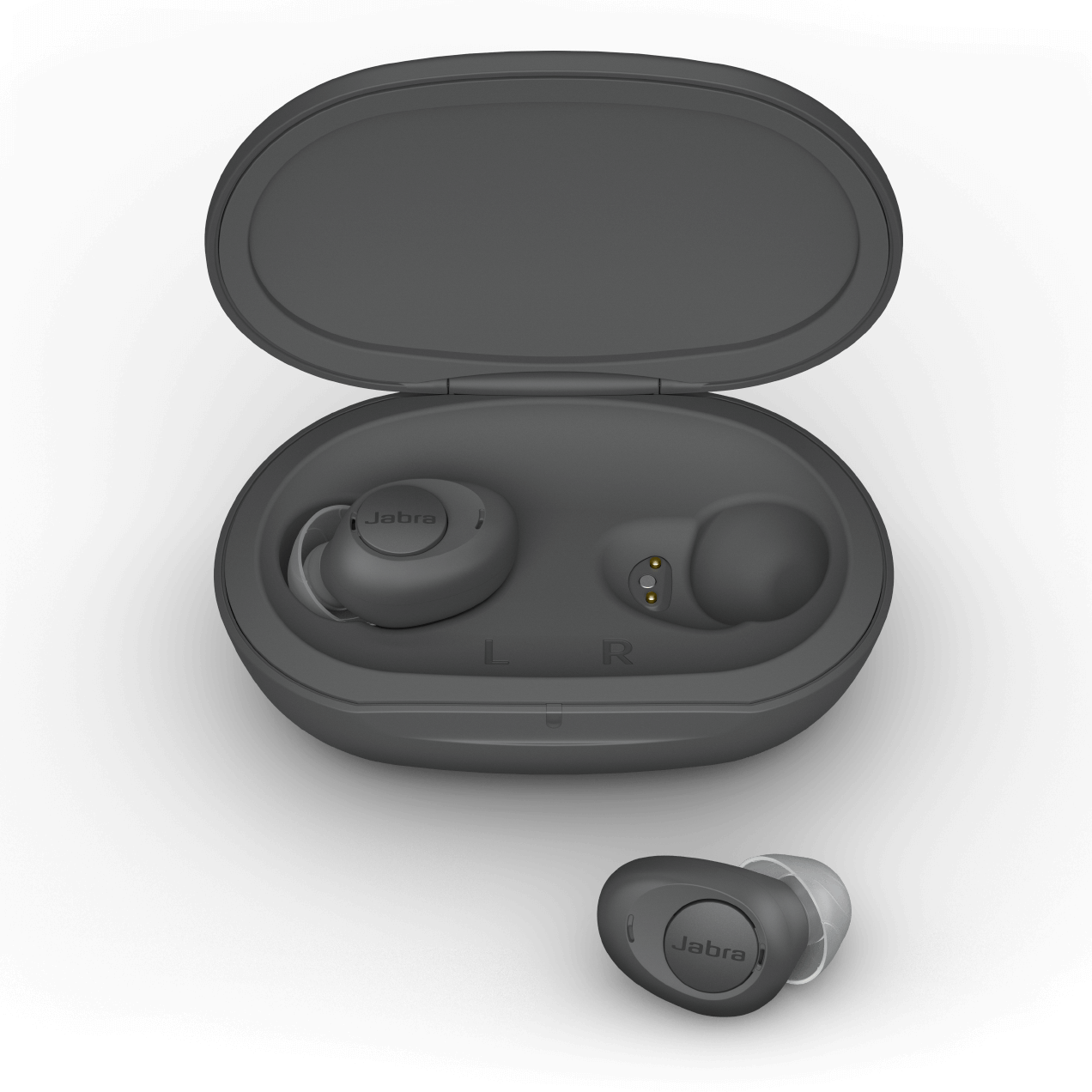 Jabra Enhance Plus
The Jabra Enhance Plus are not quite hearing aids, but they're definitely much more than regular earbuds with some hearing enhancing capabilities. If you're someone who notices that their hearing is getting worse, but not quite bad enough to warrant hearing aids, these might be the perfect stop-gap solution.
Battery Life

12 hours; 35 additional hours in case

Noise Cancellation

Yes

Bluetooth

Made for iPhone hearing devices only

Microphones

4

IP rating

IP52

Supported codecs

SBC, AAC

Charging

USB-C in case

Price

$800
Pros
Much closer to my $5,000 hearing aids than I expected
All-day battery life in mixed streaming and hearing aid usage
Incredibly small, even when compared to regular earbuds
Cons
The included three standard eartip sizes aren?t as comfortable as custom-fit earmolds
At very high amplification volumes, the Enhance are prone to feedback
No Android compatibility (but coming eventually)
Availability and compatibility
The Jabra Enhance Plus are available in the US and in Europe, though they're simply called Jabra Enhance (without the Plus) in Europe, which is what I reviewed here. Since they're the same devices under different branding, I'll call them Enhance Plus throughout this review, though.
You can buy them for $800 on Amazon and Best Buy. This may seem steep when compared to all those excellent entry-level earbuds out there, but you have to consider that regular hearing aids cost well beyond $1,000. Thus, the Jabra Enhance Plus sit right in the middle between earbuds and hearing aids.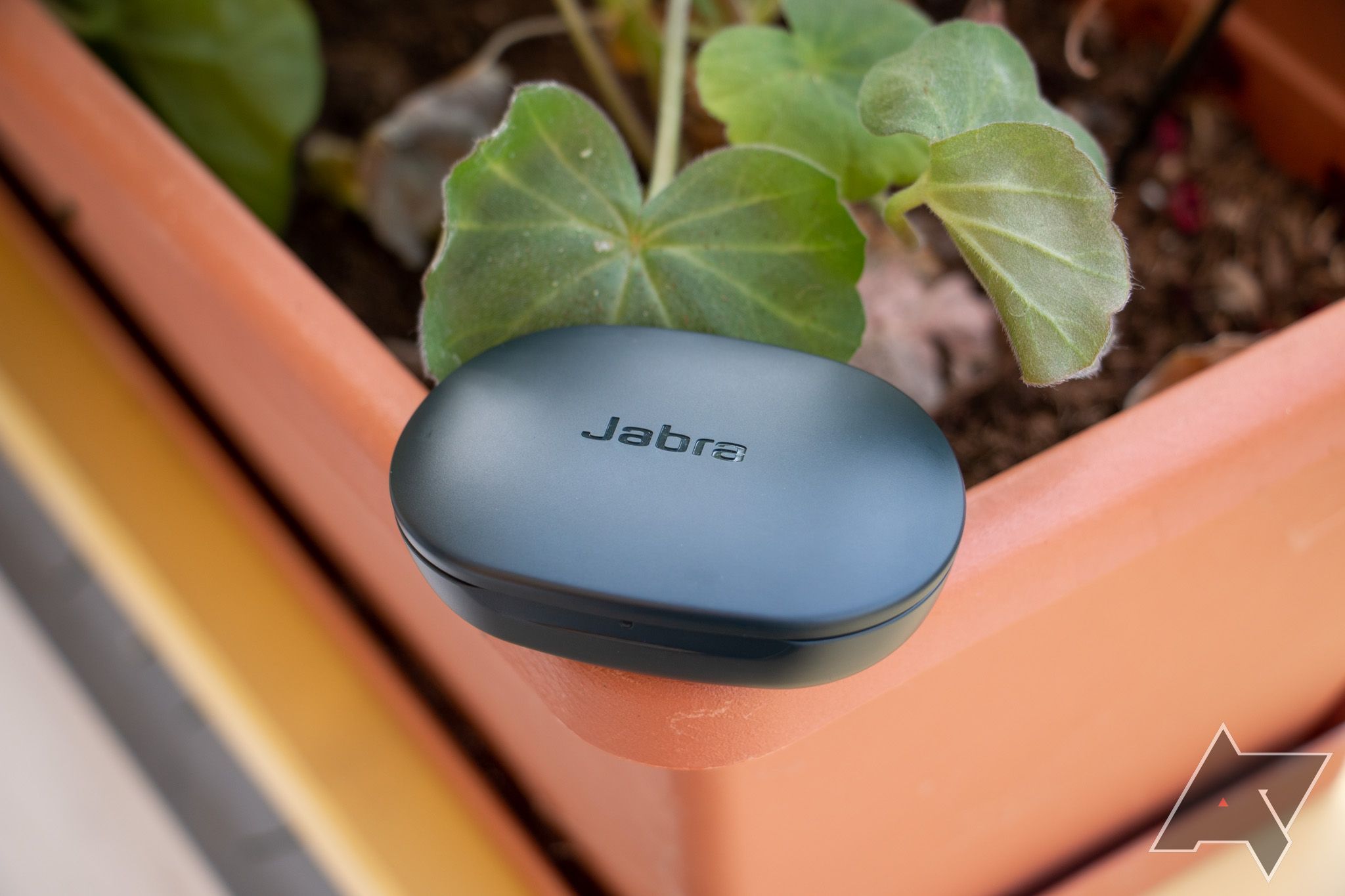 Let's get the biggest disadvantage out of the way first. The Jabra Enhance Plus are only compatible with iPhones right now, though the company promised Android support in the near future. Even then, the Jabra Enhance Plus will likely only work with a selection of Android devices, since it will rely on ASHA, Google's special low-energy Bluetooth connection custom-made for hearing aids. I'm sure all of the best Android phones out there will have support for it, though.
The Jabra Enhance Plus are only compatible with iPhones right now, though the company promised Android support in the near future.
Design and hardware
As someone who uses regular over-the-ear hearing aids, the first thing I noticed about the Jabra Enhance Plus is just how small and light they are. Even compared to in-ear hearing aids like the ReSound One pictured below, the Jabra Enhance Plus look impossibly small. Even when compared to in-ear hearing aids like the ReSound One, both the case and the earbuds themselves are significantly smaller.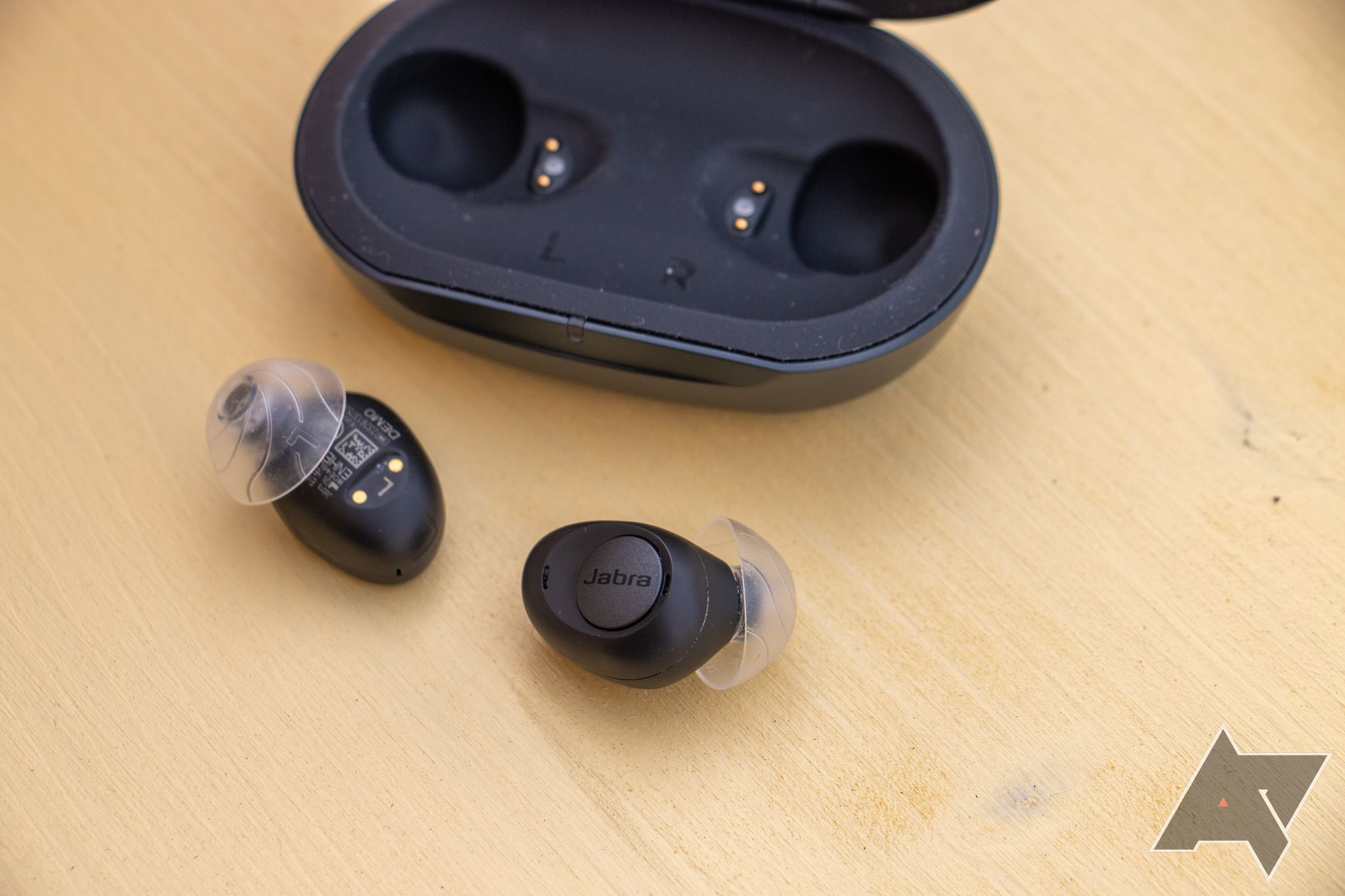 The earbuds I received for this review come in a black case and are black themselves, giving them an understated and clean look. They fit snugly into the ears and almost disappear in them, much in contrast to something like the iconic Apple AirPods or other earbuds that have protruding parts. You really only see the singular, fingertip-sized button when you wear them. This button serves duty for volume control, phone call options, and re-pairing. To turn them on, you simply remove the buds from the case, and to turn them off, you put them in the case.
To gauge battery life, there are LEDs on both the earbuds and the case, giving you traffic light-style indicators (green for full, yellow for partially full, and red for almost empty). What I really don't love about the case is its soft-touch finish, which may protect the earbuds better from impacts, but it makes it incredibly hard to clean and keep dust-free.
ReSound One in-ear hearing aids in the foreground and Jabra Enhance Plus in the background
Setup and app
Setting up these hearing aid-like devices is quite different from your regular Bluetooth earbud setup, so a closer look is well worth it. To get started, you need to download the Jabra Enhance app from the App Store, conveniently bearing the same name as the earbuds themselves.
After agreeing to the usual terms and conditions and activating notifications from the app, the app prompts you to pair the earbuds using iOS's system settings, directing you straight to the Hearing Devices section. Back in the app, you need to agree to the privacy policy, with a required part for basic functionality and some extra personalization notifications that promise to enhance the product further for you. The app then goes on to warn you about the scope of the hearing devices, urging you to go to a health care professional when your hearing keeps getting worse or when you experience other issues.
The app then guides you through the process of fitting the earbuds in your ear, making clear that it's crucial to have a good and comfortable fit. That's also when you get prompted to use a different ear tip size if you can't get a neat fit. After some experimentation, I ended up choosing the large version, and I can only recommend you give all sizes a thorough try to see which is best for your ears.
The setup then guides you through the personalization process. Hearing loss is rarely a matter of volume only, and you likely have issues with specific sounds and frequencies rather than all sounds. After providing the app with some more details on your gender and your age, the app will play a series of ever-louder sounds in one ear and then the other. Your task is simply to tap the touch screen once you can hear the tone. This is the very same process that you'd also go through at a hearing aid specialist fitting your devices.
Once your Jabra Enhance Plus are fitted to your hearing, you can select your preferred speech filter. A café scene will play in your earbuds, letting you hear the difference between Jabra's clear, normal, and full filters right away. After you're done with that, you get a simplified visualization of your profile, showing you which adjustments Jabra made in treble, mids, and bass to fit your hearing.
By default, the Jabra Enhance Plus will use a listen mode volume of 7 out of 10 whenever you take them out of their case, though you can change that to remember your last preference in settings. Personally, I noticed that the pre-set listen volume was way too silent compared to my hearing aids, so I manually had to crank it up to 10 to reach the same level as my hearing aids. This is a matter of me having moderate hearing loss, though — if you're someone with light hearing loss only who isn't ready to get proper hearing aids, the preset should be good to go, but definitely adjust and tweak as you go.
This whole process might seem intimidating and complicated at first, but the app does a good job at guiding you through everything quickly, and with just the right amount of detail. All in all, the full setup and unboxing process including downloading the app took me 15 minutes, even with some time spent on taking screenshots, images, and notes.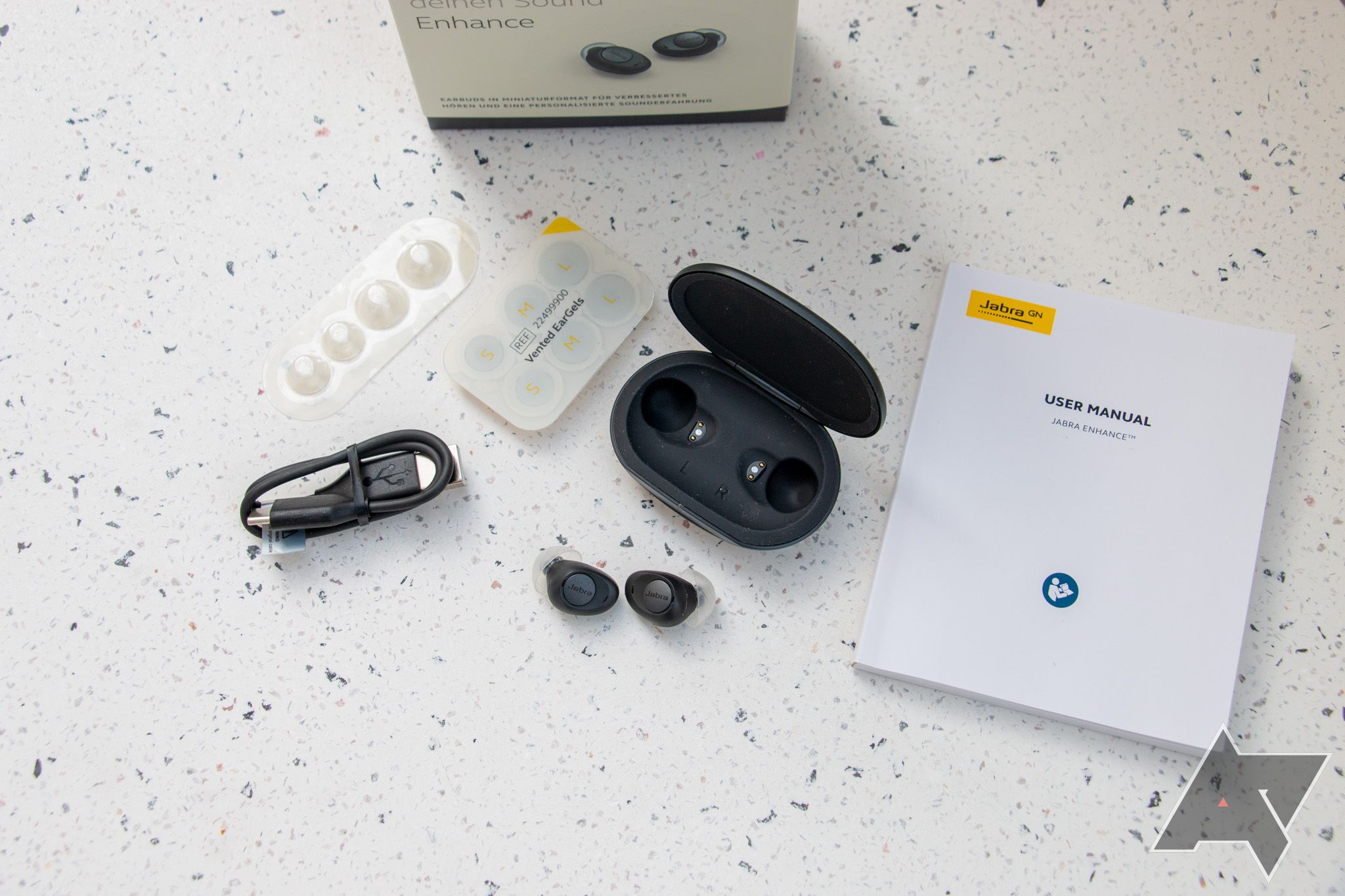 Speaking of unboxing: You'll find the earbuds themselves, three different sizes of ear tips in both vented and closed variants, a manual, and a USB-C to USB-A cable in the box.
Post-setup experience
After the initial setup, adjusting and tweaking as you go is the key — like with any pair of hearing aids. You may find that your selected ear tips are too big or too small, so be sure to test all three provided sizes. Jabra also includes vented ear tips that allow air to reach your ear canals, which may give you a more natural hearing experience at the expense of volume and bass. I would definitely recommend trying both the closed ear tips for a few days. They take some getting used to, as your own voice will sound significantly different than you know it, but the added volume and bass are an important part of the regular earbud experience when you just want to listen to music or call. That said, the vented tips will make your voice sound much more natural, so you need to choose your trade-offs carefully.
You should also change the listen mode volume and see which amplification suits your needs best. If needed, also switch the listen mode from adaptive to surround or focused, depending on which environment you're in. Most of the time, adaptive should work great, but if you prefer a more natural hearing experience, surround is the selection to go with — but note that you lose some of the smarts that way. When you head to settings, you can additionally tweak the speech filter you selected during the setup process.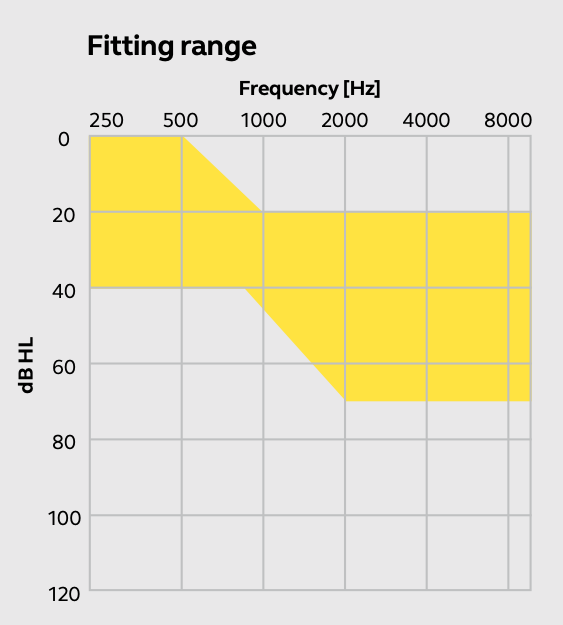 Source: Jabra
If you take a hearing test, you can easily compare your results with this graph to see if the Jabra Enhance Plus are suitable for your hearing loss
After using the aids for a while, the Jabra Enhance app will even prompt you to redo your hearing test. This is meant to ensure that your hearing remains well-supported after having some time to get used to the aids, and something a hearing aid specialist would do with you during the initial few weeks of owning your hearing aids, too. You can also manually redo your hearing test whenever you want to in the app, something that I found so much more convenient than having to make an appointment with my hearing specialist.
The IP52 dust and water resistance rating is also a great boon if you want to listen to music while working out or when you'd like to hear your instructor better. For me, the earbuds stayed inside my ears throughout a full 45-minute HIIT session, which is both a testament to their water and dust resistance and to their good fit.
Sound and audio quality
After setting up everything to my liking and then using the earbuds for a few days, I was surprised just how close the Jabra Enhance Plus came to my $5,000 Phonak hearing aids. They may not be as comfortable as the custom-fit ear molds over long periods of time, and they may not reach the same level of fidelity as dedicated hearing aids when listening to the noises and voices around you, but I had surprisingly few issues understanding people as well as I would with my hearing aids.
This makes the Jabra earbuds particularly impressive, given that I have more than just light hearing loss, which they're actually meant and advertised for. My hearing is likely right on the verge of the Jabra Enhance Plus's capabilities, as I had to turn up the volume to the maximum amount manually. For me, this also has the side effect of occasional microphone feedback. The earbuds are specifically advertised as being immune to that, which just makes me think that I either ended up choosing eartips that didn't fit me 100% or that I am amplifying my hearing beyond the levels that the earbuds are meant for. Outside of this small issue, everything else worked fine, though.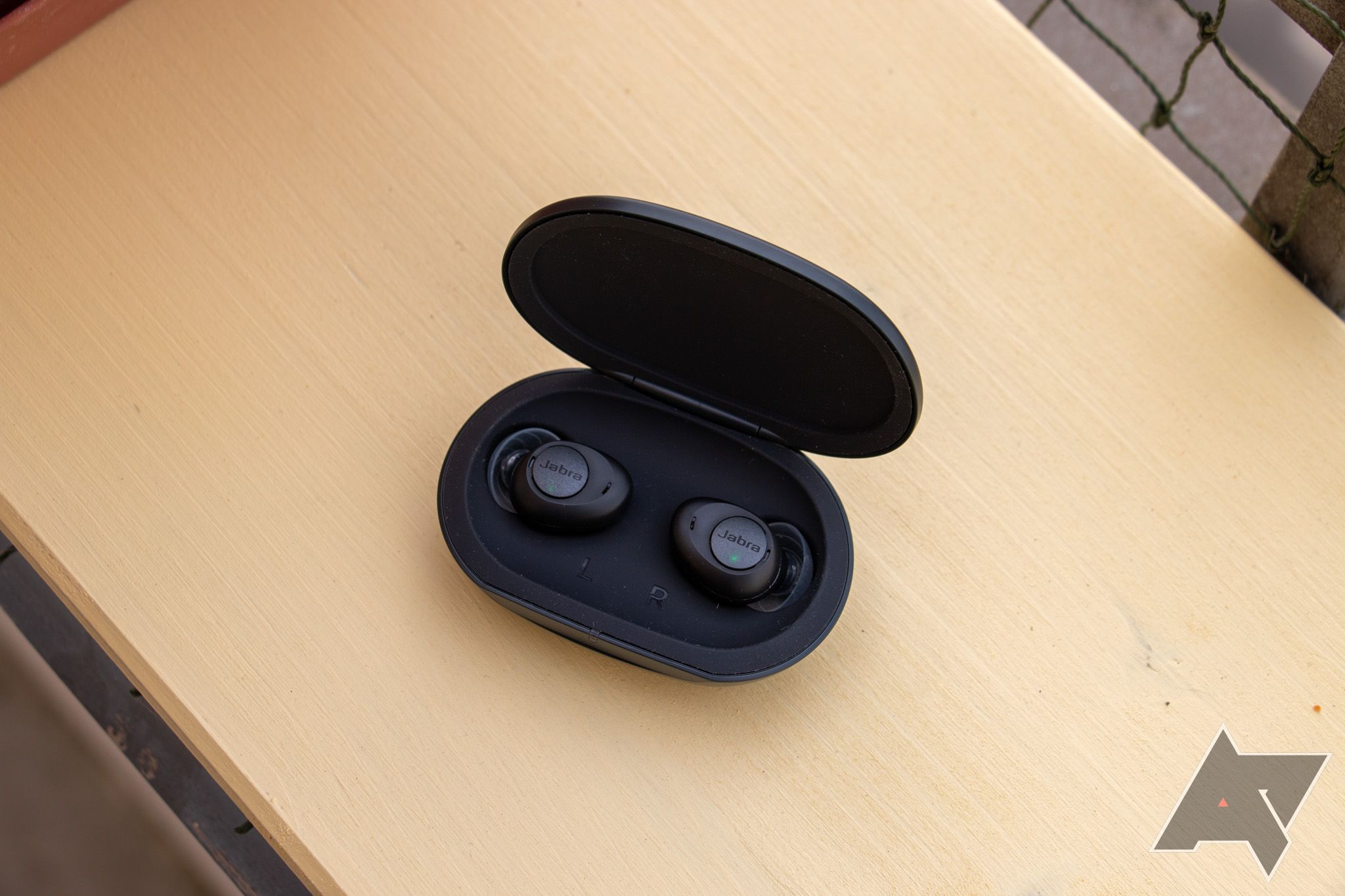 As I mentioned, the audio quality and the perceived richness of sound didn't feel on the same level as my proper hearing aids. However, I was still able to fully enjoy a night out at the cinema and a visit at a loud bar with the Jabra Enhance Plus, and after a while, I just lost that feeling of missing out on the finer sound nuances. Once back to my hearing aids, I would instantly notice the difference, but as I said, the Jabra Enhance Plus are unbelievably impressive given their price and feature set.
When it comes to streaming audio quality, I want to be extra honest. This is my first audio review, and thanks to the fact that I'm hard of hearing, my audio perception is quite different from someone with regular or near regular hearing. That's why I'm reluctant to give conclusive statements regarding the audio streaming quality. I do feel like the Jabra Enhance Plus provides a better streaming experience than my Phonak aids, if only because I decided to stick with the fully closed ear tips while my hearing aids have vented ear molds. I'm also incredibly happy with how well the Jabra Enhance Plus can keep outside noise out when you turn down the exterior microphones to 0. I was able to easily listen to my podcasts and music while vacuuming, something I usually struggle with.
On phone calls, I could clearly hear the other side as long as I stayed close enough to my iPhone — I feel like the range is slightly lower than with regular Bluetooth headsets like the Bose 700. Most importantly, the people I called could attest to hearing me perfectly fine, even in louder environments. This is something I can't say for my Phonak hearing aids. With them, the other side would always have trouble understanding me, usually forcing me to switch to the earpiece, which is a much more uncomfortable way to listen for someone with hearing aids.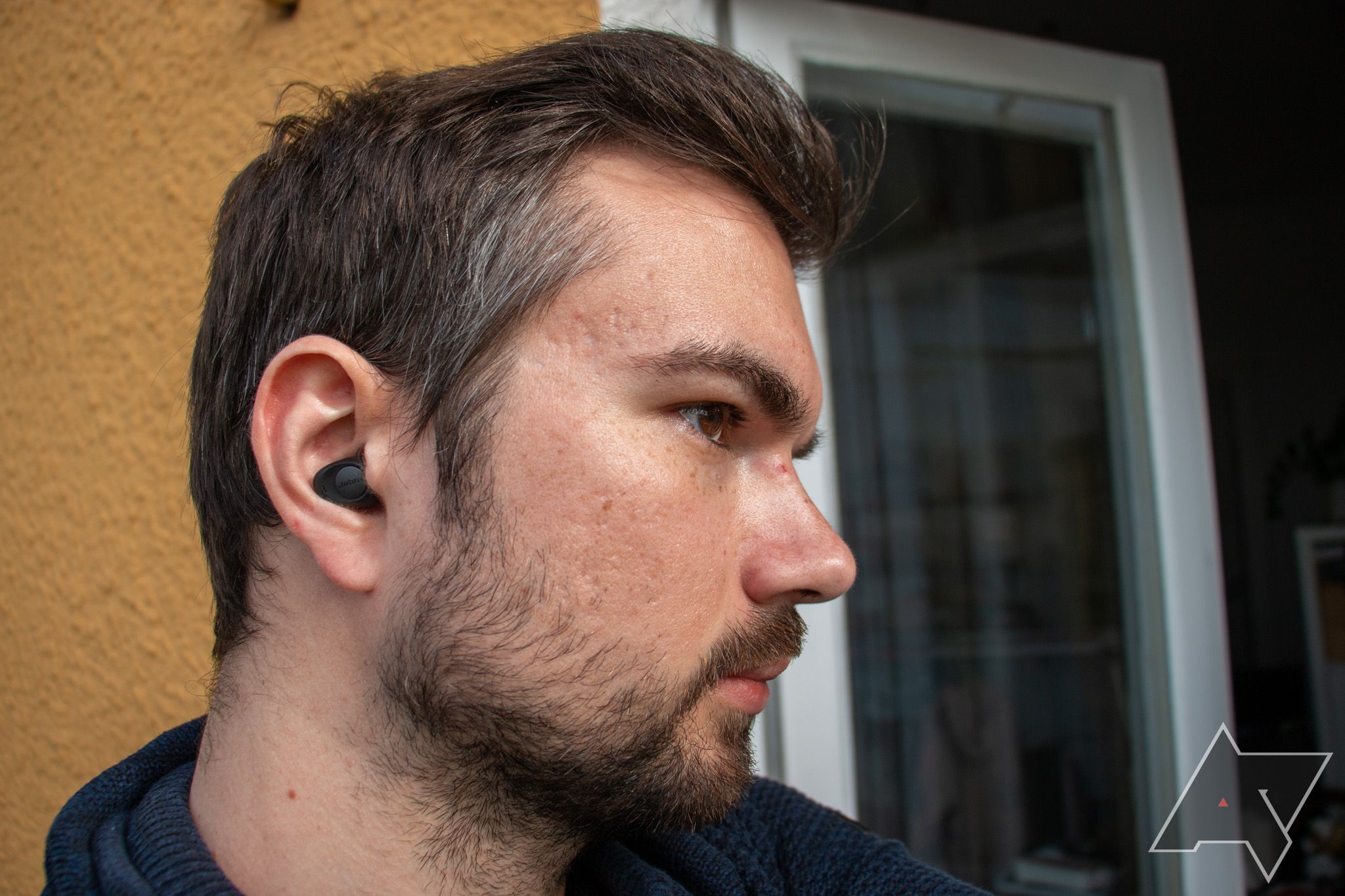 Battery life
The Jabra Enhance Plus are advertised to have 12 hours of battery life on a single charge, which can be extended to up to 35 hours with the charging case. I was skeptical if I would be able to make it through a full day with the buds given that I wear my hearing aids every waking hour of the day (which amounts to 18 to 20 hours). However, I haven't been able to run them down in a single sitting just yet.
That's partially due to the fact that the Jabra Enhance Plus made me realize I don't truly wear my hearing aids nonstop. After breakfast, I can give them another quick top-up while I shower, and during my semi-regular quick lunch naps or post-work naps, I would also take them off, allowing them to recharge in their case. The same is true for usage while working out. Even with their IP rating, I don't wear the Jabra Enhance Plus (or my hearing aids, for that matter) as I'm super prone to sweating.
Even then, Jabra's 12-hour estimate sits at the lower end of what you can expect out of them. Although I'm likely using the Enhance at one of their highest possible settings, the devices definitely hold up to their promise and then some.
Competition
Sony offers similar self-fitting over-the-counter hearing aids, the CRE-E10. The company promises up to 26 hours of continuous use and four included ear tip sizes, which is a step up compared to the Enhance. However, these devices are more expensive at $1,300 and are marketed as proper hearing aids. Like the Jabra Enhance Plus, they're only compatible with iOS, too. Sony also isn't a hearing aid manufacturer, though the company did team up with WS Audiology for this product, a well-known name in the hearing aid industry.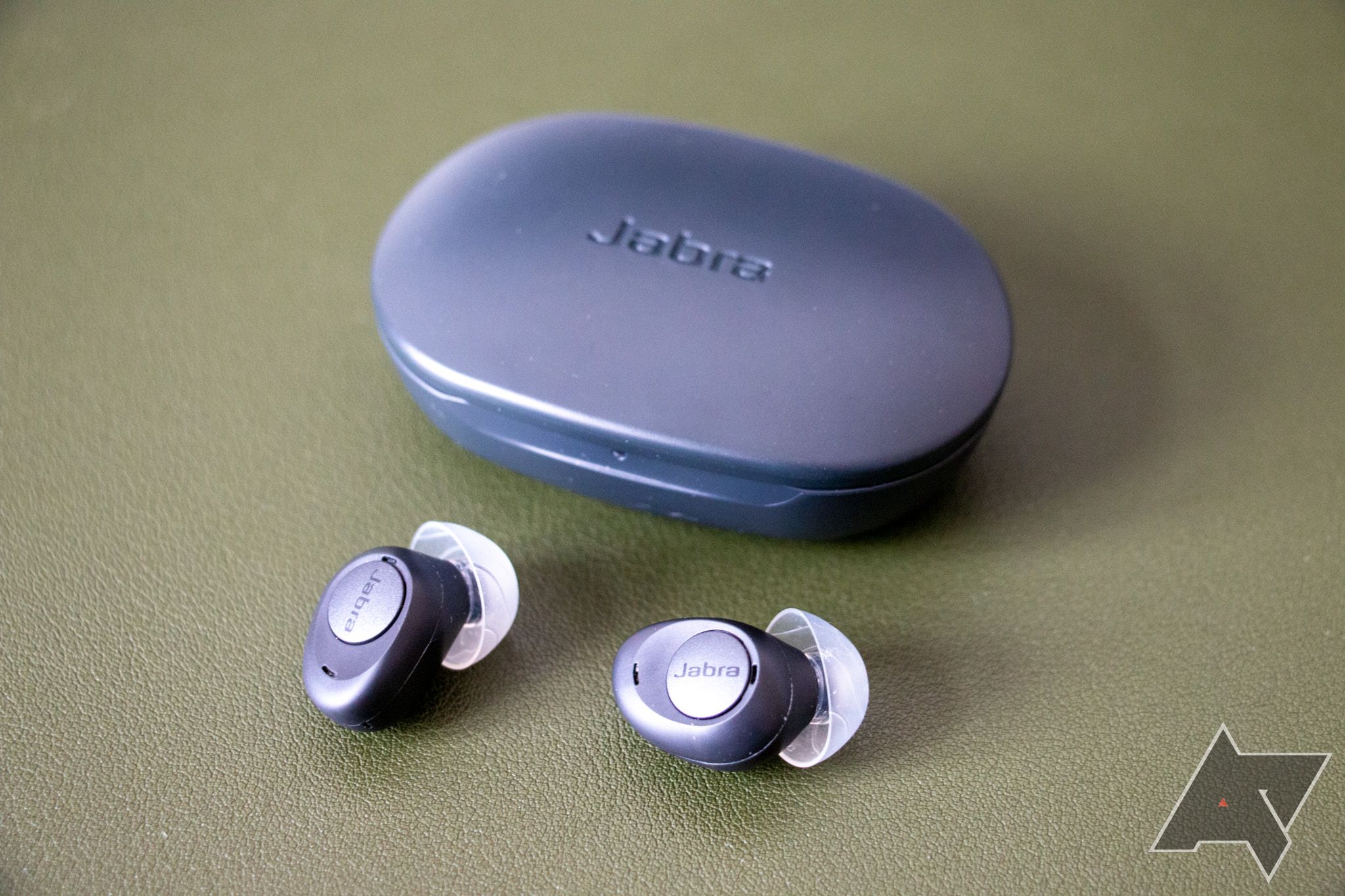 If you're not ready to commit to over-the-counter hearing aids or even the Jabra Enhance Plus just yet, the Apple AirPods Pro are a much cheaper way to dip your toes into the world of hearing enhancement at $250 — compared to the other options here, that's almost affordable. Paired with an iPhone or iPad, the AirPods Pro offer a Conversation Boost feature that uses computational audio and beamforming to focus its microphones on people in front of you, making it easier to hold conversations in loud environments. The other options here offer this same feature, and then so much more on top of it.
On the Android side of things, the Samsung Galaxy Buds 2 Pro look like a good choice as a first foray into hearing enhancement. The company recently rolled out an update that offers higher levels of amplification for its Ambient Sound option, which passes and enhances outside sound before it reaches your ears.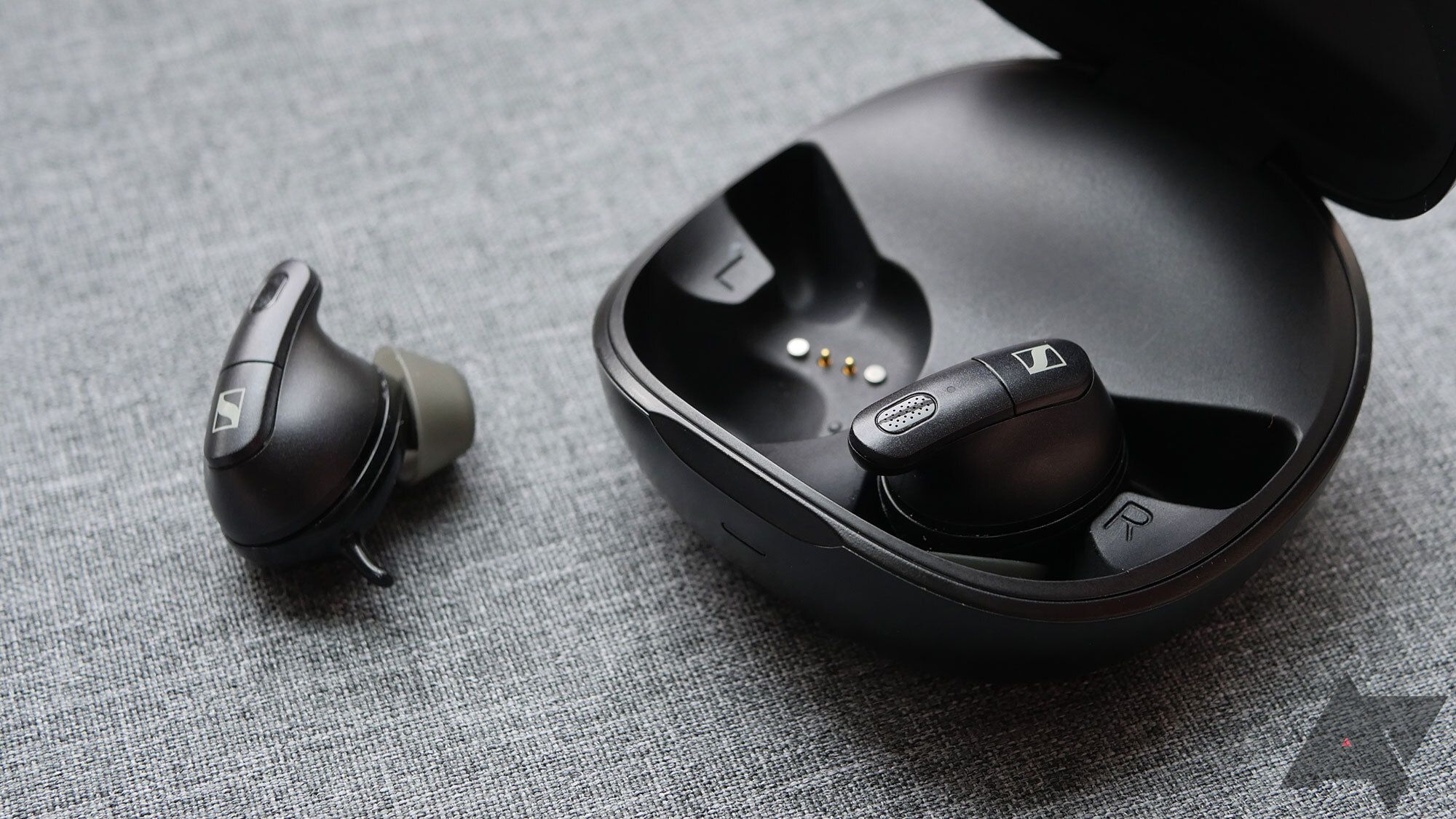 The Sennheiser Conversation Clear Plus are compatible with Android
If you're looking for over-the-counter hearing aids that look and feel similar to the Jabra Enhance Plus here, the Sennheiser Conversation Clear Plus might be interesting. We only had a short period of hands-on time with these at CES 2023, so we can't speak for their long-term value in everyday life, but the big advantage is that they're compatible with Android at about the same price as the Enhance Plus — $850, in their case.
Should you buy it?
If you feel like your hearing isn't what it used to be but you're still feeling self-conscious about seeking professional help or don't want to have hearing aids just yet for whatever reason, the Jabra Enhance Plus are the stop-gap solution to get. Even as someone who is more than just a little hard of hearing, the Jabra Enhance Plus are surprisingly capable and can help me navigate my everyday life comfortably — on top of being excellent earbuds.
I set out to this review ready to be disappointed, and I came away with a much richer experience than I could have ever expected. If you're someone with a less severe loss of hearing, this experience can only be even better, given that the Jabra Enhance Plus were working at the verge of their capabilities with my bad hearing.