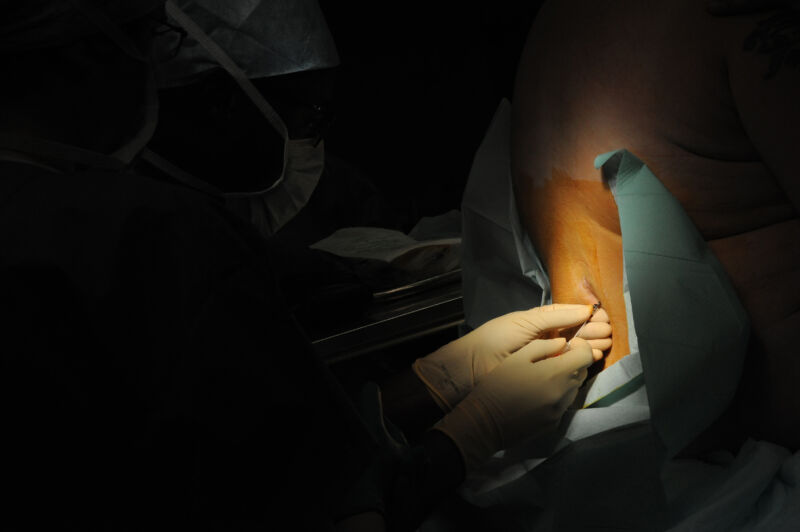 At least five people in Texas have been hospitalized with suspected fungal infections in their brains and spinal cords that developed after traveling to Mexico for cosmetic surgeries involving epidural anesthesia, the Centers for Disease Control and Prevention warned this week.
One of the Texans has died and the other four remain hospitalized in the state, the Texas Department of State Health Services reported this week.
All five patients traveled from Texas to Matamoros, Mexico—across the border from Brownsville, Texas—where they had cosmetic surgeries, including liposuction, in at least two clinics: River Side Surgical Center and Clinica K-3. State and federal health officials are investigating the outbreak, which could identify additional cases and clinics. According to local media in Mexico, both clinics have been shuttered by health officials.
In a health alert Wednesday and a separate travel alert, the CDC advised US health care providers and patients who have had procedures done in Matamoros to be on the lookout for fungal meningitis symptoms. The CDC's travel alert also advised Americans to cancel any procedures scheduled in Matamoros that involve an epidural injection of an anesthetic.
Although the current outbreak seems centered in Matamoros, which lies in the northeastern Mexican state of Tamaulipas, it echoes an outbreak that began a year ago in Durango, a northern state directly west of Tamaulipas. In that outbreak, epidural anesthesia was linked to at least 80 cases of fungal meningitis, of which 39 were fatal. Nearly all of the cases were in women undergoing gynecological-obstetric procedures. Epidurals are often used in labor and delivery and other surgeries and involve injecting anesthetic directly into the spine—specifically into a space around spinal nerves called the epidural space.
Health officials in Durango first reported cases to the PAHO/WHO (Pan American Health Organization/World Health Organization) in November of last year, when they identified a cluster of just 11 cases, including one death. By early December, the case count ballooned to 71, with 23 deaths.
Tale of two outbreaks
According to the latest outbreak investigation update released by the federal health ministry on May 9, the outbreak has been linked to the use of contaminated anesthetic drugs that spanned April 28 to October 31 of last year. Officials identified 1,801 patients who may have been exposed during that span and contacted 1,752 so far.
In February, Reuters reported that police in Durango arrested an anesthesiologist and two officials in connection to the outbreak. The anesthesiologist was accused of illegal re-use of drugs, and the officials were charged with mismanaging drugs, failure to ensure proper hygiene, and failure to comply with professional requirements. Reuters quoted the anesthesiologist's son, who proclaimed his father's innocence. "They accused my father without any evidence," the son said, who requested anonymity for security reasons.
In the Durango outbreak, laboratory testing linked the meningitis cases to a specific fungal pathogen: Fusarium solani. Fungi in the Fusarium genus are naturally found in the environment (organic matter, soil, and water) and have been known to contaminate pharmaceutical products made improperly, a report from the health ministry of Mexico notes.
In the current outbreak linked to Matamoros, the pathogen behind the infections has not yet been identified. However, clinical data from at least one of the Texas cases so far suggests that the infections are due to a fungus; lab tests found elevated cerebrospinal fluid levels of the fungal biomarker (1,3)-beta-D-glucan in at least one patient, the CDC reported.
Fungal meningitis occurs when a fungal pathogen causes an infection in the brain or spinal cord. The symptoms can appear vague at first but include fever, headache, stiff neck, nausea/vomiting, extreme sensitivity to light, and altered mental status, the CDC notes. The agency also reported that the symptoms in the five Texas cases developed between one and eight weeks after their surgeries.
"It is very important that people who have recently had medical procedures in Mexico monitor themselves for symptoms of meningitis," Texas Health Commissioner Jennifer Shuford said in a news release. "Meningitis, especially when caused by bacteria or fungus, can be a life-threatening illness unless treated promptly."