If you've been looking to add to your anti-winter arsenal or live in a warm climate where January means outdoor adventure, you may want to forgo any post-Christmas sales and hold out for the VITA 550, which was just released by Growatt at the U.S. Consumer Electronics Show on January 5, 2023. An early-bird sale has also kicked off through January 31, giving you plenty of time to take advantage of what will surely be an exceptional product from a top global brand. The VITA 550 is originally marked at $529, but the early-bird sale offers a $100 discount, knocking the price down to just $429. Plus use coupon code GroVita550 for an extra $30 in savings, making the final investment a mere $399.
The Growatt brand
Growatt has 11 years of experience and is a well-known brand in residential solar energy and energy storage solutions. Its products include PV inverters, batteries, EV chargers, and energy management systems, and can be found in more than three million homes across the world. Its solar performance has been recognized by accredited associations around the globe and is generally considered to be a pro in the field of residential energy storage. Rest assured, were you to buy one of its products, you would be getting a reliable device that is built to last. This, of course, is vital given the nature of the product. Were you to find yourself camping in the wilderness with a defunct power station, it would only be a matter of time before your devices would die, communication with civilization would no longer be an option, and you'd be in real trouble.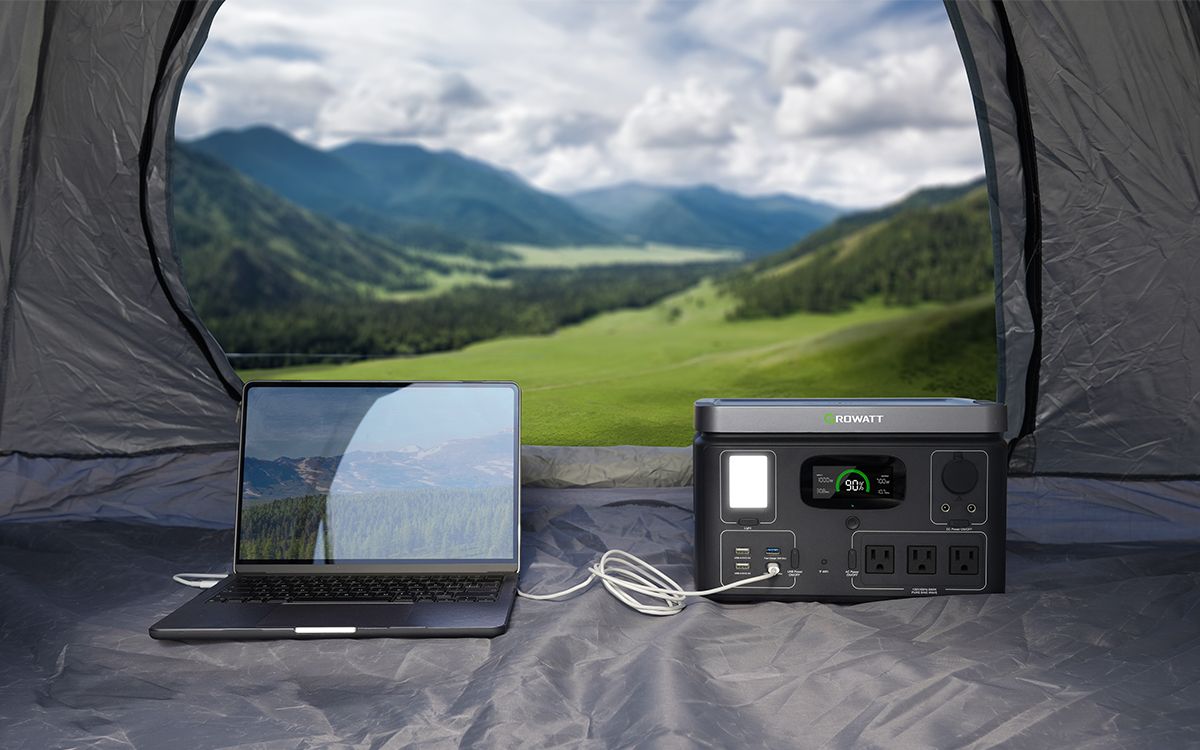 The VITA 550
The VITA 550 is one such device that is a safe and dependable portable power station. It satisfies your need for portability without sacrificing clean, green energy. It's the perfect accompaniment for road trips & camping trips, ideal for cars & RVs (capable of powering your car fridge, speakers, projectors, and electric grill), and can keep your homestead running whether it be a tent, cabin, or whatever you call home. Weekend warriors and off-the-grid dwellers alike will stand to benefit from the power station, and with the Growatt name emblazoned upon it, the VITA 550 can endure whatever you and the elements throw at it.
Features
It features a reliable LiFePO4 (LFP), 538-Wh battery, capable of 3,000 life cycles. The battery is constantly monitored in real time for temperature, state of charge, voltage, and current, which results in a safer device. It can be charged via solar power in 2.5 hours, which is half the length of the industry standard, and, thanks to the implementation of bidirectional inverter technology, can be high-charged via AC in 1.6 hours at 500W input; that's a 200% charging-speed boost. It can also be slow-charged in 3.5 hours at 300W input. Making this possible is the bidirectional inverter that allows more input power for VITA 550.
For outputs, it includes three AC outlets, one car outlet, two USB-A interfaces, one USB-A quick-charge interface, one USB-C PD interface, two DC 5521 outlets, and one wireless charging dock, so it can charge 11 devices simultaneously. It also has an adjustable LED light that has an SOS feature, should you find yourself stranded or in danger and without reception.
USB-C PD, incidentally, is the latest iteration of the interface. It can manage up to 240W of power, which is strong enough to keep your laptops and other thirsty devices running smoothly. It is also safer, ensuring only the required amount of voltage is transmitted. Because of the inclusion of a USB-C PD port, the VITA 550 is future-proof.
All the charging station's vitals can be monitored on its LCD screen, which displays a numerical, and therefore exact, indication of the battery's percentage, as opposed to other, similar chargers that only display a status bar, usually comprising increments of 20%. You won't be caught off-guard when your device turns off suddenly despite sporting a single bar of power.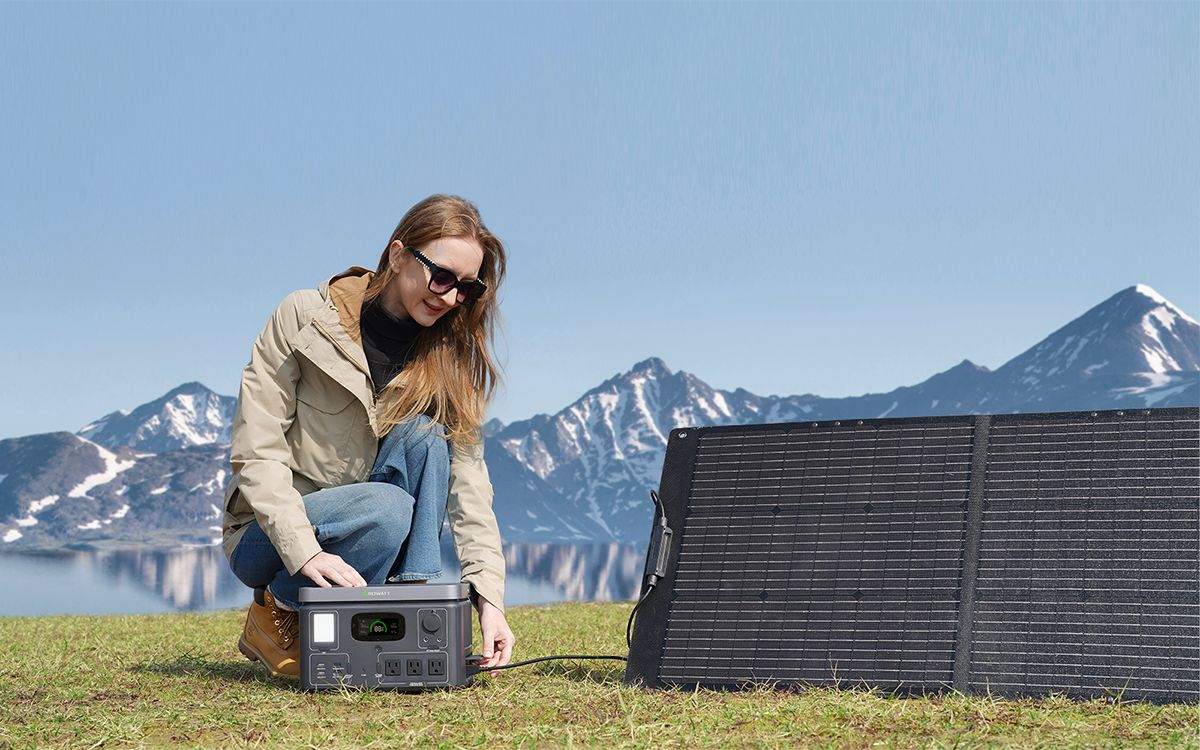 Growatt is the solar expert
The solar energy market has come on in leaps and bounds over the past several years, making its products not only accessible for those frugal consumers who support clean energy but can't afford the setup, but also practical, as power stations can quickly and easily be charged and keep their diminutive profile while still delivering a substantial amount of power for all your device's needs.
Thanks to the VITA 550's compatibility, you can expand your product and attach up to 240W solar input. This allows for an incredibly fast, 2.5-hour charge using solar as its only source of energy. The charging speed contributed to the 99% MPPT efficiency that reduces the energy losses during the energy conversion. Growatt itself has in its repertoire 100W and 200W panels and a variety of solar generator kits for configurations that cater to portability or power. As solar experts, Growatt is currently winning in the solar energy market with its advanced technology.
myGro app
You also have the option of utilizing the myGro app, which can connect to the VITA 550 via Bluetooth or Wi-Fi, to monitor the station. Through your phone or tablet, you can keep track of its power consumption, the input/output wattage, and battery percentage level. As well, you can adjust the light brightness, the charging speed, the time schedule setting, and many other customizable features. And, of course, you can toggle the device's power, as well as its outlets. Such wireless capabilities mean you can keep the VITA 550 off to the side and still adjust it without doing so becoming a chore.
Functionality
The VITA 550 boasts its Watt+ feature, which allows it to drive devices that need a few seconds of extra power when running (up to 1050W). It can help with construction projects in which outlets may not be available, and keep your household running when a storm renders you powerless. Your Wi-Fi router will stay on for 53 hours, thanks to the VITA 550, while your television can be enjoyed for an additional 2.2 hours. Your portable devices will also benefit from having the VITA 550 nearby. Smartphones can be recharged up to 38 times, your tablet 16 times, and your laptop computer will hold its juice for up to nine hours.
But it's away from the home that the VITA 550 truly shines. Because of its portability, it can be easily transported from home to your home-away-from-home and all points in between (and beyond). It can keep your mobile kitchen running, whether that means connecting to your electric grill, hot plate, or mini-fridge. Your entertainment center won't be left at home in your living room because the VITA 550 can power your speakers, your laptop, your phone, your e-reader, your tablet, and whichever other device entertains you. When it's time to move on, simply put the VITA 550 back in the car where it will take up little real estate.
Whether you have plans to escape the city and need a reliable power supply, or would prefer to have a Plan B at home for when the lights go out, the VITA 550 is the way to go. Its clean energy is good for the environment while also being good for you and your family. Plus, right now, you can pre-order the VITA 550 at a massive discount. Early bird pricing already knocks the price down from $529 to $429, but when you also use coupon code GroVita550 it knocks another $30 off making the final price a slim $399.
The early-bird pricing and coupon code are valid now through January 31.
This is a sponsored post. The product choices and opinions expressed in this article are from the sponsor and do not reflect the editorial direction of Android Police or its staff.