Material You was one of the flagship features of Android 12. A reboot of Material Design, it's a way for Android users to effortlessly customize their phones without relying on third-party launchers or wallpapers. It was also one of the many features improved on in Android 13, so if you recently picked up one of the best Android phones, Material You should be one of the first things you play with.
One of the best things about Material You is that customizing it is quick and easy. Most of the work is done behind the scenes, so you won't have to do much more than pick a wallpaper and a color palette. However, for those looking to explore the feature in detail, this guide takes you through how to customize Material You.
How to choose a wallpaper
The most noticeable feature of Material You is its range of color palettes, which has more going on behind the scenes than you might think. But despite its internal complexity, it's a straightforward feature to use. The first step is to choose a wallpaper that will dictate your range of color palettes. While any wallpaper will work, we recommend picking one with multiple colors and shades. This gives you the most variety when choosing a color palette.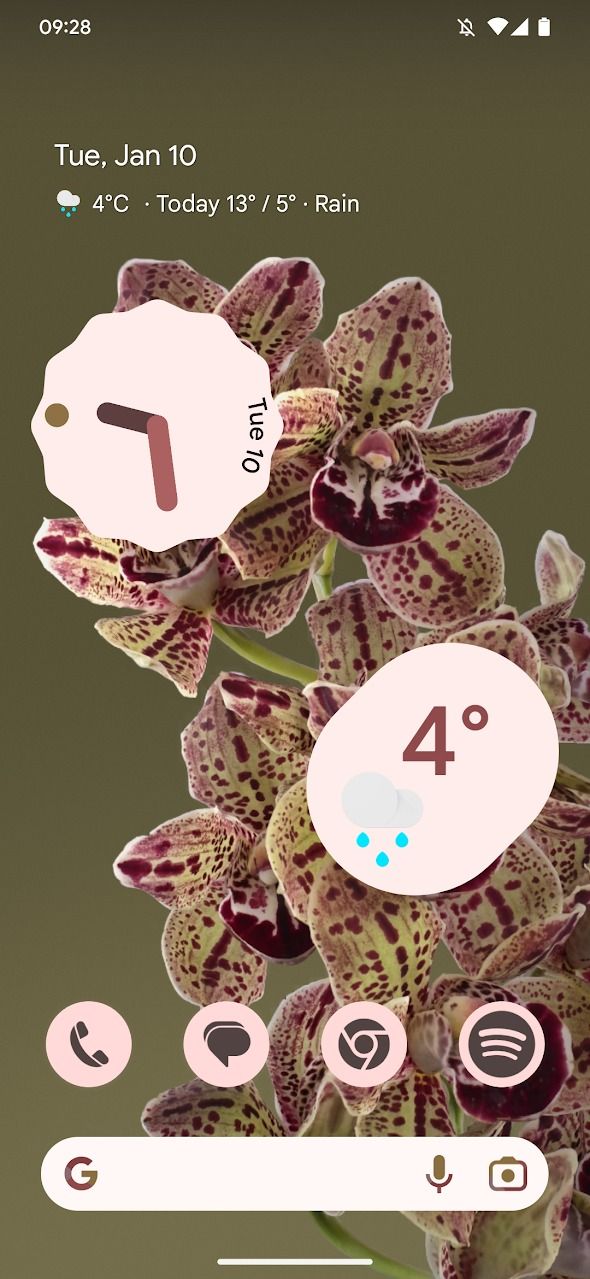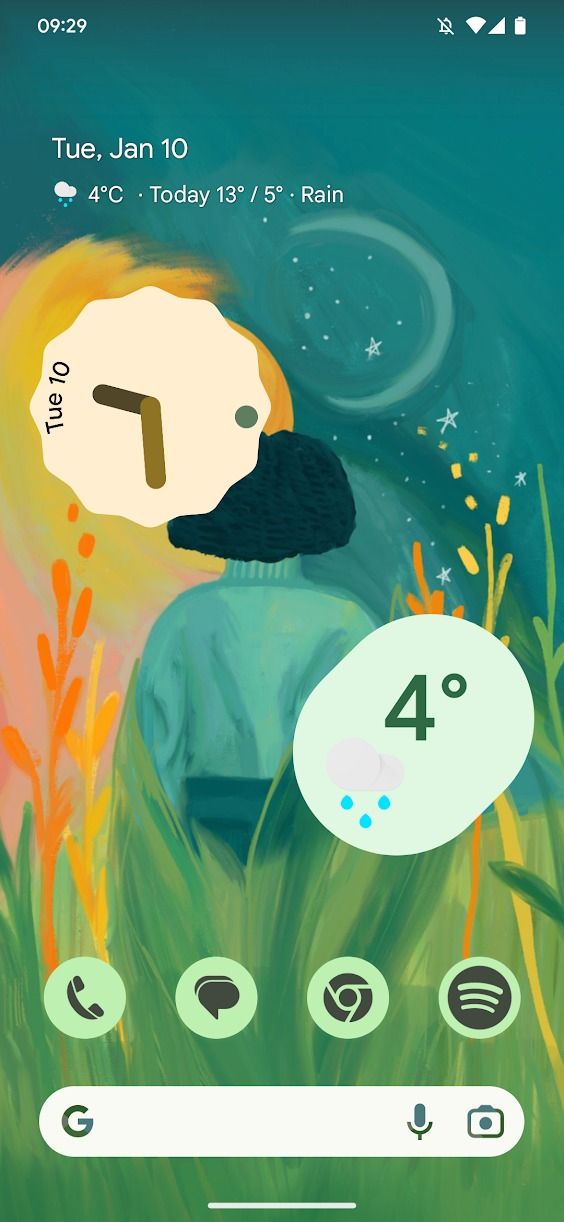 To change your wallpaper, long press on your homescreen and tap Wallpaper & Style. Don't exit this screen after changing your wallpaper. This screen is where you'll customize your Material You colors. You can also access the wallpaper menu through Settings > Wallpaper & Style.
If you use a different wallpaper for your homescreen and lock screen, you'll notice your lock screen wallpaper doesn't influence your Material You palette options. However, elements that appear on your lock screen (like your clock) still use the themes from your homescreen. This can create interesting combinations, so don't be afraid to experiment.
After you set a wallpaper, you can start customizing. This process differs slightly depending on your Android version and smartphone, as the range of color palettes was expanded in Android 13.
How to customize Material You on Android 12
Some Android phones are still waiting for Android 13. If you're excited about Material You but wonder when your phone will receive the Android 13 update, don't worry. You still have plenty of customization options available to you.
From the Wallpaper & Style menu, tap the Wallpaper Colors button. This gives you access to four color options. Each circle represents a different color scheme that Android 12 pulled from your current homescreen wallpaper. Tap one of them to apply it to your phone. You'll also see a preview of how the theme will look on your phone. Close the Wallpaper & Style app to see your new theme in action.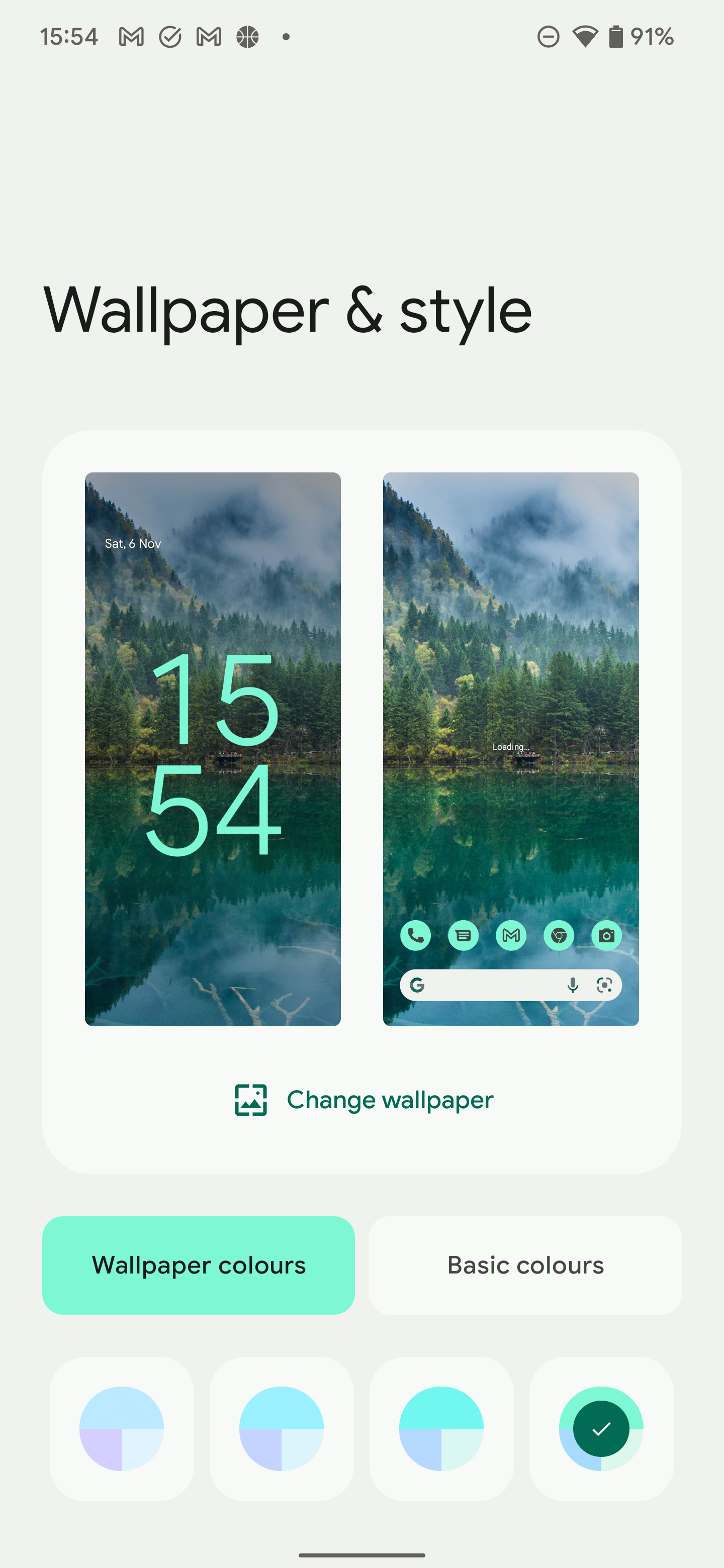 These palettes cannot be tweaked individually, so change your wallpaper if you're unhappy with the selection. You can also toggle the Dark Theme switch, which can suit certain wallpapers better, especially those with bold, contrasting colors.
If you don't want to use a dynamic theme, the Basic colors button on this screen allows you to pick from one of four stock theme options: blue, green, purple, or orange. This is a good option for those who prefer a single color across their device.
Implementation is limited to a few Google apps in Android 12, but you can toggle the Themed Icons switch to enable dynamic app icon theming. It's a neat way to customize Material You further, especially if you limit what's on your homescreen to stock Google apps.
How to customize Material You on Android 13
Android 13 has many new Material You features, including color options and dynamic-themed icons.
From the Wallpaper & Style menu, tap the Wallpaper Colors button. You have access to 16 color options, but you need to swipe across to reveal all of them. After you decided on a theme, tap the circle to apply it to your phone. You'll also see a preview above of your theme in action.
Tap Basic colors to choose a single theme color, and toggle the Dark Theme switch to enable the dark theme. This doesn't interfere with your colors and may look better depending on your wallpaper and theme.
While adoption has been slow, Android 13 allowed third-party apps to use dynamic-themed icons. Toggle the Themed icons button to enable this feature. It applies one of your theme's accent colors to your apps, creating a unified look. Themed icons don't apply to your app drawer.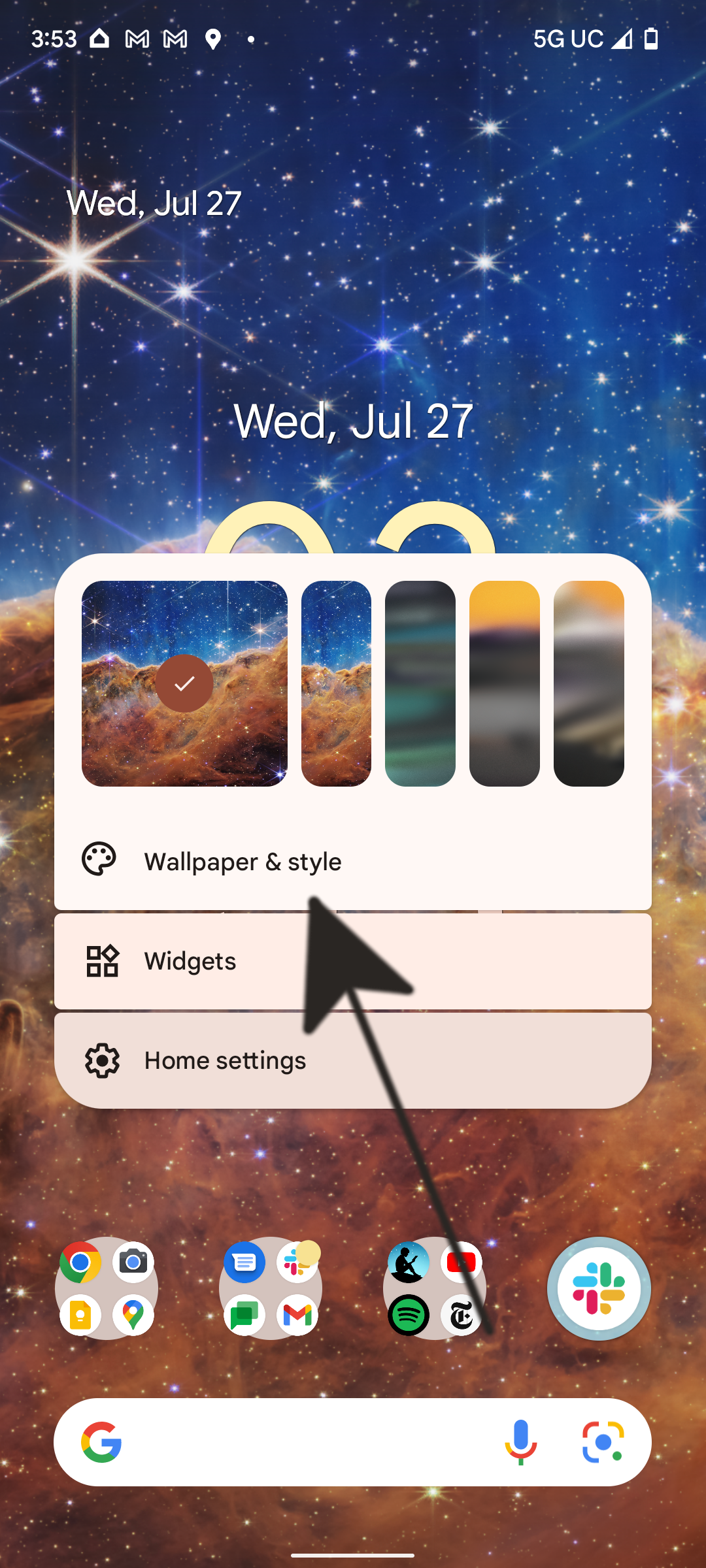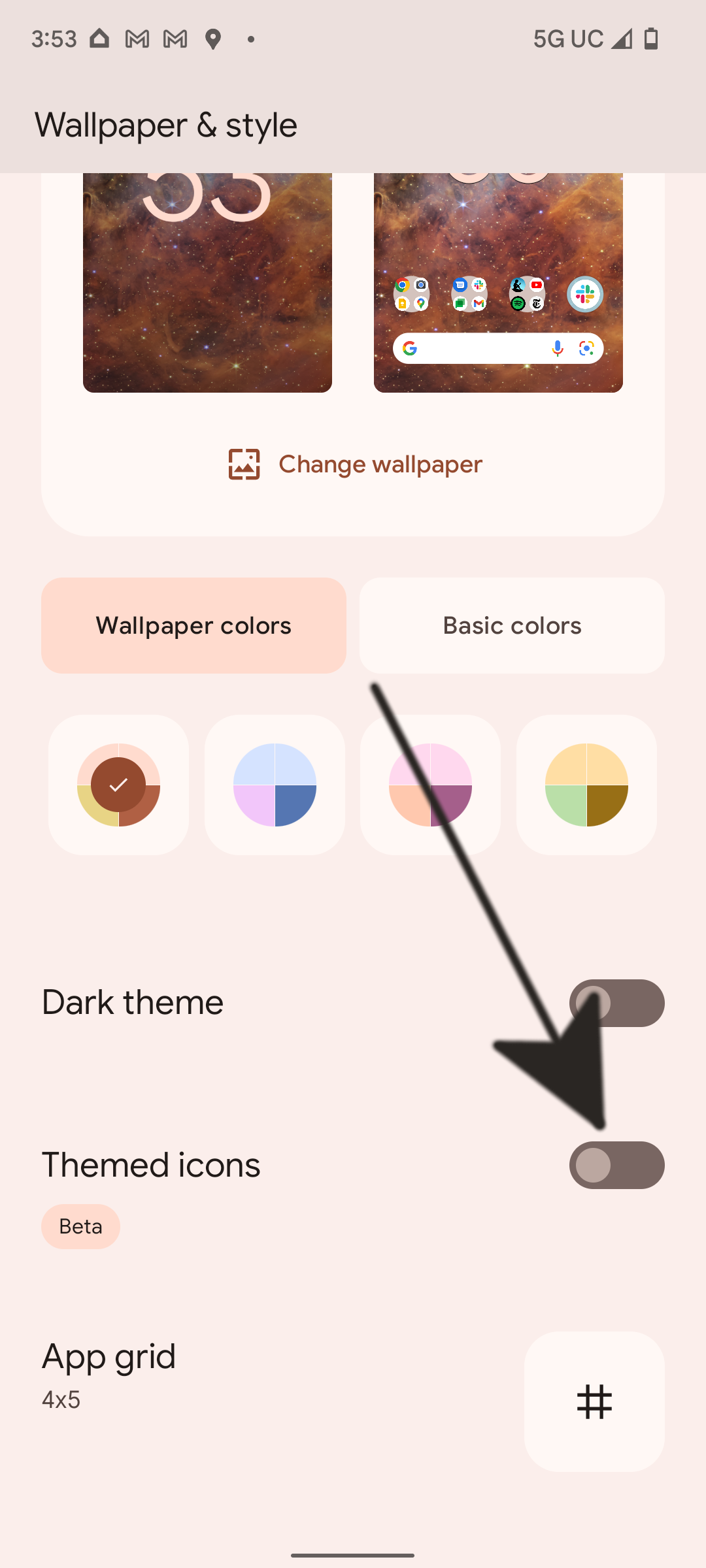 Pixel phones receive exclusive updates through Google's Pixel Feature Drop. They were the first to see Material You in action and all the subsequent updates. If you own a new Pixel 7, you have access to the latest iteration of Material You right out of the box.
Samsung Galaxy One UI
Deeper Material You integration was one of the best features of One UI 5. Not only are color palette changes now applied across all UI elements, but the expanded palettes and themed icons from Android 13 have made their way to Samsung devices.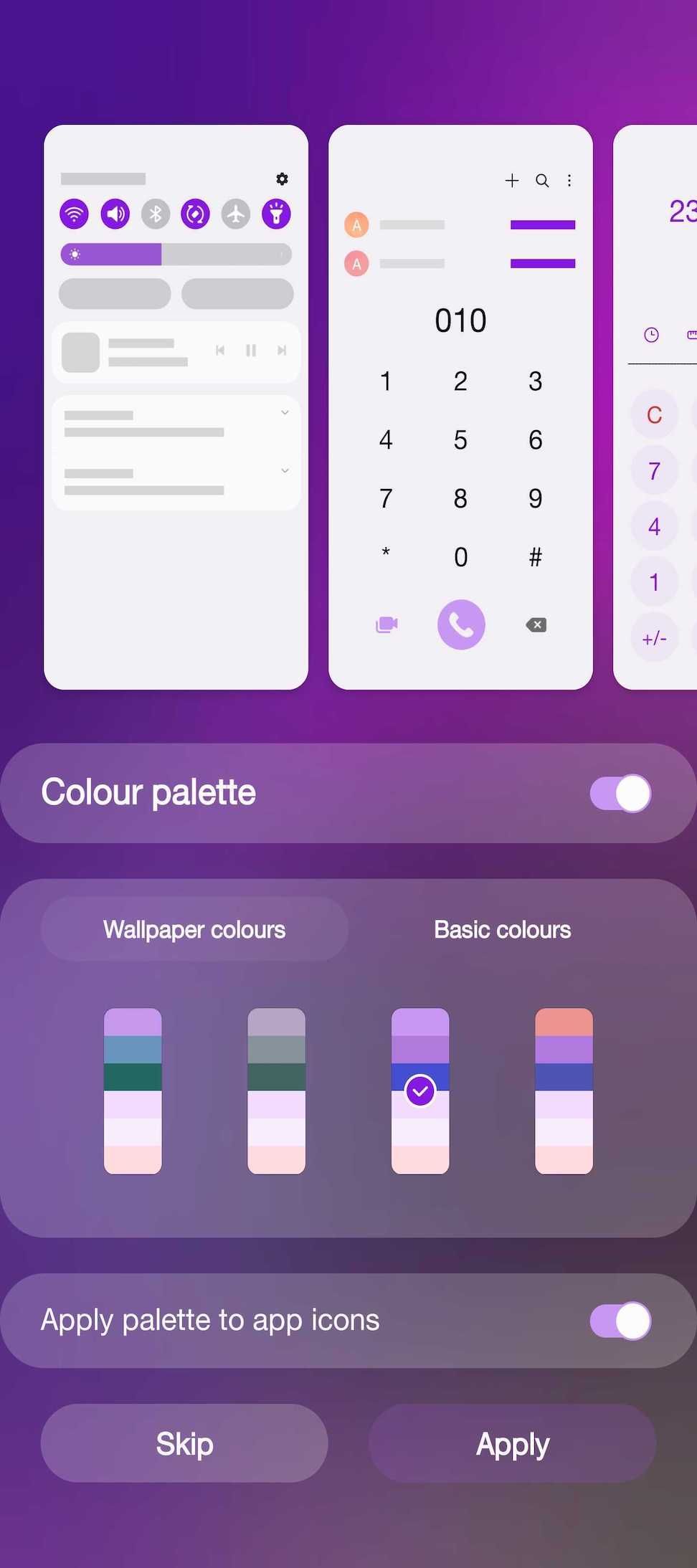 If your Samsung phone uses One Ui 4, you're subject to the same Material You restrictions as Android 12.
Material You is the most significant change to Android's UI in years
Material You doesn't aim to blow you away with bold and clashing colors. Instead, it seeks to create a unified theme that is easy on the eyes. The more you play with it, the more you'll enjoy the feature, so we recommend activating a daily wallpaper to see the palette generation in action.
Now you're set to get creative with your wallpaper and theming choices to make your smartphone one of a kind. However, if it's not enough customization for you, try one of the best third-party launchers for Android.