Closed captioning is a necessary feature for the hearing impaired. But it's no secret that a lot of people use captioning out of preference. It might be because audio separation isn't great with your speakers, and so dialogue is never loud enough. Perhaps it's because you watch TV late at night when the rest of the family or roommates are sleeping, or the walls are thin in your apartment, and you need to keep the volume low. Subtitles, meanwhile, are essential if you are watching a foreign language movie or show and need subtitles for translative purposes. Whatever the reason, enabling captions and subtitles on Apple TV, one of the best media streaming devices, is simple. While it only works for videos that support closed captioning and subtitles, where available, you can activate this globally using Apple TV.
How to turn on subtitles and captioning on Apple TV
Open the Apple TV on your big screen TV.
Go to Settings.

Scroll down to and select Accessibility.

Scroll down to Hearing and select Subtitles and Captioning.

It will likely be off by default.

Tap Closed Captioning and SDH to toggle it on.

Select Style.

Here, you want to tweak how the subtitles or captions will appear, including the font size, color, background color and opacity, text opacity, edge style, and highlight to allow for the most pleasurable viewing experience possible. You'll first see a sample of what they will look like in the left-side window.

Now go back and select an app. If subtitles or captioning are available, you will see them appear.
Why not just enable subtitles in each app?
The advantage of enabling subtitles directly from the Apple TV menu is that it will turn subtitles on for all compatible apps that support the feature. This way, whenever you log in to watch a movie or TV show, you won't have to toggle the individual menu to turn subtitling on. It's useful if you find that you're always turning it on.
Note that if you want to turn on closed captioning or subtitles in some specific apps, you'll need to do this from the app itself. If this is the case, follow the instructions provides in the settings menu for that specific app or toggle to the menu while a video is playing, and you'll see the "CC" logo or subtitle option. Some apps and devices also have built-in closed captioning.
What's the difference between closed captioning and subtitles? Closed captioning is designed for those who are hard of hearing so they comfortably watch videos and read dialogue scrolling across the screen. Closed captioning will also indicate when there are sounds, ominous music, and other audio cues that might not be heard.
Subtitles work much the same way but are typically designed for foreign language content. The words are displayed in the language of your choice on screen, while the dialogue being audibly spoken is in the language native to the movie, TV show, or video. Dubbing, by contrast, includes audio dialogue that is spoken in a preferred language and dubbed over the original language. Some people, however, prefer subtitles overdubbed audio. They're also useful in addition to dubbing if you're watching a video with someone who understands the natively spoken language, but you don't, and vice versa.
A neat shortcut for those using an Apple TV (3rd generation) model is that you can tap the Select button on the included Apple Remote and hold it for three seconds while a video is playing. The Subtitles tab will instantly open for you to select.
Once you're done setting up subtitles on your Apple TV, did you know that you can also try out a feature called Live Captions on your iPhone? This will provide running text while you are on a call or watching a video, helping you better understand what's being said if you have trouble hearing. The feature is currently running in beta and is available for all the best iPhones, including the new iPhone 14.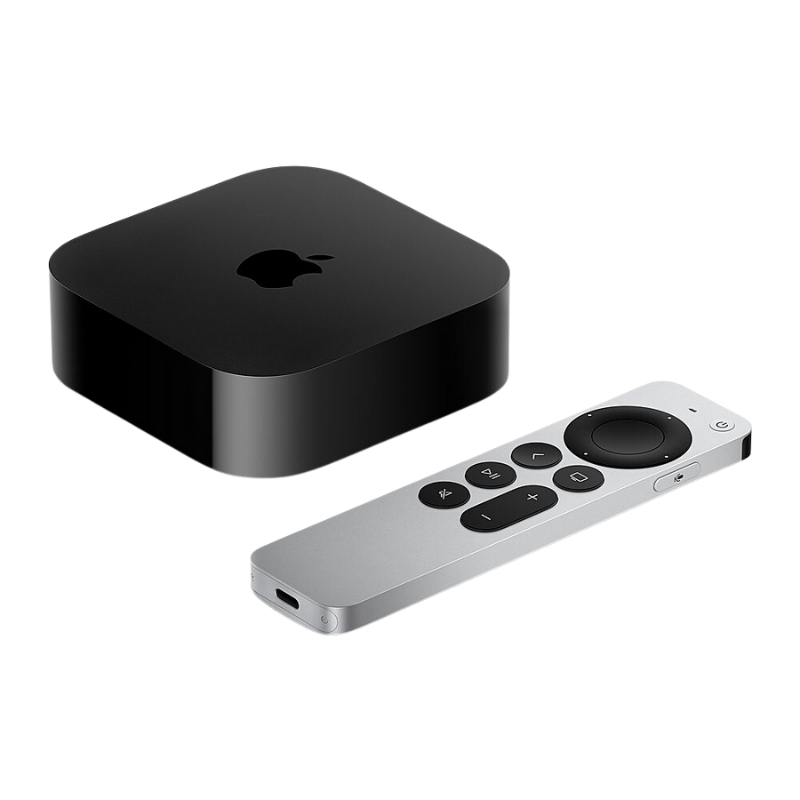 Apple TV 4K (3rd Gen., 2022)
The Apple TV 4K (3rd Gen) is a feature-rich media streaming device that will provide access to all your favorite streaming services for movies and TV as well as music, fitness, gaming, photos, and more. It's simple to connect to a TV and operate via the included remote. But you can use your phone to control it, too.