Traditional text-based passwords are here to stay, even in our modern age of smartphones with advanced fingerprint scanners and face-unlocking capabilities. The best Android phones can only do so much to protect our online accounts when we rely on outdated password technology to secure our data. The goal for the future is to do away with old-school passwords, known by many as the passwordless future. In the meantime, Google offers an updated Password Manager feature to keep our passwords safe and secure until we reach that point.
When using the Google Chrome browser to save your online account passwords, you can access them on a desktop computer, a smartphone, or a Chromebook. This guide covers where to find your saved account passwords in the Google Chrome browser and how to use the updated Password Manager feature.
How to access your passwords in Google Chrome on Android
Here's how to find your passwords and use them to log in to your favorite places:
Open the Chrome app, then tap the three-dot menu in the upper-right corner.
Go to Settings > Password Manager.

Scroll through the passwords and choose the account you want to view the password.
Enter your PIN or biometrics to access your saved account credentials.
You'll see a new overview screen with the account name and saved password hidden by default. Tap the eye icon to reveal the password or the copy icon to paste it elsewhere via the clipboard. Likewise, you can tap the Edit button to update the account credentials or tap the Delete button to remove it.

Tap the back arrow to return to the main Password Manager page.
There you have it. You can access all your stored passwords on Google Chrome. You can also access your information on your desktop.
How to access your passwords in Google Chrome on a desktop or Chromebook
If you work in a desktop web browser or use your Chromebook, it's fast and easy to find your stored passwords.
Open the Chrome browser, then tap the three-dot menu in the upper-right corner.
In the upper-left corner, go to Autofill > Password Manager.

Scroll through the list of passwords saved to your Google account.
Click the eye icon to reveal the hidden password for an account.
Tap the three-dot menu on the right to access the Copy password, Edit password, and Remove options for that account. You can copy the password for pasting elsewhere, edit your account credentials, or delete it entirely.

Enter your PIN, password, or biometrics to confirm your choice.
Click the site address on the left to go to the website for that saved account.
And that's all there is to it. You can access all the passwords stored in Google Chrome on your desktop.
How to access your saved passwords on Android without opening Google Chrome
Google made a small change that allows you to access your passwords on Android faster than before. The process was already simple, but now you can create a shortcut on your homescreen that takes you to the Password Manager page. And you aren't required to open Google Chrome beforehand.
To get started managing your passwords from your homescreen, check out the following steps:
Go to Settings > Passwords & accounts.
Under the Autofill service section for Google, select the settings cog icon on the right.
Tap Passwords. Alternatively, tap the search bar at the top of the Settings app and enter the term password manager.
Under the Google Play services section, select the Password Manager entry to continue.

Tap the settings cog icon in the upper-right corner.
Select Add shortcut to your home screen.

Tap the Add to home screen button. You can also long press the Passwords icon to manually drag and drop it onto your homescreen as needed.
Return to your homescreen to find a new shortcut icon called Passwords. Tap the icon to go to the main Password Manager page. You can move this shortcut icon to a location that works best for you. You can also place it in a folder with other shortcuts you use frequently.
Should you use the On-device encryption feature for your passwords?
On-device encryption allows you to lock down the saved passwords on your Google account using a unique security key. Once the feature is set up, you'll need to sign in with your Google account from the security key device. You'll then have control over your passwords at that point. However, it can be risky since you lose access to them if you misplace the key.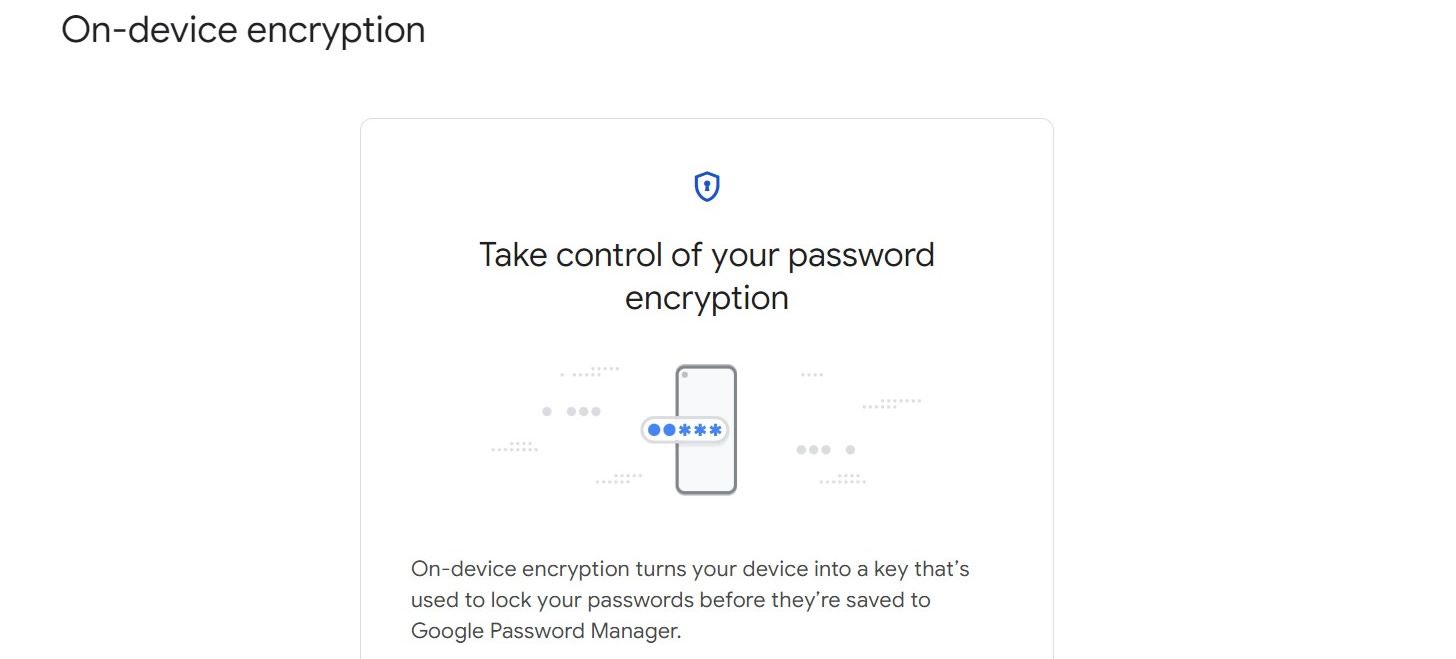 The On-device encryption feature could be an appealing choice for those who want to take their passwords into their own hands. Providing this option means Google is serious about personal account security regardless of your proficiency level with the topic. But since this feature is optional, we only recommend it for advanced or power users who want more control over their passwords. If you're willing to try On-device encryption, your mind should be at ease knowing your passwords will be incredibly secure. Be extra cautious that your device doesn't get lost or misplaced.
You'll want easy access to your saved account passwords to make your life easier
Accessing saved account credentials in the Google Chrome browser on a smartphone, a desktop computer, or a Chromebook helps to keep your life simple. Since everything we do today is online, you'll likely view these passwords more now than you had in the past. As your list of saved passwords continues to grow, the Password Manager will keep them safe from outside threats. Remember to use the Check passwords option on the main Password Manager screen to ensure none of them have been affected by a third-party data breach.
Password managers can do more than keep passwords neat and organized. Check out the top reasons to use a password manager to protect your passwords, online accounts, and personal information.