When RCS chat is enabled in Google Messages, you can enjoy secure, interactive messages on your Android phone, something that previously required a third-party app or an iPhone. RCS chat is quickly becoming one of the world's most popular texting standards, as it adds many advanced features like advanced media sharing, inline replies, typing indicators, and encryption.
The top Android phones have fantastic cameras, but to share photos and videos in the best quality, you need RCS instead of the old SMS and MMS texting protocols that were made for the low-bandwidth cellular connections of the past. With 5G and RCS, you can show friends and co-workers where you're at and what you're doing while being more expressive using the special features of Android's built-in Messages app.
What is RCS Messaging, and what's different about it vs. regular text messages.
Rich Communications Services (RCS) is a communication protocol that will ultimately replace MMS and SMS messages on Android devices. Although the protocol was created in 2007, it failed to take off until fairly recently.
Google worked closely with the GSMA, its members, and carriers around the globe to create a universal profile for RCS that uses Android's Messages client in 2019. Many Android users can use RCS Messaging now, but the messaging protocol is not supported on iOS.
The RCS update offers a better overall messaging experience with features that are similar to what you'll find on iMessage, WhatsApp, and Facebook Messenger. Encrypted messaging, enhanced media sharing, group chats, and real-time typing indicators are just a few of the improvements that come with RCS chat.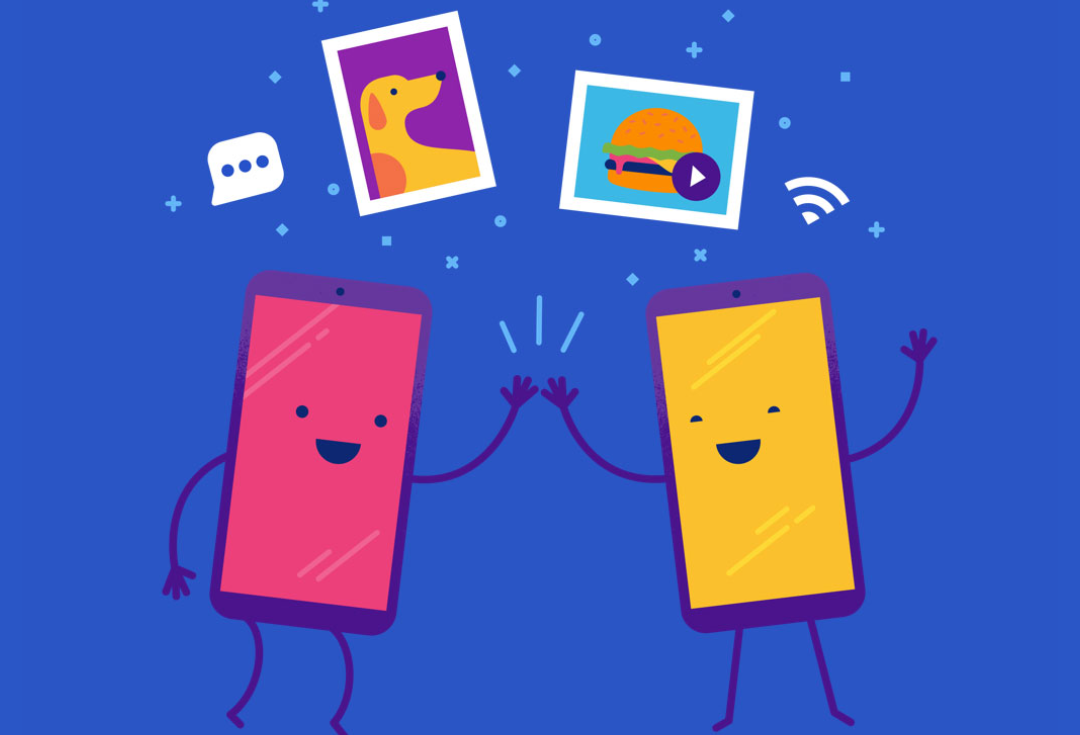 Source: Google
Most modern Android phones ship with Google Messages as the default texting app, which includes RCS. You've probably used RCS when texting other Android users with a smartphone for the last few years. The issue comes when texting someone that uses an iPhone. Apple continues to refuse to adopt RCS despite Google's high-pressure RCS shaming campaign. And while a world where Android and iPhone offer a unified messaging experience would be ideal, Apple's hesitation seems justified since it took RCS more than a decade to gain traction with carriers and OEMs.
This guide focuses on the Google Messages app, the default on Google Pixel phones, and those from Samsung, OnePlus, Motorola, and others. If your phone doesn't come with Google Messages preinstalled, you can download it. A few regions may not support RCS Chat, but it's available in many of Android's most populous markets.
This guide focuses on the Google Messages app, the default on Google Pixel phones, and those from Samsung, OnePlus, Motorola, and others. If your phone doesn't come with Google Messages preinstalled, you can download it from the Play Store. Although the feature is not available in every region or on every carrier, Google announced more than 800 million people currently use RCS Messages during its 2023 I/O keynote address.
Google Messages may prompt you to enable RCS before you set it up
Most of the time, the Messages app prompts you to enable RCS if you haven't already. If the prompt below shows up, you're ready to set up and use RCS.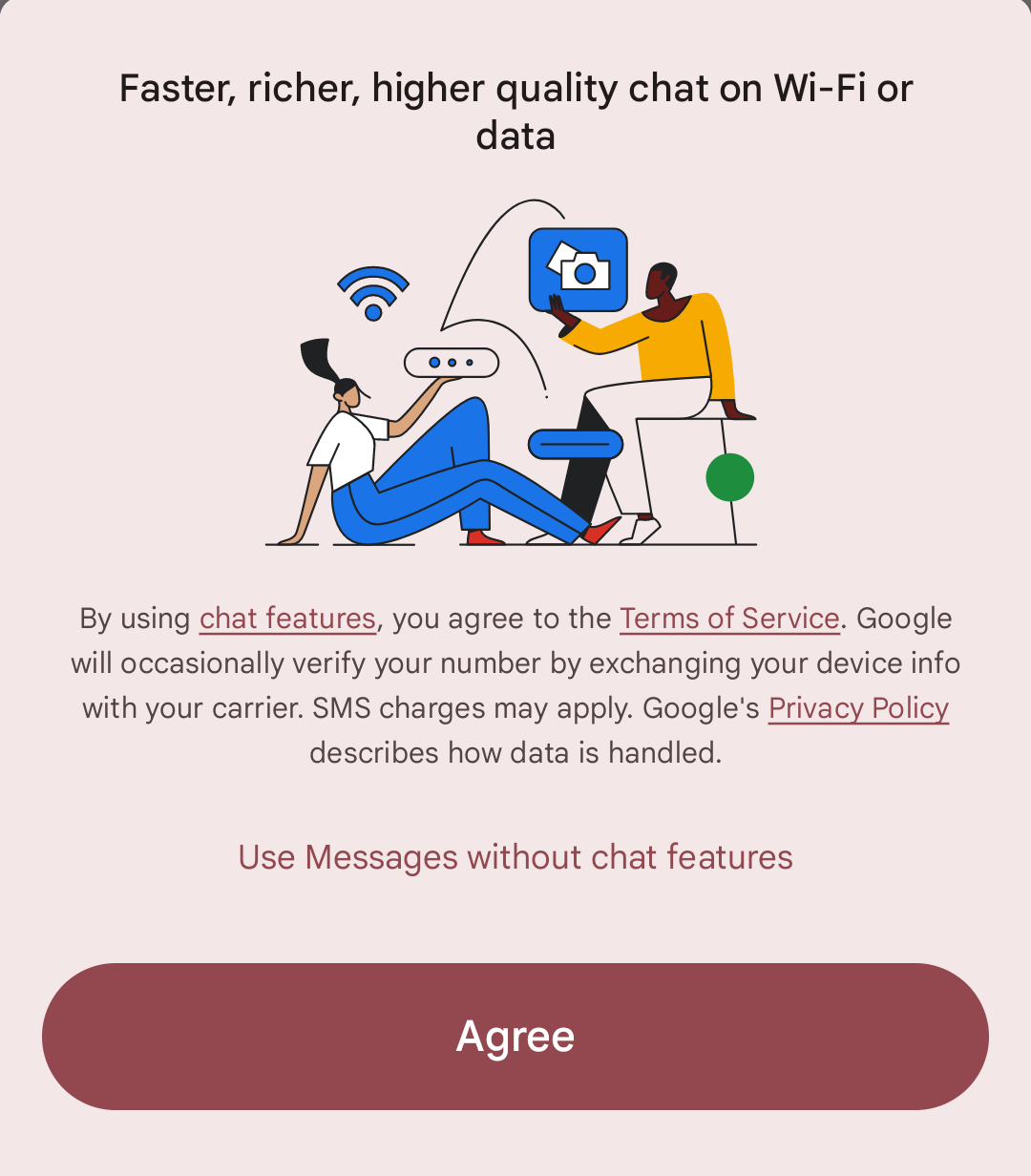 You can tell you're sending RCS Chat messages when the input dialog box says Chat message. If Google Messages doesn't prompt you to enable RCS Chat, follow the instructions in the next section to turn it on.
How to turn on RCS Chats in the Google Messages app
If you're opening the Google Messages app for the first time or you've reset your phone, you may need to manually enable chat features
Open the Messages app.
Tap your Google account profile picture in the upper-right corner to see more options.
Select Messages settings to check the current selection and make changes if needed.

Choose the first option, RCS chats.
If the toggle switch for Turn on RCS chats is off (circle on the left side), tap it to turn it on.

You might be asked to verify your phone number.
You'll see Status: Connected when verification is complete. Once you're connected, RCS is ready to go.
How to turn off RCS chat
Even though RCS improves the texting experience, it might not be the preferred solution for everyone. You may want to turn it off if you decide that RCS isn't for you. If you have issues with the connection, turning off the setting and reactivating it might be a good reason to do so.
To disable the RCS chat features on your device, do the following:
Open the Messages app.
Tap your profile picture in the upper-right corner.
Choose Messages settings, then RCS chats.
If Turn on RCS chats is enabled (circle on the right side), switch it off.
A pop-up window warns that you'll be removed from group RCS chats. Tap Turn off to continue.
With RCS disabled, the messages you send and receive revert to traditional SMS/MMS text format until you enable RCS again. Disabling RCS before you get a new phone is also advisable to avoid potential messaging issues from the previous device. If you keep your old phone, it's easy to disable these settings first. If you no longer have access to it, Google has a form you can fill out to deregister your phone number.
To avoid issues, don't turn the chat features off and on multiple times in a short amount of time, as some people have been temporarily blocked from RCS chats when the feature is toggled on and off multiple times. Check out Google's recommendations if you find yourself locked out of RCS.
What RCS features does Google Messages have?
RCS chat can share high-resolution photos and videos, an improvement over traditional texts. You can also send messages over Wi-Fi and mobile data. In the RCS chats section of the Settings menu, you'll see more options to enhance your chats:
Send read receipts: This feature marks a message as read, so you don't need to confirm everything.
Real-time typing indicators: Turning this on lets others know you're typing, a sign that your reply is in progress.
Automatically resend as text (SMS/MMS messages): If switched on, your message sends as a traditional text if RCS isn't available.
Automatically download files over mobile data: This control lets you limit the size of files or disable downloads when using mobile data.
Automatically download files while roaming is a toggle that is off by default to prevent the possibility of extra carrier charges.
Google Messages has plenty of built-in features that work without any setup:
Message reactions: If both users have RCS enabled, you can react to each other's messages. Press and hold the message you want to react to, and a menu with emoji to select pops up. Tap the emoji you want to react with, and the other person can see your reaction. This works for all users, with or without RCS.
Group messages: A group message is created if all users texted have RCS. This group message lets all users take advantage of RCS features. For instance, if one person is typing, all other users will see that.
End-to-end encryption: Encryption is enabled if both users have RCS. You'll know you are using encryption if you see a lock icon next to your read receipt on a message you sent.
Respond to individual messages: You can respond to a specific message in a conversation to make it clear what you're responding to. Hold down the message and tap the arrow that pops up to reply to the specific message.
Watch YouTube videos in app: If someone sends a link to a YouTube video, you can watch it in the app and respond quickly.
Smart reply: These one-tap responses make basic communication super quick and easy.
There shouldn't be any carrier charges when you use RCS chat on Wi-Fi. When you're away from Wi-Fi, the only charge is for mobile data, which is minimal when sending text. Be careful with video sharing if your mobile data plan is limited.
No more iMessage envy with Google Messages and RCS
SMS and MMS are old and outdated messaging standards. Google solved this problem with RCS chats on all Android phones. Even if Apple refuses to participate in the RCS standard, Google has started making it easier to interact with iMessages. For Android users, messaging keeps getting better, and the number of great features in Google Messages is satisfying whether you use RCS or not.