Four years ago, Snap (the umbrella over Snapchat) unleashed Snap Camera on an unsuspecting world. By simply changing their camera input, users could take advantage of Snapchat's robust library of camera filters and backgrounds in virtually any streaming software from Zoom to Twitch to Teams.
The app, available for PC and Mac, gained a burst of popularity when working from home became the norm in 2020, augmenting the capabilities of video chats for professional, educational, and personal use. But all good things must come to an end: the Snap Camera app will be discontinued on January 25, 2023. That means not only will you be unable to download the app, but also that the app will no longer work if you're currently using it.
If you are going to hold out against the inevitable, hoping against hope that Snap will have a change of heart and spare your filter library from the digital abyss, this article isn't for you, and you should check out these awesome Android phones instead. But if you're prepared to rip the bandage off and get the pain over with, we've got you covered.
How to uninstall Snap Camera from your Mac
The process for getting rid of a program on your Mac is straightforward.
Find the Applications folder in Finder.
Right-click Snap Camera.app and select Move to Trash.
You might have to enter your password at this point.
Wait for a dialog to pop up asking if you want to remove all Snap Camera-related data, then select Yes.
That's it. Once you reboot your computer, Snap Camera will be gone for good.
How to uninstall Snap Camera from your Windows PC
Removing Snap Camera is a bit more complicated on Windows, but the process probably isn't new to you.
Click the Windows icon in the lower-left corner to open the Start menu.
On the left side, select Settings next to the cogwheel.

In the Settings menu, click Apps.

In the Apps menu, scroll down and click Snap Camera. Then select Uninstall.
You're asked to confirm your decision a few more times, but once you've cleared those hurdles, you're free and clear.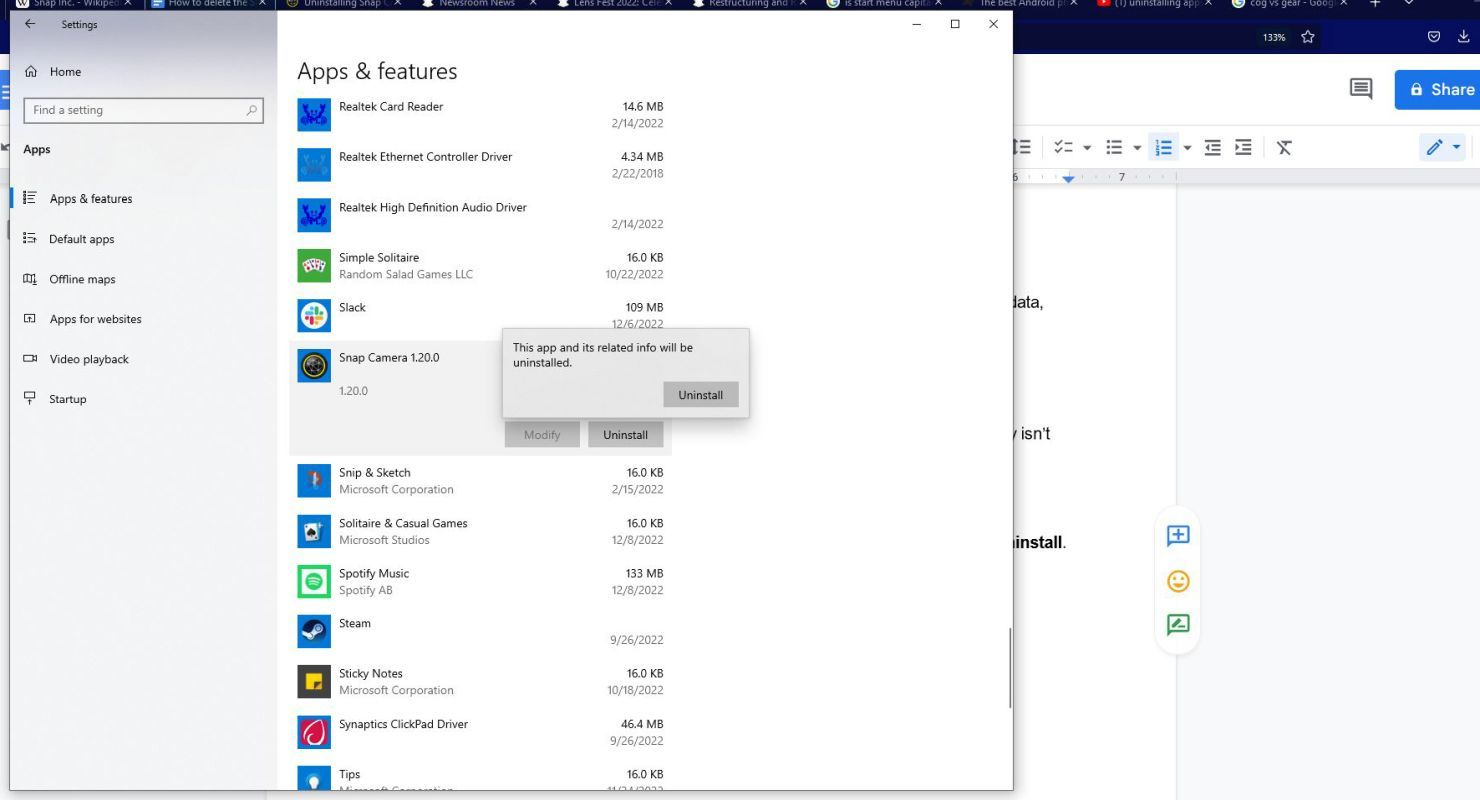 If Snap Camera is currently running on your computer, you won't be able to proceed with the uninstallation.
How to close Snap Camera if it's running in the background
Snap Camera works by always being ready to interject itself between your camera and your software. By default, it's always running in the background, which may not be evident if you're focused on uninstalling it.
Closing Snap Camera on a Mac
Find and click the Snap Camera icon in the menu bar in the upper-right corner of your screen.
Select Quit.
Closing Snap Camera on a PC
Click the chevron icon to reveal the running background processes.

Find and right-click the Snap Camera icon.
Select Quit.
The future of Snap
As of now, nobody knows why Snap Camera is disappearing. On the one hand, Snap publicly admitted its revenue numbers were lower than anticipated back in August, just after they canned the Pixy. On the other hand, given Snap's stated goals of pursuing "community growth, revenue growth, and augmented reality," it's likely that the core functionality provided by Snap Camera (augmented reality) will be back in a monetized form (revenue growth) attached to Snapchat — their largest IP (community growth) — sometime in the future. Although Snap Camera may stop working soon, if your Snapchat stops working, check out these 13 quick fixes.