There's no shortage of fantastic note-taking apps on the Play Store. Some of them, like Google Keep, allow you to store web links and photos in notes. These could be convenient if you're tied into the Google ecosystem. Still, for some of us, it's just another app adding to the clutter on our phones. It turns out WhatsApp's self-messaging feature can be the ideal middle ground.
Start a chat with yourself
WhatsApp rolled out the ability to message yourself in November 2022 after extensive testing in the months prior. Because of the app's multi-device support, this feature is available on WhatsApp for Android, iPhone, desktop, and on WhatsApp Web.
Here's how to start a chat with yourself after updating to the latest version of the app:
Open WhatsApp and select the Chats tab.
Tap the New Chat button.

Search for your name or phone number linked to WhatsApp to create a chat with yourself.
With this chat set up, you can pin it to the top of your list of chats, so it's there when you need to jot something down in a hurry. You can also forward messages and media from other WhatsApp chats to this chat for future reference.
The chat with yourself is at the top of your contacts list, underneath the chats you engage with frequently. When scrolling the web, tap the share button on links and media, select WhatsApp, and send them to the chat with yourself.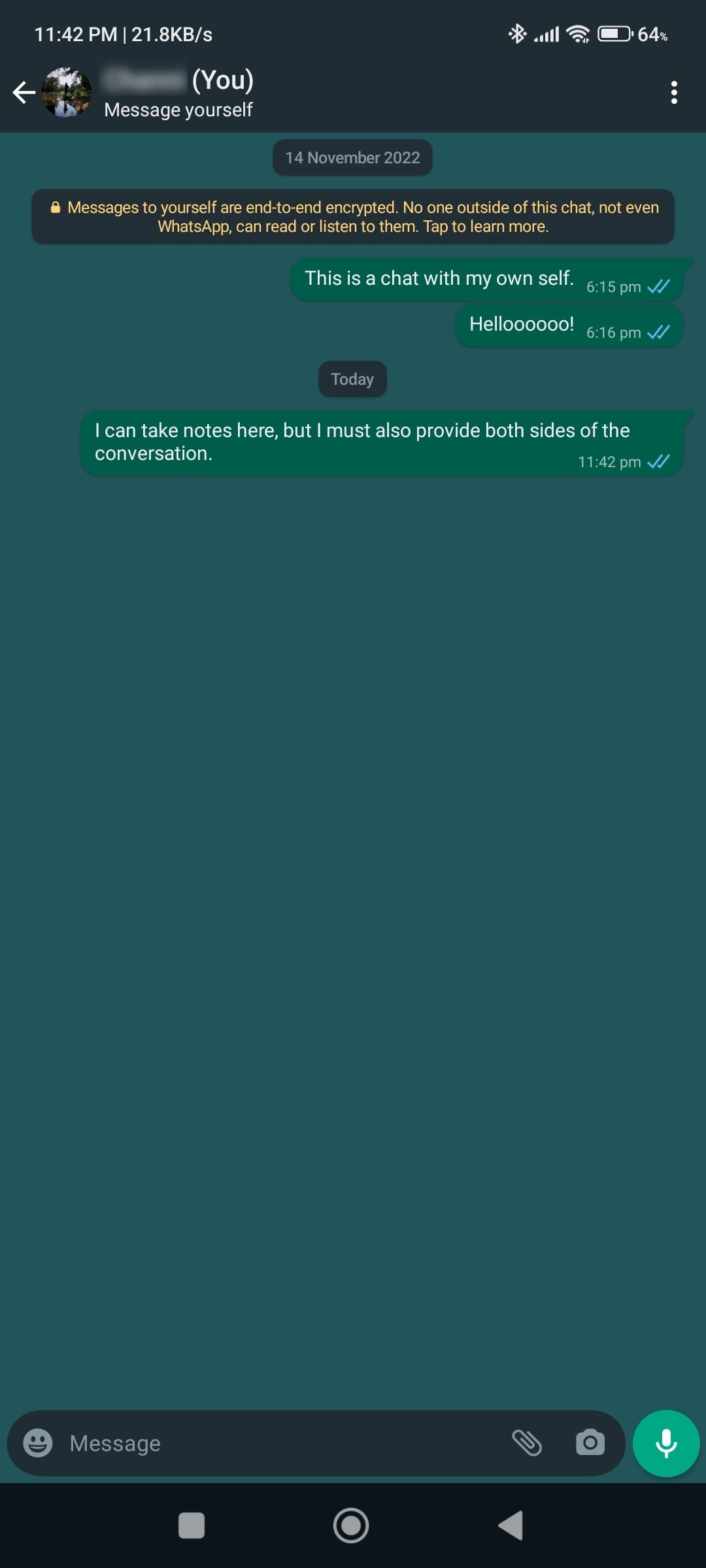 Don't mute notifications from this conversation, or check your last seen status and online status. Voice or video calling yourself using this chat could break the space-time continuum (it doesn't work). And don't report or block yourself. To remove the conversation from your chat list, delete it.
There's another way to chat with yourself
If this option doesn't show up for you, or you haven't updated WhatsApp in a while, there's another way to chat with yourself. It's squarely in the workaround territory, but it gets the job done. Here's how:
Open WhatsApp on Android and tap the three-dot button in the upper-right corner.
Select New Group.
On the screen prompting you to add participants to your group, add ony one contact.
Name the group something like "Memo Keeper," set a picture for the group, and tap the checkmark in the lower-right corner.

Tap the three-dot icon in the group chat and select Group Info.
In the list of participants, long-press the name of the person you added and tap the Remove option.
Once you've reasoned with the person you ousted from the group chat, you can use the chat as your personal space. As long as this one-person group chat isn't lost in the sea of WhatsApp messages, you can conveniently send messages, links, and media to it. It works like the self-messaging feature, but long before WhatsApp gave it a name.
WhatsApp could help the infrequent note-taker
No alternative can touch the best note-taking apps' ability to categorize and organize your hurried scribbles, but those apps aren't for everyone. Someone who only saves the occasional web link or name of a show to rewatch doesn't need one more app to bog down their fantastic Android smartphones. For these people, self-messaging on WhatsApp using one of the methods mentioned above could be the ideal solution. Moreover, WhatsApp multi-device ensures you always have access to your notes on linked devices. So, ditch your note-taking app subscription and give this a shot!