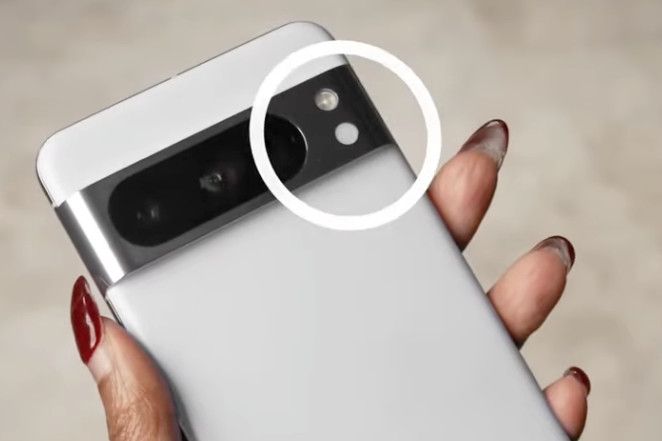 The Google Pixel 8 series is expected later this year, and now the first leaked video of the design has arrived along with a confirmation of one of its new big features. A video from tipster Kuba Wojciechowski provided to 91mobiles shows us the new design of the upcoming flagship phone, and it also demonstrates a new built-in thermometer.
The new thermometer feature is a white sensor positioned on the rear of the phone in the camera bar just below the LED flash. It's an infrared thermometer designed to measure the temperature of your body. We've seen this feature on smartphones in the past such as the Honor Play 4 Pro, but this is the first time we've seen it on a Pixel product.
The technology appears to be similar to other contactless thermometers, and the leaked video is a guide to how you use the feature. In the video, the person is told to identify the monitor, remove any accessories like glasses that may block bare skin around the forehead, and then bring the phone close to the face. The sensor doesn't need to touch your forehead, but you then move the phone around to your temple over a period of five seconds to get a full reading from the thermometer.
It's unclear where this video has been sourced from, but this appears to be internal materials from Google that show how the feature works. 91mobiles says that the Pixel 8 Pro is being tested by Google employees, and it currently seems like the feature won't be available on the standard Pixel 8. The sensor will also be able to measure the temperature of objects, but the video doesn't show how that works.
The Pixel 8 Pro design is shown briefly in this video, and it largely looks similar to what we saw on the Pixel 7 Pro. The main difference is the camera bar now features all three sensors within the same module. On the Pixel 7 Pro, there were three cameras, but they were positioned differently. The overall design of the phone looks similar here, and this is a white variant of the phone with a silver camera bar running along the device.
This is the first major leak of the Pixel 8 series we've seen so far, and we're expecting Google to introduce the handsets properly toward the end of the year. If it follows its previous schedules, we can expect them at some point during October. In the meantime, the Pixel Fold will be on sale next month.