Bobo Stenson Trio: Sphere
Stenson, piano; Anders Jormin, bass; Jon Fält, drums, percussion
ECM 2775 (CD). 2023. Manfred Eicher, prod.; Stefano Amerio, eng.
Performance ****½
Sonics ****½
Bobo Stenson may be the most under-recognized great pianist in jazz. He was essential to the aura of mystical lyricism that prevailed on Charles Lloyd's first five ECM albums. That partnership ended more than 20 years ago.
Stenson has been leading his own trios on ECM for 50-plus years. His current trio, with bassist Anders Jormin and drummer Jon Fält, released Cantando in 2008, Indicum in 2012, and Contra La Indecision in 2018. Now there is Sphere.
It is impossible to rank these four recordings. All are magical. All convey a sense of concentrated, timeless purity, as if they were preserved in amber. But Sphere is the quietest and the most Scandinavian. Unlike most jazz musicians today, Stenson does not prioritize his own compositions over the works of his predecessors. He is a consummate, distinctive interpreter of songs by composers from many genres and cultures, from Ornette Coleman to Silvio Rodríguez to Bartók. On Sphere, his trio plays pieces by Per Nørgård of Denmark, Alfred Janson of Norway, Jean Sibelius of Finland, and Sven-Erik Bäck of Stenson's homeland, Sweden.
The Scandinavian origins of this material are submerged. Stenson uses songs like Nørgård's "You shall plant a tree" (played twice, beautifully and differently) as points of departure for his far wanderings. Two pieces by Bäck, "Spring" and "Communion Psalm," are only outlines, cells of melody that set Stenson's trio into motion. On their journeys, they discover new melodies that coalesce in the moment, rapt moods, and shifting tides of emotion.
Jormin and Fält are the subtlest of collaborators, yet they continuously enlarge this music, Jormin with his illuminating bass subtexts, Fält with his hushed, perfectly timed cymbal swells.—Thomas Conrad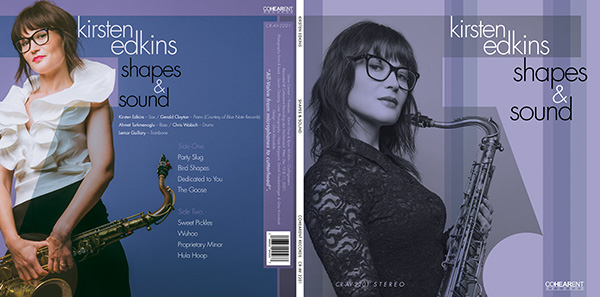 Kirsten Edkins: Shapes and Sound
Kirsten Edkins, tenor saxophone; Gerald Clayton, piano; Lemar Guillary, trombone; Ahmet Turkmenoglu, bass; Chris Wabich, drums
Cohearent Records CR-AV-2201 (LP). 2023. Dave Connor, prod.; Kevin Gray, Ryan Wirthlin, engs.
Performance ****
Sonics *****
New, genuinely audiophile recordings may be a small slice of the musical pie, but within that frame, Shapes and Sound from saxophonist/composer Kirsten Edkins is high profile. That's because Shapes and Sound is the first release from Kevin Gray's new Cohearent Records, recorded in his new studio, built by hand next door to his mastering facility in North Hills, California. The label carries the slogan, "All-valve from microphones to cutterhead." To fans of tubes, that's sheer poetry.
Shapes and Sound is the sophomore album for saxophonist Edkins. Of the eight tunes on the album, she composed six. Leading a quartet, which expands to a quintet on a couple of tracks with the addition of trombonist Lemar Guillary, Edkins seems comfortable within various jazz traditions, especially bop and post-bop, as in originals like "Wuhoo" and "Bird Shapes."
I hear, in Edkins, some of the probing sound of a young Wayne Shorter (may he rest in peace), and on the one ballad standard, "Dedicated to You," I thought I heard and felt a little Coleman Hawkins as Edkins stepped closer to the mike. Blue Note artist Gerald Clayton is at the Steinway B, and his loose, lively turns and twists bring Wynton Kelly to my mind and ear.
The sound of this record is amazing: warm, rich, detailed, never bloated. All instruments were single-miked, recorded direct to stereo tape.
Gray deliberately modeled the construction and layout of his studio on Rudy Van Gelder's first studio; he calls his room "Cohearent Recording aka Hackensack West." The insert included with the album describes his recording chain, stating, "No transistors or ICs are used anywhere in the signal path." Get a copy before they're all gone.—Sasha Matson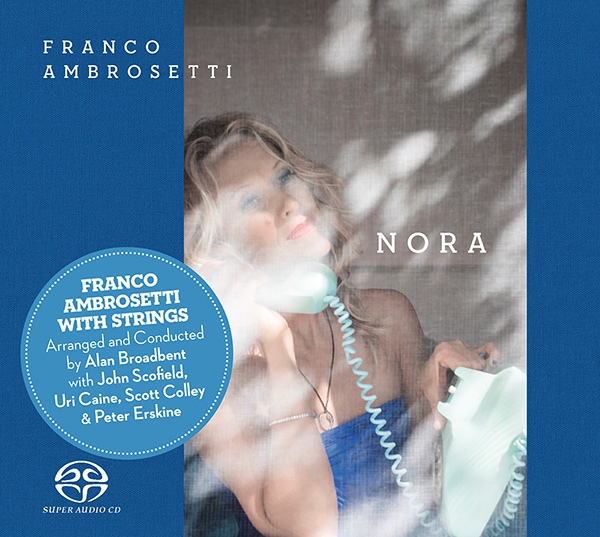 Franco Ambrosetti: Nora
Ambrosetti, flugelhorn; Uri Caine, piano; Scott Colley, bass; Peter Erskine, drums; John Scofield, guitar; 22-piece string orchestra
Enja ENJ-9811-2 (hybrid SACD). 2022. Jeff Levenson, prod.; Jim Anderson, eng.
Performance ****
Sonics *****
The SACD format, especially in 5.1 channels, is a small, specialized niche in the audiophile world. But for those with systems capable of playing Nora in 5.1 surround, a special sensory and aesthetic experience awaits.
Swiss trumpet player Franco Ambrosetti has always wanted to make a recording with strings. With this album, recorded at age 80, he didn't just fulfill his dream; he went first class. Prestigious collaborators (see above) were brought in. Conductor Alan Broadbent created arrangements for a 22-piece string orchestra. Renowned engineer Jim Anderson, an authority on "immersive sound," recorded and mixed it.
The set list includes diverse works that all share qualities like lush romanticism and warm intimacy. Ambrosetti chose the songs for their seductive melodies, which he plays lovingly, in a pure, glowing tone, on flugelhorn. There is not a single sharp edge in this music. Ambrosetti's spare lines deal in essential notes only. His sidemen excel. On John Coltrane's rapt ballad "After the Rain," John Scofield's guitar tones hover in free air with the lingering vibrato only he seems able to impart.
Broadbent says his charts are intended to create a "subsong" for the strings to play "in quiet counterpoint with the lead song." Anderson wraps those strings around you, subtly, even subliminally. Instead of a "phantom" image between the front left and right speakers, there is a stable one in the center channel. The mix is 5.1, but Anderson achieves an illusion of height. The sensation of open space around you makes you swoon.
In a jazz culture that values energy and surprise, "pretty" can be a pejorative adjective. Franco Ambrosetti doesn't care. Nora is lavishly, shamelessly pretty.—Thomas Conrad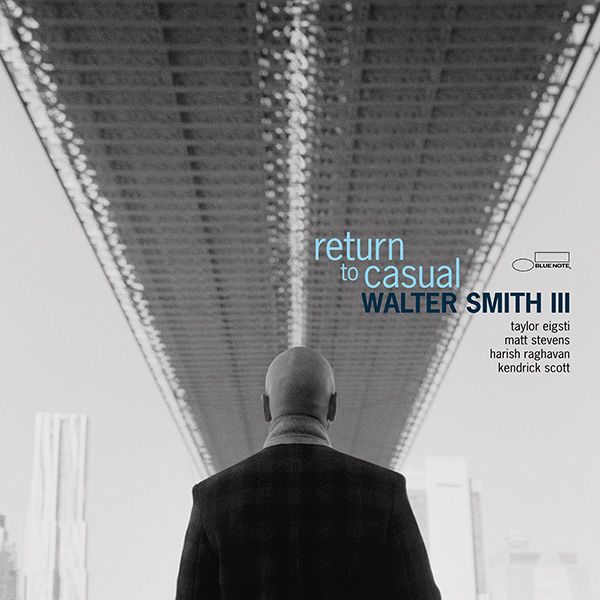 Walter Smith III: return to casual
Smith, tenor saxophone; Taylor Eigsti, piano, Fender Rhodes; Matt Stevens, guitar; Harish Raghavan, bass; Kendrick Scott, drums; two guests
Blue Note B003704402 (16/44.1 WAV). 2023. Smith, prod.; Chris Allen, eng.
Performance ****
Sonics ****
Walter Smith III has been coming up in the world. Most people first heard of him when he occupied the tenor saxophone chair in one of the most important jazz groups of the new millennium, Ambrose Akinmusire's quintet. But Smith has played with other prominent leaders (Terence Blanchard, Christian Scott) and has been making records under his own name since 2006. Most recently have come three well-received albums by a project called In Common, co-led by Smith and Matt Stevens.
Now Smith has crossed a threshold that proves a jazz musician has arrived: He has been signed by the Blue Note label. On the evidence, he is ready.
Smith was an in-demand sideman because of the firepower he could bring to a band. He can still knock you on your ass with his solos, but return to casual suggests that he is more interested in composing, exploring fresh, diverse ensemble concepts, and conceiving complete album designs. The 10 tracks are concise. Smith has worked with all these players before, and the band is tight. But his carefully crafted arrangements provide open spaces for the strong soloists here to break temporarily free in. Most prominent is Smith himself. But Matt Stevens's stinging, keening guitar makes "quiet song" the noisiest piece on the album. Pianist Taylor Eigsti is sweeping and exhilarating on "Shine."
Akinmusire guests on two numbers. He is a trumpet talent so special that he is capable of stealing any show you put him in. His outing on "River Styx" is the most stunning moment on the album. But on "Amelia Earhart Ghosted Me" he serves the ensemble cause, contributing his vivid voice to the theme statement then teaming with Smith in a wildly creative joint improvised enterprise.—Thomas Conrad