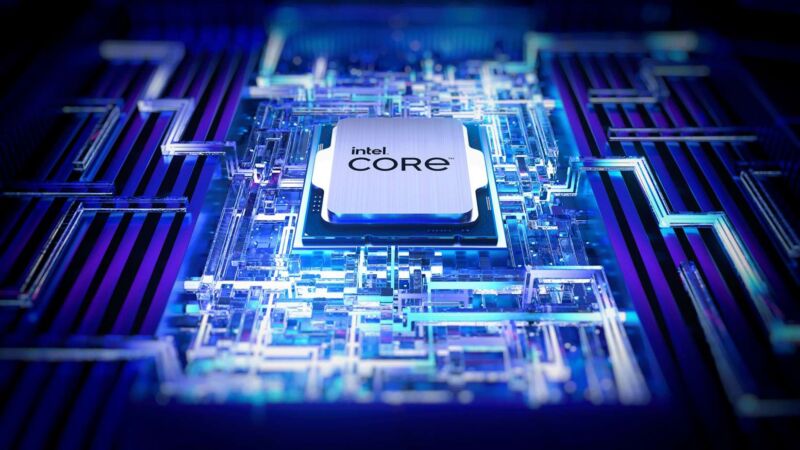 The 13th-generation "Raptor Lake" Intel Core CPUs we've tested so far have performed well by virtue of throwing lots and lots of cores at most workloads, and the less-expensive processors in the lineup are going to take the same approach. The number of large high-performance P-cores is staying the same, but CPUs from i5 to i9 are all picking up extra E-cores to help with rendering, encoding, and other high-end professional apps that can use every CPU core you give them.
Leaks and other early reports appear to have gotten everything from core counts to clock speeds to cache size mostly correct, so if you've been paying attention, none of today's announcements will come as a surprise. But for people who aren't familiar, the short version is that these are riffs on the 12th-gen Alder Lake CPUs' hybrid architecture, and their designs haven't changed much. They'll also continue to fit into the same LGA1700 motherboards as 12th-generation CPUs, so 600-series motherboards should recognize them just fine after a BIOS update.
The 65 W versions of Intel's new 13th-gen Core CPUs. The Core i9 and i7 variants include more cache per core than the i5 and i3 chips.


Intel

T-series CPUs have lower power limits than the standard chips, making them a better fit for smaller PCs that can dissipate less heat.


Intel
Core i9 and Core i7 CPUs all have eight P-cores, but i9 chips come with 16 E-cores while i7 chips come with eight. Core i5 CPUs all come with six P-cores, but the amount of E-cores varies—the i5-13600 and i5-13500 come with eight, while the lowest-end i5-13400 comes with four. The Core i5-12500 and 12400 didn't come with any E-cores at all, so people in the market for a good mainstream CPU for a budget-conscious gaming PC or workstation will benefit even more from the jump between the 12th- and 13th-gen chips. The Core i3 remains the only CPU in the lineup with no E-cores, though their four P-cores should still do just fine for office work and low-end gaming desktops.
Per usual, Intel's CPUs come with multiple suffixes that give you extra information about them. Suffix-free CPUs have a 65 W base power plus a UHD 770 or 730 integrated GPU (these haven't changed since the 12th-gen in any appreciable way). Processors with an F don't include an integrated GPU, and processors with a T have a 35 W base power and reduced default turbo power settings, reducing their performance but making it possible to fit them in smaller PCs with less-capable coolers.
Architecturally, the 13th generation isn't much different from the 12th generation. The Core i9 and Core i7 chips, like the overclockable K-series CPUs we looked at a few months ago, benefit from additional L2 and L3 cache per core plus faster official DDR5-5600 memory support. The Core i5 and i3 CPUs being announced today, on the other hand, appear to be unmodified, with the same amount of cache per core and the same DDR5-4800 support as last-gen Alder Lake CPUs. But this isn't a huge deal for these midrange chips—the additional E-cores still provide a solid boost over equivalent 12th-gen CPUs, and XMP memory overclocking renders "official" memory support speeds moot for enthusiasts anyway.
The last thing to note is that, while Intel gives default base power and turbo power figures for each CPU, system builders can effectively ignore them if they want to. Set a Core i9-13900 to the same base and turbo numbers as a Core i9-13900K in your BIOS, and that cheaper Core i9-13900 will perform a lot like an expensive i3900K. You still won't officially be able to "overclock" it, but playing with these power settings can have big performance benefits even if you don't want to spring for a K-series CPU or a Z690 or Z790 motherboard.
Especially for price-conscious buyers, these new 13th-generation chips extend a price-for-performance advantage that Intel's latest chips have had over AMD's Ryzen 7000 series. Even at current street prices of around $240, AMD's six-core Ryzen 5 7600X won't offer nearly the same performance as the i5-13500 or i5-13400, both of which undercut it slightly on price.
And that's before you factor in the cost of the rest of the platform—older Intel B660 and H610 still include the kind of features most people need in a midrange PC, and they do it for less than AMD's cheapest B650 motherboards as of this writing. That said, AMD will have its own products to announce at CES this year, and they could help make the AM5 platform compete a bit better with Intel's latest offerings.