Although the Samsung Galaxy Z Flip 4 and Galaxy Z Fold 4 make for some of the best Android phones you can buy, plenty of users still prefer to stick with a classic smartphone design. For anyone who would rather stay away from the cutting edge, the Samsung Galaxy S23 is likely the phone for you. Last year's Samsung Galaxy S22 series blew us away with an excellent refined design, solid performance, and the rebirth of the Note series.
We expect to see a similar pattern for the Galaxy S23 next year: some slight design changes, improved performance, and maybe a couple of surprises. Even though Samsung's next Galaxy Unpacked event is likely just a month away, the leaks are already pouring in for its upcoming smartphone. Here's everything we know about the Galaxy S23 so far.
This post contains speculation about the rumored Samsung Galaxy S23 smartphone lineup. We've listed or linked to any details confirmed by Samsung throughout the post as well as the sources of any rumors we've published. We will update this post regularly as we learn more details.
Samsung Galaxy S23 and S23+: Design Speculation
If there's one space where we expect the S23 series to diverge between models, it's the designs. Just like last year, we expect to see very few changes between generations, though the two smaller models — a term we're using loosely — will likely take some inspiration from their big brother.
The Samsung Galaxy S23 and S23+ are reportedly getting some design inspiration from the 2022 Samsung Galaxy S22 Ultra. The camera bump that has become the signature style for the S-series over the last couple of years is gone, replaced by a replica of the protruding lenses from the S22 Ultra. It's a bummer to see that design disappear, as it was one of Samsung's best in years. Although, it makes sense to unite all three phones around a similar look.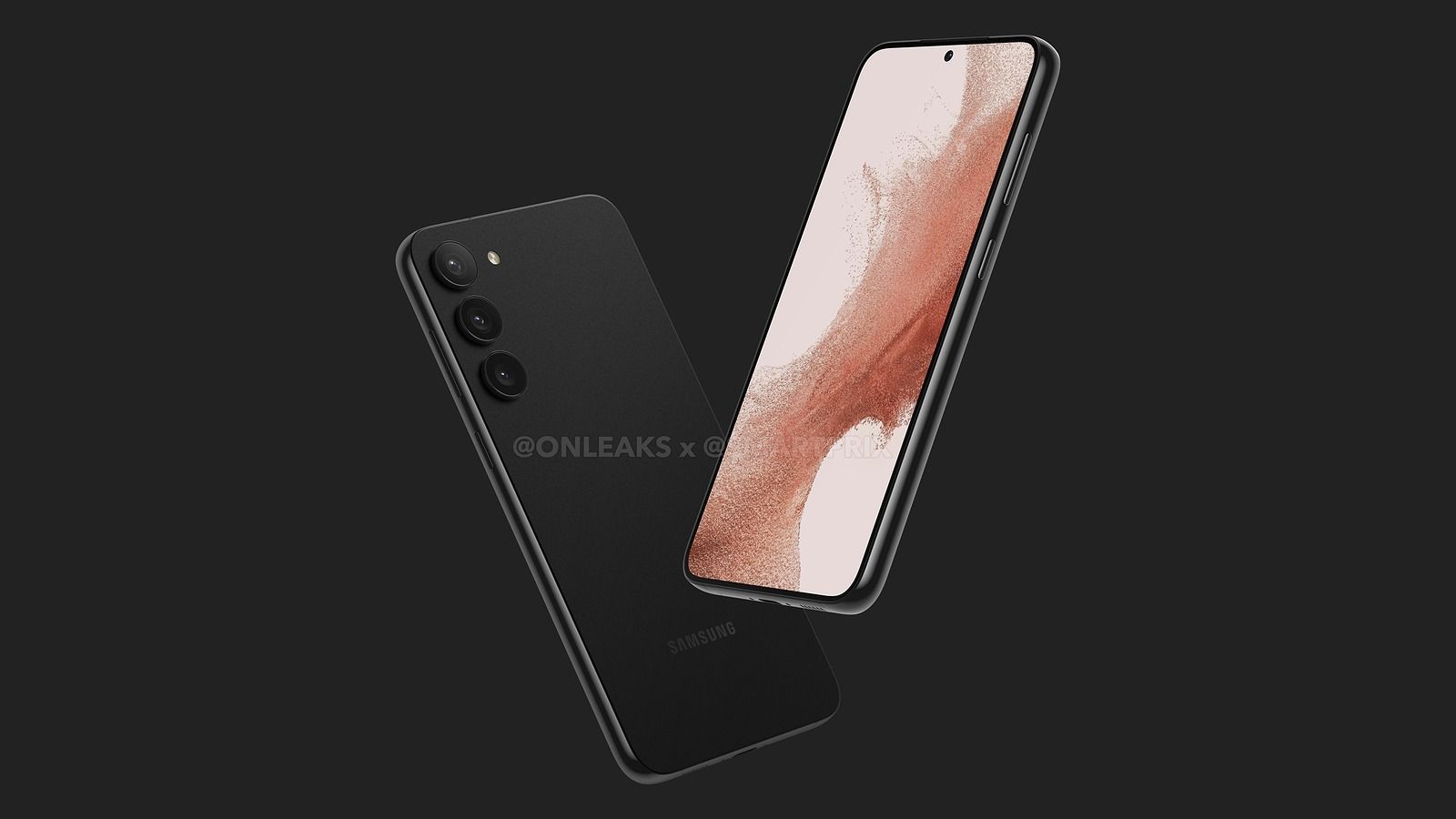 Backing up these design changes are some leaked case renders, all of which also show a focus on an Ultra-style camera alignment. This may be the rare example of a phone looking better in a protective shell, as the move away from a camera bump allows the lenses to protrude as normal.
Meanwhile, it sounds like the S23 will come in the usual colors you'd expect, with one notable exception. In addition to black, green, and light pink, Samsung is reportedly planning on a beige model replacing the classic white hue. And thanks to some early accessory leaks, we might have an idea of what that beige color might look like.
It's an odd selection for a smartphone, but we'll withhold final judgment until we see actual renders. Regardless of colors, it's clear that anyone hoping for a total redesign in 2023 is out of luck.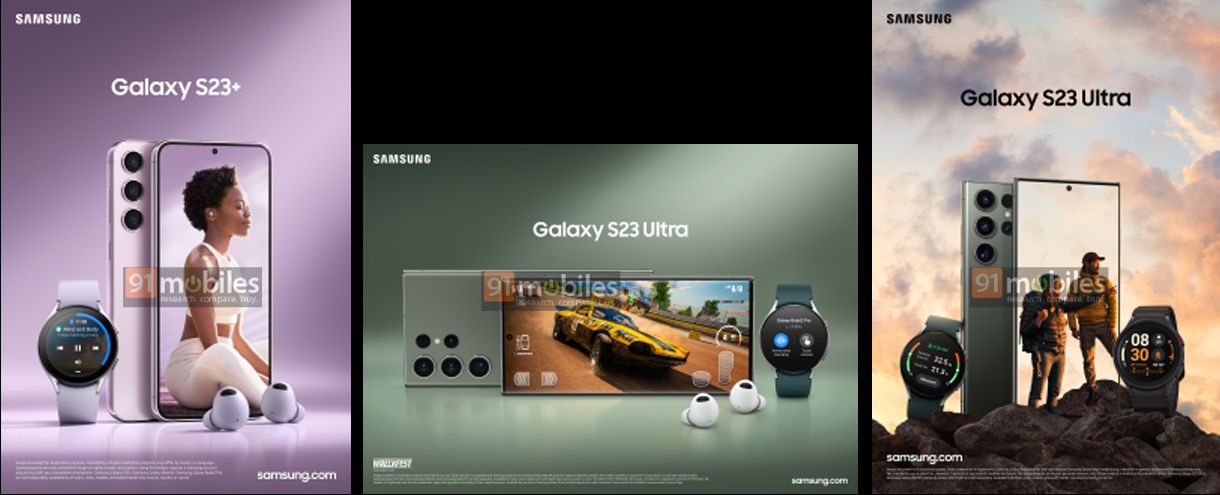 Leaked marketing renders show two of these colors in action: the light pink Galaxy S23+, as well as the green S23 Ultra. It's a new shade for one of Samsung's most common color choices, appearing more ruggedized than the previous jade tones.
Samsung Galaxy S23 Ultra: Design rumors
Despite being the most powerful of the three phones, the Galaxy S23 Ultra's design is also the most similar to its predecessor. Early renders show the S23 Ultra looks nearly unchanged, right down to its unique camera lineup on the back.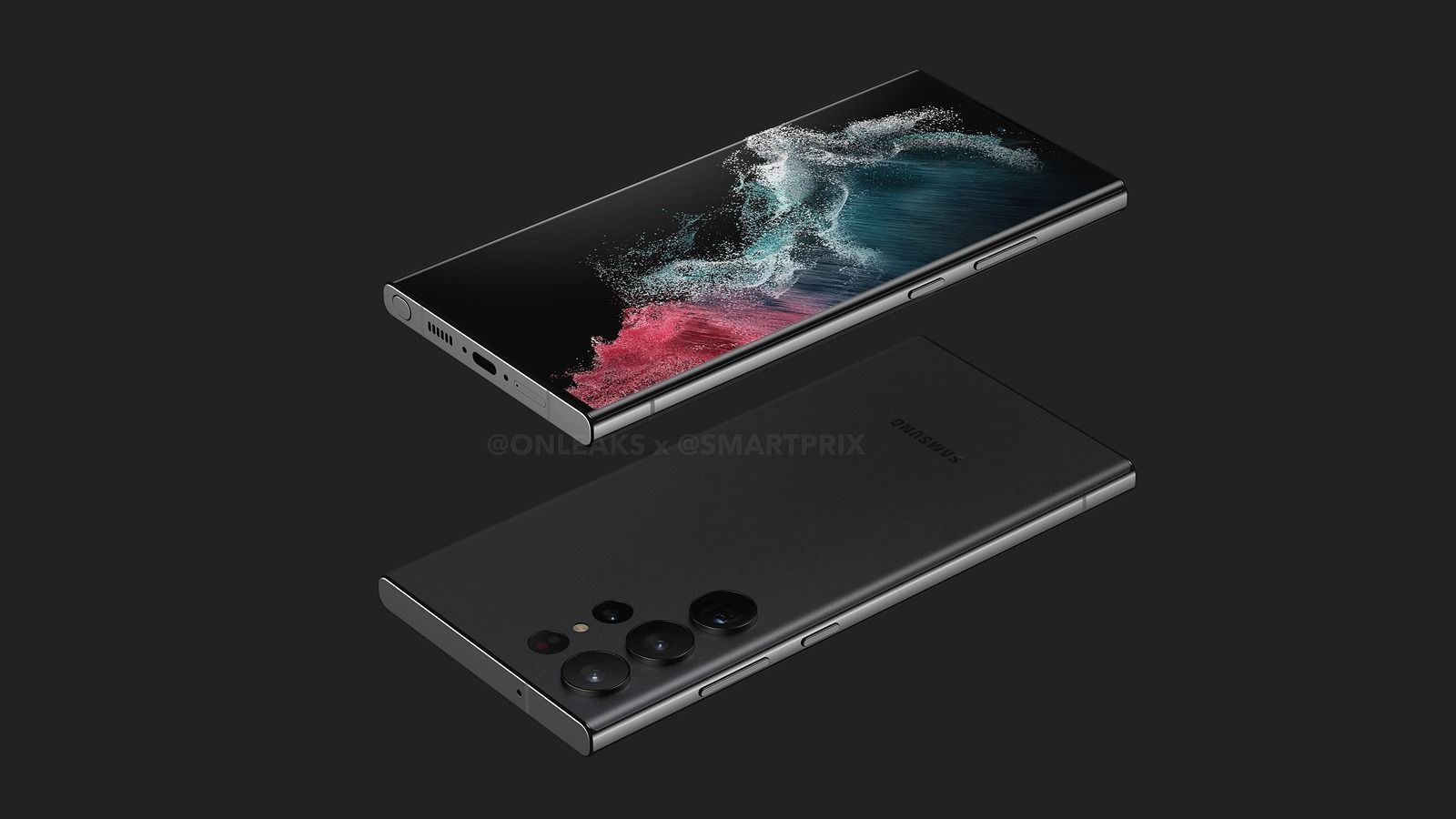 Granted, it's not like Samsung is only making this a spec bump; the differences are there if you look closely enough. The phone is slightly less curvy compared to last year's model, along with some modifications to how far the lenses stick out.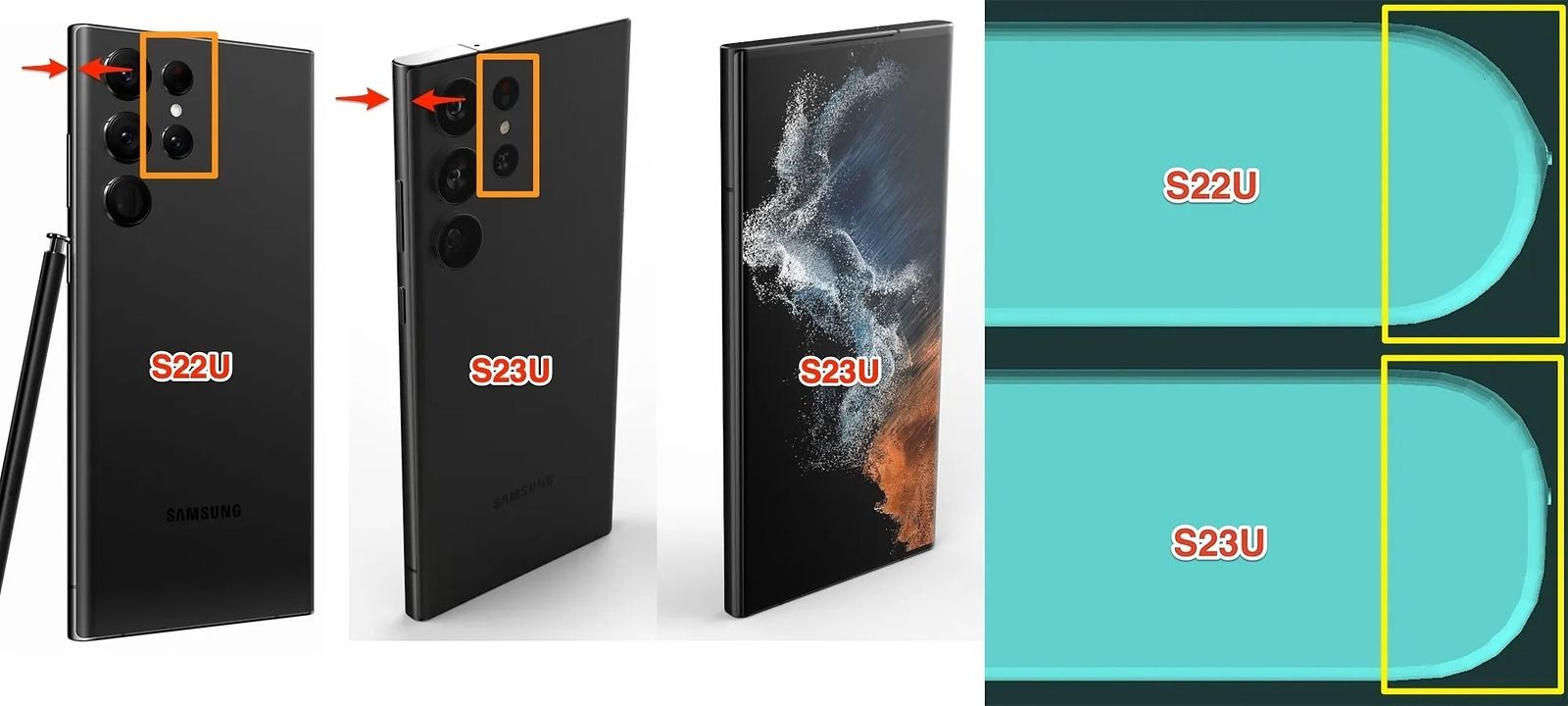 These are subtle differences, though, and while it might satisfy any Note 9 or Note 10 holdouts, if you were hoping to jump from the S22 Ultra to a new model, the main changes won't be visible to the naked eye.
We've also seen dummy units of all three phones, which seem to lend credence to the design rumors that have circulated throughout the last few months of 2022. The S23 Ultra features the least amount of changes, but comparing all three next to each other makes it all the more obvious how inspired the smaller units are by the Note-esque design.
Samsung Galaxy S23 series: Hardware specifications
Unlike with the design of these phones, Samsung keeps its internal specs pretty consistent throughout all models. There's been a surprising amount of noise around the chipset, something that, in theory at least, shouldn't be too complicated. Usually, Samsung relies on Qualcomm's latest flagship processor throughout much of the world, with an ever-shrinking group of regions getting an in-house Exynos chip.
Although reports suggest Samsung wants to start relying on its own silicon again, it doesn't sound like that's the case this year. Early S23 rumors indicated the company would stick with Qualcomm — in this case, the Snapdragon 8 Gen 2 — potentially for all markets, a theory that gained credence when the two brands extended their partnership this past summer.
In the run-up to February, we've heard even more about Samsung's reliance on Qualcomm. During the chipmaker's Q4 earnings call, CFO Akash Palhiwala referred to a "global share" of the S23 series, an increase from the 75 percent marketshare held with the S22. Meanwhile, European models for all three phones passed through the FCC in November, each with Qualcomm hardware inside.
Still, Exynos might not be done just yet. In September, we heard that Samsung's bosses, while disappointed with the performance of the company's latest in-house SoC, were pushing to continue using the lineup in select markets. That means some Galaxy S23 units might run on an Exynos 2300 rather than the Snapdragon 8 Gen 2. And to pair with those improved processors, Samsung is reportedly implementing new cooling systems to provide better performance under load.
When it comes to battery life, you might see a noticeable improvement. In addition to a power-friendly chip in the Snapdragon 8 Gen 2, a 200mAh increase to the S23's battery could make a big difference in day-to-day use. While it's unclear what the Ultra will get, the S23+ is also expected to get a bigger battery, with a boost up to 4,700mAh.
We've also learned about the S23's fast-charging capabilities. Samsung is reportedly sticking with its previous 25W rates on the smaller S23, a much lower figure compared to some of the brand's rivals. We still don't know what the larger S23+ and S23 Ultra will charge at (45W seems likely) but it's clear Samsung has fallen behind the times here.
The base storage of the phone — a stat not usually up for debate — has turned into an odd series of back and forth rumors. While some leakers maintain Samsung plans to ship the device with 128GB as the default choice, others expect the base stat to get bumped up to 256GB. It's worth taking all of this with a grain of salt, though it would be a nice benefit for anyone picking up a Galaxy S23. Either way, Samsung is known to offer free storage tier bumps when pre-ordering its latest flagships, so either way, expect plenty of space for games, videos, and more.
An official hardware doc for the Galaxy S23 Ultra has only cemented many of these rumors, proving Samsung is working on a 200MP sensor — more on that below — a massive 6.8″ screen, and potentially a super speedy version of the Snapdragon 8 Gen 2.
Samsung Galaxy S23 series: Camera and imaging speculation
The big news for the Samsung Galaxy S23, specifically the Ultra variant, concerns its rumored 200MP camera. Although we don't expect the sensor to be much larger than other phones on the market (coming in at 1/1.3 inches), it's an impressive number regardless. This camera might use an as-yet-unreleased ISOCELL HP2 sensor as well, not the ISOCELL HP1 seen in Motorola's recent Edge 30 Ultra. Expect to see improved nighttime performance in both photo and video capture, if recent reports are anything to go by.
Meanwhile, it sounds like the S23 and S23+ will keep the 10MP telephoto lens from last year's model. Considering the camera modules on both phones look identical, we aren't too surprised to see some consistency between generations. With machine learning and software optimizations nearly as important to photo performance these days as actual hardware, expect plenty of improvements regardless of how familiar the physical sensors are.
Tipster Ice Universe has also noted a small jump in 8K recording capabilities, as the Galaxy S23 seems destined to record in 8K 30FPS, rather than just 24FPS.
As for the front-facing camera, it sounds like the 40MP selfie lens from last year's Galaxy S22 Ultra is going away. Rather, the Galaxy S23 Ultra might make the switch to a 12MP sensor, opting for quality over the sheer number of megapixels available. Specifically, a larger sensor would allow more light in, providing better low-light snaps while also using a wider field-of-view. Unless you're a participant in the megapixel wars, it sounds like an overall win.
Samsung Galaxy S23 series: Possible availability and release date
Samsung usually drops its latest S-series in the first quarter of the year, and it's looking like that'll happen again for the S23. If you're feeling impatient, or if your phone is on its last legs and you're counting the days for an upgrade, there's some good news. The latest rumors on the S23's launch cycle indicate that it'll arrive a little earlier than last year, with Ice Universe hinting at a Wednesday, February 1st announcement.
That's great news for potential buyers, but we'll still have to wait for any follow-up details, especially regarding pricing. The Samsung Galaxy S22 series wasn't cheap, and phone prices are continuing to increase due to inflation and supply chain issues.
Are you ready for a new phone?
There's plenty of time for more leaks as we kick off the new year, so expect more news on the Samsung Galaxy S23 over the coming weeks. If you're holding on to your old phone in hopes that you'll make it until the Samsung Galaxy S23 hits the market, you may want to try some of our top tips to speed up your smartphone.