While a lot of earbuds available on the market may be water-resistant, there are very few available that are actually waterproof. That doesn't mean options don't exist; you can have your tunes and go for a dip simultaneously; bone conduction headphones might be the solution you're looking for.
These lightweight headphones are easy to use, don't block your auditory sense, and are often usable at two meters deep. They also carry internal music players and storage.
There are many bone-conduction headphones, but not all are suitable for swimming. For this list, we considered options based on their IPX rating, connectivity, integrated player, audio quality, build and design, and battery life. And these are pretty stylish, too.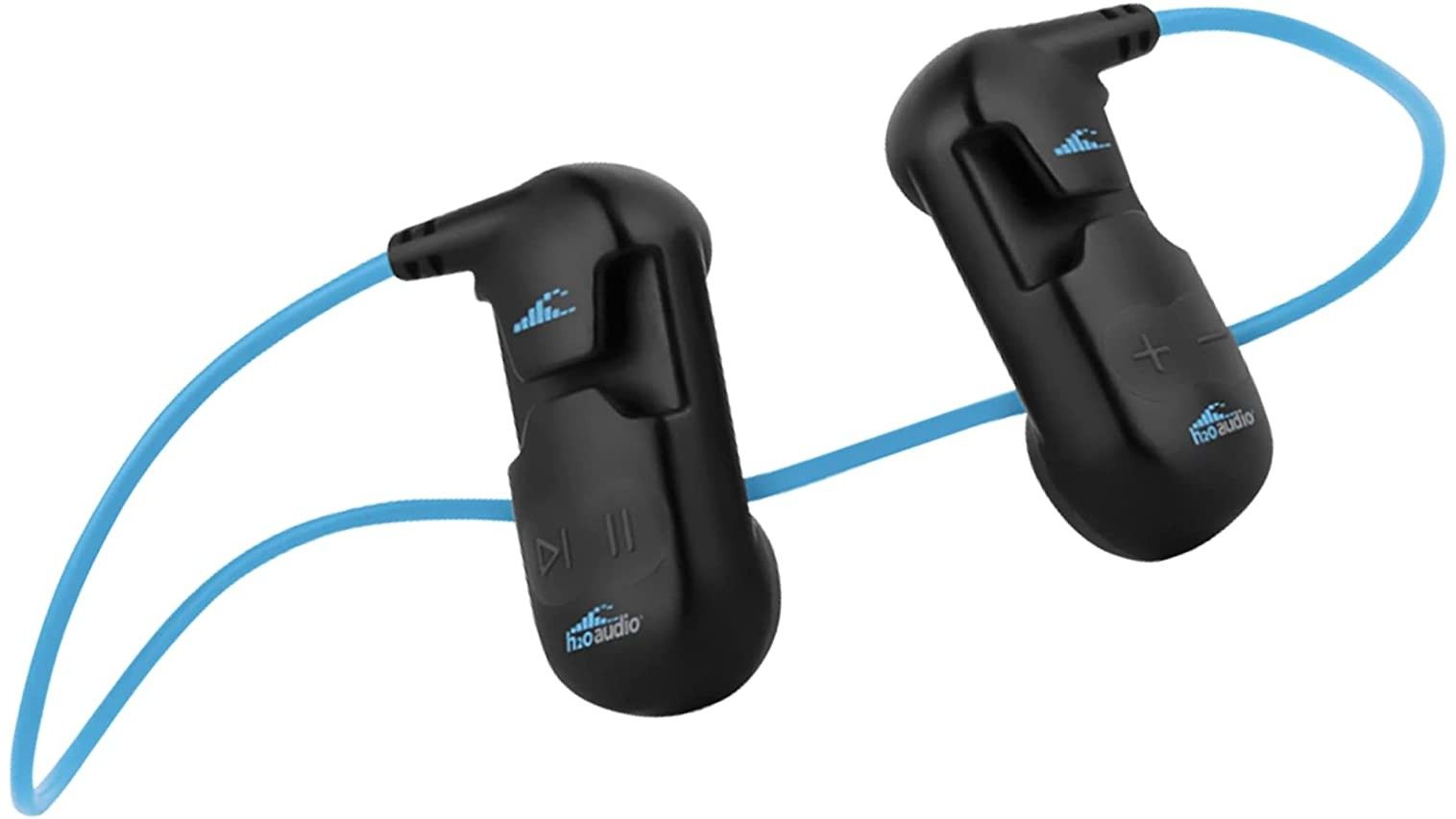 The H2O company has lots of experience making waterproof products, and their swimming headphones bear that mark of quality. These bone-conduction headphones have 8GB of internal memory and an internal audio player supporting proprietary and free formats. In addition, they have a unique build among bone conduction headphones; you can clip them onto your swimming goggles for extra safety.
With IPX8-grade waterproofing protection, the H2O Audio Sonar underwater headphones are one of the best underwater audio devices. The sound is good enough, considering you're hearing underwater. It is slightly muffled but otherwise loud and enjoyable. Fair warning: setting them up for charging and file transfers can be difficult if you do not read the instructions first.
Buy This Product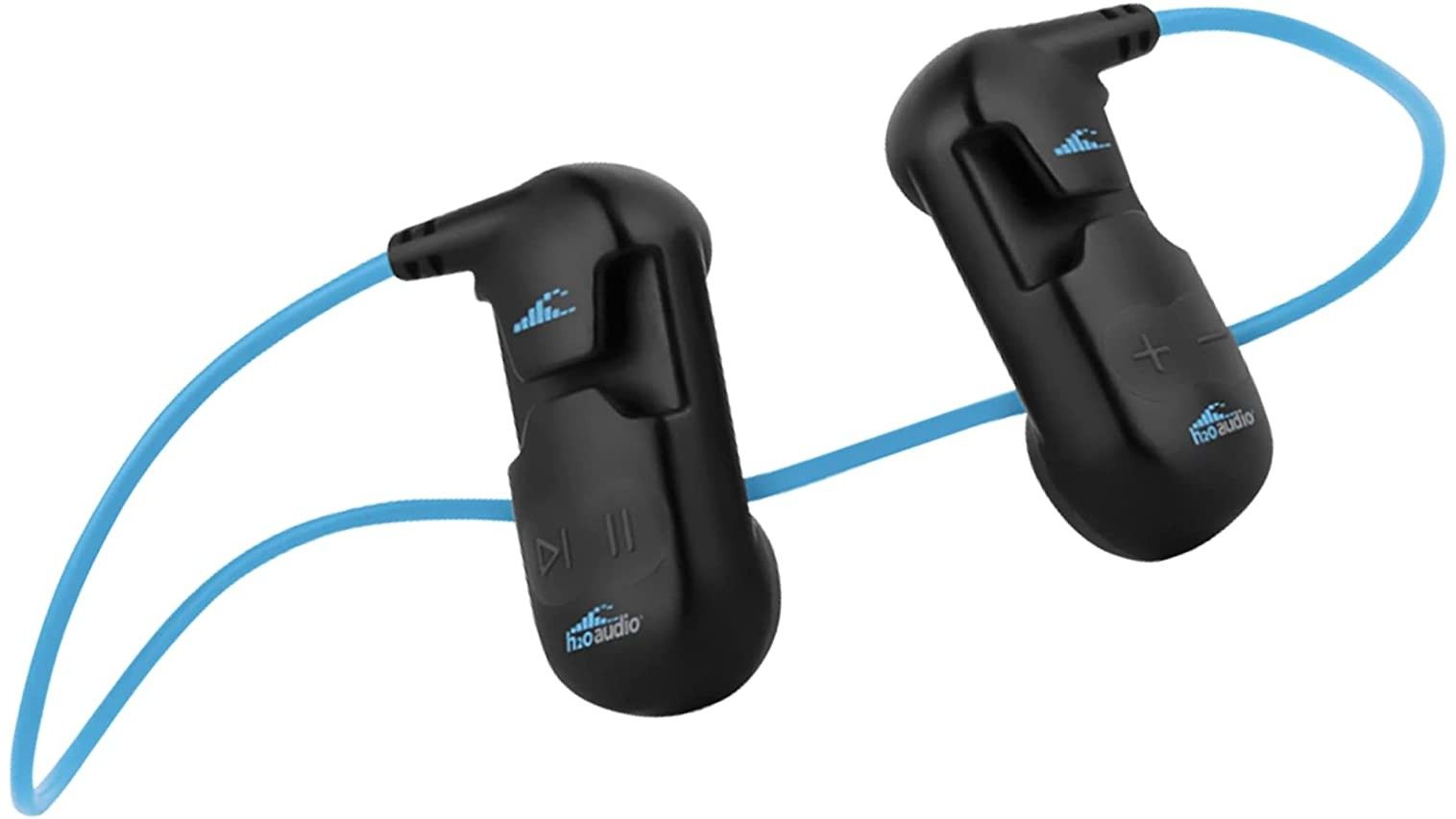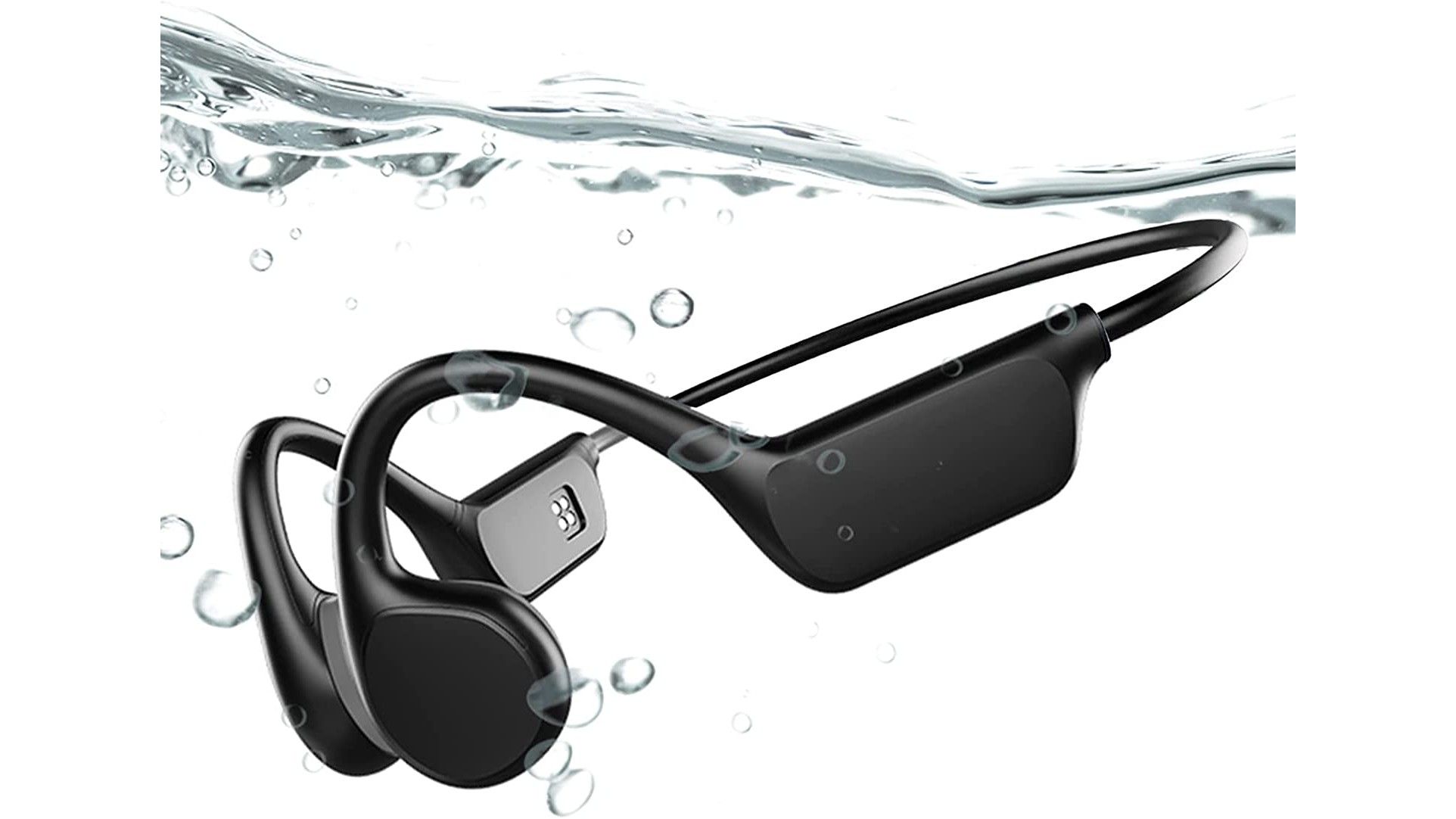 These Chinese-origin bone-conduction headphones are fabulous for sports enthusiasts, including swimmers. The pro-grade IPX8 waterproofing on the Gogailen headphones makes them one of the best underwater headphones. In addition, the built-in 32GB MP3 player can play most standard audio formats and hold over 2,000 songs. You can also listen to your music while being aware of your surroundings perfectly.
The build of these headphones is on the light yet-sturdy side; they fit snugly on your temples and do not need to be adjusted like other headphones. That doesn't mean they are an overly tight fit — no, they are pretty comfy to use while jogging, cycling, or swimming. The battery life is also great; you can enjoy 10 hours of continuous, good-quality audio. No doubt these premium swimming headphones can serve you well underwater or above.
Buy This Product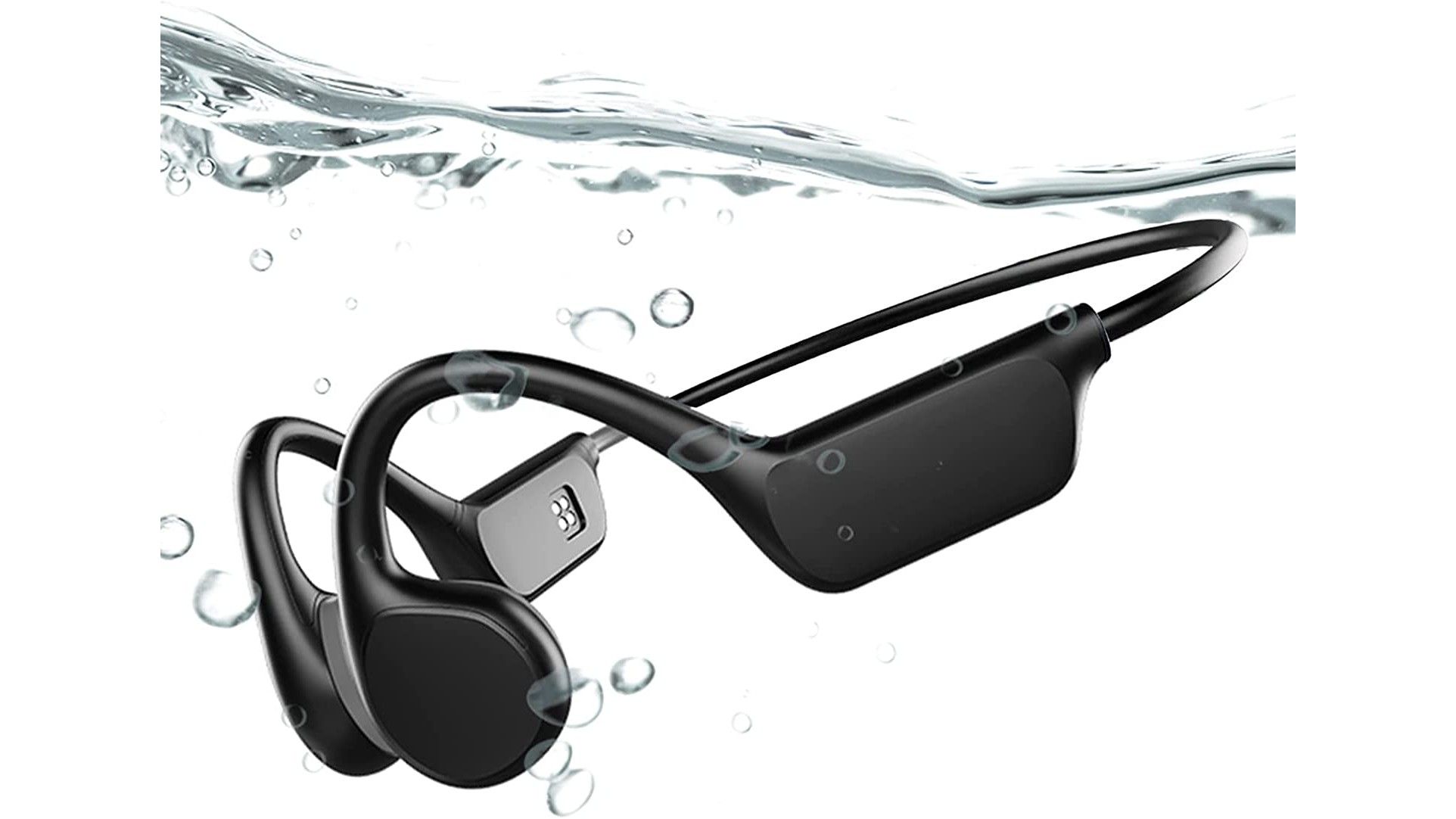 Gogailen Bone Conduction Swimming Headphones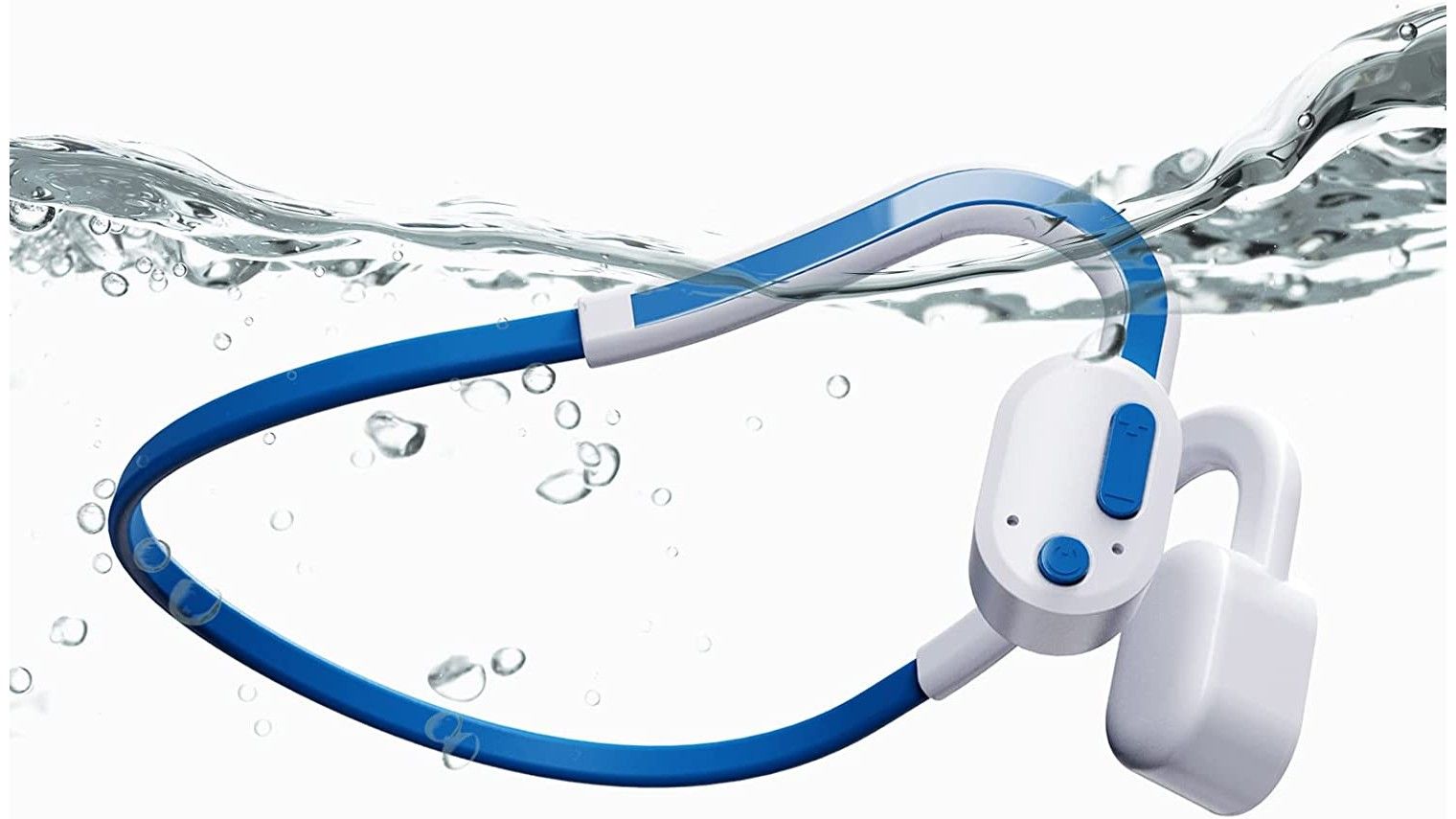 Swimming headphones generally don't come cheap, but if the price is your biggest concern, opt for the AfterRuenz bone-conduction headphones. They come with all the good stuff — a built-in MP3 player, light and comfortable fit, spatial awareness, no ear blockage, IP68 grade waterproofing, and more.
However, you have to compromise on the internal storage (which is only 8 GB), the build quality (which feels cheap and a bit flimsy), connectivity (BT 5.0), and aesthetics. The battery is better, though, with 8 hours of playtime. The cherry on top — the sound quality — is good enough not to miss your standard earbuds too much. When above water, these headphones are compatible with Android and Apple devices.
Buy This Product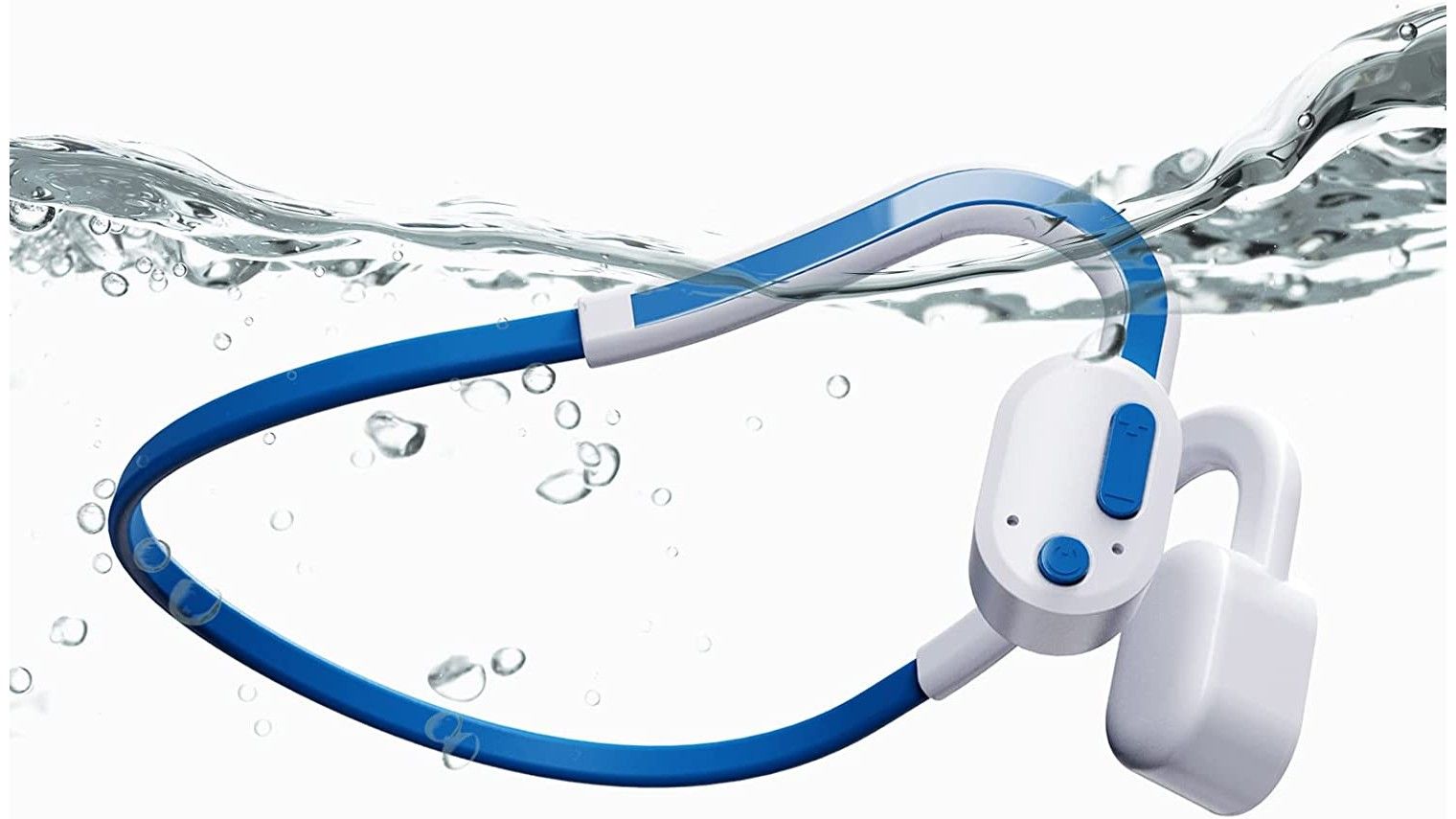 AfterRuenz Bone Conduction Swimming Headphones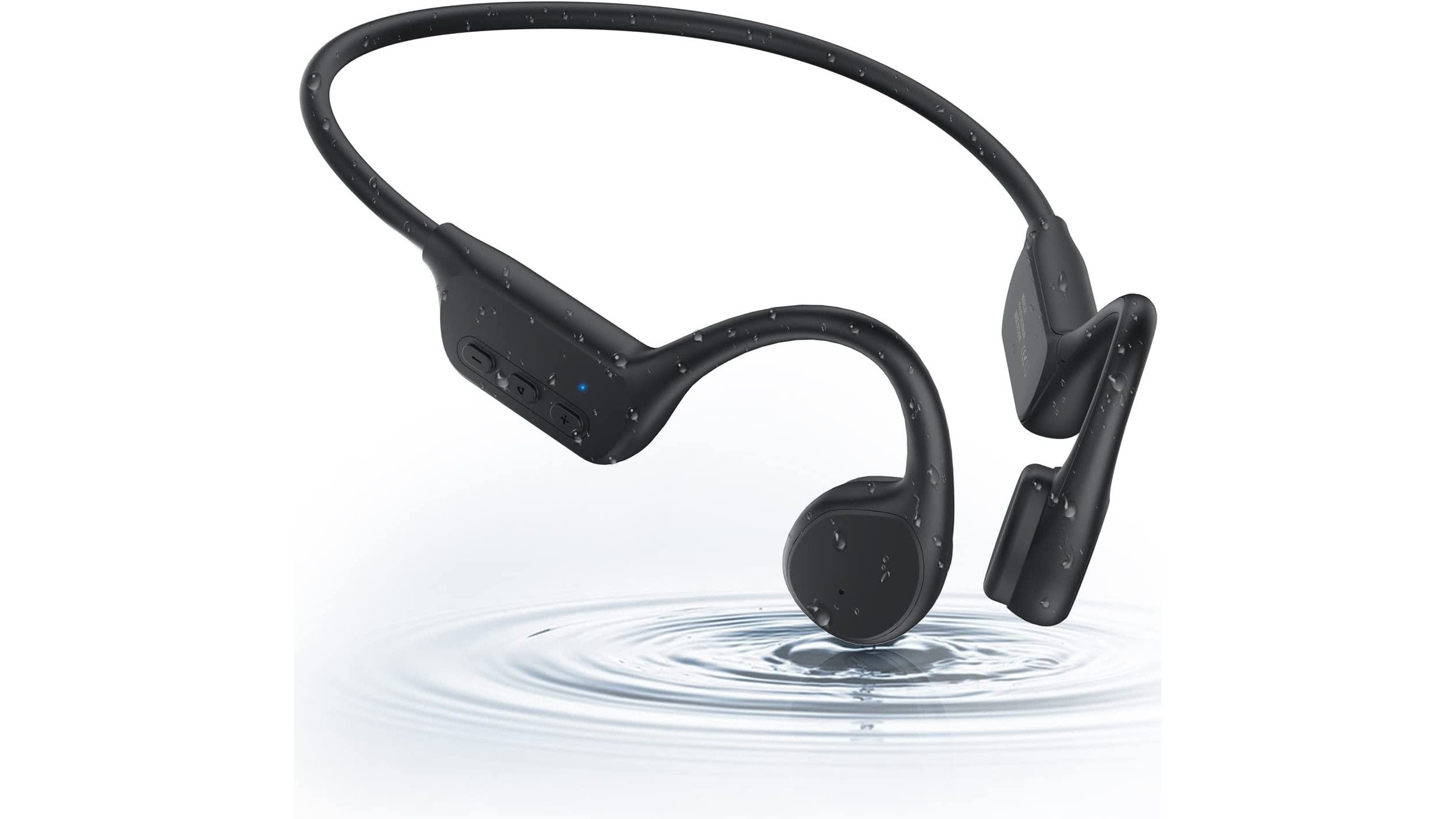 Bone-conduction headphones are meant to leave your ear canal free and let outside noise in without hindrance. This pair from Hamuti does that job admirably. You can hear your music perfectly well using your headphones while being entirely aware of oncoming traffic and people talking. On top of that, these work underwater, too, thanks to the 32 GB in-built memory card that can play standard audio files.
The Hamuti bone conduction headphones connect via Bluetooth 5.0 and can run for 6 to 8 hours on a single 2-hour charge. At 30 grams, they are very lightweight and fit snugly on your temple. Hair caps and swimming goggles won't hinder them, nor will they fall off due to heavy exercise. These come with swimming earplugs and a waterproof bag as well. The audio quality is not exactly stellar, but that won't matter in a noisy gym or splashing around in the pool. Chances are you won't notice the lack of heavy bass and some clarity issues unless you're an audiophile.
Buy This Product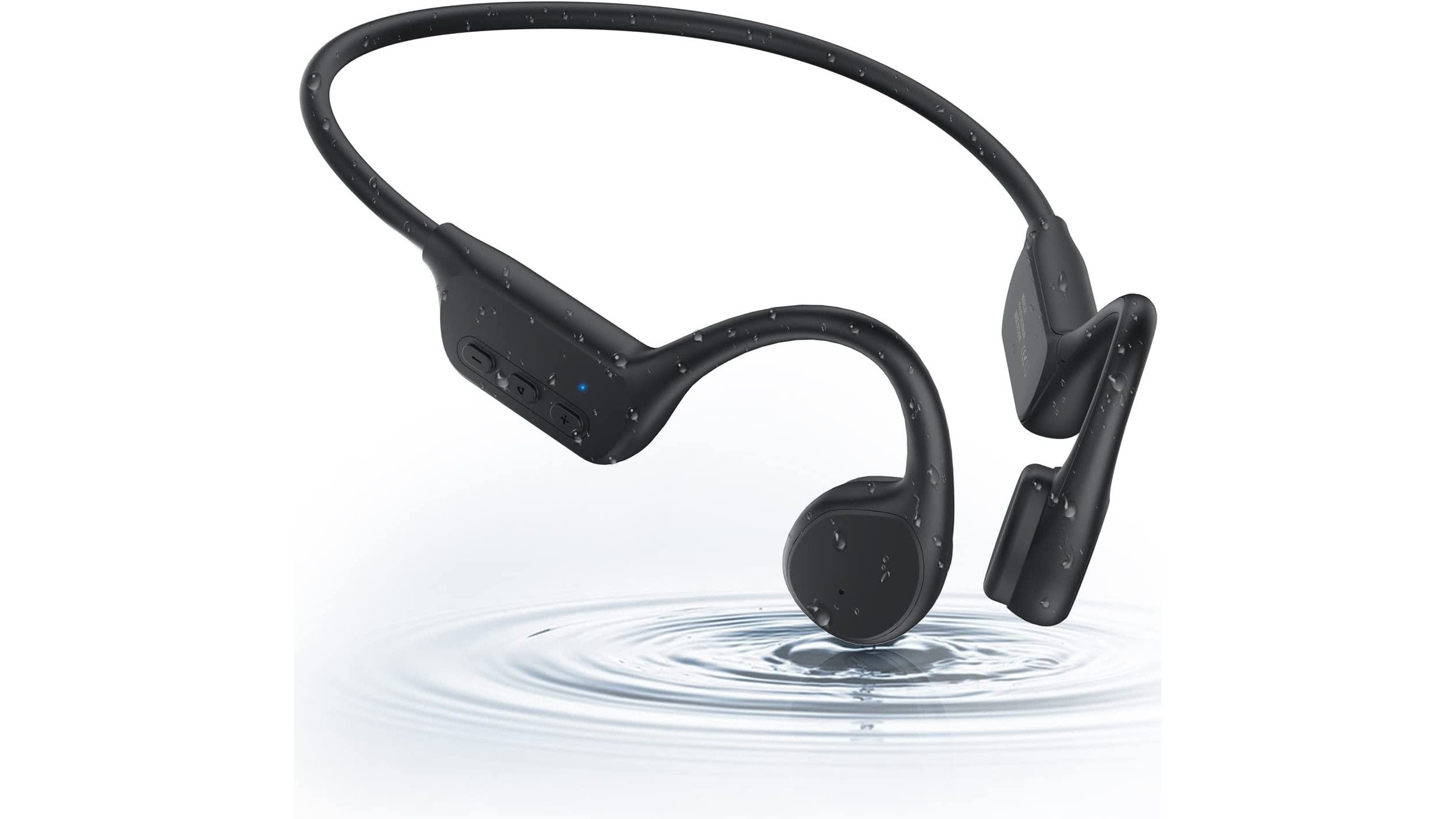 Hamuti Bone Conduction Waterproof Headphones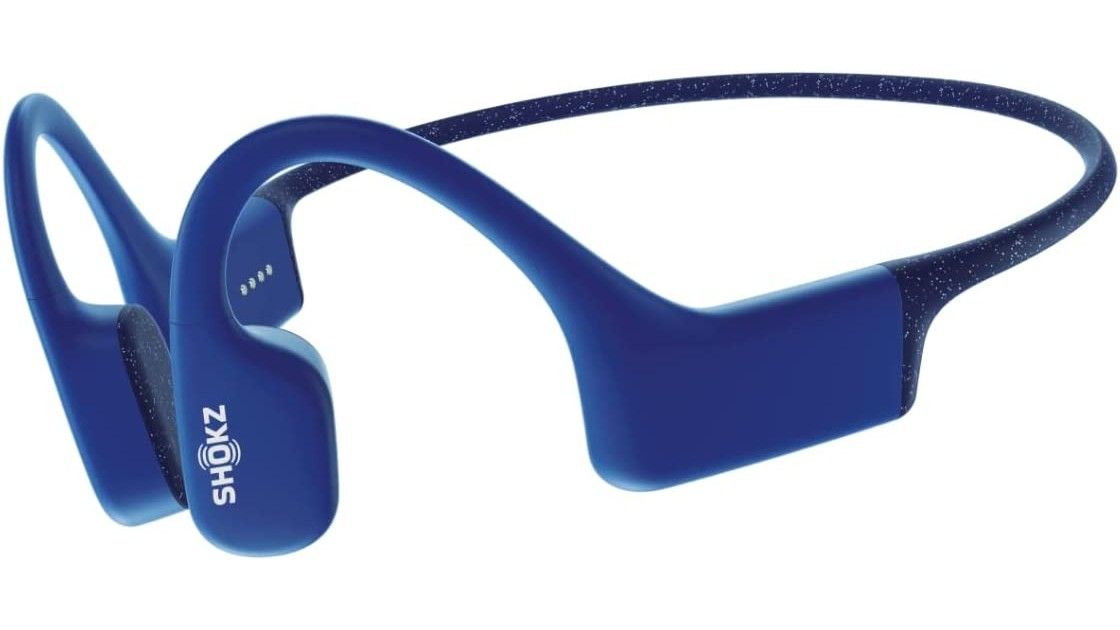 Shokz has a lot of bone-conduction headphones out there. Here's one that's an upgrade from the AfterShokz Xtrainerz. The Shokz OpenSwim MP3 player underwater headphones don't have Bluetooth, but they can hold over 1,200 tracks in various popular formats, such as MP3, WMA, AAC, and FLAC. They are built solid yet lightweight and fit comfortably under a swim cap. The package also includes a nose clip for better fitting.
The headphones also have easy-to-access controls for playing and changing the tracks. With IP68-grade waterproofing, you can stay about 2 meters underwater for 2 hours wearing them (which should cover any casual swimmer's needs). The audio quality is pretty good, even underwater, running continuously for 8 hours on a single charge. All in all, a good companion for swimmers or joggers.
Buy This Product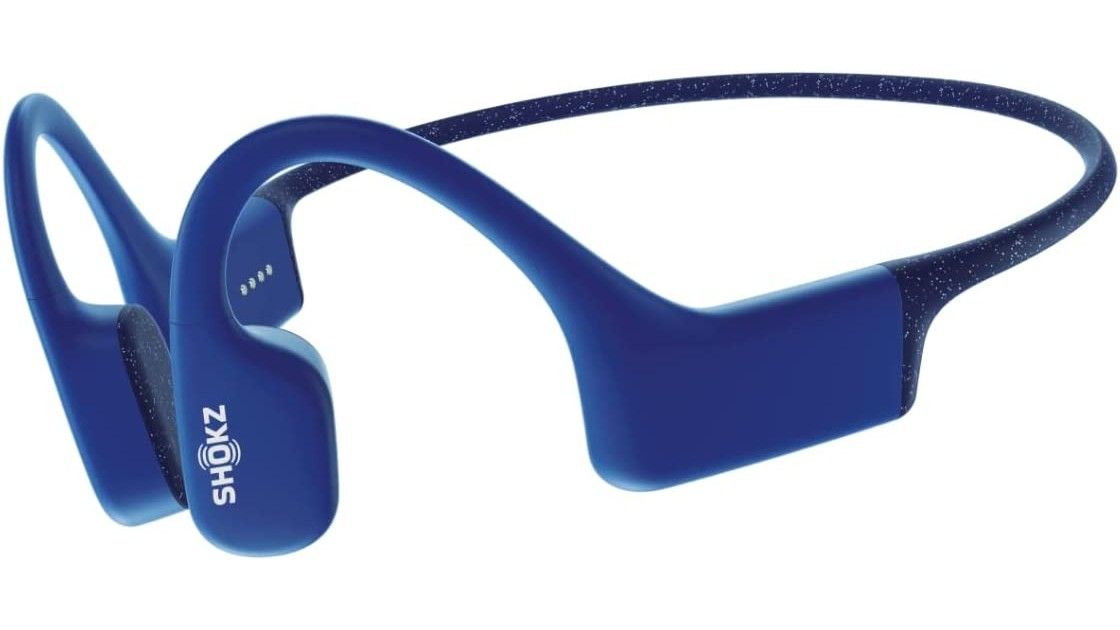 Shokz OpenSwim Swimming MP3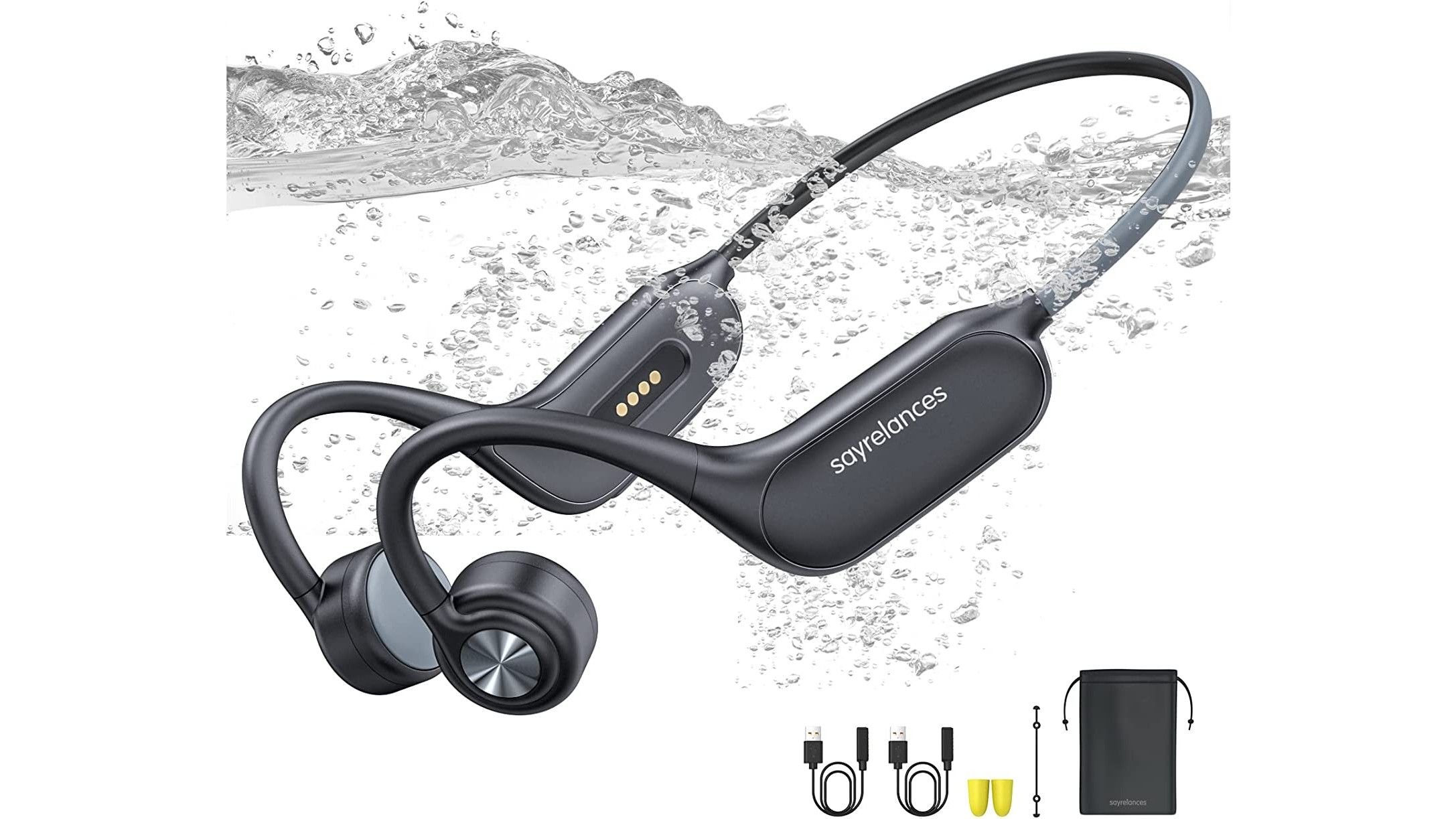 The Sayrelances underwater headphones pack a lot of punch in a small package. They can connect to multiple Android and apple devices on the ground using Bluetooth 5.3. They offer pleasant enough audio if you don't act the audiophile while sweating profusely. Protected by IPX8-grade waterproofing for underwater performance, you can go swimming deep and long with these on. The otherwise excellent Bluetooth won't work down there, so these pack a 32 GB ROM to hold your entire music library, provided the tracks come in MP3 only.
Other than that, these bone conduction headphones also double as good communication devices. They have a night light if you want to run or cycle after dark. With lights and BT on, these can last for about 8 hours. Each full charge can take about an hour and a half. The sound quality can be better, though that's true for all bone conduction headphones. At least they don't crack at high volumes. Despite the high BT version, the connectivity can give some hiccups, though.
Buy This Product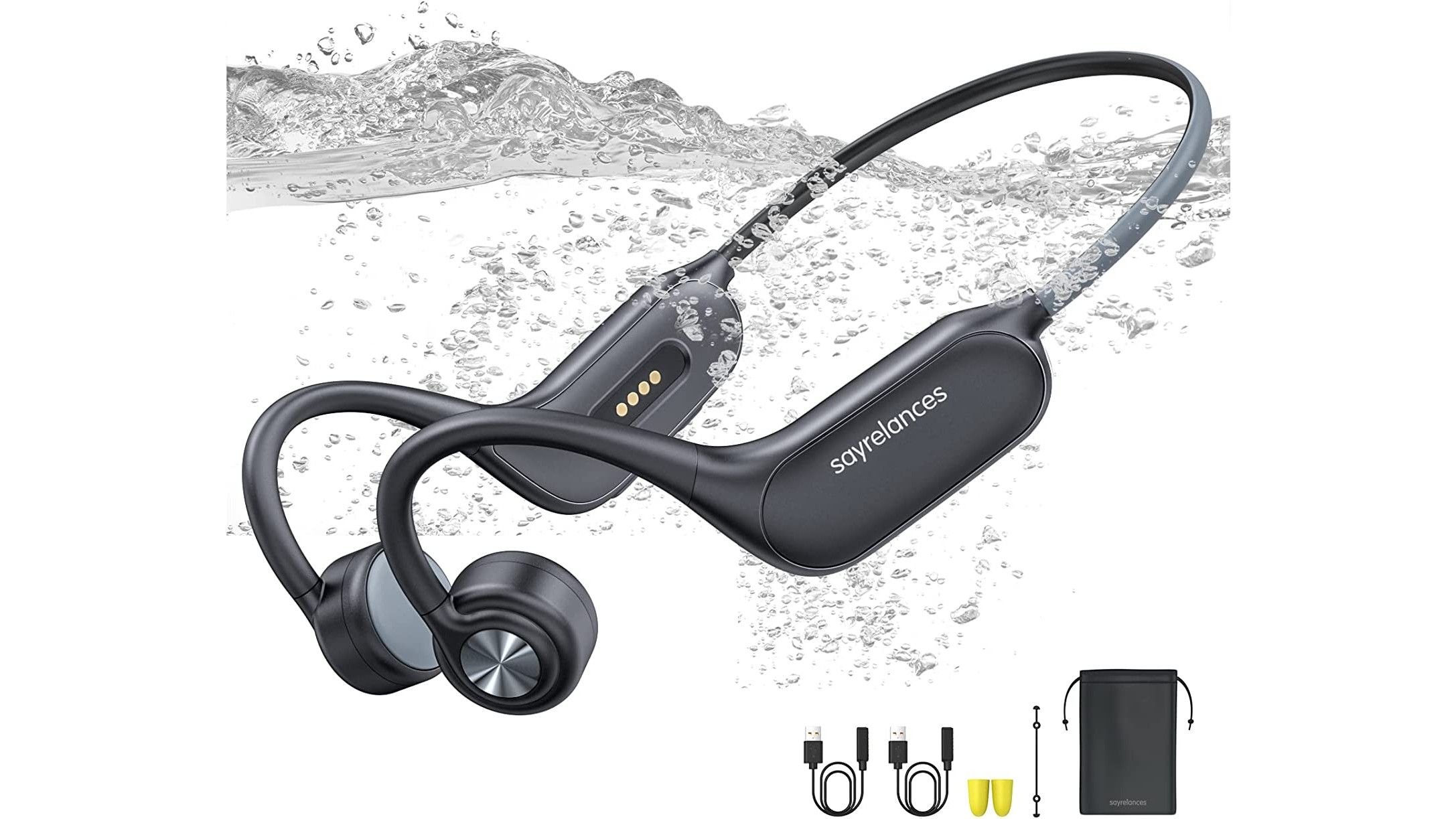 Sayrelances Waterproof Bone Conduction Headphones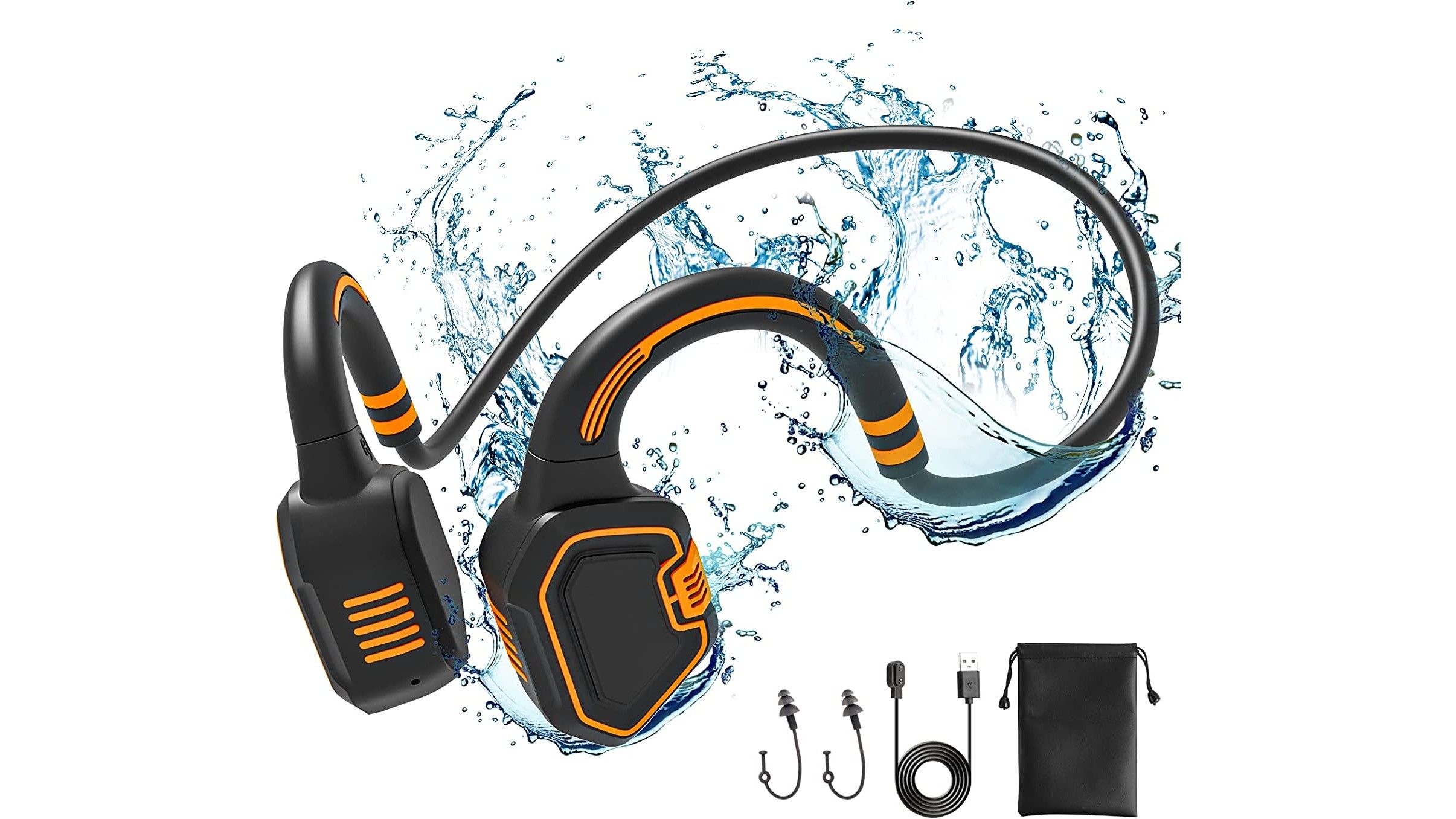 The UooEA team is new to the audio market. Still, they already have a few good products, like these fabulous swimming headphones. Looking funky, stylish, and out-of-ordinary, these bone-conduction headphones leave your ear canals open and transmit audio via the cheekbone. That lets you stay aware of your surroundings.
In the air, they connect via Bluetooth 5.1, which is adequate for today's Apple and Android devices. But since that won't work underwater, you get an mp3 player built-in with 16 GB memory. Though that's enough for weeks of tracks, it's a pity it doesn't have shuffle mode.
The audio quality on these stylish headphones is decent enough; however, you may feel the lack of bass. Outside of that, these are built very durably and fit snugly around any size head. With IP68-grade waterproofing, you can take them swimming without fear of water leaking in. In addition, the controls are especially good, with a quick BT/MP3 mode switch and voice assistant support.
Buy This Product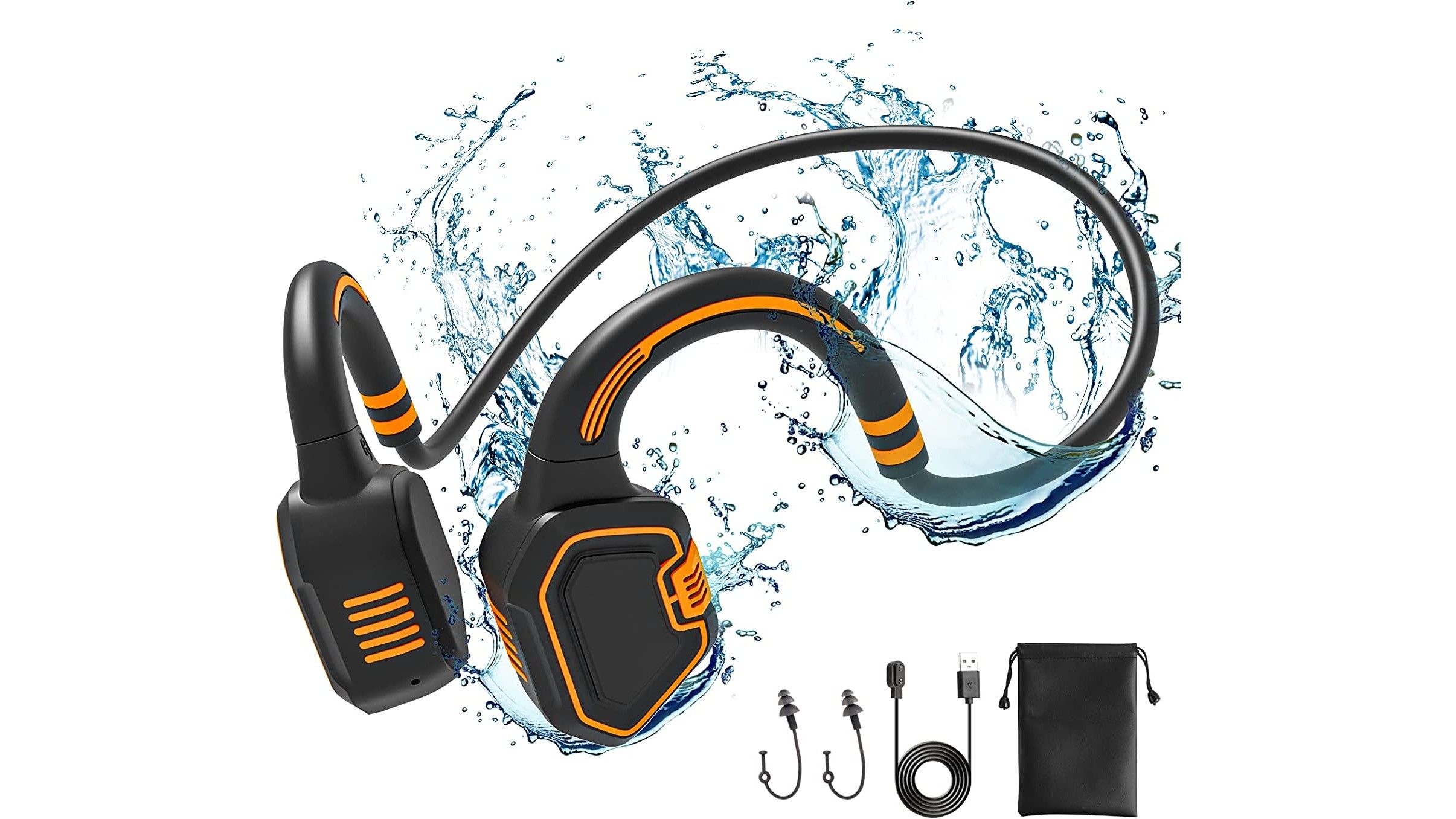 UooEA Bone Conduction Waterproof Bluetooth Headphones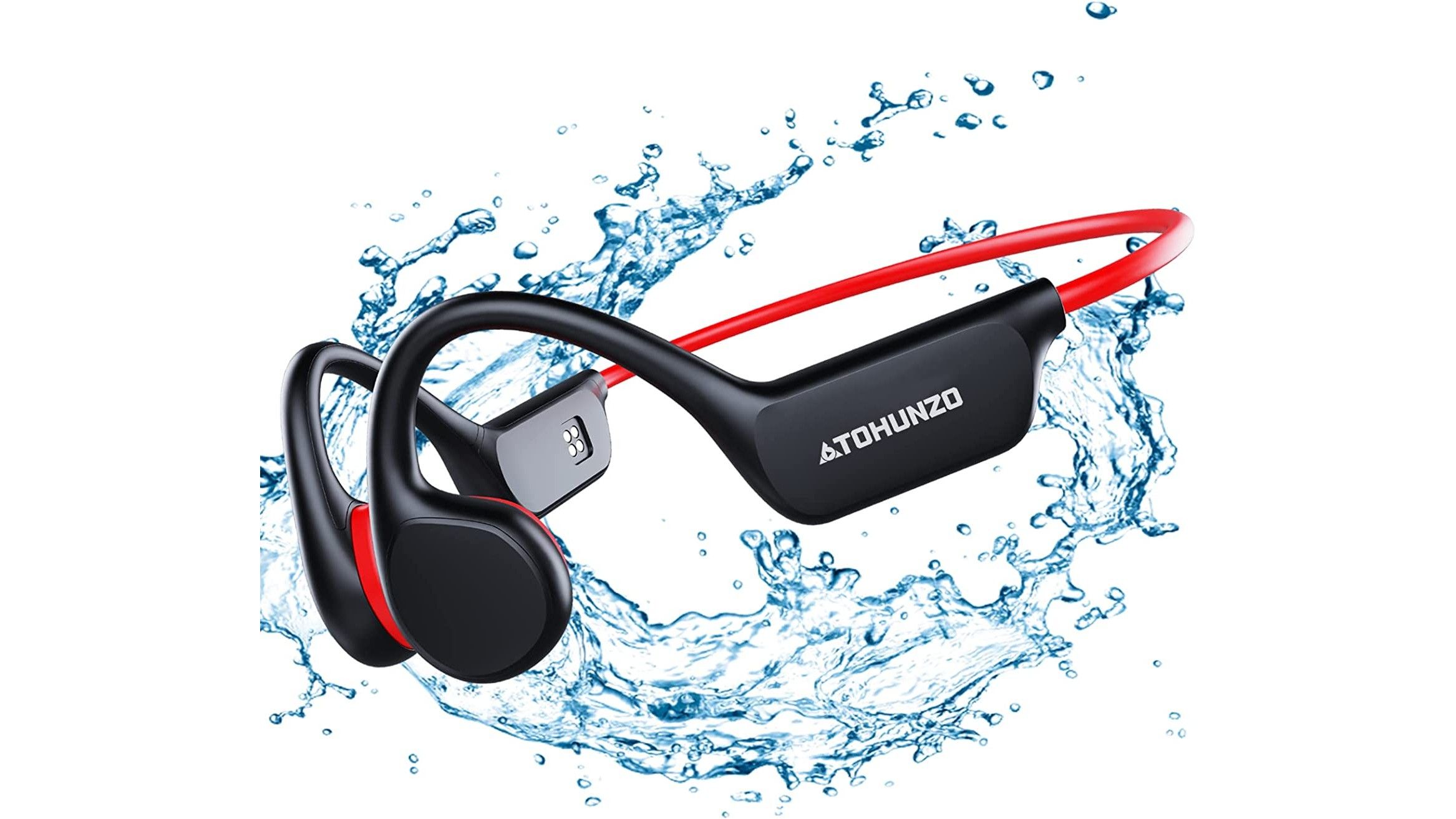 Need a good pair of swimming headphones but hurting for cash? Tohunzo's bone-conduction headphones are a good option. They are sturdy, well-built, and fit snugly on your temples. But long-time usage may cause some pain or irritation. Also, the dated looks may leave a lot to be desired. The audio quality is also average, with a finicky call mic.
However, the Tohunzo bone conduction headphones are surprisingly well decked out under the hood, considering the price. They are IPX8 grade waterproof, giving them one of the best waterproofing among small audio devices. For underwater listening, they have a 32 GB chip built in that can play MP3 and WAV audio. Above water, they can simultaneously connect via Bluetooth 5.3 to many Android and Apple devices.
Buy This Product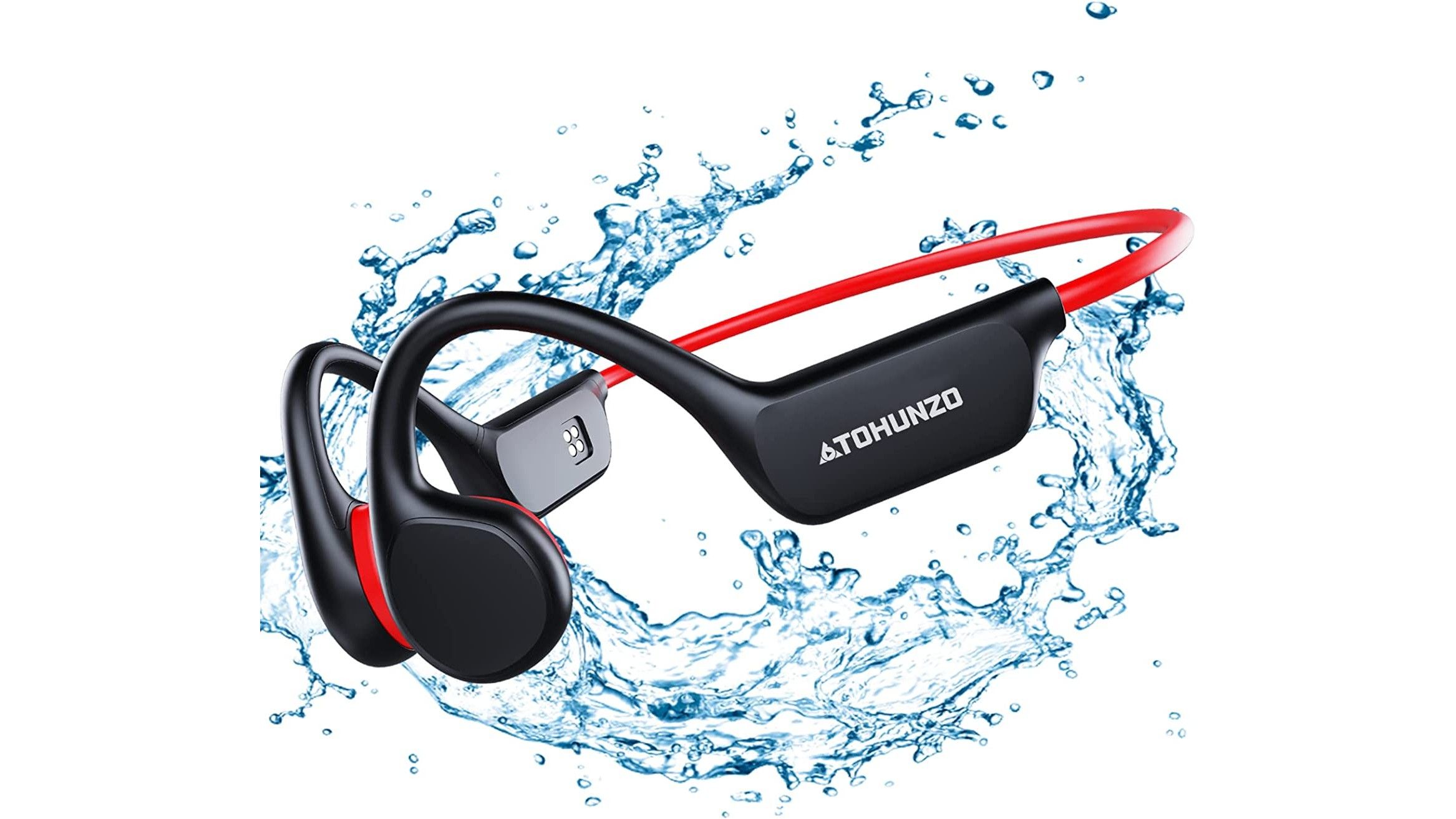 Tohunzo Waterproof Bone Conduction Headphones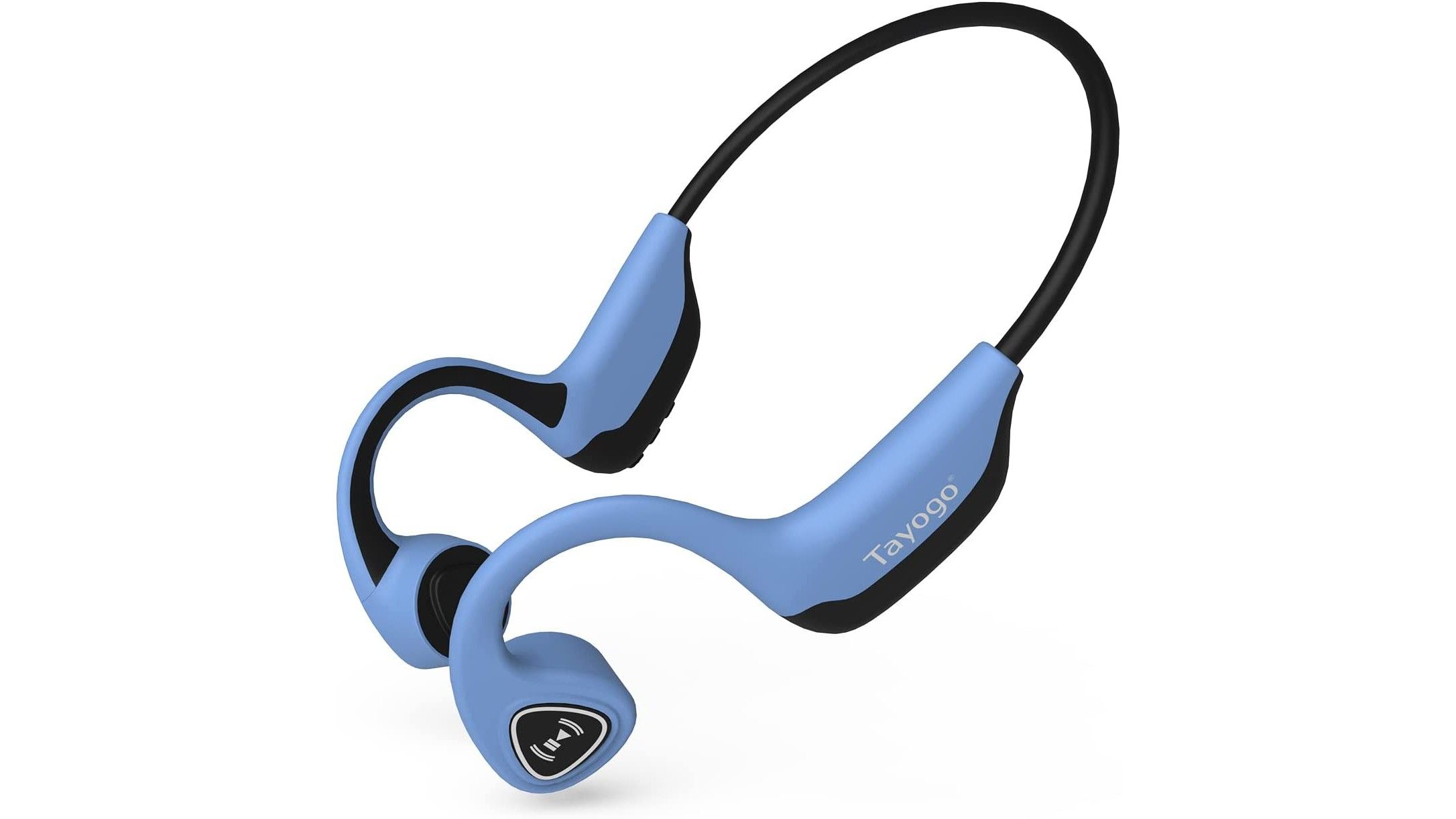 The Tayogo Bone Conduction Headphones do as claimed; they offer a solid 8 hours of audio underwater with good enough sound quality. The 8 GB internal storage lets you bring your audio library to the pool. Above water, the Bluetooth connection to your phone is stable and works. These headphones' design and build quality could be better, but they are workable. It hugs your head and doesn't slip off. The blue colorway looks lovely with a slightly retro vibe.
Unlike traditional headphones, the Tayogo wireless headphones deliver the sound through your skull rather than the ears. This lets you free to hear everything typically. Your ears remain open and aware of their surroundings. When taking your audio underwater (as Bluetooth doesn't work there), you can use standard audio file formats like MP3, WMA, WAV, FLAC, etc.
On the downside, the data transfer rate of these headphones can be extremely slow – one user reports 2 hours for 1.8 GB only. The default volume is also deafening, so be careful when using it for the first time or resetting functions. Also, it does not remember the last play settings between each session, so it's a bother setting them up each time.
Buy This Product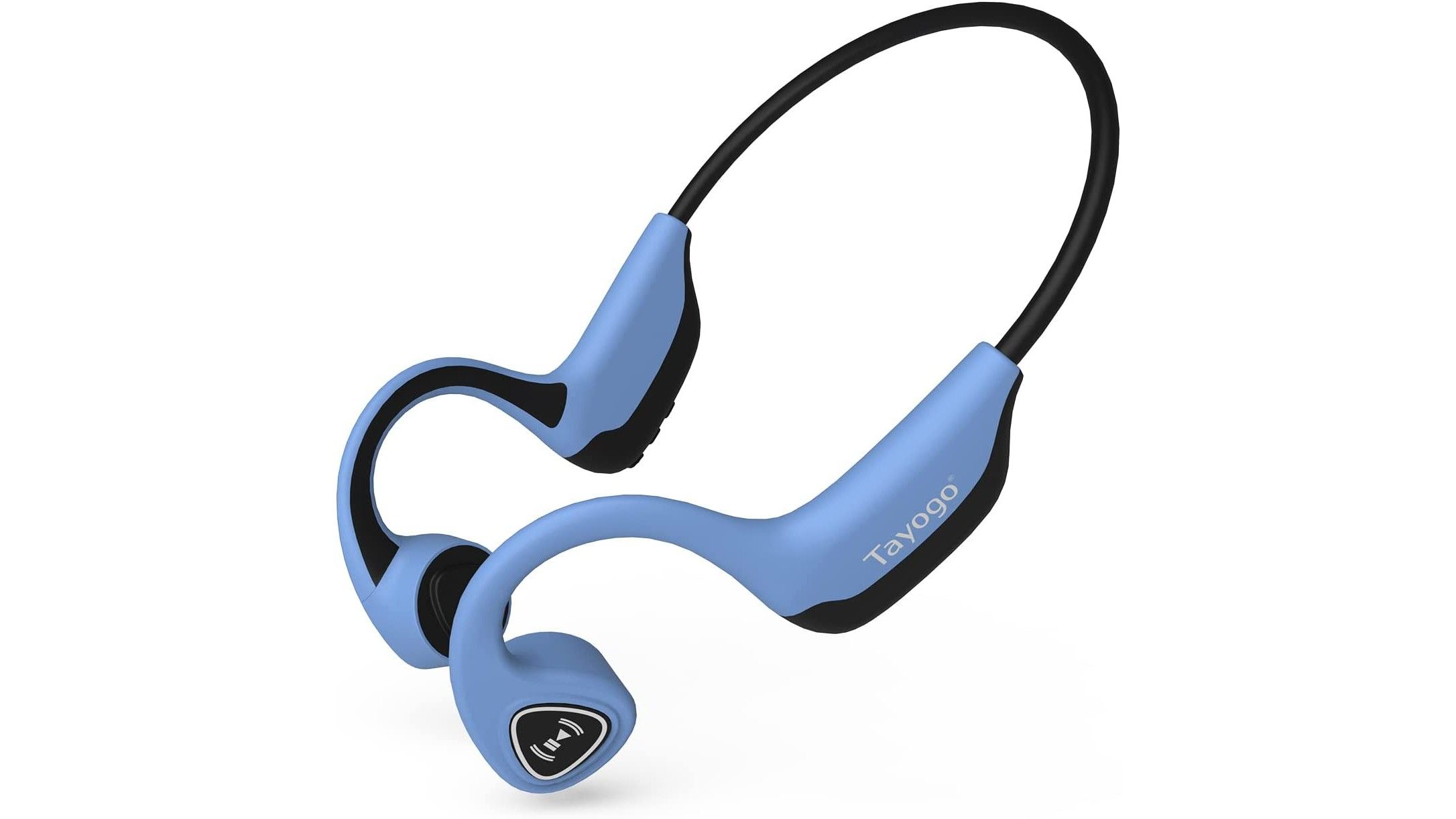 Tayogo Bone Conduction Headphones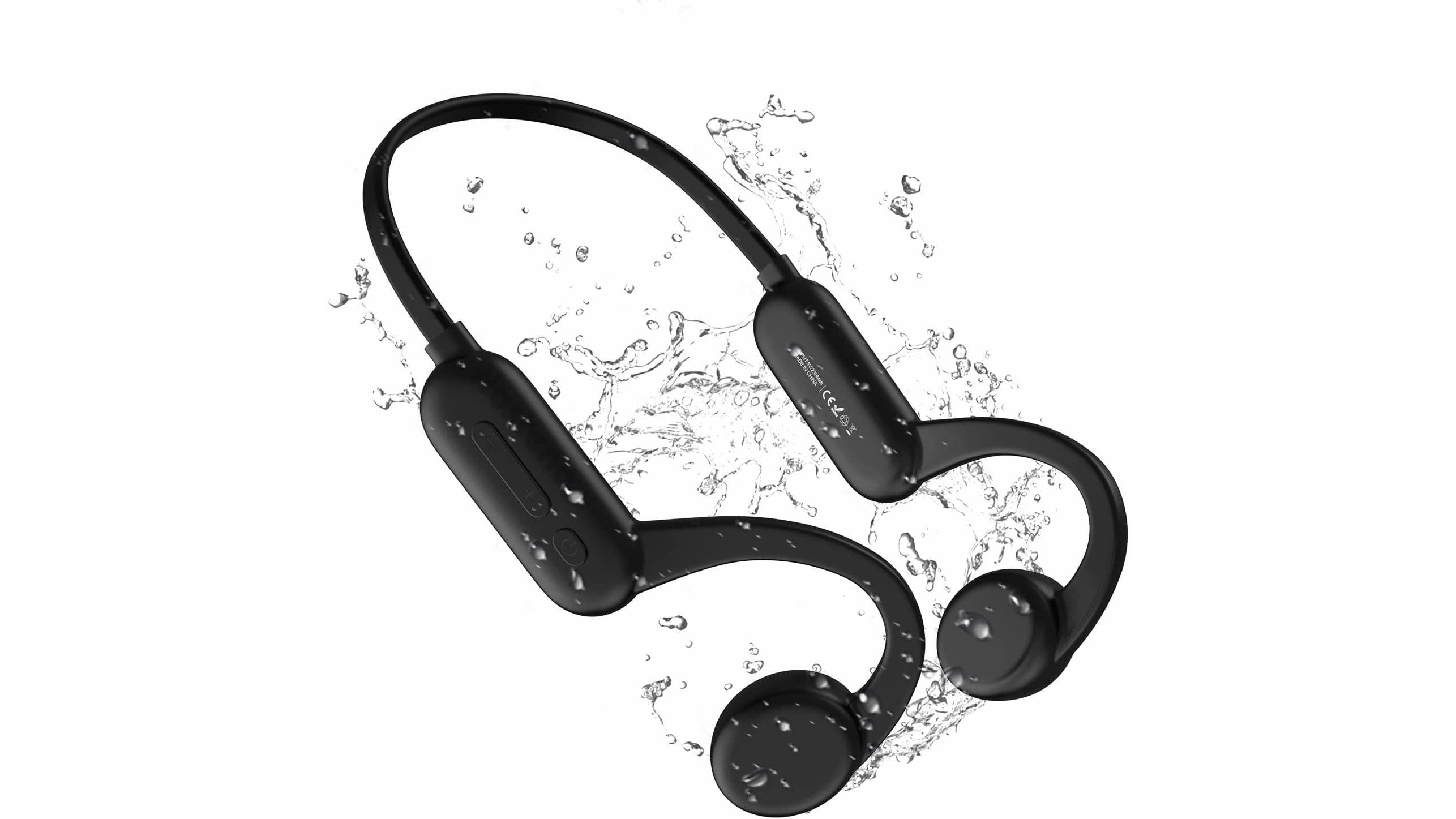 The Hostena X18 Pro open-ear bone conduction headphones are suitable for people who want to take their music underwater. They are IPX8 grade waterproof, so you won't have to worry about water leakage issues, and you can easily clean them. You can fit an entire music library in the small device's internal 8 GB memory, so there is no shortage of songs to hear while swimming. It's fit for swimming, snorkeling, surfing, and diving, but only for a short time, or else the charging port may get corroded.
The internal media player can hold up to 2000 songs and the equivalent amount of podcasts and audiobooks, so you can enjoy them anywhere, even without a signal. It is easy to switch between Bluetooth and media player modes. The Bluetooth connection is stable enough for sports and swimming activities, though there are better in the market.
We like the battery and the fit of these headphones very much. They wrap snugly around your head and are flexible enough to be comfortable for most sizes. The battery lasts 8 hours (6 hours of talk time) per full charge. The charging, though, could have been better.
Buy This Product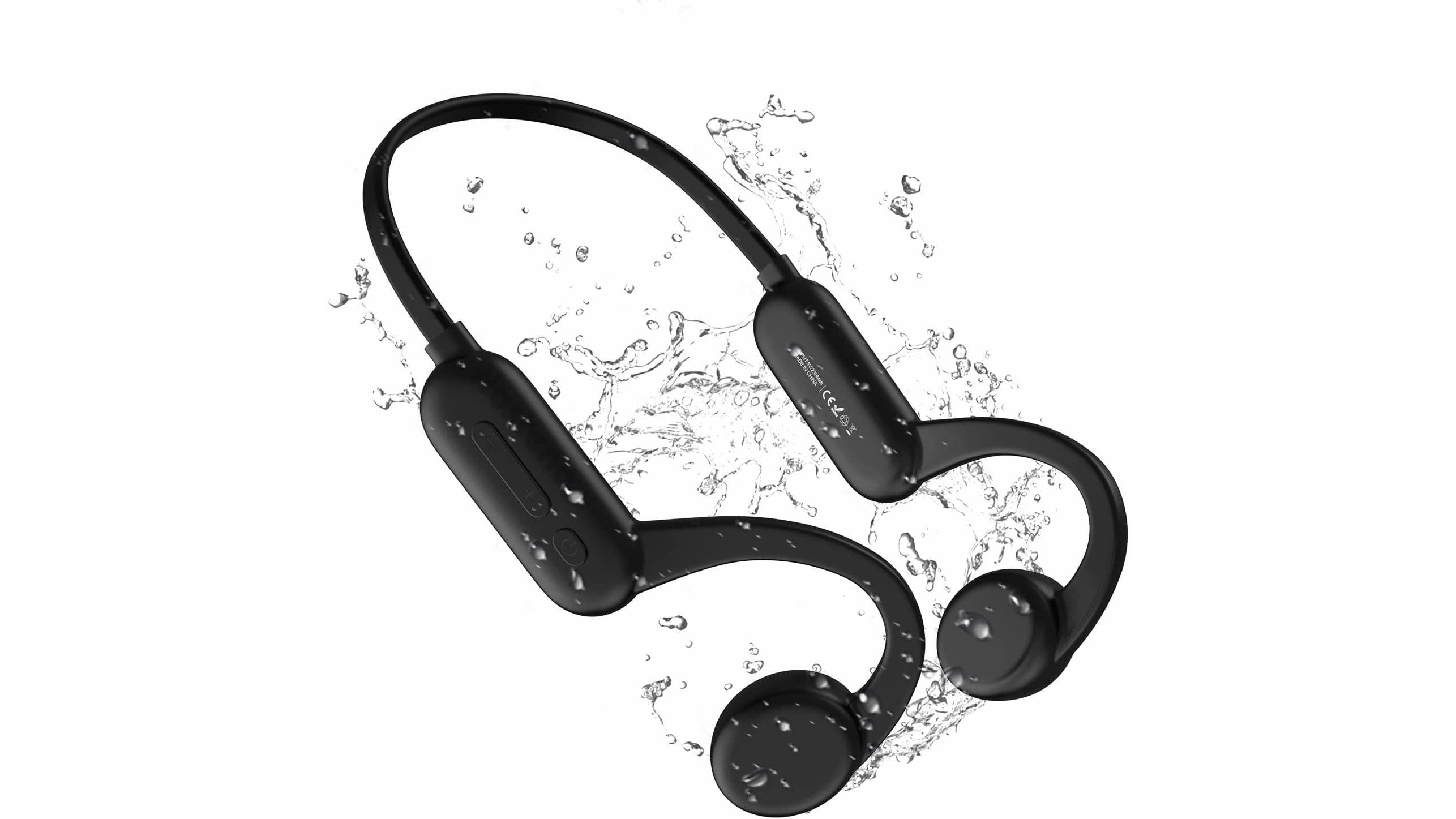 Hostena Open Ear Wireless Headphones
The best bone-conduction headphones for you
Listening to music underwater is always a challenge. The best method is using bone conduction technology to directly stimulate your auditory nerves, not just in the water. These headphones are perfect for jogging, cycling, and other outdoor activities because they do not block your natural sense of hearing. These headphones bypass the eardrum altogether, which is a plus for anyone with ear sensitivity, as well as for underwater use.
Another issue is that Bluetooth is inefficient underwater, so apps like Spotify and iTunes won't work well. If you don't want to part with your tunes during a daily swim, your headphones will have to carry your music underwater, literally. Thankfully, some bone-conduction headphones have internal storage and an MP3 player and, of course, are waterproof.
The H2O Audio Sonar underwater headphones are the best of all worlds. They are a bit old but have decent waterproofing and nice audio quality. The Gogailen bone conduction swimming headphones are newer with great audio and specs, but they cost a bit more than the Audio Sonar. If you have a little more to spend, the Gogailen headphones might be a perfect option, especially if you plan to use them a lot. The AfterRuenz bone conduction headphones are a popular underdog. Despite their low price tag, they are reliable for daily use and have excellent connectivity above water.