Samsung is one of the top Android manufacturers, and its Galaxy S22+ is among the brand's best smartphones. The handset features impressive specs combined with a sleek design, which makes it cost about a grand! At this price, it's essential to protect your precious phone with one of the best cases and a reliable screen protector.
Choosing the right screen protector is essential: Tempered glass offers the best protection against shatters and cracks but doesn't always work well with in-screen fingerprint scanners. Some may require you to press your finger harder to work with S22+'s built-in ultrasonic scanner, while others prevent it from recognizing prints at all.
Film and hybrid protectors tend to work more reliably with the fingerprint sensor and offer scratch resistance without bulk, but they provide minimal protection against shatters compared to tempered glass. With all of that in mind, here's our selection of the best options on the market to protect your S22+'s screen.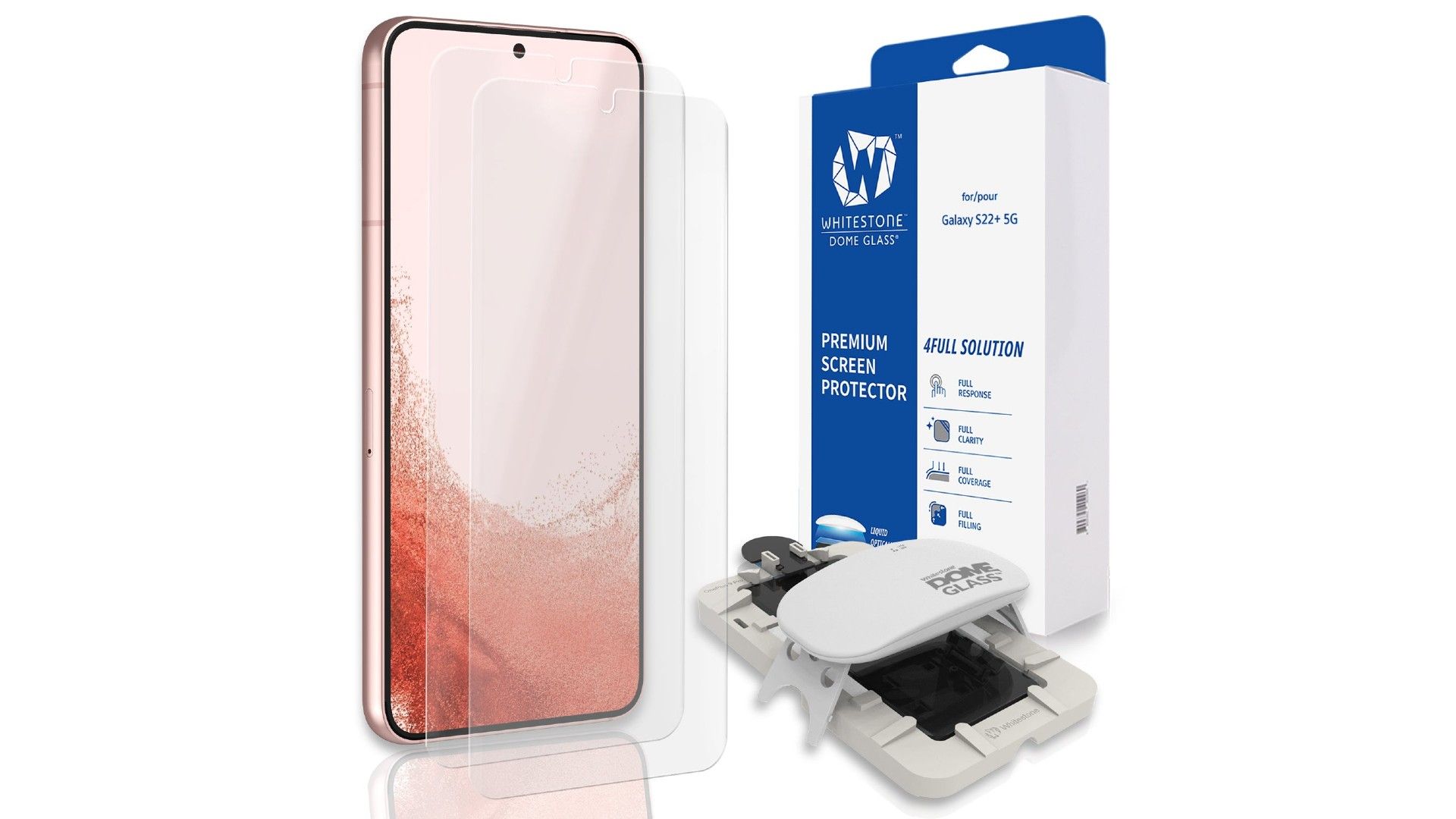 Whitestone Dome Glass remains the crème de la crème for Galaxy S22+ screen protectors — thanks to its UV curing system, which allows for a better seal and less interference with Samsung's ultrasonic fingerprint sensor. This $40 kit comes with two screen protectors, a UV curing light, and an installation frame to help you put it on correctly and easily.
UV curing requires using a liquid adhesive that spreads across the screen when the protector is applied. Yes, it freaks some people out when adhesive slips out of one of the edges. To avoid this issue, do not press down on the screen as it'll cause more glue to seep out; instead, gently wipe the side of the phone to wick up the excess liquid before curing it with the UV light.
Buy This Product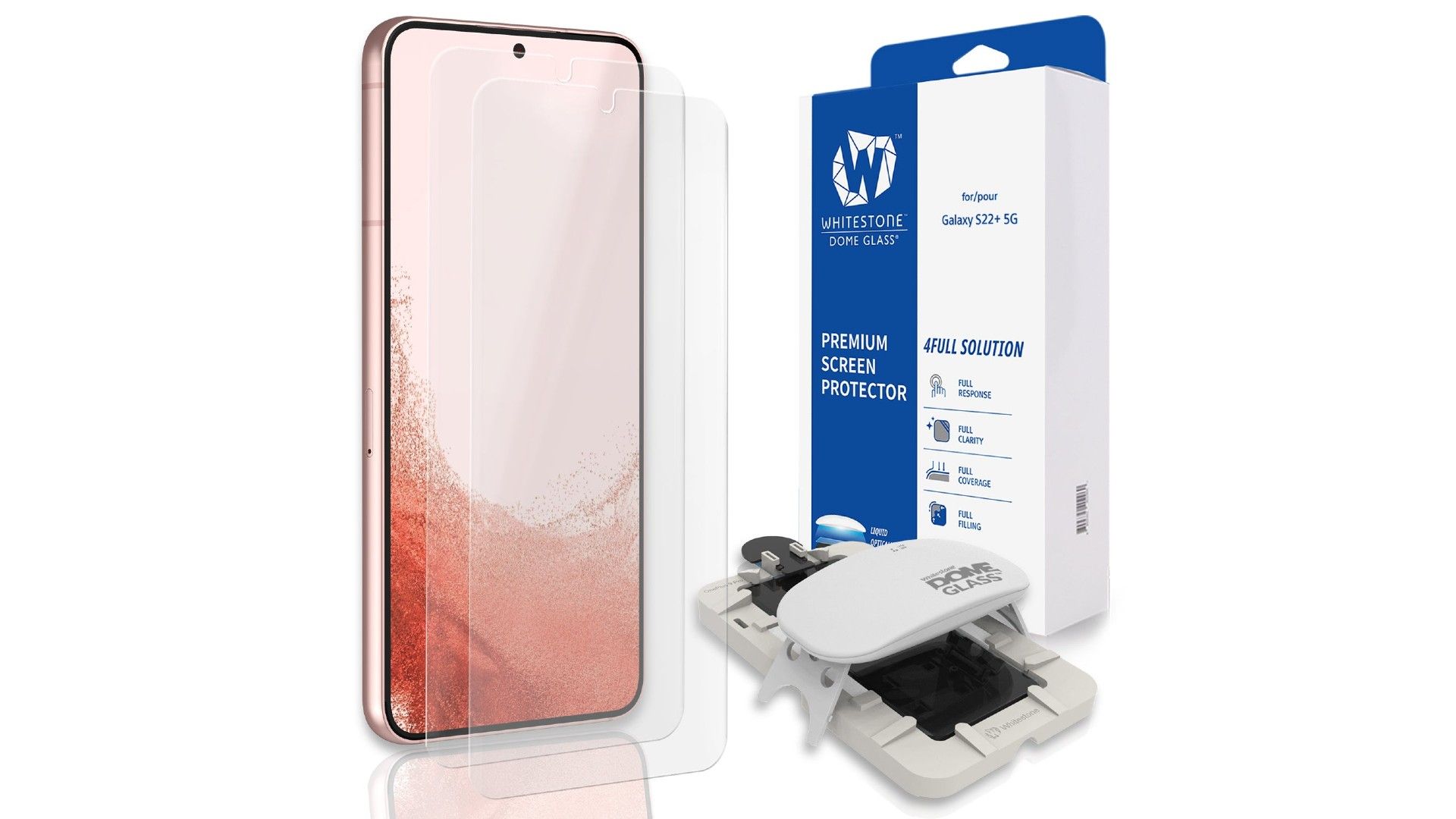 Whitestone Dome Glass Screen Protector for Samsung Galaxy S22+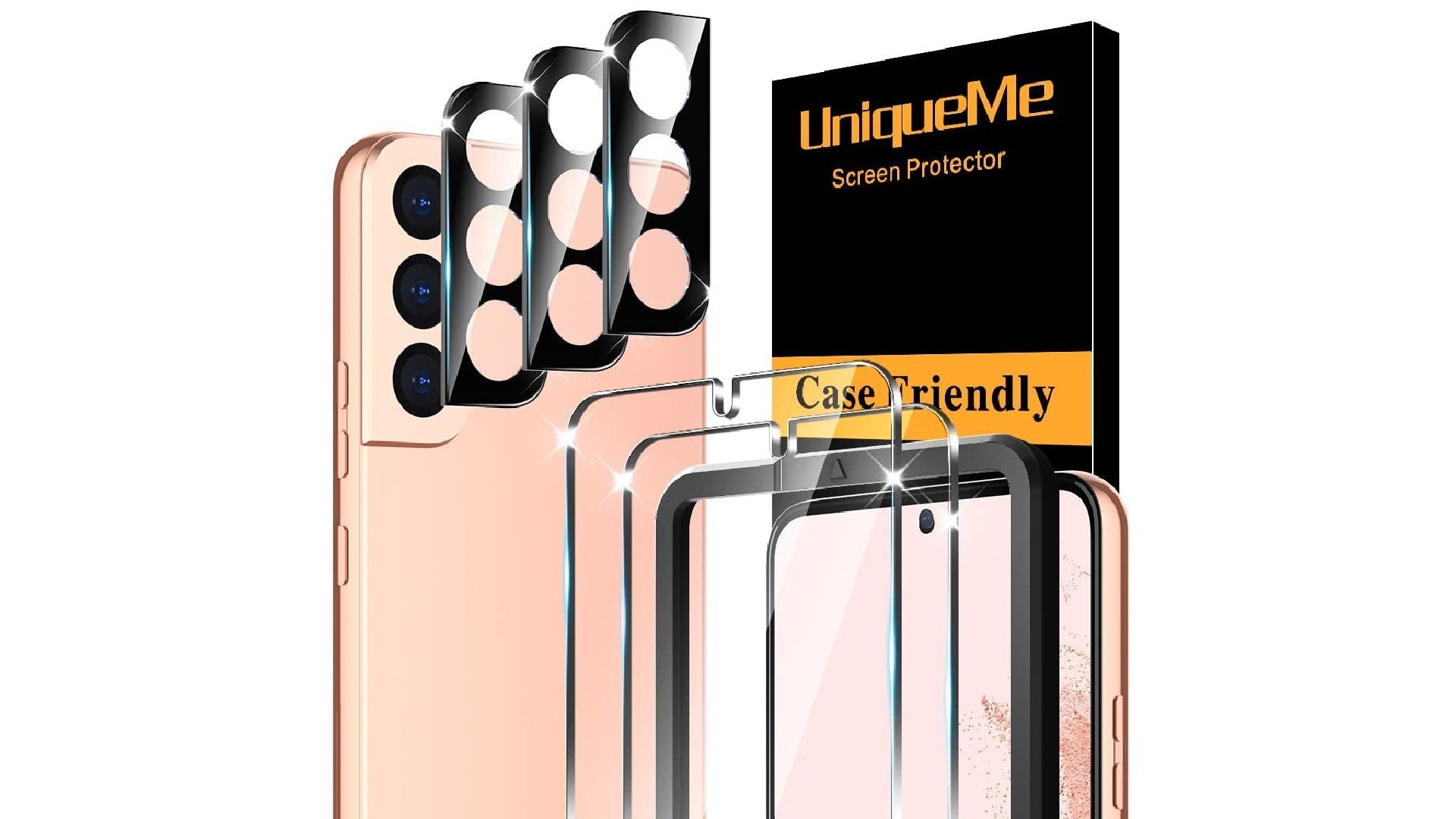 If you like tempered glass but prefer something a little more affordable and traditional, UniqueMe's screen protector kit has you covered front and back. Alongside the two tempered glass screen protectors are three camera lens protectors — I know, I wish those numbers were reversed, too. The glass for these screen protectors has been drop-tested to 7 feet, but let's hope you never need to test that. Some users have reported issues with their screen protector after installing — make sure you turn up touch sensitivity and re-do your fingerprints in the Settings — but many aren't seeing issues, so your mileage may vary. I will say the ratio of issues/no issues.
Buy This Product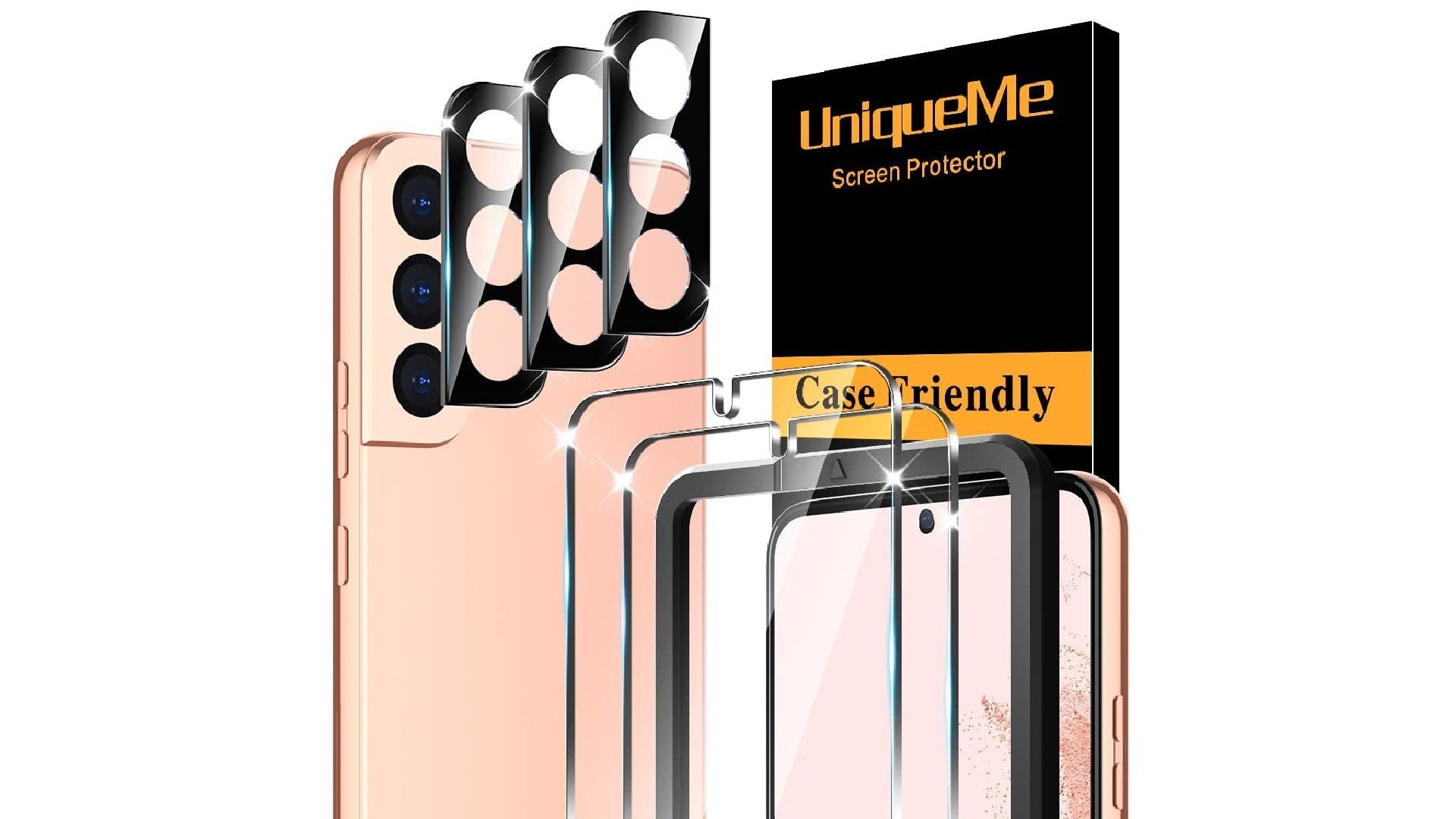 UniqueMe Tempered Glass Screen Protector for Galaxy S22+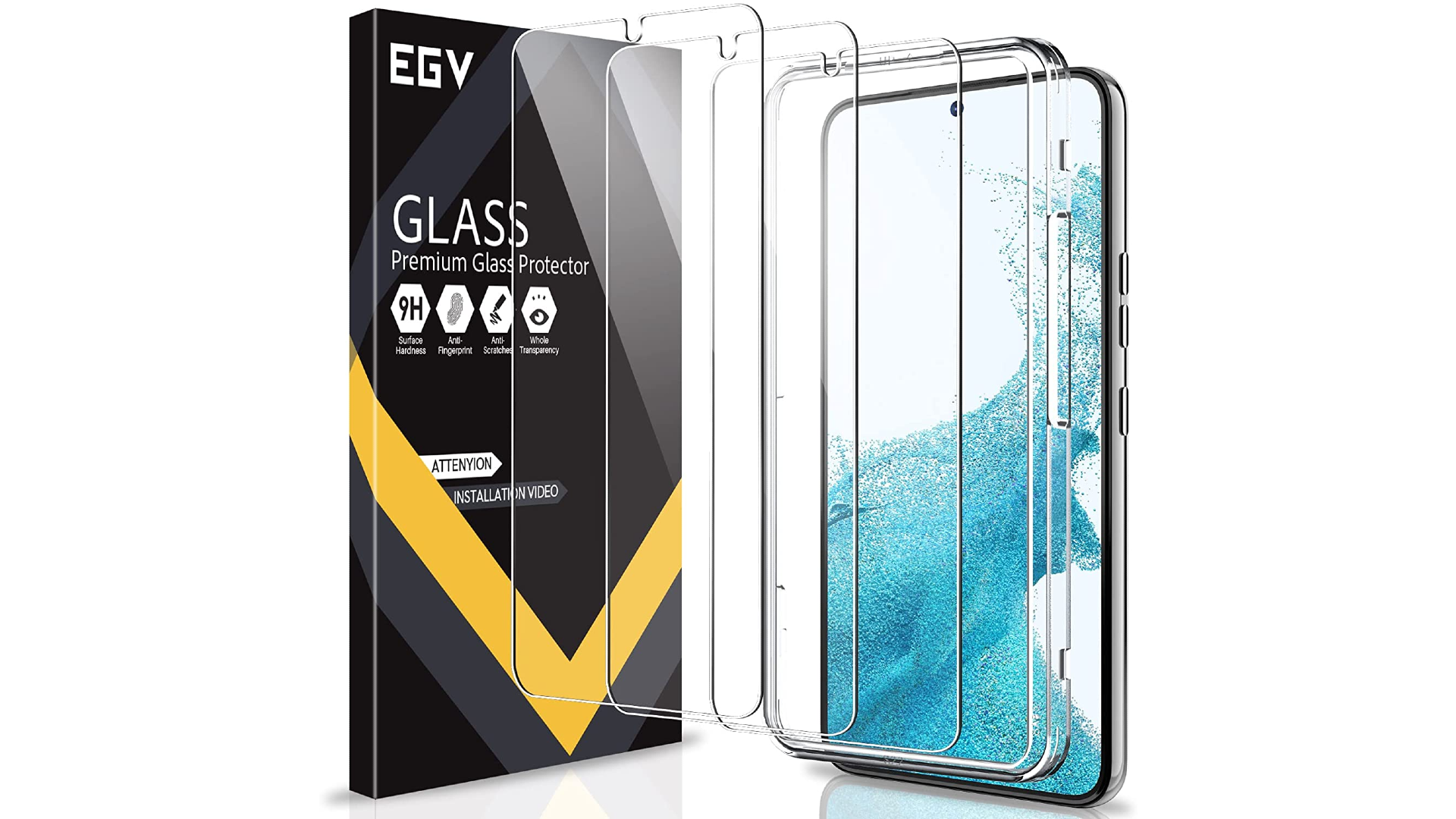 If you're looking for an affordable yet solid option to protect your S22+, the EGV tempered glass screen protector is worth considering. The box contains three protectors for less than what most 2-packs cost. The tempered glass protectors are great for absorbing most shocks when dropping your beloved S22+, which would, in turn, save its glass display from shattering.
EGV says its screen protectors are fully compatible with the S22+'s built-in ultrasonic scanner. Still, you shouldn't expect it to be as smooth as without a protector on, as most tempered glass protectors don't work well with ultrasonic fingerprint sensors.
Buy This Product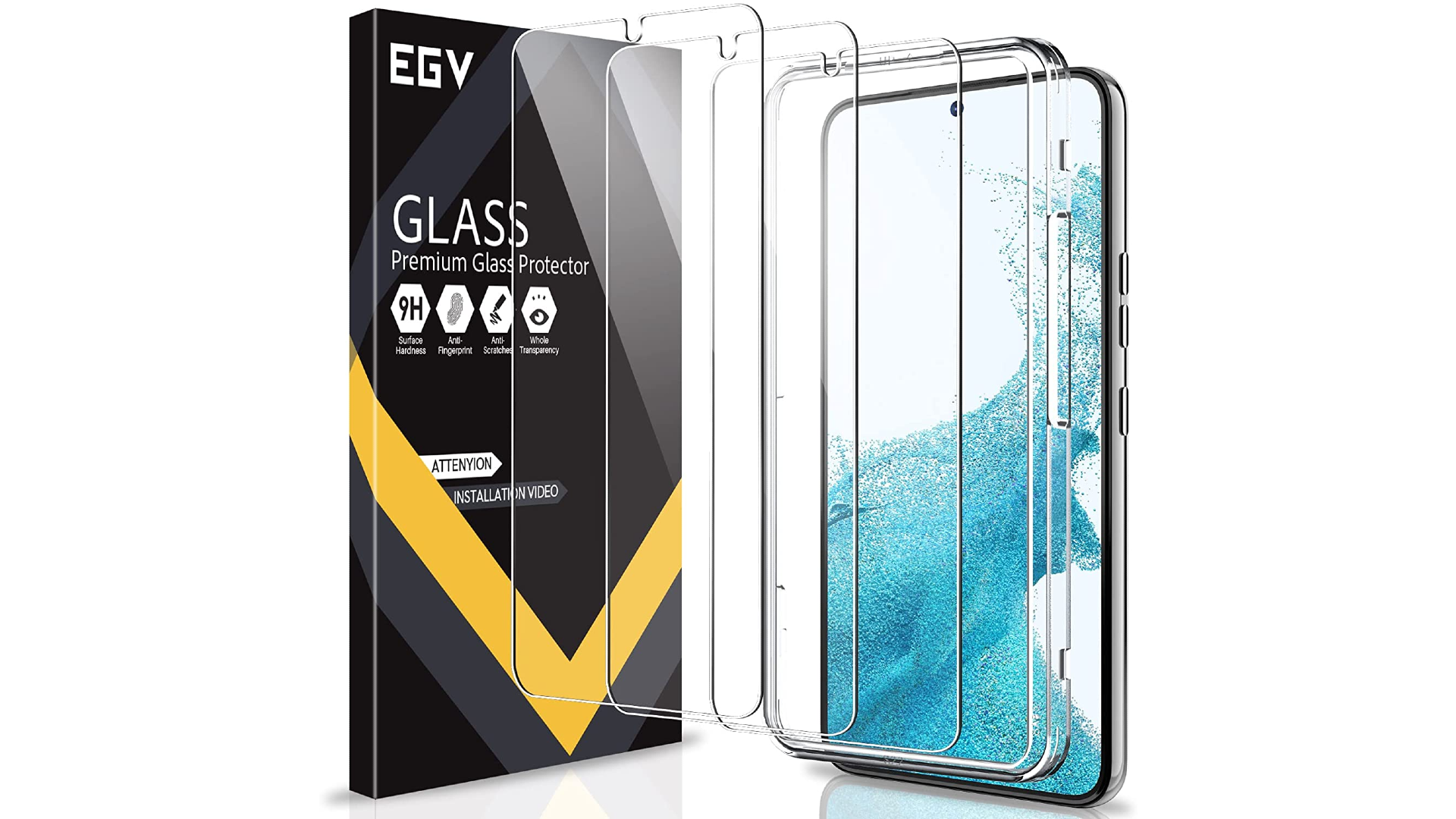 EGV Tempered Glass Screen Protector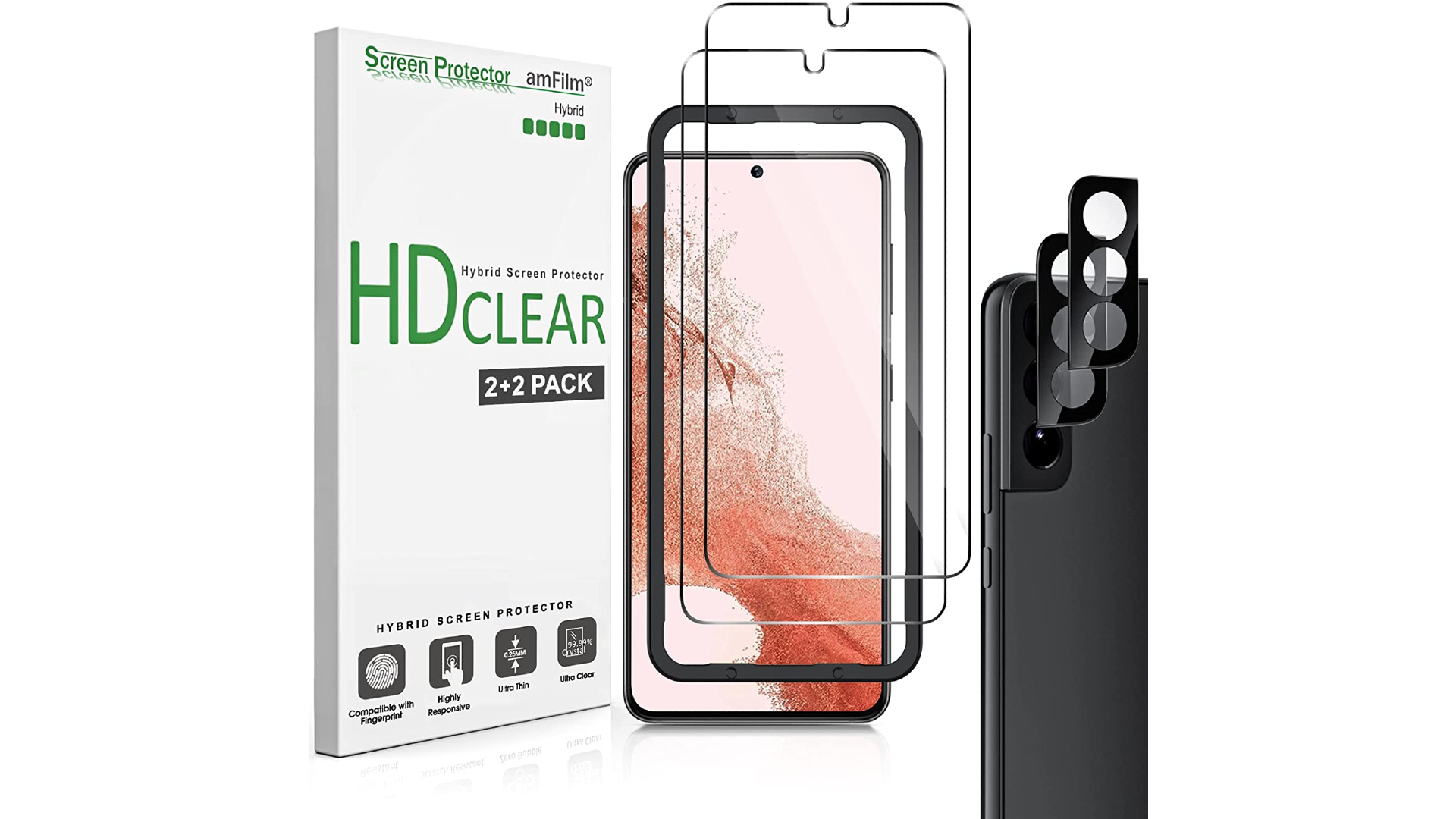 amFilm's hybrid screen protector offers a more robust shield than a film, thanks to its rigid 7H hardness material, minus the bulk of a tempered glass protector. It's a great compromise that offers excellent protection against scratches and the shattering impact of a drop. Most importantly, since the protector is made of a 0.2mm thin material, it works seamlessly with the S22+'s fingerprint scanner. Most tempered glass protectors struggle with the fingerprint scanner.
The box includes an application tray and squeegees, which are supposed to ease the installation process and prevent bubbles from building up during the application. Unfortunately, it's not that easy, as I had difficulty getting rid of bubbles during installation. Film protectors are less steady than tempered glass while installing, making the overall process a bit more demanding.
Buy This Product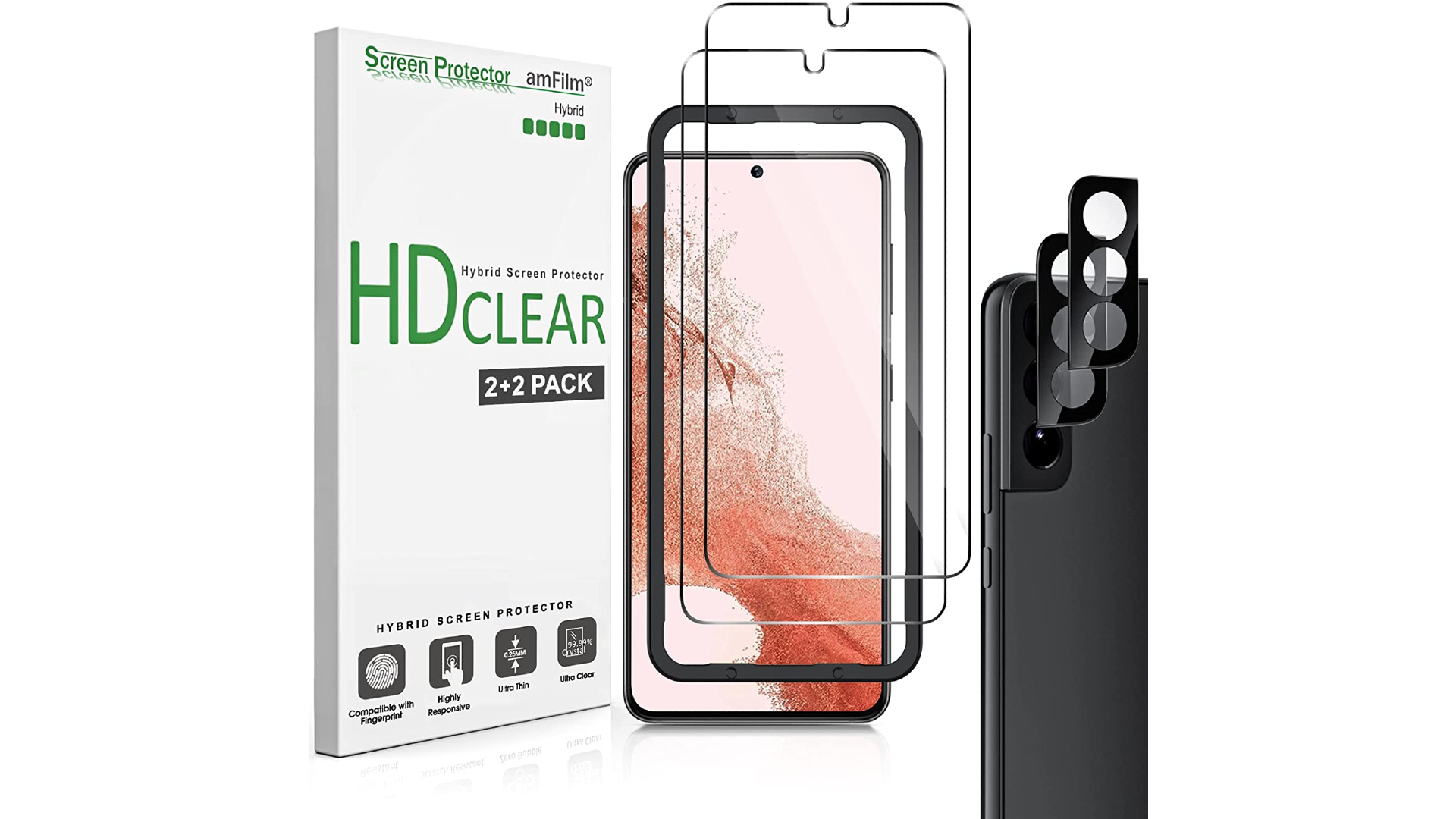 amFilm Hybrid Screen Protector for Galaxy S22+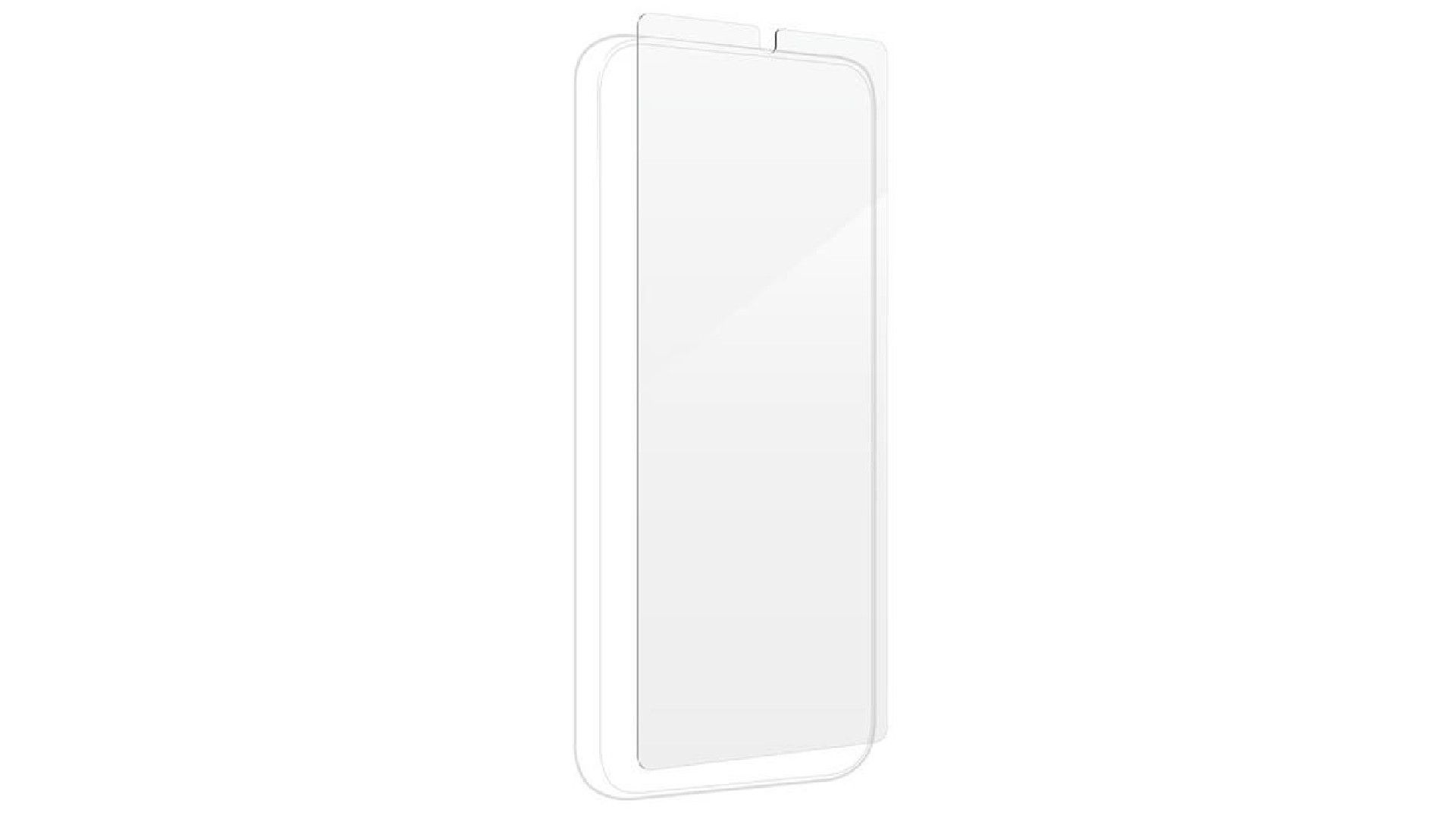 ZAGG InvisibleShield has been my go-to for screen protectors for years because its tempered glass protectors are easy to install and last a long time. This year, the protectors are hybrid rather than tempered glass to limit fingerprint sensor interference while still keeping the feel of glass and increasing impact protection. Blue light filtering sounds like an odd asset for a screen protector, but it can help reduce eye strain, and as someone who gets eye strain headaches a lot, blue-blocking does indeed help. It may not be worth the extra money to you, but if you end the day with your eyes wanting to murder you, invest in one of these. $50 for a screen protector is steep, but you pay for quality and that lifetime warranty
Buy This Product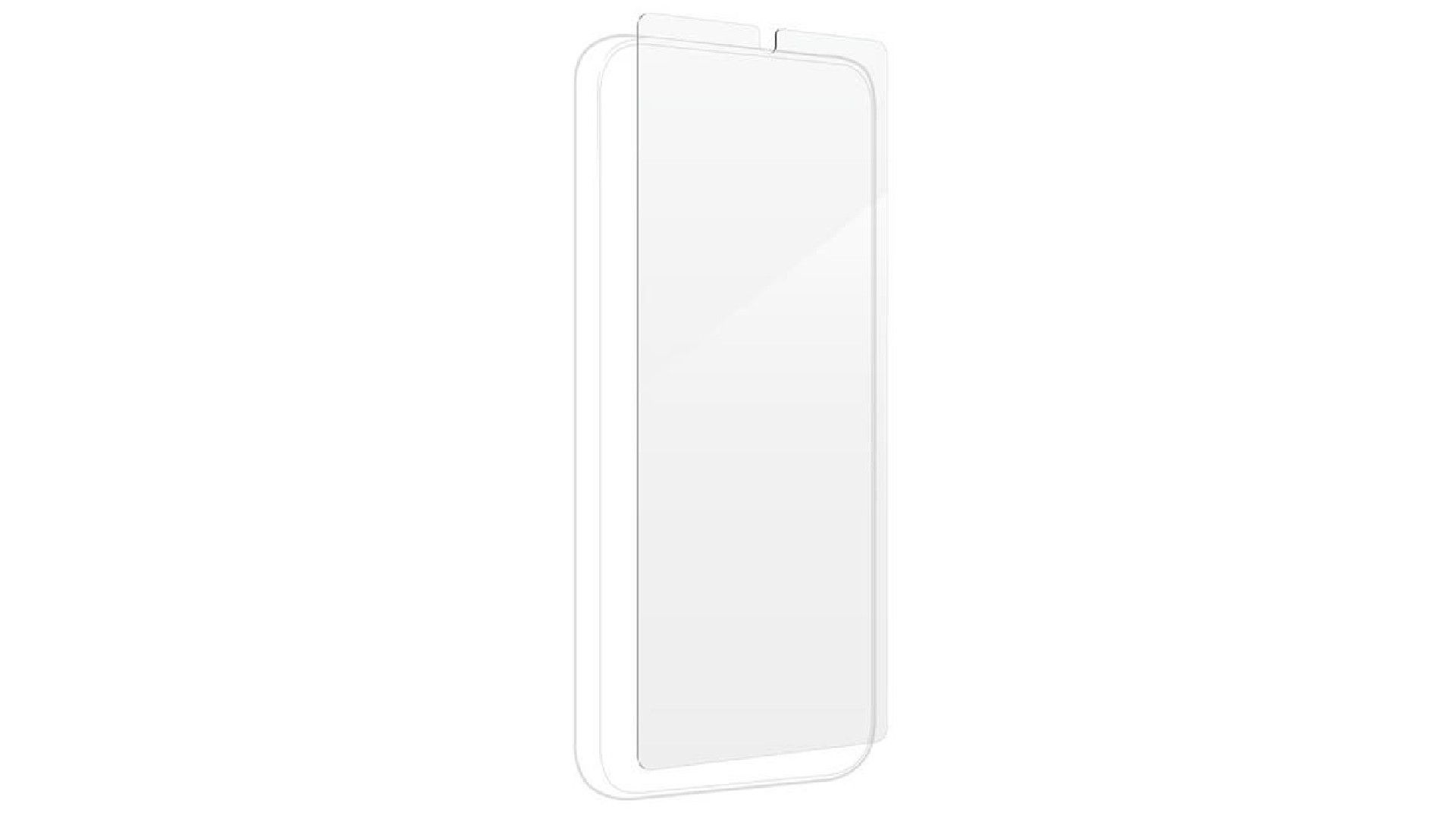 ZAGG InvisibleShield Fusion Vision Guard Screen Protector for Galaxy S22+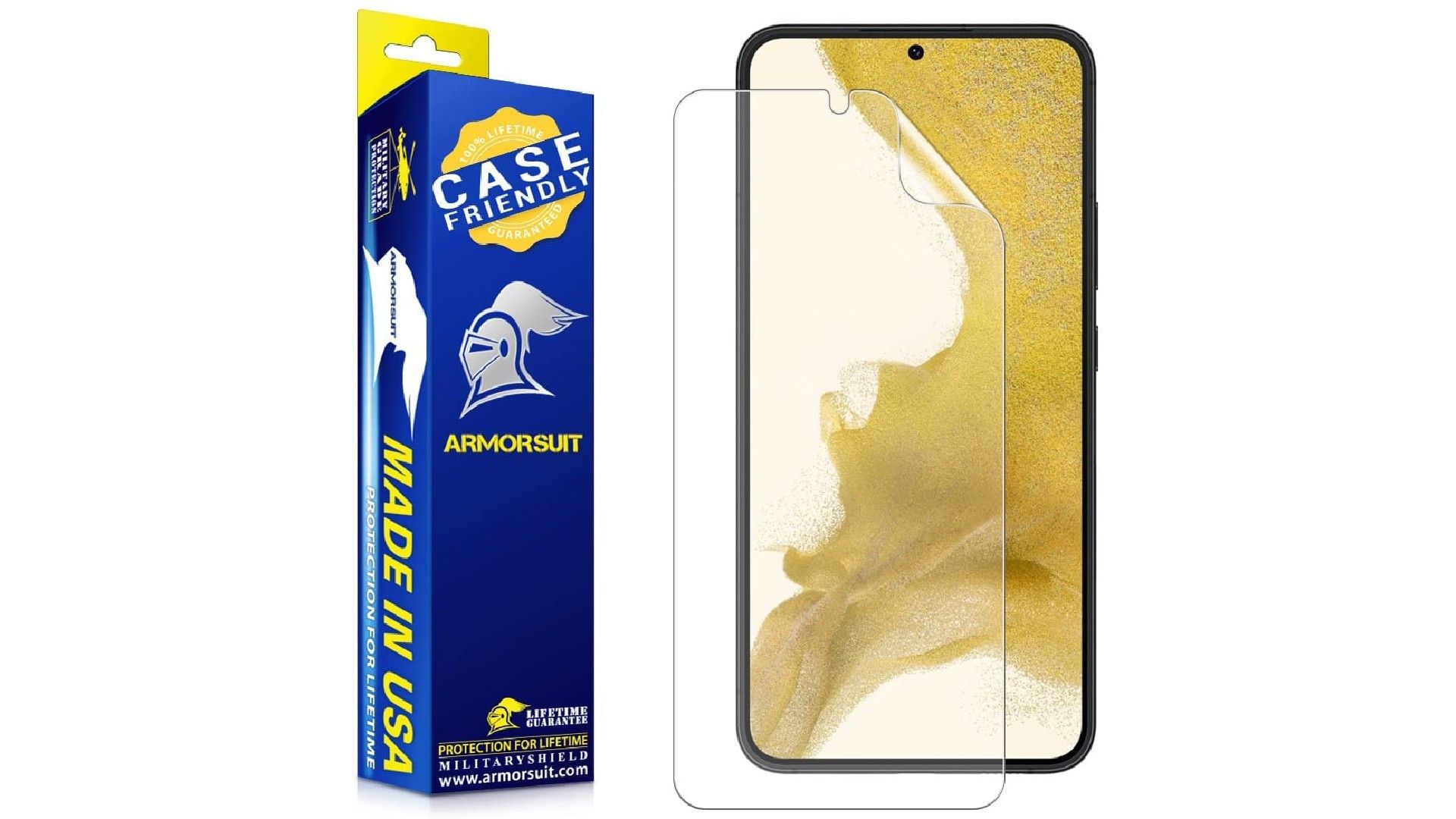 This American-made film protector is much more budget-friendly while still giving your screen the scratch protection you need, along with a matte finish that won't reflect every stray spec of light. Matte finish isn't usually available for tempered glass screen protectors, but it's an easy and welcome option. You won't get the same impact protection with this film PET screen protector, but the self-healing properties will mend indents from a stray fingernail or tiny abrasions.
Buy This Product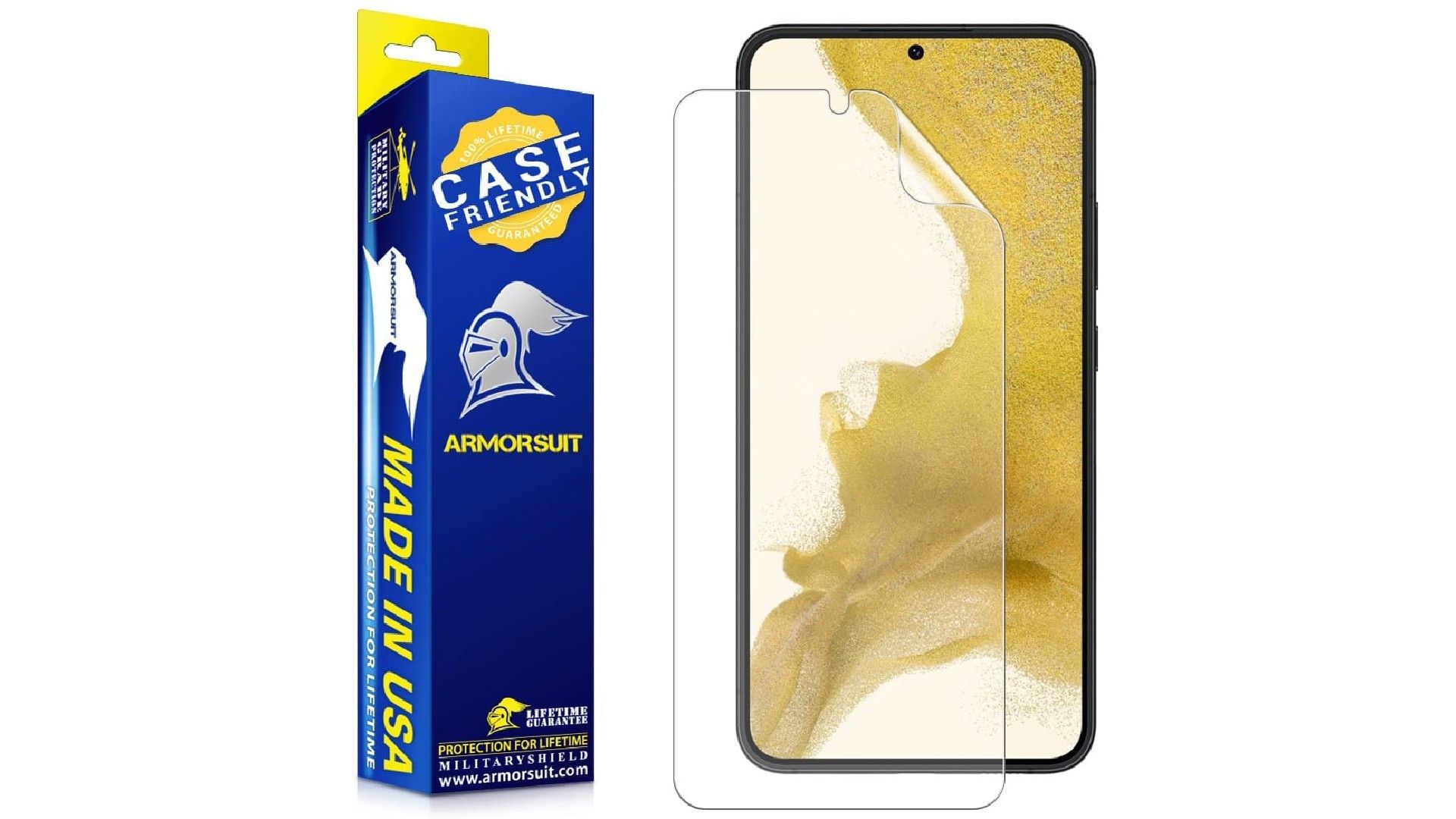 ArmorSuit MilitaryShield Anti-Glare Screen Protector for Galaxy S22+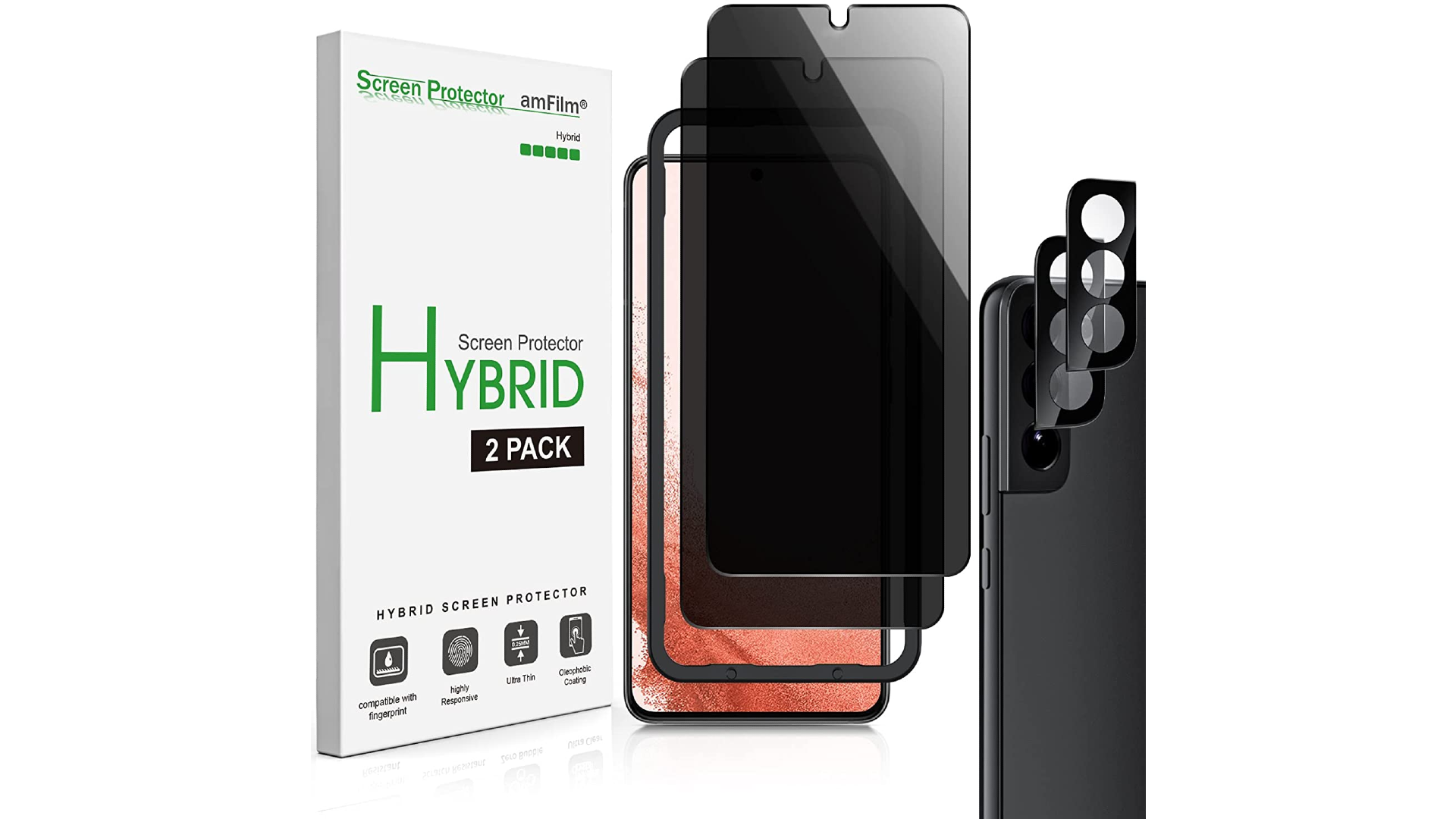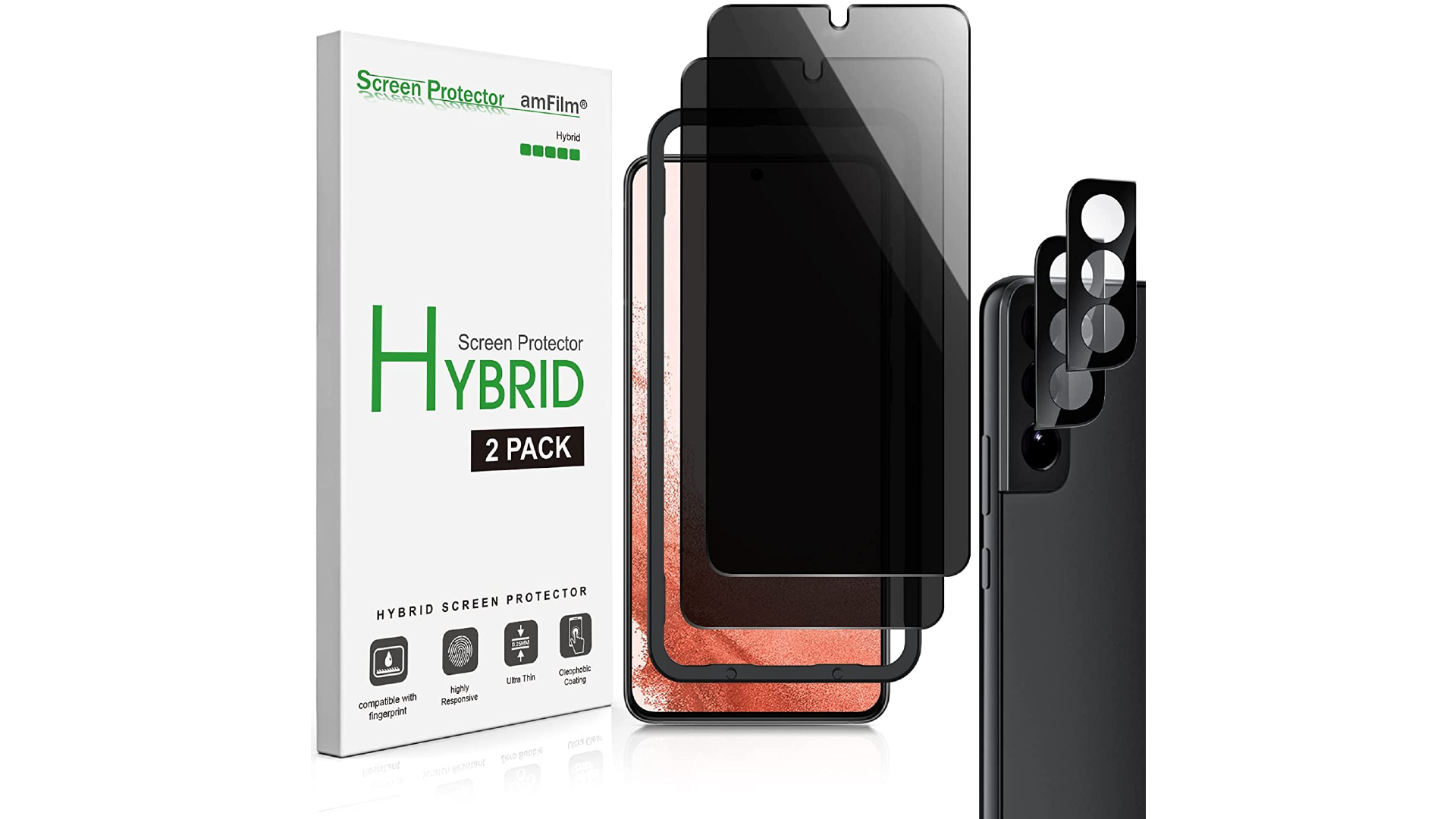 Like its regular counterpart, this amFilm protector is an excellent choice to protect your screen against daily wear while still being compatible with the S22+'s fingerprint scanner. In addition, it has a built-in privacy filter, making the screen only visible to people standing directly in front of it. It's one of your best options for decent screen protection and privacy without interfering with the phone's built-in ultrasonic scanner.
Similar to the standard model, the 0.2mm thin protector ships with camera protectors, ensuring your phone is entirely covered against accidental scratches. It also comes with an application tray and squeegees for a smooth installation process.
Buy This Product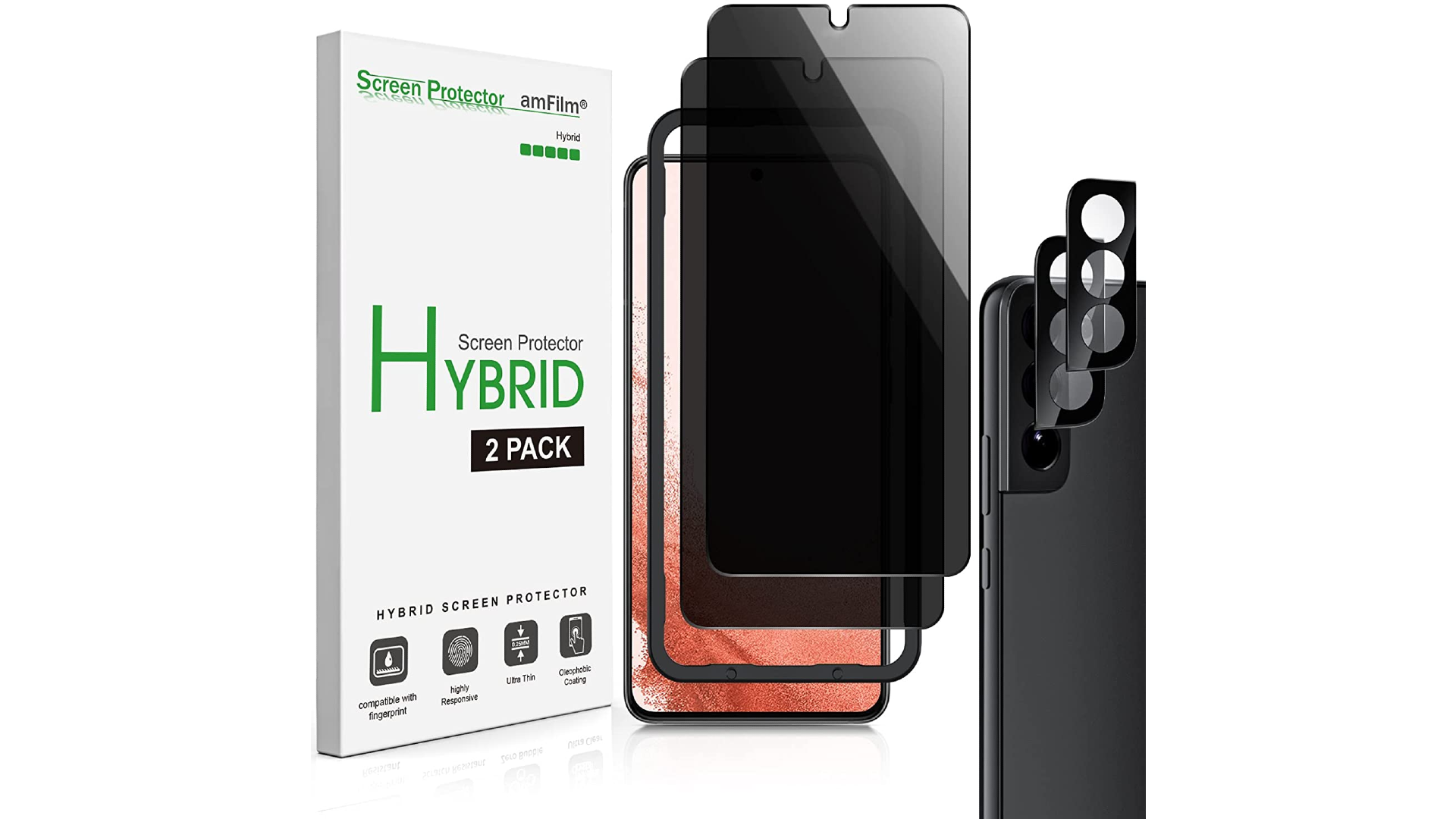 amFilm Hybrid Privacy Screen Protector for Galaxy S22+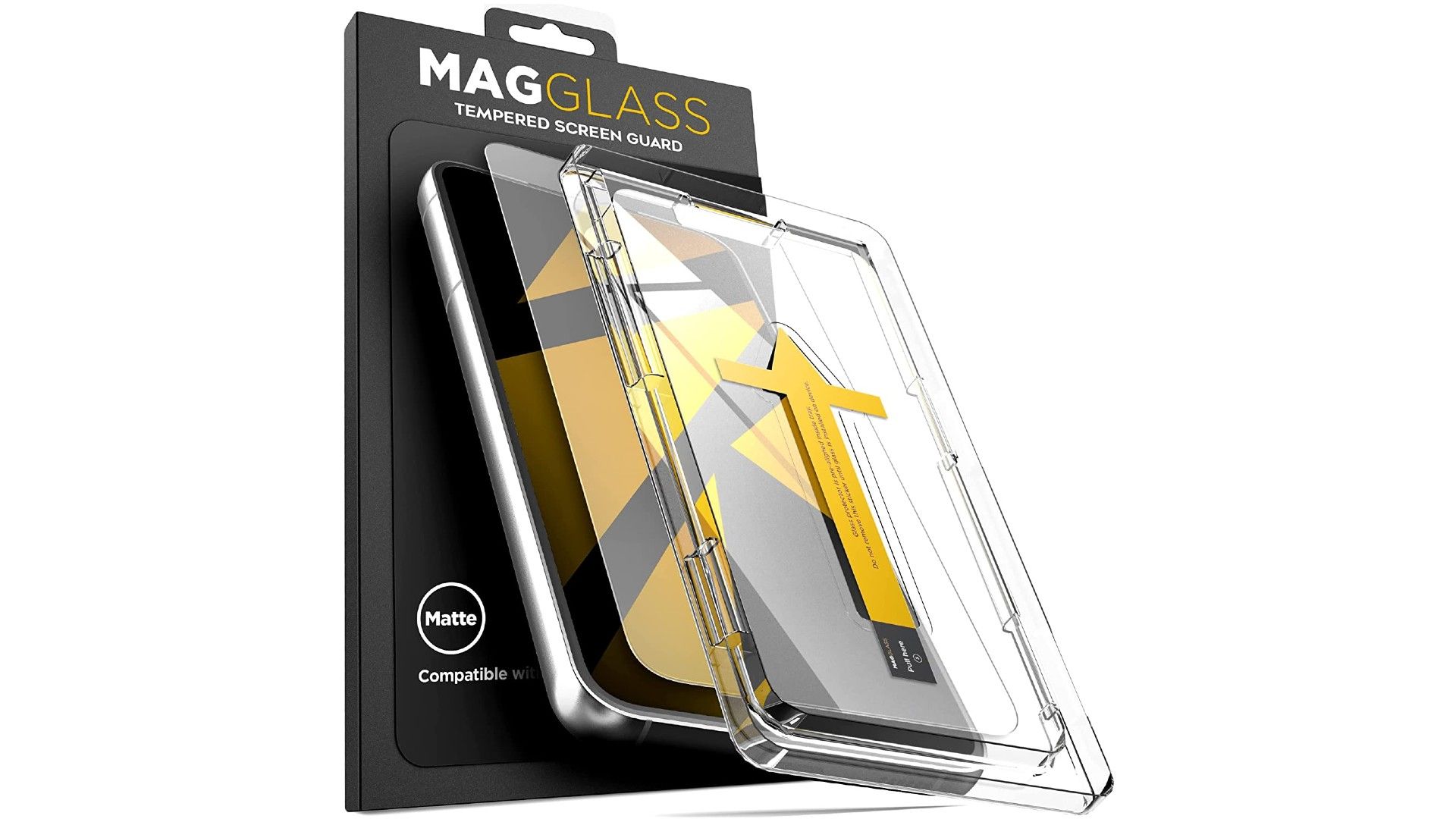 MagGlass makes screen protectors in a couple of styles, and it's one of very few to offer a matte-surfaced tempered glass screen protector for reduced glare and easier readability. Another bonus here is that the screen protector is mounted to the installation frame for one-touch installation, making it darn near impossible to screw up. If you can never seem to get your screen protectors straight, you'll never want to use anything else after you try this.
Buy This Product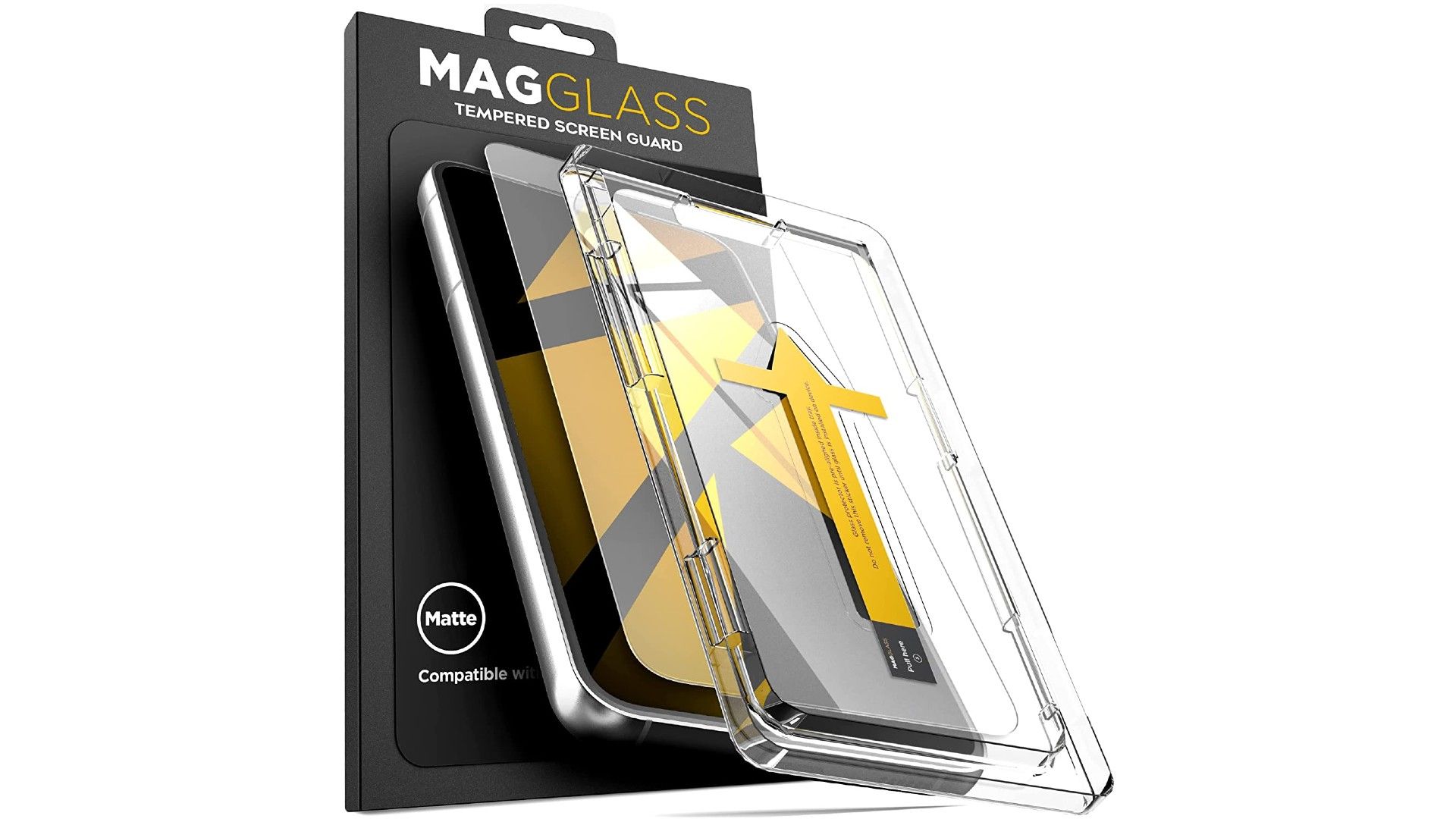 MagGlass Tempered Glass Designed for Samsung Galaxy S22+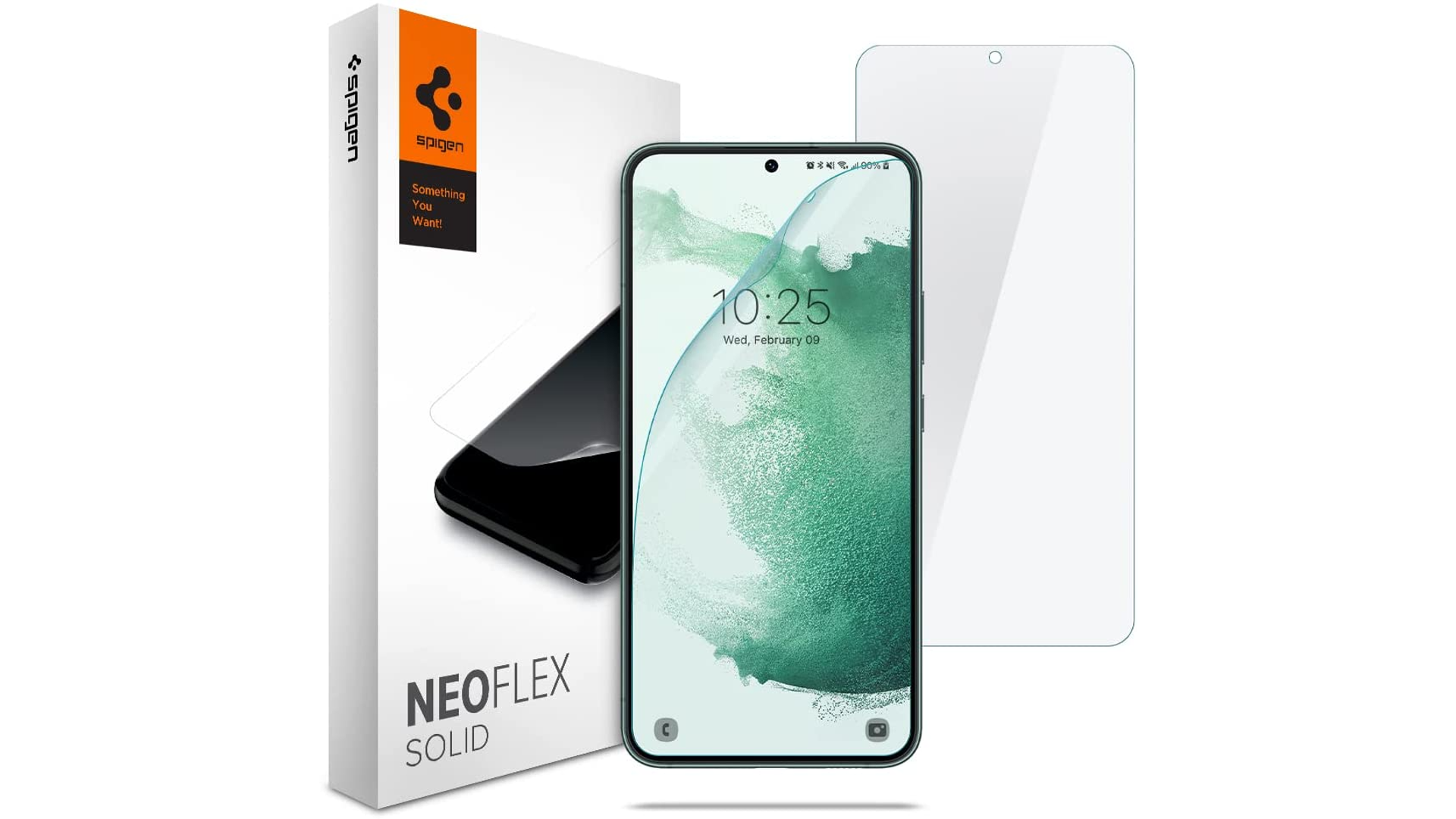 Spigen is a popular brand when it comes to protecting your phone. The brand is recognized for its rugged cases and screen protectors and deserves to be mentioned. The NeoFlex solid screen protector offers the best protection for curved screens and works perfectly with regular ones. It's designed to shield your S22+'s screen against daily wear, making sure your screen won't get scratched by your keys.
Even though it won't offer maximum protection against shattering your display, this solid protector is less bulk than a tempered glass one. It appears to play nicely with the handset's built-in fingerprint scanner. It's also relatively easy to install, despite not shipping with an application tray, making it an excellent choice if you're looking for daily protection that works with the phone's built-in ultrasonic scanner.
Buy This Product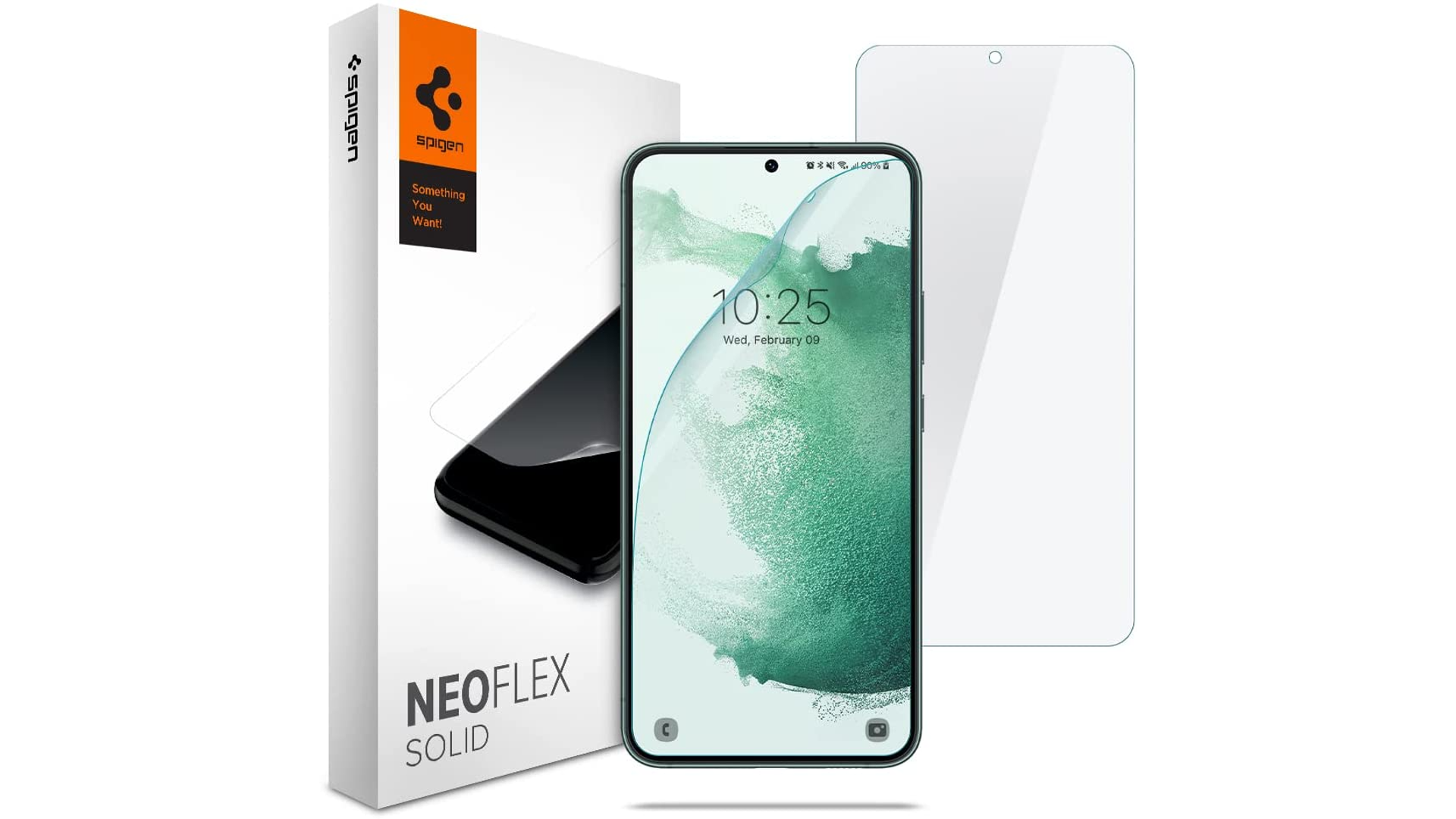 Spigen NeoFlex Solid Screen Protector for Galaxy S22+
Shield your screen from mishaps
The Whitestone Dome Glass is our best pick for protecting your S22+'s screen, thanks to its reliable UV-curing system that makes it compatible with the S22's fingerprint scanner.
UniqueMe and EGV are both affordable tempered glass options that are worth considering for decent protection without breaking the bank. They may not offer the same level of excellence as Whitestone, but they cost just a fraction of the price, meaning you can easily swap them for another protector when needed, as long as you don't mind pressing your finger a bit harder on the sensor.
When it comes to film protectors, ZAGG, InvisibleShield, and OtterBox offer great options, but these don't protect as thoroughly against drops compared to tempered glass ones.
If you're unsure which one you should get, consider a hybrid or solid protector like the amFilm or Spigen. Although not as strong as tempered glass, both offer better protection against scratches (compared to films) and better compatibility with the S22+'s fingerprint scanner.
FAQ
Q: How do I avoid fingerprint scanner issues after installing a tempered glass screen protector?
Since there is some slight variance from sensor to sensor and phone to phone, some tempered glass screen protectors may work for other Galaxy S22+ users but not you. However, no matter which tempered glass screen protector you use, the following steps can help mitigate bad reads and improve consistency:
1. Unenroll your current fingerprints before installing a screen protector.
2. Follow all manufacturer instructions when installing your screen protector.
3. Wait 8-12 hours for the adhesive to fully set and to let small air bubbles make their way out.
4. Re-enroll fingerprints. Use a lighter touch, don't go mashing your finger down super hard, or it will expect you to do that every time.
5. Turn up Touch Sensitivity.