Google Docs remains among the best word editors on the market. With a free Google account, you have access to Google Docs alongside other web-based software in Google Workspace. Docs enables you to edit documents online or offline and offers features for seamless collaboration with third parties. The app also supports integration with Gmail, Google Drive, Sheets, and add-ons for enhanced capabilities on your PC, Android phone, or tablet.
But the most interesting features of Google Docs are often overlooked. Many people still don't know that they can sign documents electronically, add more fonts, and create attractive illustrations without leaving the word processor. If you want to use these functionalities to improve your document quality, here are nine Google Docs tips and hacks for better workflow.
1. Add more fonts
If you're bored with the Arial and Times New Roman text styles, Google Docs allows you to add more fonts to your document from your browser. By default, there are 25 fonts available for you in the Fonts menu. You can include hundreds of new ones when you tap More fonts from the full list.
Google Docs only supports web-based fonts, so you can't add local or custom fonts to the application. The best you can do is to get a supported extension from the Google Workplace Marketplace. Additionally, the mobile app doesn't offer the option to add more fonts. Even if you tried the process in your browser, the fonts don't appear in your mobile app. The app also doesn't have a font add-on you can download.
2. Insert images with URLs
You can embed an image from any webpage into your document without downloading it from the source or taking a screenshot. All you need is the image URL, which saves time and storage space. On Android, the procedure is different. You can only Google search and add an image from the web. If you have a URL you want to add, use Docs in Chrome or other browsers.
Inserting images via a URL in Google Docs doesn't make you immune to copyright laws. Ensure you have the license to use a picture before adding it to your documents. Copyright infringement makes you liable to pay fines or damages to the copyright owner.
On browsers
Place the cursor where you want to insert an image.
Click Insert to expand the drop-down menu.
Hover your mouse over Image and select By URL.

Paste the image URL into the text box, and Docs displays a preview.

Click Insert image, and it appears in your document.
in the mobile app
Open a document.
Tap the pen icon to go into editing mode.
Tap + icon to open the Insert menu.

Tap Image.
Select From web.

Type a keyword into the search bar. Then tap the search icon on your keyboard.
Under Images, select a picture you'd like to feature in your document.
Docs shows a preview. Tap Insert above the image, and it appears inside your document.
3. Use extensions to boost functionality
Extensions and add-ons are a valuable part of the Workspace Marketplace. They enhance the capabilities of using Google Docs. Some add-ons correct your grammar, include math equations, and create a Google Form. If you don't find an add-on that does what you need, create one using Google AppSheet or AppScript. You don't need to be a developer to build your add-on with App Sheet, as coding is not required.
On browsers
Click + in the right sidebar to get add-ons.

The Google Workspace Marketplace pops up in a new window.
Use the search bar to find the add-on you need.

Use the search filter to display only add-ons compatible with Docs.

Select an add-on, then click Install.

Click Continue to give the add-on permission to install.
Google prompts you to sign in to your account for authentication before installing your add-on.
To use your installed add-on, close the Marketplace window.
Click the add-on in the right sidebar of Docs.

If you don't see the add-on there, click Extensions.
On the mobile app
Open a document.
Tap the three-dot icon, and select Add-ons.

Select Get add-ons.
Choose an add-on, and Docs redirects you to the Google Play Store, where you can install it.

To use your add-on, return to the Add-ons menu and tap it.
Although some of the following tasks can be accomplished on the Google Docs app for Android or iOS, the processes are difficult, frustrating, or both. We recommend using Google's PWAs on your browser whenever possible.
4. Use outlines to organize your document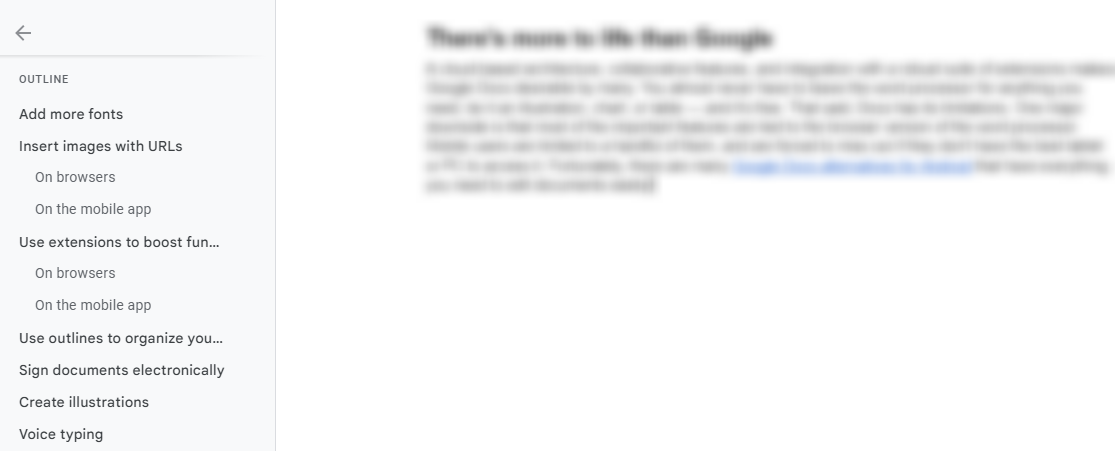 A Google Docs outline acts as a visual roadmap to give you a clearer sense of direction in structuring your document. Outlines also work as jump links to help you find specific parts quickly. Instead of scrolling until you locate the section, click a heading, and Docs takes you there. You can create a Google Docs outline on the web and mobile apps, although Docs does it automatically when you insert headings in your document.
The outline appears as a table of contents in a left sidebar, which you can hide or expand. On Android, expand the app's menu options and select Document outline to view and manage your outline. If you don't want a heading to be visible in your outline, you can remove it from the list without affecting your document. You can also disable the outline feature in the web app, and headings don't appear in the sidebar until you toggle the feature on again. This setting applies to old and new documents.
5. Sign documents electronically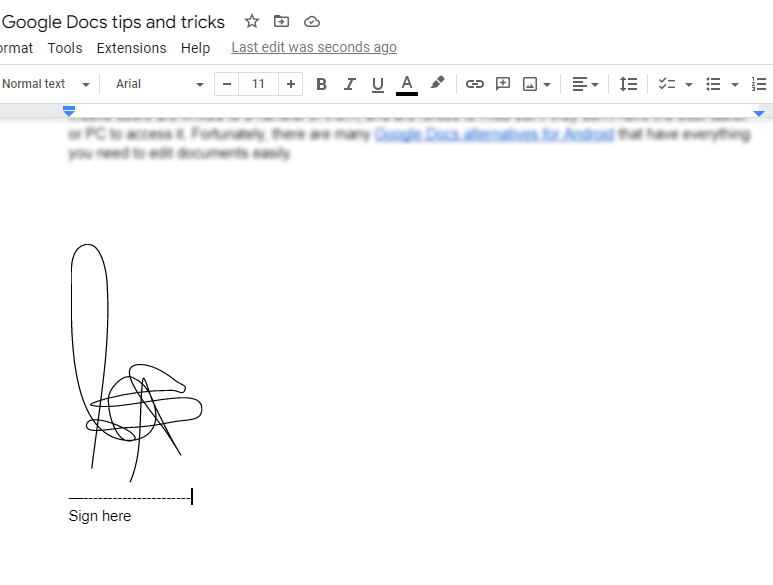 Google Docs is many things, but a professional electronic application software isn't one of them. Although Google plans to roll out native eSignature support soon for Workspace Individual subscribers, top competitors like Microsoft Word already let you sign documents for free, but not without making you go through a lengthy process. There's a drawing tool under the Insert menu that you can use to create and insert your signature in Docs.
Although drawing your signature is not as authentic as doing it with professional eSignature software, it's useful when you need to sign a document urgently. The signature is not permanent, it doesn't require authentication, and you can alter it whenever you want. The drawing tool is only available on the web version of Docs. But you can sign documents professionally with DocuSign and other add-ons on browsers and the mobile app.
6. Create illustrations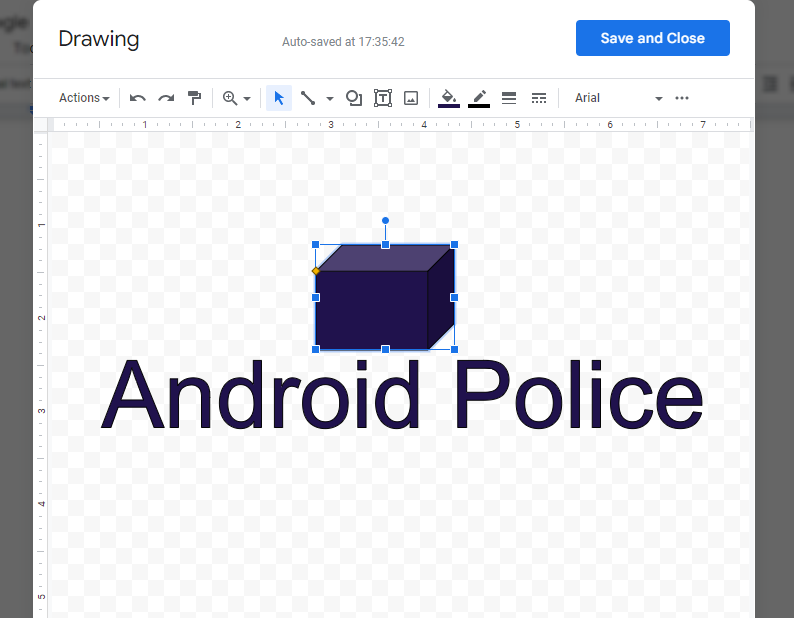 You can create illustrations in Docs with basic functions, such as inserting word art, images, and 3D shapes. The drawing tool is under the Insert menu, and clicking it opens a checkered window for drawing within Docs. Any action you perform in the window automatically appears in your document, and you don't need to insert every drawing you create manually. You can also download drawings in PDF, JPEG, PNG, and SVG file formats to your device.
The drawing tool doesn't offer advanced features for drawing with a stylus pen. You're restricted to using your mousepad for clicking and dragging elements to create art. But if you own a touchscreen PC, you can draw on your screen with your finger pads. Furthermore, the tool isn't available on the mobile app. If an advanced illustration toolbar is important to you, there are other professional drawing apps you can use.
7. Voice typing
Docs has a built-in voice recognition function that enables you to create and edit documents through speaking. Your device needs to have a built-in or connected microphone before you can activate and use voice typing. When you activate voice typing, a microphone pops up on your screen, and you can drag it to any position. Clicking the microphone turns it red, which means it's activated, and you can start speaking.
Words appear in the document as you say them, and you'll need to be as audible as possible to avoid errors. You can also dictate punctuation and use formatting terms, such as "comma" or "insert a page break." Google Docs voice typing is not available on the mobile app. However, you can make dictations with your keyboard's microphone icon.
Click Tools.
Select Voice typing.

Alternatively, press Ctrl+Shift+S on your keyboard to launch voice typing.
Chrome notifies you that Docs wants to use your device's microphone. Tap Allow to grant Docs permission.
If you don't see this notification, click the padlock icon near your browser's address bar to view Docs' information.

Click the toggle switch beside Microphone to give Docs permission.

Click the microphone icon to begin dictation. Click the icon again to stop speaking.
To choose your language, click the drop-down box above the microphone and select the language you speak.
To reposition the microphone, move your mouse icon above the drop-down box until it changes to a drag icon. Then click and drag the box to any position.
8. Check definitions in the dictionary
English can be tricky. Sometimes, you forget the meaning of a word or how to spell it. You don't need to download a dictionary app, as Docs has one under the Tools menu. Clicking the dictionary option opens a right sidebar where you can search a keyword and get its meaning. Some synonyms are also hyperlinked. You can click them to open their meanings. The dictionary is not available on the mobile app.
Click Tools.
Select Dictionary from the drop-down menu.

A sidebar appears on the right side of your screen. Enter a keyword into the search bar, and press Enter on your keyboard.
Docs displays the meanings of the word alongside its pronunciation and synonyms.
9. Automate citations and bibliographies
It's important to give credit to an information source when writing a research paper, proposal, or project. But referencing can be time-consuming, and you could make mistakes, especially if you're new to the concept. Google Docs allows you to cite sources automatically with the source type and the channel you accessed it with. For example, your source type can be the book, journal, or TV series where you got the information. The channel can be a website or print media you used to access the source type.
You can reference sources in any language, but the tool's field titles or elements always appear in English, no matter what typing language you use in Docs. For print media or websites, you can enter the International Standard Book Number (ISBN) or Uniform Resource Locator (URL) into the referencing tool, and Docs automatically pulls the citation from the internet. You can then add it to your document.
You can also do referencing manually, and Docs provides input fields for the author name, publisher and publication year, and other data. Docs only supports MLA, APA, and Chicago Author-Date referencing styles. Also, referencing isn't available on the mobile app, so you need to access Docs from a browser.
Click Tools.
Select Citations from the drop-down menu.

A sidebar appears on the right side of your screen.
Click the drop-down box to select a referencing style.
Click Add citation source.

Use the drop-down boxes under Source type and Accessed by to select how you got your information.

If your source has an ISBN or URL, enter it into the provided box and click Search to find the citation online.
If you don't have the ISBN or URL, click Cite manually.
Use the input fields to cite your source appropriately. Fields with the asterisk symbol beside them are required.
Once you've cited your source, click Add citation source.

Docs gives you a preview of the citation in the right sidebar. Hover your mouse icon over the citation, then click Cite to insert it into your document.
Alternatively, you can add multiple citations and click Insert References to place them in your document.
There's more to life than Google
A cloud-based architecture, collaborative features, and integration with a robust suite of extensions make Google Docs desirable to many. You rarely have to leave the word processor for anything you need, be it an illustration, chart, or table. And it's free.
Still, Docs has its limitations. One downside is that most of the important features are tied to the browser version of the word processor. Mobile users are limited to a handful of them and are forced to miss out if they don't have the best tablet or PC to access it. Many Google Docs alternatives for Android have everything you need to edit documents easily.