The Steam Deck is a high-end handheld gaming console with a huge library of games backed by Steam, plus great performance for a portable device.

Pros

Significantly better performance than the Switch
More buttons and more comfortable controls
Much bigger library of PC games

Cons

Battery life isn't quite as good as the Switch
Larger and heavier

Nintendo Switch

The Nintendo Switch is a hybrid gaming console that can be used as a handheld device, connected to a TV, or in tabletop mode. It has a large library of games, including many Nintendo-made titles that can't be played anywhere else.

Pros

Nintendo's exclusive games are some of the best
Up to 9 hours of battery life (depending on the model)
More versatility out of the box

Cons

Joy-Con controllers can be uncomfortable
Low storage configurations
Performance is far behind modern PCs and consoles
After a few years when it seemed like Nintendo was the only major company betting on handheld gaming, the market is getting increasingly heated, particularly starting with the introduction of the Steam Deck. This handheld gaming PC entered the market to cater to PC gamers who want to take their games on the go. It's far more powerful than the Nintendo Switch it competes against, but there's a bit more to these things than just performance.
When it comes to a handheld console, portability and battery life are also big factors to consider. And of course, it's important to keep in mind the exclusive games to each platform. Let's take a closer look to see which one of these is better for you.
Steam Deck vs Nintendo Switch: Price, specs, and availability
Both the Steam Deck and Nintendo Switch are essentially fully available at this point, though buying a Steam Deck isn't quite as easy. It's only available directly from Valve, so you can't find it at most retailers. Pricing for the Steam Deck starts at $400 for 64GB of eMMC storage, and it goes up to $649 for the 512GB SSD model.
The Nintendo Switch has been available since 2017, and you can find it at pretty much any retailer that sells video games, such as Best Buy and Amazon. The standard model costs $300 dollars, with an IPS panel and 32GB of internal storage. The OLED model launched in 2021 costs $350, and it also includes 64GB of internal storage. There's also the more portable Lite model, coming in at $200.
| | Steam Deck | Nintendo Switch |
| --- | --- | --- |
| Dimensions | 11.7 x 4.6 x 1.9 inches (298 x 117 x 49mm) | 9.4x4x0.55 inches (239x102x13.9mm) (standard model with Joy-Con) |
| Brand | Valve | Nintendo |
| Weight | 1.48 pounds (669 grams) | 0.88 pounds (398 grams) (standard model with Joy-Con) |
| Chipset | Custom AMD Zen 2-based processor (4 cores, 8 threads, up to 3.5GHz) | Nvidia Tegra X1 (launch models)/Nvidia Tegra X1+ (after August 2019) |
| RAM | 16GB LPDDR5 5600MHz | 4GB LPDDR4 |
| Storage | Up to 512GB M.2 2230 SSD | 32GB eMMC (64GB in OLED model) |
| Wireless Connectivity | Wi-Fi 5, Bluetooth 5.0 | Wi-Fi 5, Bluetooth 4.1 |
| Display | 7-inch IPS, 1280×800, touchscreen, optional scratch resistant glass coating | Standard: 6.2-inch IPS, OLED: 7-inch OLED, Lite: 5.5-inch IPS, 1280×720 resolution |
| Output resolution | Up to 8K@60Hz, 4K@120Hz | Up to 1920×1080 at 60FPS |
| Graphics | AMD RDNA 2-based graphics, 8 CUs | 256 Maxwell-based CUDA cores (integrated) |
| Ports | 1x USB-C 3.2 Gen 2 (DP Alt Mode), 3.5mm headphone jack | System: USB-C port, 3.5mm headphone jack, Dock (standard and OLED models): 1x USB-C port (charging), Three USB Type-A ports (two in OLED model), RJ45 Ethernet (OLED model), HDMI |
Steam Deck vs Nintendo Switch: Trading performance for battery life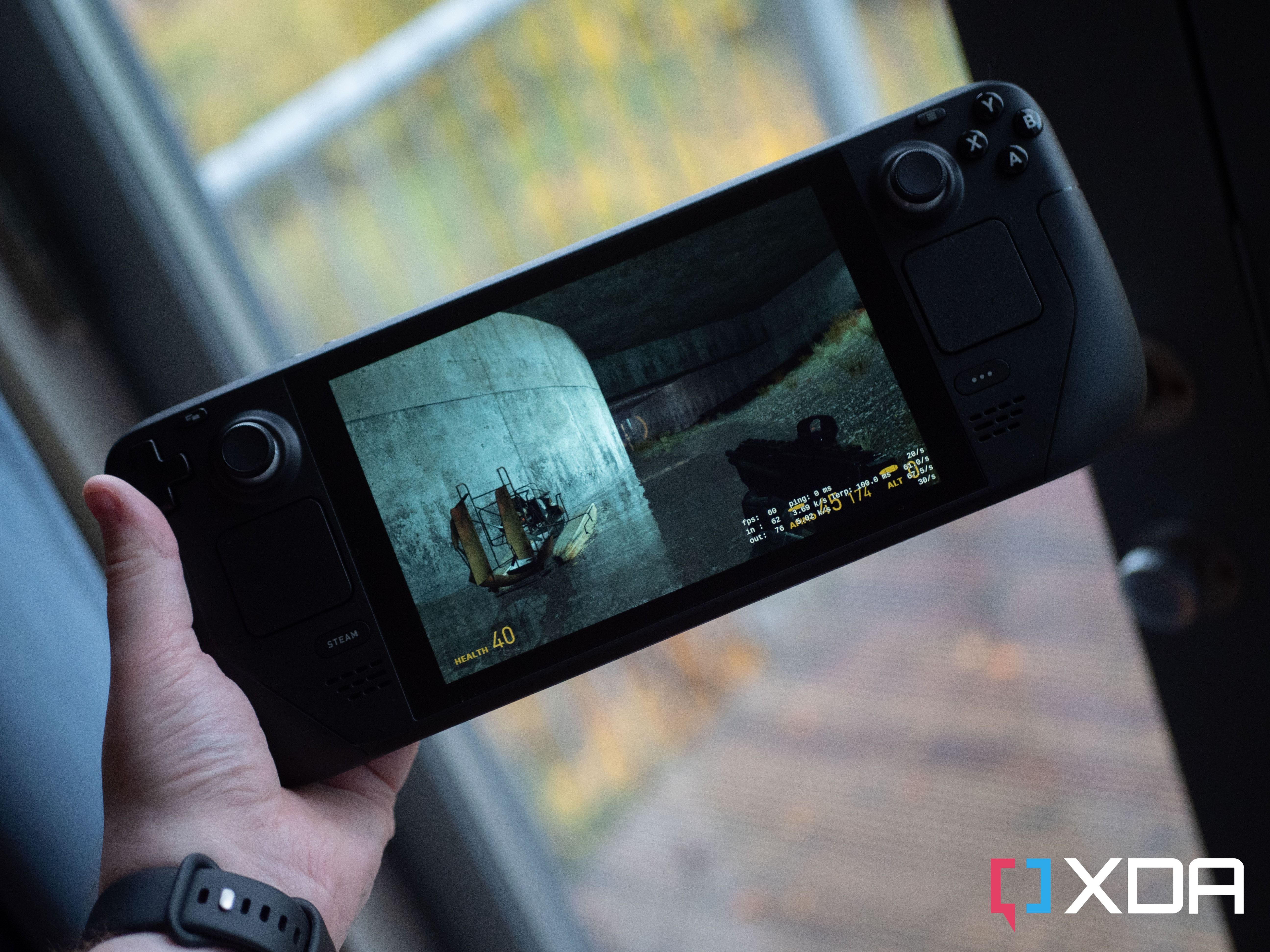 Performance was, and still is, one of the major talking points around the Steam Deck when it comes to Switch comparisons. There's not really any way around it: the Steam Deck has much faster performance. The use of custom AMD processors and RDNA2-based graphics gives the Steam Deck a huge advantage in terms of gaming performance. Games can look much better while also running more smoothly than they do on the Switch.
It really should be no surprise, though, considering the Nintendo Switch is nearly four years older than the Steam Deck, and the Nvidia Tegra X1 processor inside is even older, having first launched in 2015. The Switch wasn't exactly cutting edge at launch, and even less so now.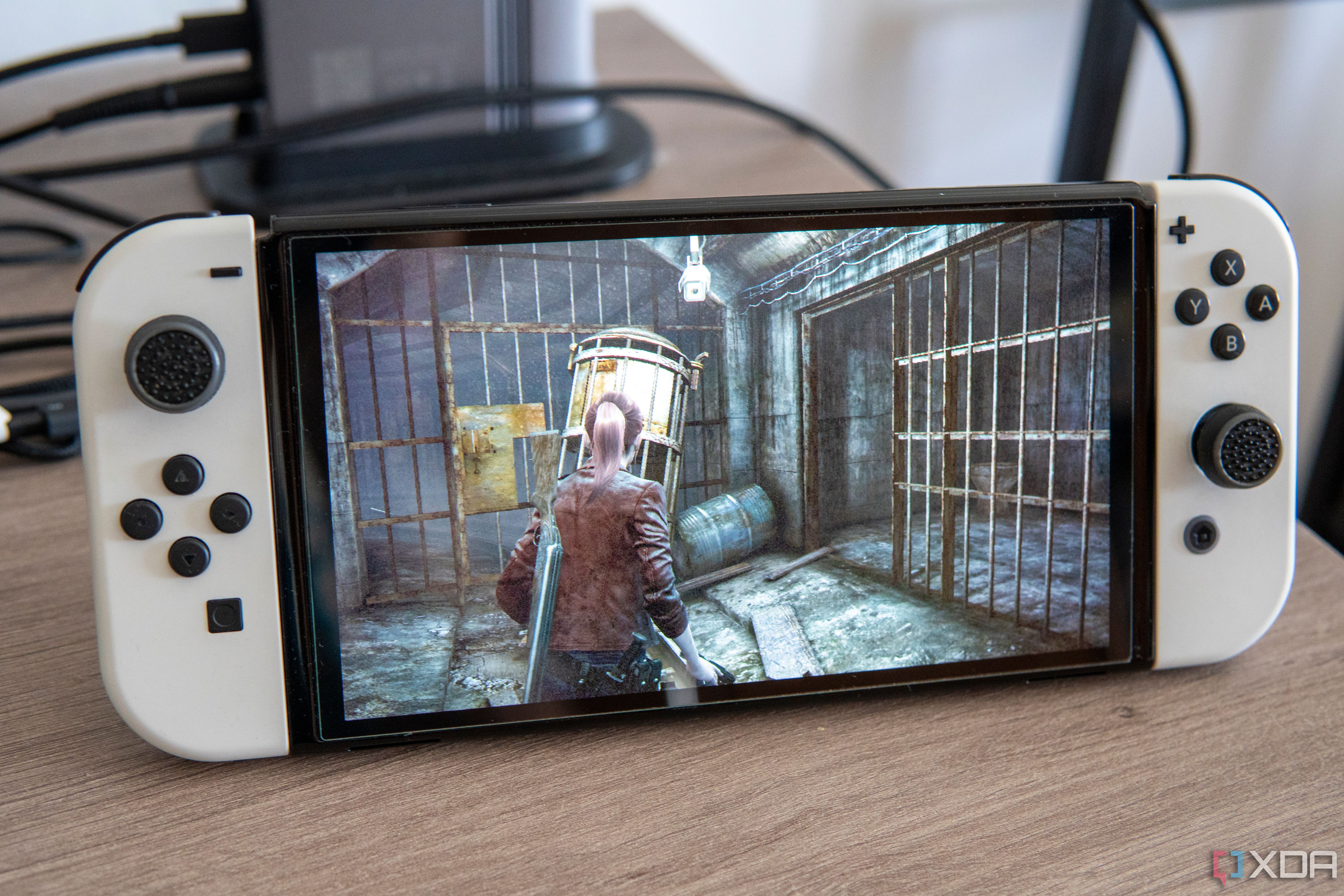 A great game to exemplify this is The Witcher 3: Wild Hunt since it's still a fairly demanding game that runs smoothly on the Steam Deck with better visual fidelity. There's also a Switch port of this game, but it runs at just 540p resolution and with very low-quality textures, so it really makes it apparent that the Steam Deck is very far ahead. That's not to say the Switch can't have visually-appealing games, but on a technical level, it's a far cry from the Steam Deck.
In exchange for this added performance, however, the Steam Deck loses out on some battery life. Valve touts up to eight hours of battery life depending on the game and settings you're using. Reviewers over at PCGamer found that you can get around seven hours out of the Steam Deck running a visually simplistic game like FTL: Faster than Light when locked at 30 frames per second, so that's essentially a best-case scenario. A game like The Witcher 3 drains the battery in under four hours at 30FPS, and under two hours at 60FPS.
The Steam Deck can last up to eight hours, but the Switch can go up to nine.
Nintendo advertises up to nine hours of battery life for the regular Switch and the OLED model, with around 5.5 hours advertised for The Legend of Zelda: Breath of the Wild, one of the most demanding games on the system. It's not a huge difference, but it's an advantage for the Switch if you want to be able to play during long flights, for example.
Steam Deck vs Nintendo Switch: The displays are similar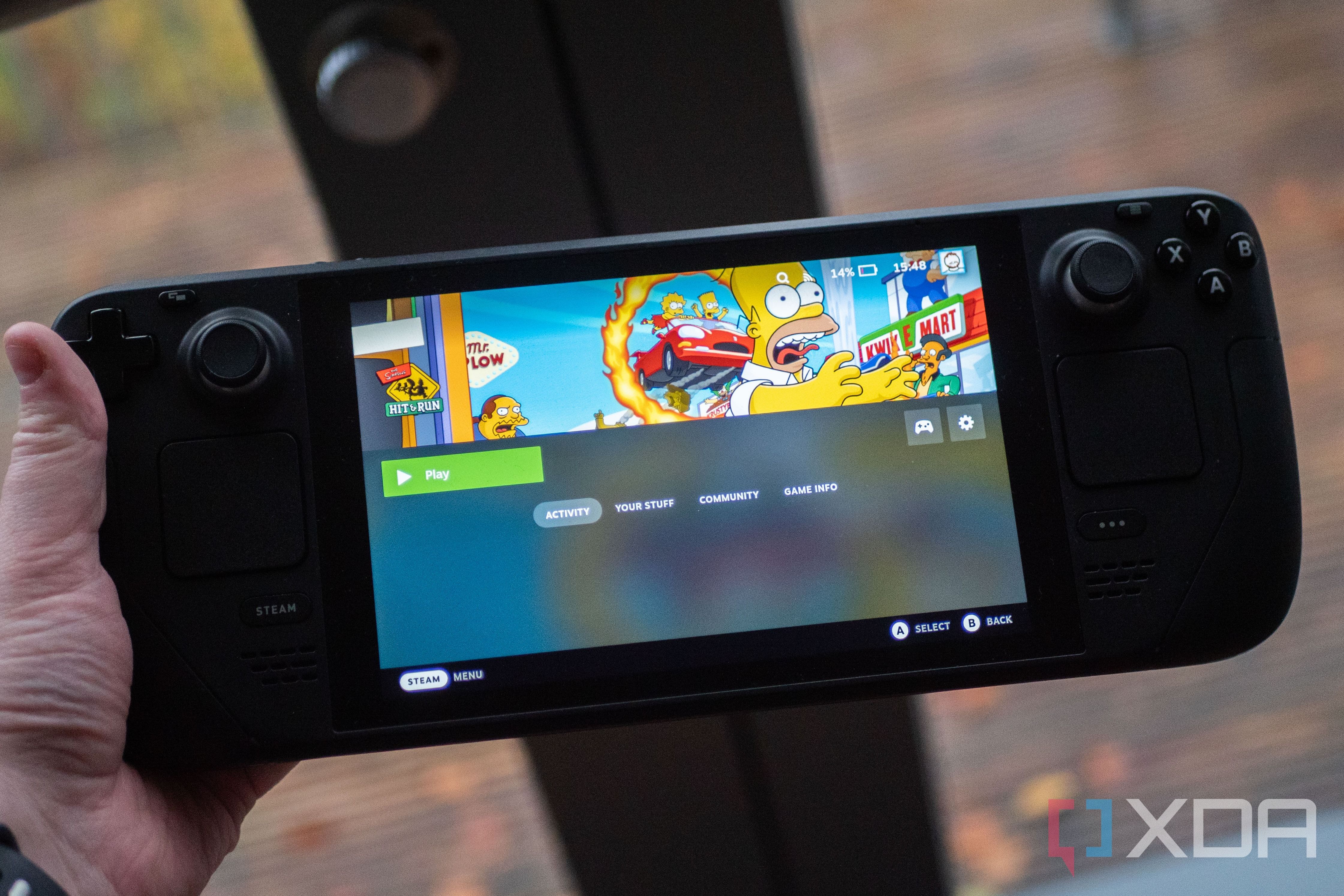 The displays on the Steam Deck and the Nintendo Switch aren't too far off from each other in terms of resolution. The Steam Deck comes with a 7-inch panel with a 16:10 aspect ratio, with a total resolution of 1280×800, which is somewhat unusual for gaming devices.
By comparison, the Nintendo Switch has a more typical 16:9 aspect ratio and a resolution of 1280×720. It has fewer pixels because of the wider aspect ratio, but in terms of sharpness, it's fairly similar. However, there are three Switch models with different sizes. The regular model comes with a 6.2-inch panel, and the Lite model has an even smaller 5.5-inch display, which should make these pixels a bit cleaner. Meanwhile, the OLED model has a 7-inch display, so the pixels are bigger, but you get the benefits of OLED, like more vibrant colors and deep blacks.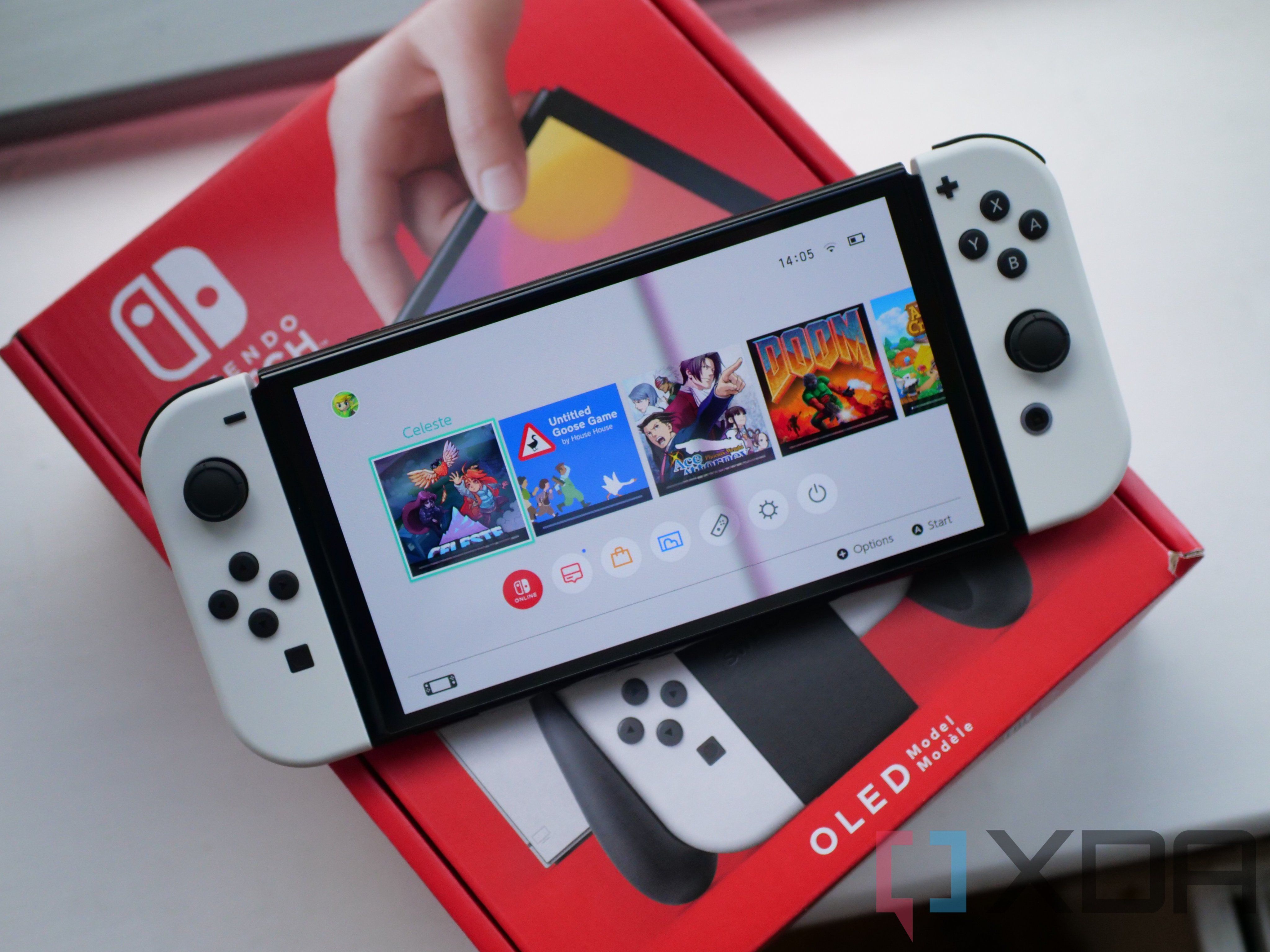 If you take the OLED model of the Switch, we're inclined to give it the win in terms of quality, but for the other versions, it's a more even matchup.
Steam Deck vs Nintendo Switch: Controls and design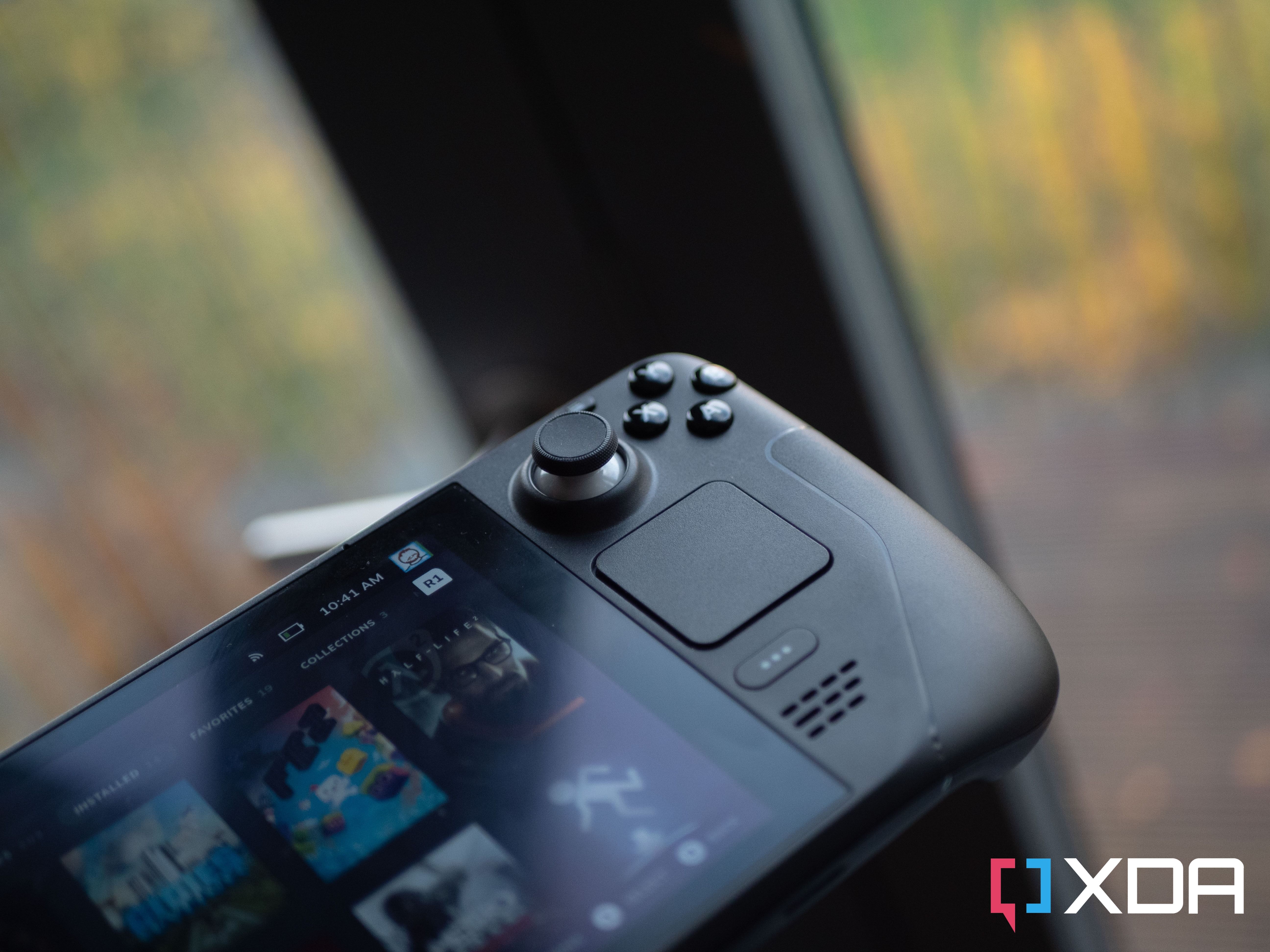 Another major factor when it comes to portable hardware is just how portable it actually is, and this is an area that tends to be overlooked by some gaming handhelds, including the Steam Deck. At 669 grams, the Steam Deck is well over 260 grams than the Nintendo Switch's 398 grams (or the 420 grams for the OLED model). The Switch Lite is even more portable, at just 275 grams. And that goes for the overall size, too. The Steam Deck is much wider, taller, and thicker than any model of the Switch, so it's that much harder to carry around with you.
A benefit of this added thickness is that the Steam Deck can be more comfortable to hold, especially if you have bigger hands. It has nicer grips than the flat, thin design of the Switch, which make a big difference in comfort. However, you can work around this with some Switch grips, while the Steam Deck can't be made smaller.
The Steam Deck has more buttons at your disposal, plus two touchpads.
The Steam Deck also has better controls overall. In terms of the basic input, both consoles cover the basics, with two analog sticks, a D-pad, ABXY face buttons, and two sets of shoulder buttons. However, the Switch's Joy-Con controllers have small analog sticks and clicky buttons that aren't super comfortable for everyone. The Switch also uses digital shoulder buttons and triggers, while the Steam Deck has analog triggers for more precise control in certain games. The Steam Deck also has two sets of additional buttons on the back of the console, which can be mapped to perform additional actions, and there are touchpads on the front that can also be useful for precise input in some games. Overall, the control setup is better on the Steam Deck.
Nintendo does have an advantage in terms of versatility out of the box, though, particularly with the standard Switch and OLED models. First off, a dock is included in the box, so you don't have to spend extra to connect to an external monitor. But on top of that, the detachable controllers mean you can start playing on the TV without buying a separate controller, and you can even play in tabletop mode, where you use the Switch's screen itself with the controllers detached. This doesn't apply to the Switch Lite, which doesn't have detachable controllers (though it is compatible with them) and can't connect to a TV.
Steam Deck vs Nintendo Switch: Games and software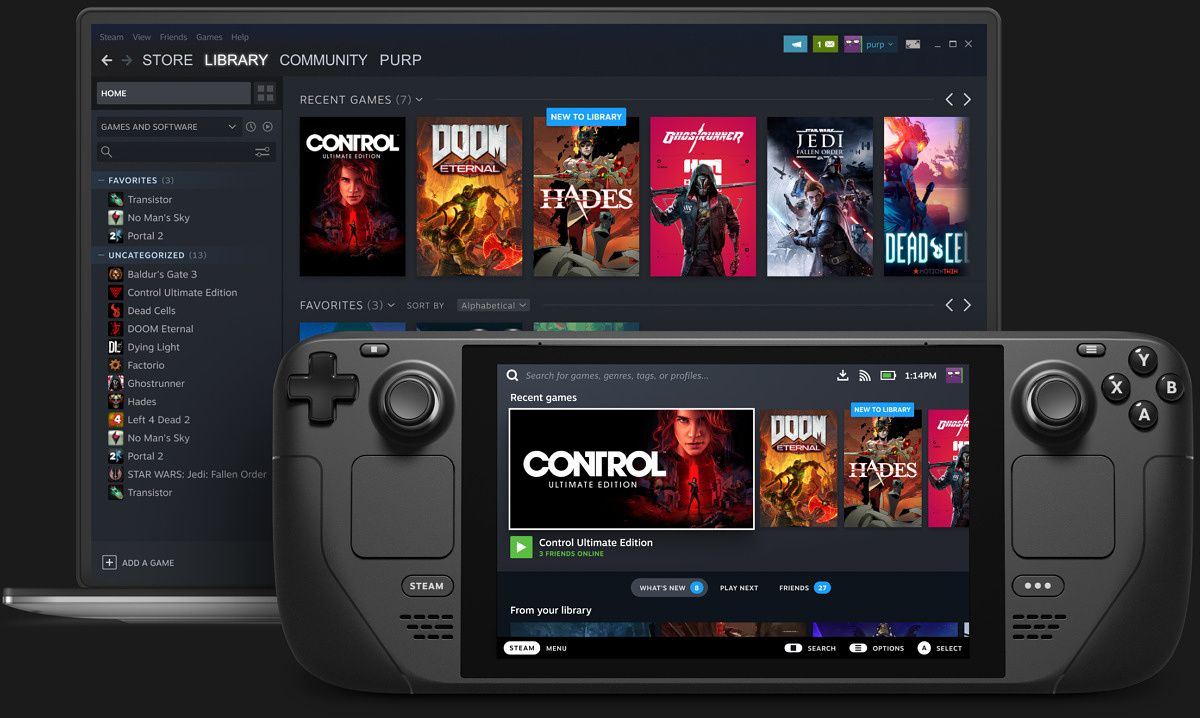 Finally, we come to what's arguably the most important part, but also the most subjective. Since the Steam Deck is essentially a PC, it can technically access any PC game in existence, though some of them will require some fiddling and experimenting. Out of the box, you're directed to the Steam library, which already has a never-ending supply of games, including massively popular and acclaimed games like Elden Ring, which aren't available on the Switch. You have no shortage of games you can play here, though not every PC game will be optimized or ready to run on the Steam Deck.
That's a common problem with these handheld PCs. They can technically play all of these games, but many of them may not be made with this lower-end PC hardware in mind. But Valve was smart enough to think of that and created the Deck Verified program, so you can make sure that your Steam games will run well on the Steam Deck and have some peace of mind with your purchase. And because it's such a major platform, a lot of games are being adapted for the Steam Deck, so the library keeps growing.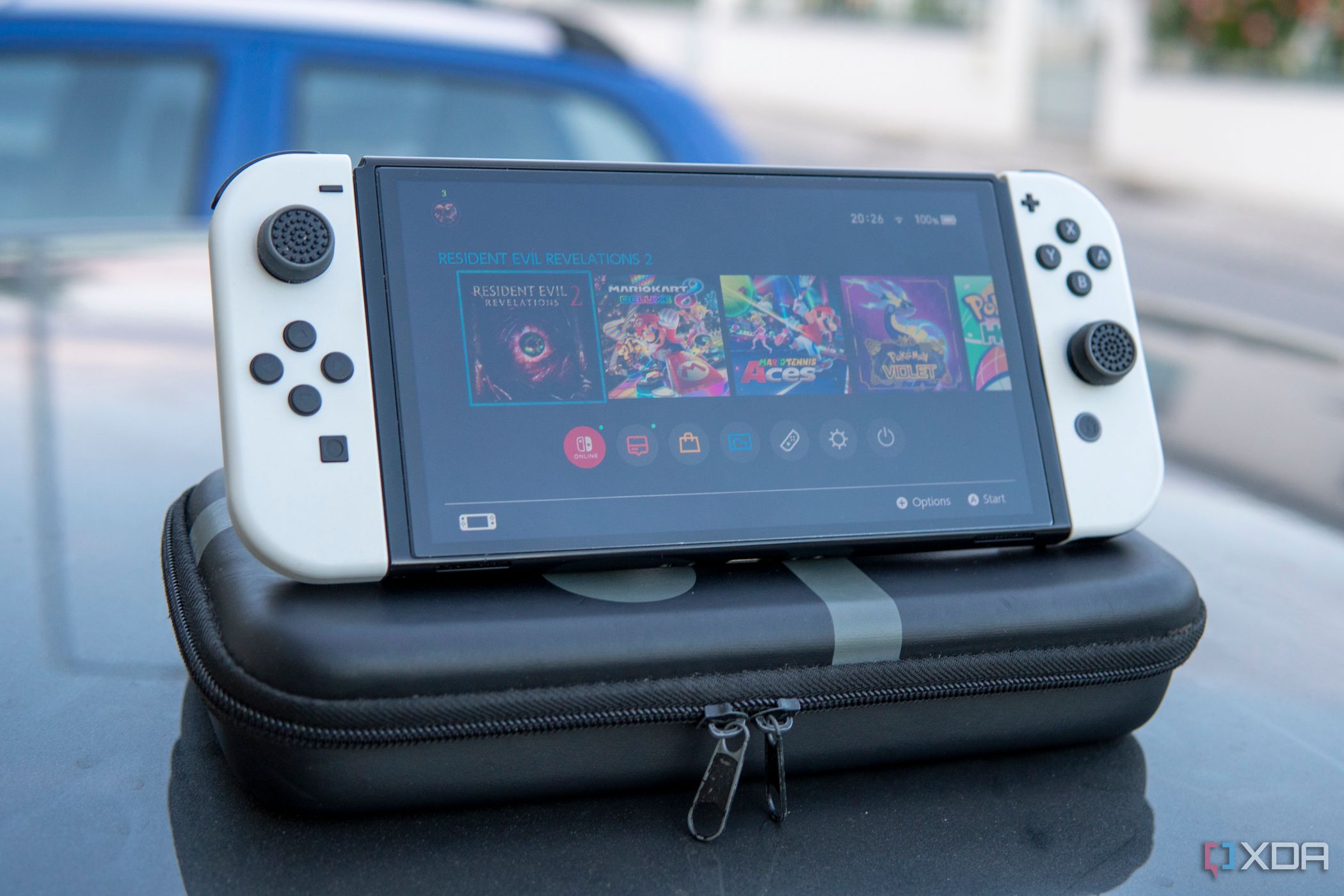 The Nintendo Switch is also home to a huge library of games, but it is nowhere near the amount of games you can play on a PC, and many of those titles are available on both platforms and run better on PC. What really sells the Switch is the library of exclusive games, particularly those made by Nintendo itself. Franchises like Mario, Zelda, Pokémon, and more can only be played on the Switch, and it includes widely-acclaimed titles like The Legend of Zelda: Breath of the Wild and its sequel, Tears of the Kingdom, as well as Super Mario Odyssey, the Xenoblade Chronicles series, and more. And of course, the Switch is home to a lot of family games, like the Mario Party series.
The exclusive games on PC or the Switch are ultimately one of the biggest factors in this decision, but this is something that's entirely up to personal preference. For me, the Nintendo Switch would win any day, but a great number of people will probably feel differently.
Steam Deck vs Nintendo Switch: Which should you buy?
If personal preference was the only factor to consider here, the Nintendo Switch would be my first recommendation out of these two, but Valve has put a lot of work into making the Steam Deck an appealing platform beyond being just a PC you can hold in your hands. Having a dedicated operating system and the Deck Verified program puts the Steam Deck basically on par with a proper console when it comes to ensuring that games are adapted to run well on the system. Plus, it has much better performance and the settings necessary to ensure that you can also turn the performance down to get solid battery life that's fairly close to what you'd get with a Switch. And with a huge library of titles to choose from, plus the ability to keep your existing library of PC games, it's hard to deny this is a fantastic option for most people.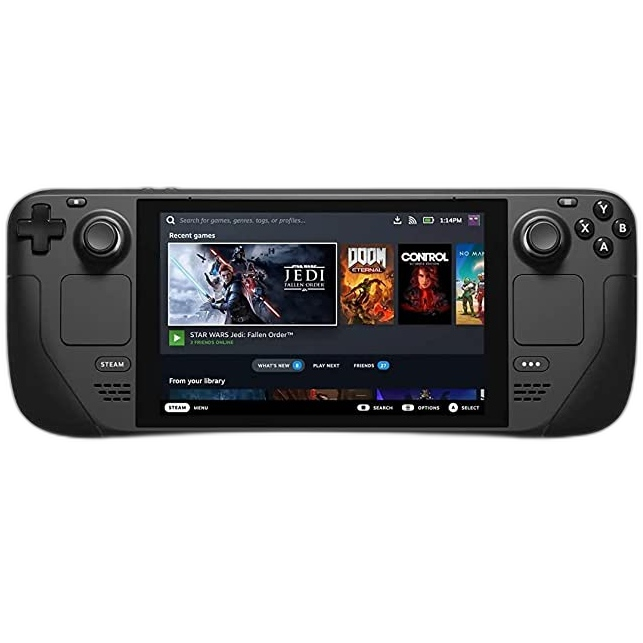 Editor's Choice
Valve's first portable gaming PC, the Steam Deck, is one of the coolest handheld gaming consoles on the market, with a huge library of games to play and the ability to take them on the go.
That being said, the Nintendo Switch is still a fantastic gaming console with a ton to offer. Not only does it have a big library of great exclusive games, including some of the best games of all time, but it also has better battery life, it's more portable, and more versatile out of the box. Plus, it's still cheaper, even comparing the OLED model to the cheapest version of the Steam Deck. The Switch would be my personal choice, so I have no qualms about recommending it if you don't think the Steam Deck is for you.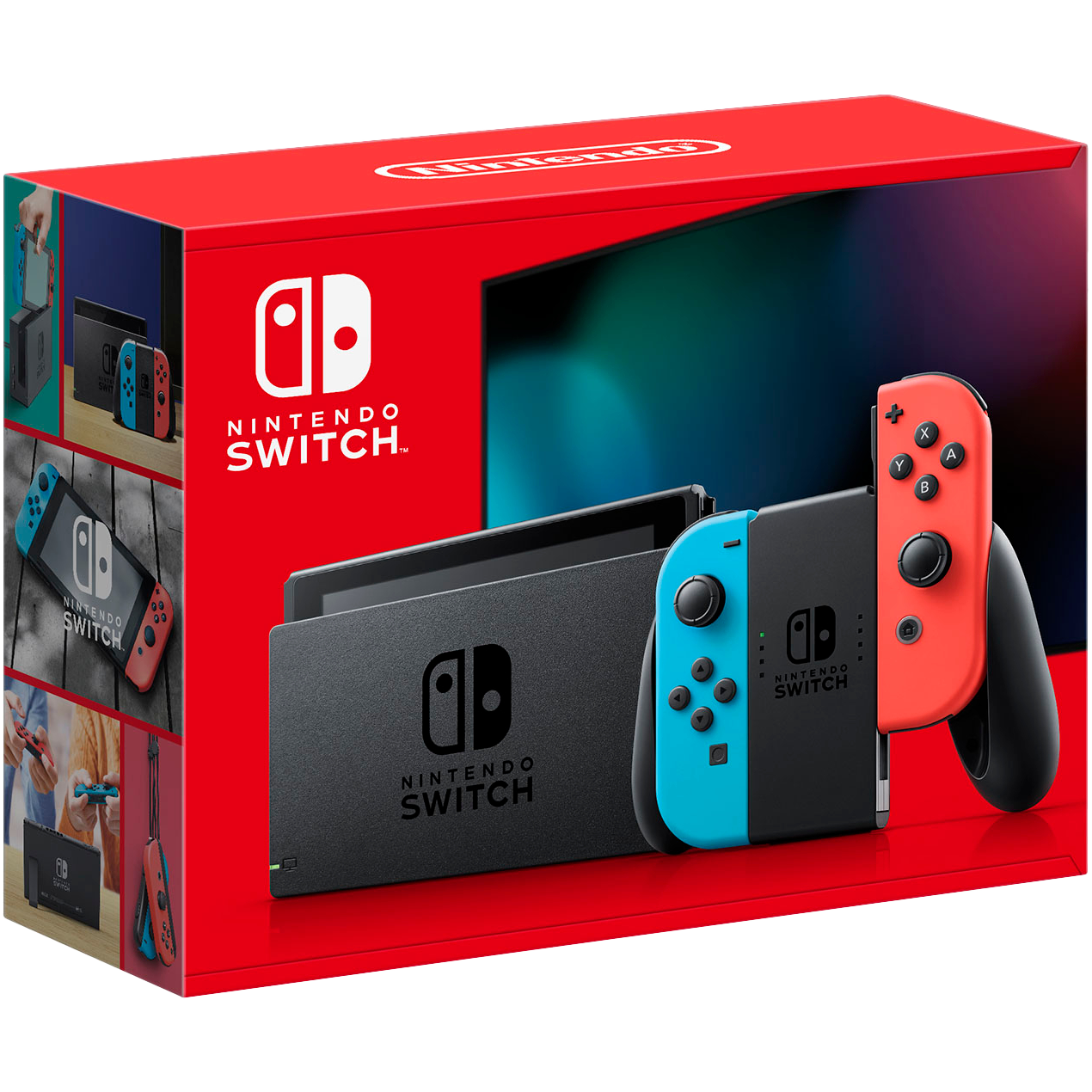 Nintendo Switch
Better for portability
The Nintendo Switch is a hybrid gaming console that can be used as a handheld device, connected to a TV, or in tabletop mode. It also has a large library of games, including critically-acclaimed exclusives.
Regardless of which option you end up going for, you're better off keeping them safe while traveling, so be sure to check out the best Steam Deck cases and Nintendo Switch cases and choose whatever suits your needs the best.